'Modi and his team have read the message from the ground.'
'People have started questioning what they have achieved by putting Modi in power.'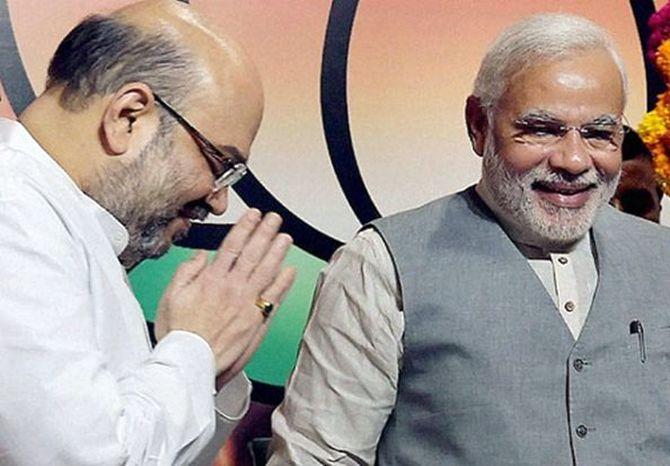 IMAGE: The PMO prepared an excel sheet on the performance of ministers and sent it first to Amit A Shah, then Prime Minister Narendra D Modi, says Ajay Kumar Singh. Photograph: PTI Photo
Prime Minister Narendra D Modi restructured the Union council of ministers on Sunday, September 3, with a focus on good governance, performance and, of course, politics.
Ajay Kumar Singh, head of department and director, UGC Centre for Federal Studies, Jamia Hamdard, New Delhi, explains to Rediff.com's Syed Firdaus Ashraf the significance of the reshuffle and what lies ahead for the prime minister, Amit Shah and the Bharatiya Janata Party.
How do you view the reshuffle?
It is simply an eyewash. It has no merit.
There are only 18 months left for the Modi government after which general elections will be held.
How the non-performing ministries will perform in the remaining 18 months needs to be answered.
It is not a good decision. The prime minister should have opted for the continuation of old ministers with more performance-oriented monitoring.
What do you think compelled Modi to opt for a reshuffle 18 months before the next general election?
There is nothing new. There is a persistent view that every reshuffle is aimed at restoring the primacy of Amit Shah and Modi within the organisation.
Nirmala Sitharaman becomes defence minister. What's your take on it?
Modi is following a diplomatic defence policy. In that diplomatic and commercial defence policy, probably Nirmala Sitharaman is a good choice.
---
Modi's Shuffle
---
Critics say the Modi government is more interested in winning elections than running a government and this reshuffle is one more move in that direction.
That is true. Take any programme of Modi -- be it Swachch Bharat or Smart City; I have been consistently writing that there is a structural fault in the design itself.
There is a perception gap of what people want and what Modi wants to give.
There is a huge gap and, therefore, I do not see any change happening in the next 18 months.
In one year, you cannot deliver Swachch Bharat, smart cities, Skill India and deliver jobs to youth as the economy has slowed down.
But most people feel Swachch Bharat is a success.

The discourse is changing. Now, even hardcore supporters of Modi are shifting their stance

How? Swachch Bharat has three components. One is toilets and I have not seen much development of toilets during my travels.
Second, there is garbage and filth of 12 million tonnes (left out).
Third is the creation of infrastructure and manpower. You might be aware of what happened in Delhi recently -- of the manhole deaths.
What is successful of the Modi government is the Ujwala scheme, I would say.
But Modi connects with the people and wins elections.
Indian democracy and the Indian people are too mature.
Modi can connect with the masses, but it is not necessary that the masses will be connected with him.
After three-and-a-half years of the Modi government, the discourse among the poor is now shifting.
Modi and his team have read the message from the ground.
Now the Modi government is in panic mode.
People tolerated demonetisation and responded positively. But if you are not delivering jobs, how can I expect your legitimacy of demonetisation?
The discourse is changing. Now, even hardcore supporters of Modi are shifting their stance.
They are placing blame that the Prime Minister's Office is the main hub of power. Ministers have no discretion or autonomy.
But that is being done to keep corruption in check.
Is there any reality check about corruption under the Modi government? We do not know.
If media reports are true, there is a question mark about the ministers being removed from the various ministries.
Moreover, you are not delivering on the projects.
When projects are implemented, the question of corruption will be known.
If there is corruption, you will know at a later stage -- like 2G and other scams. We do knot know anything of corporate corruption.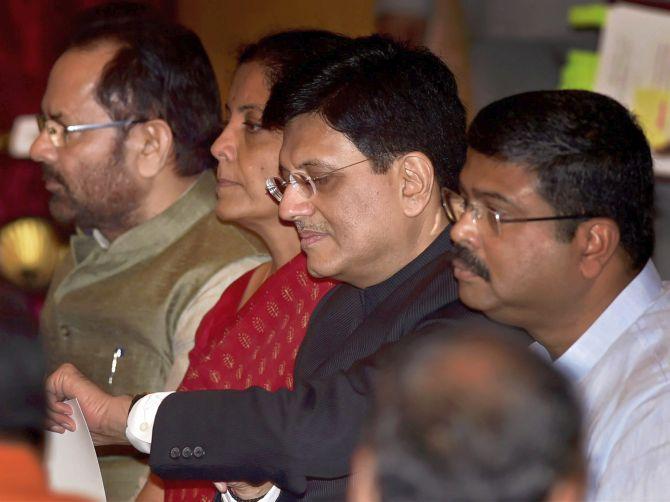 IMAGE: Mukhtar Abbas Naqvi, Nirmala Sitharaman, Piyush Goyal and Dharmendra Pradhan were all elevated to Cabinet rank. Photograph: PTI Photo.
You mentioned the Modi government is in panic, but the BJP has had resounding electoral victories. Now, there are predictions of a sweeping victory for the party in Gujarat too.
For Modi, the challenge is that he has set the target to win 350 parliamentary seats in 2019; Amit Shah has set the target.
The ground reality says that even if Modi wins, he will not be in a comfortable position. That is the change.
The grass root narrative is changing at this point of time and these narratives will have a serious dent in 2019.
The exit poll of today and what will happen in the 2019 general election cannot be compared.
Modi may win Gujarat and other state elections, but my point is that after three-and-a-half years, people have started questioning what they have achieved by putting Modi in power.
The discourse is changing. Farmers' issue, price issue and jobs. Here lie the fault lines of Modi if he wants to win the elections.
The poor suffered during demonetisation, but still they supported Modi in big numbers in Uttar Pradesh.
There are two parallel discourses that are going on. Nationalism and demonetisation which are in the public debate.
About demonetisation, the legitimacy was black money. There was hope, but where has the money gone?
After the Reserve Bank of India's annual report, even the lower middle class are asking where is the black money.
Poor people were expecting that they will get some government money in their Jan Dhan accounts.
The BJP won the UP elections because of their anti-Muslim and anti-Pakistan stance.
Entire western UP is polarised. The support of the media also helped to polarise the vote.
The BJP won 40 per cent of the votes, but it was not a mass discourse. More than 1,000 street riots took place.
Can this anti-Muslim narrative reap dividends for the Modi government forever? One day people will get up and ask where is the economy going?
This anti-Muslim discourse will keep continuing.
Two, three days before Bakri Eid just see most of the news channels. What is being debated?
Goats must not be slaughtered. Paid maulanas come to the shows and make statements.
The media then takes those statements and discusses that statement.

The BJP won the UP elections because of their anti-Muslim and anti-Pakistan stance.

There is a counter question. Entire Nepal and north Bihar sacrifices goats during Durga Puja. What about that? Do TV channels arrange similar debates?
In this way, with the help of the media, all these RSS (Rashtriya Swayamsevak Sangh) people are polarising society.
This year it was the Bakri Eid debate. Whom is it affecting? Not every age group in Hindus.
Where the Sangh has succeeded is that they have been able to convince a lot of people that Muslims don't accept the idea of nationalism (as what the RSS perceives it to be).
How do you view Amit Shah's role in this reshuffle?
The PMO prepared an excel sheet on the performance (of ministers).
The excel sheet was first handed to Amit Shah and Narendra Modi. It was almost against the ethics of the government.
The PMO is accountable to the prime minister and not Amit Shah who is the BJP president.
In the BJP, you cannot raise your voice. It is worse than what used to happen in the Soviet Union.
In the BJP if you raise your voice you will be simply phased (out).
But Amit Shah delivers electoral results.
It is not magic, but just chance.
Before 2014, people were disturbed because of the 2G and Coal Gate scams.
People wanted change and for that change they thought that something like a Vajpayee government will come.
They thought the BJP will be a moderate government, but have you seen any moderation?
After taking resignations, Modi met RSS people and Amit Shah.
These people have become so powerful that even Arun Jaitley, Sushma Swaraj and Rajnath Singh panicked. They didn't know what they were up to.
If you recall, who created space for Modi? It was Rajnath Singh.