'When there are two hostile armies operating in close proximity, moral ascendancy is very important -- and that is something, I think, we achieved.'
'What is important is the will and determination of a country.'
'That you are willing to do something about terror that is coming from across the border and that is the message that was sent out.'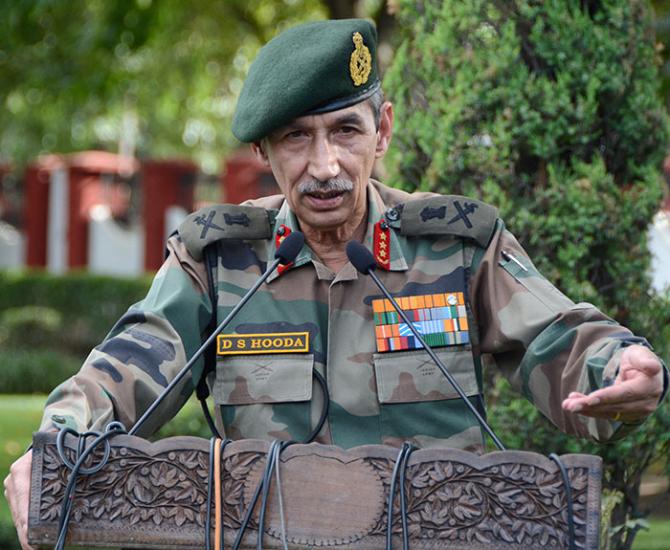 IMAGE: Lieutenant General Deependra Singh Hooda, UYSM, AVSM, VSM (Bar), was the Northern Army Commander from 2014 to 2016.
The surgical strikes were among the most difficult operations under his watch.
Photograph: Umar Ganie for Rediff.com
As the highest ranking officer in Jammu and Kashmir during the September 28-29, 2016 surgical strikes, the buck literally stopped with Lieutenant General Deependra Singh Hooda.
General Hooda was the General Officer Commanding-in-Chief of the Northern Command, in charge of the planning and execution of the top secret operation across the Line of Control.
Most officers and soldiers in the Northern Command -- responsible for the security of J&K and Line of Control -- were not aware of the strikes being planned.
As the general monitored the progress of his men as they crossed the Line of Control, their safe return was at the top of his mind.
According to the just released book India's Most Fearless: True Stories of Modern Military Heroes, Indian soldiers spent two nights and a day in "enemy territory". It was one of the most difficult operations under his watch, the general recalls.
Now retired, the former officer of the Gorkha Rifles with over four decades in the army, relives those unforgettable hours with Rediff.com's Archana Masih.
A year ago at this time, you had the plan in place for the surgical strikes. Do you find yourself going back and thinking about those days?
It was a successful operation. It was well done. Its scale and scope was pretty large.
You do think back on those days. How the whole planning was done. How we went about it.
The joy when everyone came back safe.
In your long military career, what have been some of the achievements that you look back with satisfaction? Where would the surgical strikes feature in that roster of military memories?
It has been wonderful primarily because you work with a highly motivated group of officers, very well trained officers.
There have been difficult times. One very difficult time for us was the earthquake of 2005.
I was the brigade commander in Uri and 95 per cent of the garrison had come crashing down.
We had to look after our own casualties, and carry out rescue, relief operations for the civilians.
The spirit of the soldier is such that it weathers through tough times.
Where do the surgical strikes figure in my book?
I would definitely say it was a very challenging operation and perhaps one of the most difficult on my watch.
What was your biggest concern in those hours after the men crossed the LOC and till the time they returned?
Of course, the biggest concern was the safety of each and every man who was crossing in what I call 'enemy territory' at that time.
We were also very confident that we had done everything by way of planning, preparation, empowering the soldiers, equipping them, giving them everything they needed.
In that sense we were fairly confident.
Honestly, after the soldiers crossed the Line of Control, I had little control.
It was for the officers and men to successfully carry out the operation.
Sitting in Udhampur (the Northern Command headquarters), there was really little we could do except watch.
What was the conversation you had with your men before they left?
What was your parting line to them before they set out for this daring military task -- beyond enemy lines as they say?
We sit with the team leaders, the commanding officers and discuss every aspect of the plan.
We make sure every contingency that can arrive is catered for.
It happens only in the movies that the general stands in front of all the soldiers and gives them a parting pep talk. It really didn't happen like that (laughs).
It was a very secret operation and we did not assemble everyone together.
But I am sure the team leaders would have constantly spoken and motivated their men.
My interaction was with the officers and commanding officers.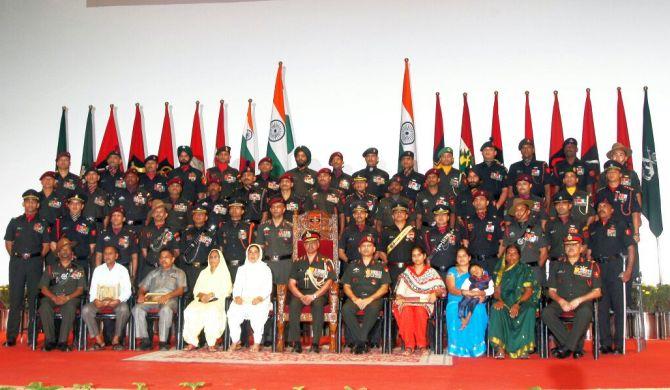 IMAGE: Nine soldiers of the Special Forces who took part in the surgical strikes were awarded gallantry medals. Photograph: Kind courtesy @NorthernComd_IA/Twitter
In hindsight and because we have that luxury to ponder over that because it was a successful operation, did you ever feel what would happen if the operation failed?
We had prepared well and we were quite confident of success, but obviously, you can't say that you are going to 100 per cent succeed.
The risk of failure does weigh heavily on you.
If we had failed, obviously the consequences would not have been pleasant.
What consequences could those have been -- and for you?
I was at the fag end of my military career. I had two months left to go before my retirement.
It wasn't so much what other people would think or say. It was more about how you would look back and see whether you have done well or badly.
So the consequences were more in my head.
But it was a high for you. You were going to retire in couple of months and you went out in a blaze of glory, isn't it?
It was a high. But it wasn't something I did myself.
There was a contribution of all those who sat and planned it -- we had a small planning team, army headquarters, the directorate of military planning -- most importantly, the soldiers who went across.
If they hadn't done as well as they did, we would not feel the way we do.
Everyone contributed to its success.
The Northern Army Commander is in charge of J&K and the LoC. He shoulders enormous responsibility. What was your tenure like?
It was fairly challenging. I took over in 2014. The situation along the borders was deteriorating.
A large number of ceasefire violations were taking place. Internally, there were a number of issues like the floods in September 2014.
In 2015, the internal situation was not looking good. We had some attacks on our camps.
In July 2016, we had massive unrest (after Hizbul Mujahideen terrorist Burhan Wani's death) and then we had the Uri attack.
It was challenging. There were times when we thought we could have done better.
I think every challenge was handled well and I relied on my commanders, officers and men to do the right thing.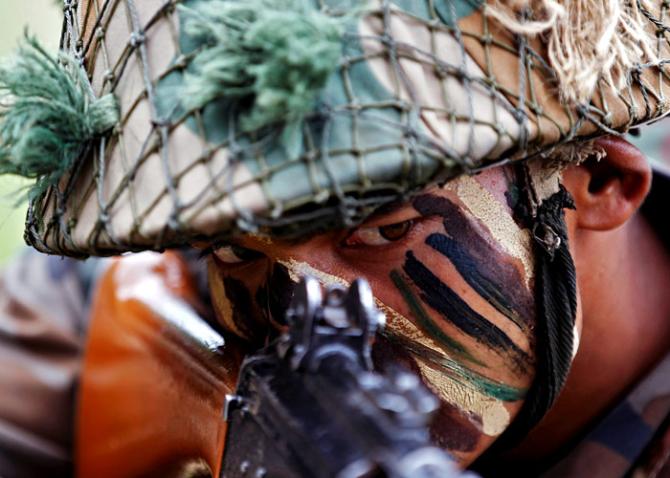 IMAGE: A soldier participates in a war exercise. Photograph: Amit Dave/Reuters
What impact have the surgical strikes had on the soldiers in areas of conflict and in the rest of the armed forces?
One of the big intangible positives was the impact on our own soldiers.
Just prior to the surgical strikes, we had Uri which was one of the worst strikes on our garrisons in a number of years. We had 19 casualties.
One message was that the sacrifice of soldiers would not go unavenged.
Once information on the strikes came in, it was not only a morale booster for soldiers in J&K, but across the country.
It uplifted the morale of the Indian Army.
In the immediate aftermath, can you pinpoint to some of the changes that you saw in the soldiers?
After Uri, obviously, questions were being asked about 'What are you going to do?'
'What are your preparation levels?'
'How can people just come in and do this?'
'Are you going to be totally defensive as it generally happens?'
'Are we going to do something about it?'
Most of the people in my headquarters were also not aware that the strikes were going to happen.
After the strikes one could notice that shoulders were straighter, smiles on the faces (laughs). It had a huge effect on them.
How did it play out among the Pakistan armed forces and security establishment?
What are some of the direct consequences of the strikes on Pakistan and in its response subsequently?
In June 2015 we had the Myanmar operation.
Immediately, the Pakistan interior minister, military spokesperson made statements saying this can't happen in Pakistan. Pakistan is not Myanmar. Any Indian adventurism will have a befitting response.
I think they were completely shocked with the strikes. They had little idea how to respond.
They literally buried their head in the sand as if nothing had happened.
When there are two hostile armies operating in close proximity, moral ascendancy is very important -- and that is something, I think, we achieved.
Among the soldiers that were deployed on the other side, their leave was cancelled, they were told to be careful because the Indian Army could strike anywhere. We saw such changes in the Pakistan army along the border.
At the UN General Assembly Pakistan Prime Minister Shahid Abbasi accused India of indulging in terror activities against his country and of 'war crimes' in Kashmir.
He warned of a 'matching response' if India 'ventures across the LoC'.
We have heard these words before. Pakistan has complained of war crimes in Kashmir. It has said that India poses an existential threat to Pakistan.
More than statements it is the attitude that the country has towards India.
Unless that changes, relations will continue to remain hostile. It is something for them to think about.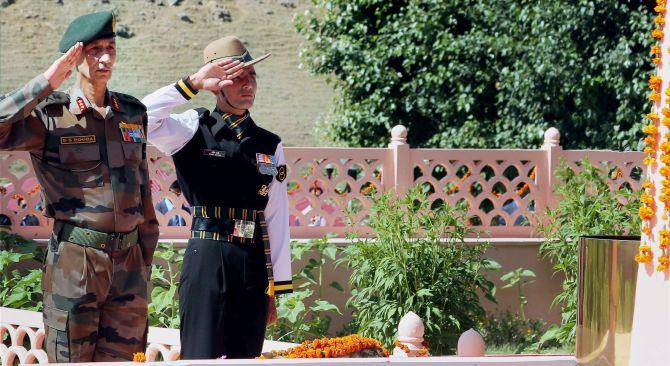 IMAGE: General Hooda pays tributes at the Kargil war memorial at Drass in Jammu and Kashmir, July 26, 2016. Photograph: PTI
How did the open acknowledgment and declaration of the surgical strikes by the government alter India's position and response to its handling of terror from across the border?
A lot of people question the acknowledgement, but I think it was right.
If you are a strong, determined, nation, you should be able to show your capability.
One thing we showed is that our response to terrorist attacks will not only be defensive; it will not only be on our side, but we will also go across the border.
Internationally also, it made a big statement. Among the various response options we have, this (surgical strikes) was one more added.
It showed one major response we have in how we respond to terror.
What according to you has been the biggest purpose the strikes achieved? How has it made the LOC and India more secure?
We were quite clear in the military that one surgical strike is not going to end all terrorism in Kashmir or that it will stop cross border infiltration.
After all, Osama bin Laden's killing has not finished Al Qaeda or sorted out the problem in Afghanistan.
What is important is the will and determination of a country. That you are willing to do something about terror that is coming from across the border and that is the message that was sent out.
It really wasn't so much about finishing terrorism in Kashmir. That was not even remotely our objective.
Surgical strikes is one of the options we have in our response to terror -- and it is an option we can employ in the future too if need be, right?
I am not saying a surgical strike is the answer to each and every terrorist attack or problem that we have, but as I said it is has definitely added to our response option.
If required, it can be done.
Would you be able to say how many camps were destroyed and how many terrorists were killed? Is there a number?
No. I can't talk about the number of targets struck. It is classified.
As far as casualties are concerned, frankly, nobody was waiting around to start counting.
There have been occasions in the past when Indian forces have gone across the LOC in similar, albeit in smaller ops? Is that right?
Yes, that is right.
You had said as Northern Army Commander that it is going to be a long war in Kashmir. At what stage have we reached in the course of this long war?
It is very difficult to say. I say it is a long war because it needs a long term strategy to deal with it.
Sometimes, unfortunately, we go from here to here and say 2017 is better than 2016 because then more terrorists were killed or 2015 was better than 2016.
This year on year comparison is not fair and we are making a mistake.
Yes, there is a problem in J&K, there is also the issue of Pakistan's support, there is also the issue of growing radicalisation, the issue of economic development.
All these require a long term strategy.
Therefore, I say it is a long war. You have to have patience. You have to move towards the direction you want to go.
Unfortunately, some of it hasn't happened so fast.
When things were peaceful, we just said ok, we said fine. That is why we have these cycles of violence.
This year we saw many incidents of stone pelting, where the Kashmir valley seemed to be spiraling out of control. What is the situation now?
As I said, if we just look at current indicators and say this is our definition of things getting better -- that in March-April-May there were more incidents of stone pelting than now, hence things are better...
But have we looked at the root causes and tried to address them? I think this is where we need to do some thinking.
What do you think of the Pakistan army chief's statement that it will continue supporting the Kashmiri right to self determination and wanting more army interaction with Pakistan's parliament? How is he different from his predecessor?
As an institution the Pak army has been used to being in power. Now they want power without any responsibility.
I don't think any chief can be different. They have grown up in the same system.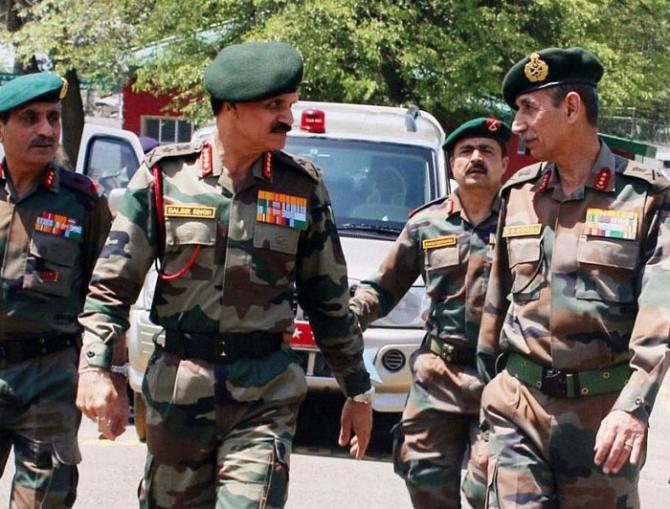 IMAGE: Then army chief General Dalbir Singh with then Northern Army Commander General Hooda in Srinagar. Photograph: Umar Ganie for Rediff.com
On a personal note, did your wife and family sense that you were bearing the weight of such a military task? What was it like when you finally got home in Udhampur after the ops ended?
When the going gets tough you cannot show your emotions (at work) or your frustration because immediately panic strikes.
When you get home, you can lower your barrier and take off your frustration.
It always helps to have a calm wife (laughs).
The army has a very supportive family.
What did you say to the men when you met them after they returned?
A day after the operation was over all the officers that took part in the operation and planning came home in the evening.
We shared many joyous moments. It was very good to meet them.
I was happy that they had returned safely.
How is retired life? Does a soldier ever retire?
What you miss on a daily basis is the very motivated bunch of men and women of the army. But everyone's time gets over. That is the reality.
New people have to come in and they come in with new ideas.
I generally spend my time reading. I love reading. I write a little, then people like you keep me busy with some interviews (laughs).