'Healthcare is so expensive that while it saves lives, it destroys more lives socially and financially.'
'While the poor gets wiped out, a middle-class man goes to a corporate hospital and after the treatment, he ends up below the poverty line.'
'Generally, hospitals would like to have patients who need procedures and operations.'
'They are not so fond of palliative care.'
'How much can be made from one hour of counselling? And how much can be made from one hour of an operation?'
He is called the father of palliative care in India.
He set up the country's first palliative care unit, the Institute of Palliative Medicine in Kozhikode in 1993, at a time when very few in India had heard of palliative care.
He is a crusader, who made morphine-based medicines which is one of the cheapest and the most effective treatment for chronic pain, available to every patient in pain.
It was because of his relentless efforts that Parliament passed an amendment to the Narcotic Drugs and Psychotropic Substances Act in 2014.
On Republic Day, he was awarded the Padma Shri for his untiring efforts in making the lives of the terminally ill peaceful and comfortable.
He is Dr M R Rajagopal.
When Rediff.com's Shobha Warrier met him at the Pallium India care centre in Thiruvananthapuram, the centre were in the process of shifting.
Dr Rajagopal and his staff had been forced to move from a location that was easily accessible to patients to a more interior area. Naturally, the mood at Pallium India was sombre and the staff were a disappointed lot.
After years of unrelenting work to bring palliative care to so many people, Pallium India has no place of its own, and Dr Rajagopal has to spend his time and energy finding new premises for the hospital.
Do you think the Padma Shri, the Government of India honoured you with, will bring attention to the much-ignored field of palliative care?
I hope so.
The home ministry did something very imaginative. They announced a quiz programme on the Padma awardees at the national level. There were hundreds of participants and all of them studied a little bit (about) the awardees to participate in the quiz.
When I went to Delhi, I found a group of youngsters who knew about palliative care because they had read about it to participate in the quiz.
Do you feel palliative care is still unknown in India?
Unfortunately, even today, palliative care is totally unknown in India, even among medical professionals.
Those who know (anything) about it have very erroneous ideas. Even professionals, who have heard of palliative care, have many mistaken impressions.
In our country euthanasia gets discussed often. But not palliative care.
It is not unusual for somebody to come to me and ask to be killed. But the majority sit up and smile the next day.
So, the thought should be how to make life liveable for them.
Yes, there is a small percentage whose life we cannot make liveable.
Is palliative care all about improving the quality of life of a person and alleviating pain?
I am glad you asked this question. Indeed, palliative care is about making life as liveable as possible including permitting death with dignity and comfort.
Unfortunately, even among professionals, it is associated with death.
The direct consequence is very often patients reach me only in the last few days of their lives, having (suffered for years).
The World Health Organisation, in its guidelines, said palliative care should start early in the course of an illness, along with other therapies.
But a majority of medical professionals, even in well-reputed hospitals, do not advise patients to look at palliative care. Why this ignorance?
Only 1 per cent doctors refer needy patients to palliative care.
In most parts of India palliative care is unknown. There are no facilities. That is part of the problem.
One stream of doctors will have to refocus -- like the HIV physicians, cancer therapists and neurologists. They are not only dealing with a tumour or a virus alone. But addressing serious health-related suffering too.
Since the middle of the last century, medicine has included more and more technology and precision in diagnosis.
But once diagnoses depended more on MRI scan and imaging, it also meant the human being got less and less attention.
Gradually, the focus became more on the disease.
I believe palliative care came as a reaction to that.
It evolved first as life care for cancer patients in the UK in the 1960s. Understandably, the focus on dying became quite prominent there.
Later, people started thinking: Why improved quality of life only in the last few weeks of life?
The 1986 definition of palliative care was that it was for those whose disease was no longer responsive to curative care.
Then WHO redefined it in 2002: Palliative care should begin with the treatment and continue with the treatment.
When WHO defines something, the whole world focusses on it. This redefinition became historical.
Unfortunately, 16 years later, the change still has not taken place. (That tells you) a lot about the way the medical system functions.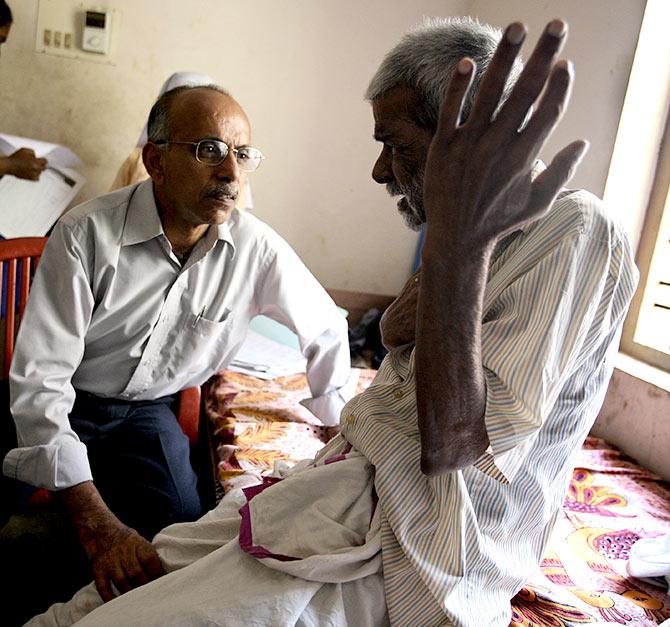 Is it not the right of a person to have quality of life till he or she dies? Shouldn't palliative care be part of medical education?
Absolutely. I quite accept that education and awareness of medical professionals is a must.
How are we going to achieve that?
It took 19 years for us to make the department of health to bring in a national programme for palliative care.
We still have not been able to make the medical council include palliative care in its curriculum.
You have to look at this issue in another way. All of us are potential patients. It should be something every person thinks about and discusses.
We should think of it from the perspective of the patient and the family members.
I believe health care should be recognised as a partnership between family members and patients.
A person reading this should be able to think: If I have a distressing situation, I shouldn't just look at a cardiologist or oncologist or a neurologist.
I should look for a place where their management should be coupled with palliative care so that if I have a myocardial infraction, the attention should not only be on the coronary arteries, but on my pain and my spouse's suffering outside in the ICU too.
Also, instead of having the companionship of all those machines, if I have a loving hand holding me, how much more relief I get.
Public demand can make many reforms, which a system may not be that willing for or interested in, happen.
Do you feel there is a conflict among the point of view of doctors between curative care and palliative care?
I don't think we should say, from the point of view of doctors.
We should say from the point of view of the healthcare system, which includes the doctors, the (health) minister and, more importantly, includes the industry.
That is because in all these decisions there is an unseen huge influence of the industry. This influence has its positives and many negatives.
The negative is that it has made healthcare so expensive that while it saves lives, it destroys more lives socially and financially.
While the poor gets wiped out, a middle-class man goes to a corporate hospital and after the treatment, he ends up below the poverty line.
Generally, hospitals would like to have patients who need procedures and operations. Then, within a short time, significant profit can be made.
They are not so fond of palliative care.
How much can be made from one hour of counselling? And how much can be made from one hour of an operation?
It is true there is clearly a conflict there.
Today my colleagues and I go about advocating palliative care.
We are looked at as a crazy bunch of people, in some corner, who can be ignored completely. That's the problem.
Palliative care has to be framed as a public healthcare issue.
Demand has to come from the common man.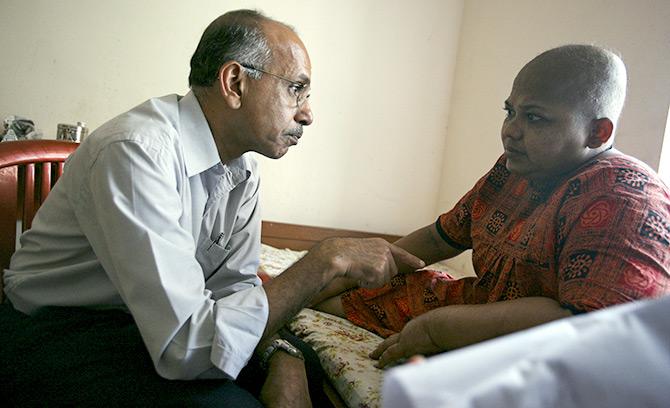 Do you feel patients and their families do not ask for palliative care because they look at it as something to consider closer to death? And they are scared?
It is absolutely true.
For many doctors, patients and families, palliative care means giving up.
You have to educate the public that palliative care is not giving up. It is more about life than death.
It is about making life as comfortable as possible and allowing the person to live as long as possible with dignity.
My group in the USA did an epoch-making study on two groups of people who had cancer -- one group had cancer treatment alone and the other group had cancer treatment with palliative care.
They found that those who had both at the same time, lived three months longer and had better quality of life, with less intensive care.
We have to inform the common man about this.
Because the healthcare system may not give this information to the people.
It was reported that, in 80 per cent of cancer patients in India, cancer is detected only when it is at Stage 3 and Stage 4. Does that not make palliative care all the more important?
Absolutely.
That doesn't mean they do not need disease-specific treatment. They can have that and also palliative care.
Even if it cannot be cured, for example, palliative radiation can be given to make life much more comfortable.
Just as any disease-specific treatment should include palliative care, palliative care will have to include disease-specific treatment too.
Six million people in India require palliative care, it is said. How equipped are we to impart palliative care to such huge numbers?
According to the latest Lancet Commission report, there are close to 10 million people who need palliative care.
The world over, 61 million people experience serious health-related suffering and we have one-sixth of the world's population. That makes it closer to 10 million. The 6 million figure was taken based on the mortality rate.
Are we equipped?
My answer: We can be very easily equipped. It is a low-hanging fruit.
Teaching palliative care is not rocket science.
It is something that can be very easily done by including it in medical education over a few years along with in-service training of medical and nursing professionals.
Is palliative care part of the treatment system in the developed countries?
Palliative care is most developed in some European countries like Germany, France and also the UK.
Australia and New Zealand will come next.
Canada started evolving much later.
In the US, unlike the European countries, most of the growth occurred in this century. But they grew very fast.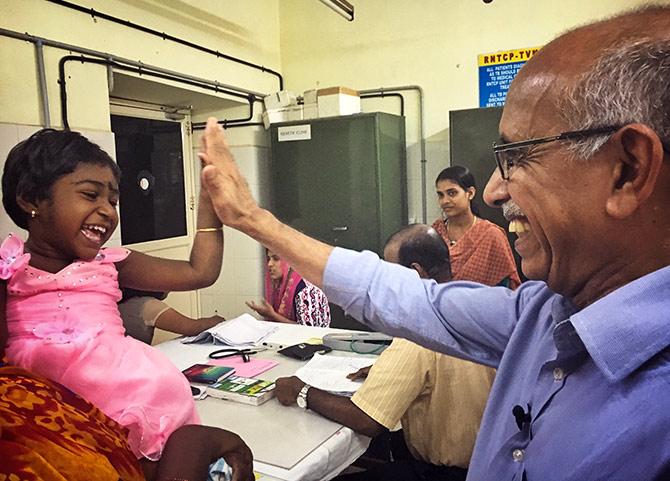 Because of the non-availability of palliative care, do you think the poor are the worst sufferers?
For all the other problems in this country, that would be true, but not in this.
At least in Kerala, the poor die better.
Once the disease is declared incurable, they go back to their villages and they get some palliative care in Kerala.
Where do the rich go?
Most people, if they have enough money in the pocket, would die horrible lonely deaths in intensive care units. That too, without pain relief.
When the poor man feels his throat is parched, there will be somebody to drop a few drops of water in it.
But the rich man cannot swallow because he has a tube down his throat.
In Kerala, palliative care is available mostly at the primary level and not at the tertiary level.
In a majority of hospitals, death is over-medicalised.
When somebody is dying, attention is given to his blood pressure, oxygen saturation, serum sodium level and they die painful deaths in intensive care units.
You are called the father of palliative care in India. Do you think the Padma Shri will bring more attention to palliative care?
The title of father of palliative care is a misnomer. Honestly.
It was an oncosurgeon, Dr (Luis Jose) De Souza in Mumbai, who actually brought palliative care to India at a time when I had not even heard about it.
The Padma Shri makes it a tiny bit easier to open some doors and get people's attention. It is not as if it is going to have a dramatic impact.
On January 25 it got a lot of attention. But on January 27 everybody had forgotten about it.