On August 10, the Human Rights Watch, an international non-governmental organisation that conducts research and advocacy on human rights, announced that Dr M R Rajagopal was one of the recipients of the prestigious Alison Des Forges Award for Extraordinary Activism (external link).
Announcing the award, the NGO said that Dr M R Rajagopal was being honoured for 'his efforts to defend the rights of patients with severe pain to live and die with dignity'.
On this occasion, Rediff.com digs into its archives, tracking down Dr M R Rajagopal's sincere efforts of changing lives and changing the way India looks at palliative care.
---
'Even if there is only one day left for a person, I find it very satisfying to have made a difference. That is because I believe life matters. If I can bring a smile to the face of a person who has seen only pain and suffering, I feel satisfied."
Rediff.com's Shobha Warrier meets Dr M R Rajagopal who has made such a difference to the lives of the terminally ill.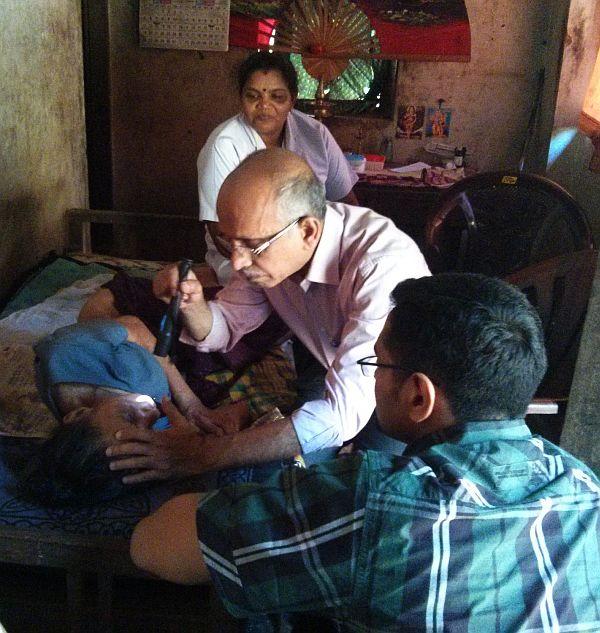 "I haven't slept for months. I can't lie down in any position. The pain is killing me. I want to sleep for just one day without the pain bothering me. Please do something, doctor," Sasidharan Nair breaks down. He has very advanced cancer in the spinal cord and many other bones.
"No, you need not suffer any pain. You have every right to feel better," says Dr M R Rajagopal, prescribing morphine.
A few days ago, I travelled with Dr Rajagopal and the Pallium India team on home visits to some of the remotest areas outside Thiruvananthapuram; places where no vehicle could go. We climbed hills and walked through rubber plantations to visit terminally ill cancer patients.
The doctor was patience personified, listening keenly to all the complaints the patients had, and consoling them with compassionate words. The visits continued until late in the evening, but Dr Rajagopal's energy and commitment didn't wane in the slightest. The nurses on his team changed diapers and catheters, and dispensed the medicines prescribed by the doctor for free.
If you are one of those who has faced the frustration of dealing with doctors in corporate hospitals, who have no time to even talk to you, you will find Dr Rajagopal an aberration.
He picks up his phone when you call, calls you back if he can't, and listens to all of your concerned questions, answering them honestly and patiently. You don't find doctors like him anymore.
Pallium India wants to take care of those in terrible pain and isolation due to cancer, AIDS, paralysis, or other prolonged, debilitating, diseases. 'No one,' the organisation believes, 'should be left to face all of this without support and proper medical care.'
Dr Rajagopal set up the country's first palliative care unit, the Institute of Palliative Medicine, in Kozhikode, Kerala, in 1993, at a time when few in India had heard of palliative care.
The World Health Organisation only passed a resolution integrating palliative care as a part of healthcare on January 23, 2014.
"I was then working in the KozhikodeMedicalCollege as an anaesthetist," recalls Dr Rajagopal, "I was also treating patients in pain, mainly cancer patients. It was a 42-year-old college professor with two small children who taught me a lesson. He had cancer of the tongue spreading to his cheeks. I gave him a nerve block, and the next day, he told me he was pain free."
"I was very happy. He asked me then, 'When should I come again?' I said, 'You don't have to come back unless you are in pain'."
That night, the young professor committed suicide.
"I found out that his oncologist had never discussed the prognosis with him," remembers Dr Rajagopal. "So, he was expecting a cure. When I told him that he didn't have to come back again, he understood for the first time that his disease was incurable."
"I never bothered to find out what his emotions were and how he felt; I just relieved him of his physical pain. That was a turning point in my life. He gave up his life to teach me that a man is not made of just a few nerves and organs."
After the professor's death, Dr Rajagopal understood that he had to look at disease-related suffering as a whole; the physical, the psychological, social, and spiritual.
Dr Rajagopal came across a book on palliative care by Dr Robert Twycross. He also attended a lecture by a British nurse, Gilly Burn, who travelled around India teaching palliative care, and invited her to his centre in Kozhikode.
After spending half an hour at the centre, she asked him whether he was interested in going to Oxford to take a course in palliative care. The 10-week course served as the doctor's formal introduction to the precepts of palliative medicine.
When he came back, with a capital of Rs 1,500, he formed a non governmental organisation with six friends, each of whom contributed Rs 250.
At this point, he was sure of one thing -- that he was going to offer the treatment for free, as most of the patients who came to the Kozhikode Medical College were very poor.
When he discovered that his patients did not buy the medicines he prescribed, he started dispensing the medication for free, a practice he continues to this day.
"This is possible due to many kind-hearted people," he says. "There are many such people around us, contrary to our belief."
The small unit he started in Kozhikode in 1993 became Pallium India in 2006, aiming to care for all terminally ill people in the country.
Pallium India has palliative care facilities in 11 states, mostly in the north and north-east. The Thiruvananthapuram unit, a WHO collaborating centre for four years, is a demonstration project that works with 12 link centres in the interiors of the Kerala capital.
Eighty two per cent of the patients Pallium India sees are from the poorest sections of society. People like Sasidharan Nair, Yunus, Shiji and Esther.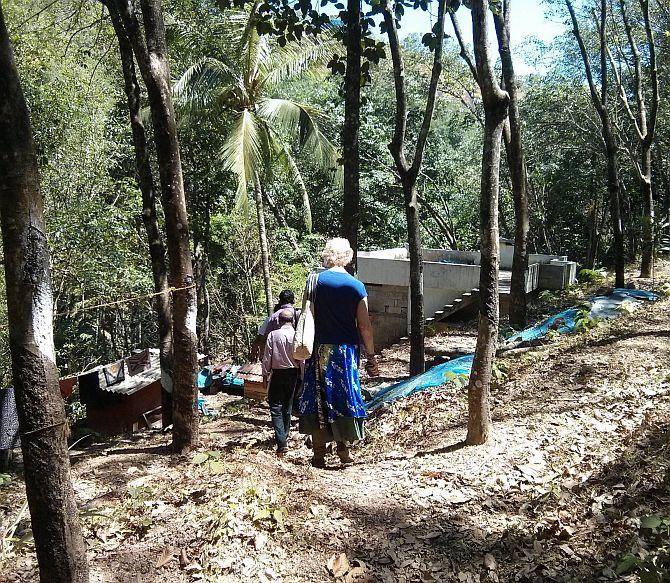 Yunus, who suffers from lung cancer, is angry.
"We went to the TrivandrumMedicalCollege for treatment and we were asked to take a CT scan at a private centre. We went to the centre with all the money we had. We had just Rs 1,900, and they wanted Rs 10,000. Where are we supposed to find Rs 10,000?" he asks angrily.
He was the family's only earner till he fell ill two years ago. His family is now dependent on his 18-year-old son.
A narrow path through a rubber plantation leads us to a small unfinished house, where 20-year-old Shiji lives. He lies on the bed, paralysed from the waist down.
From the time the sun comes out, he lies on his bed, staring at the huge trees and the blue sky, thinking of the days he and his father had built the house brick by brick.
The house was not finished when Shiji was diagnosed with cancer two years ago. Today, his world is confined to the tiny room he built.
Hope is what makes this young man smile. He believes he will get better one day and go out. Raveendran, his father, has hopes for his only son, and it is that which has driven him to pledge the house and borrow money from wherever he could.
His debt has now run up to Rs 50 lakh (Rs 5 million), but he is hopeful that Shiji will get better and the two of them will work hard and pay off all the debts.
Raveendran has borrowed money again to take Shiji to the VelloreMedicalCollege. "I feel my son will get better..." he says.
As we walk back to the car, Dr Rajagopal speaks of a healthcare system that ignores the psycho-social aspect of suffering.
"It is this kind of unnecessary treatment and lack of information that has resulted in people like Raveendran building up huge debt burdens from which he may never escape," he says.
"This kind of destruction of families in the name of healthcare is cruel and almost criminal. The so-called healthcare industry is exploiting the ignorance of people for financial gain. Palliative care is making a difference to such people, and it will transform healthcare."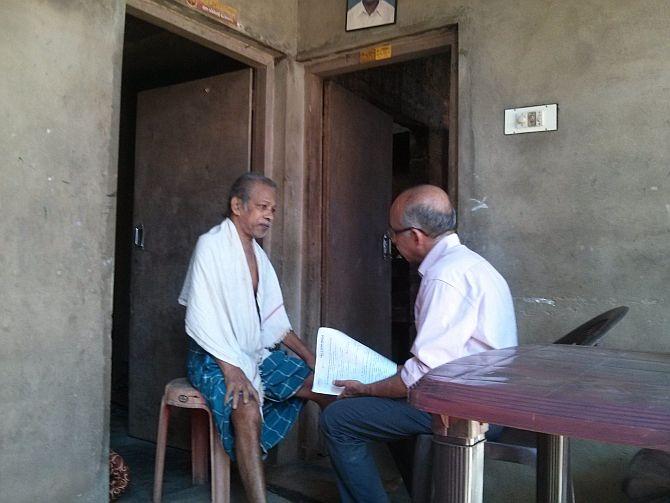 "It is sad that people have to go through years of treatment without psycho-social support just because they are undergoing curative treatment," says Dr Rajagopal, stressing that palliative care should start at the time of diagnosis and go hand in hand with curative treatment.
Pallium India doesn't just take care of the terminally ill, though up to half of all its patients suffer from terminal cancers.
"It is very worthwhile working with even the terminally ill, because even if there is only one day left for a person, I find it very satisfying to have made a difference. That is because I believe life matters. If I can bring a smile to the face of a person who has seen only pain and suffering, I feel satisfied."
Dr Rajagopal can be described as a crusader in making morphine-based medicines, one of the cheapest and the most effective treatment for chronic pain, available to every patient in pain.
The 15th Lok Sabha recently passed an amendment to the Narcotic Drugs and Psychotropic Substances Act in its last sitting only because of Dr Rajagopal's efforts.
"It was the culmination of frustrating moments waiting outside government offices and being insulted. But I also saw a lot of goodness in many people."
Once the amended Act is implemented, the licensing procedure for obtaining and storing morphine becomes very simple.
The amendment essentially scraps the long list of licences, which currently varies from state to state, that drug makers and hospitals are required to obtain in order to produce and store morphine sulphate.
Under the new Act, there will be a uniform regulation across states for issuing licences to manufacture morphine-based drugs.
Similarly, each medical institution that previously needed four to five different licences from different government agencies to store morphine will now have to approach just the state Food and Drug Administration.
Does that mean the amendment to the NDPS Act will transform pain relief?
"No. It needs harder struggle," says Dr Rajagopal. "But we can consider it a new beginning. Regulatory barriers are not the only barriers to access to pain relief. I would say attitudes and lack of knowledge among medical professionals is the biggest barrier."
"To make this a success, drug availability, education and strategy are equally important. We now have a government strategy for palliative care; but this is not full-fledged or fully funded."
"Drug availability can improve with the amendment provided we work with each state government," Dr Rajagopal adds, "and make sure that the Act is implemented without additional complications."
"Government hospitals should have doctors and nurses with basic education in pain management and the hospitals should have morphine and other essential narcotic drugs. Then again, pain management is not enough on its own, there also has to be psycho-social support."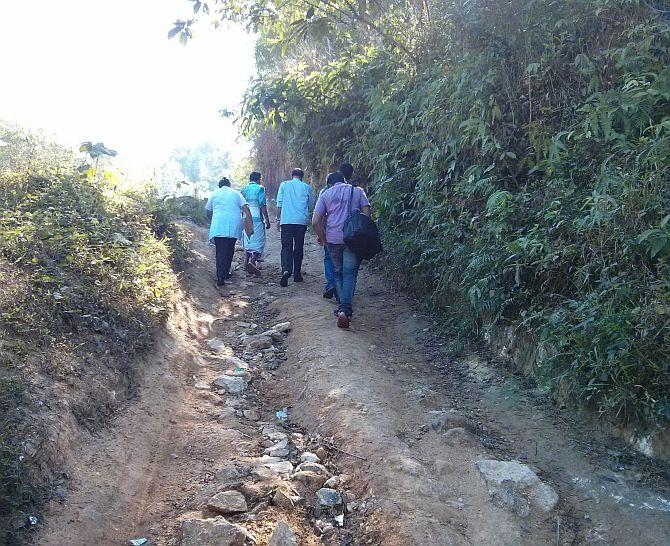 Dr Katherine Irene Pettus of the International Association for Hospice and Palliative Care, who accompanies us on the home visits, is a strong advocate of using morphine to relieve pain.
She became a hospice volunteer after having watched, as a 19-year-old, her mother die in pain in the United States.
Today, she works from Vienna to educate physicians, politicians and lawyers on the purpose of morphine in palliative care. "My work involves educating people on the need to make morphine-based medicines available instead of controlling them. They only care about control, which doesn't work anyway," Dr Pettus says. "We have drug addicts, illegal use, and de-addiction centres everywhere, but yet, 80 per cent of the world has no access to morphine."
Kerala follows a model of palliative care that other Indian states would do well to emulate.
Dr Rajagopal has shaped the Kerala government's palliative care policy. "Palliative care," he says, "has to be fully integrated into the healthcare system."
"For example, when I fall ill, the doctors and nurses treating me will consider me a human being -- and not only look at my coronary arteries -- but try to understand what I feel. I hope they will care for my family too."
"I hope that when I go, I will not be shut up in an intensive care unit, but instead have someone who cares for me sitting beside me, and maybe holding my hand. It would be the ultimate cruelty if I have to die in an intensive care unit with tubes in every orifice and masked creatures working around me."
"If I were to get disoriented and delirious, my hands and feet may be tied up. I am looking for a world where this kind of intensive cruelty does not happen anymore. I hope for a world where healthcare is delivered with compassion and empathy."