'Some people make the vulgar argument that a lot of Indians speak Hindi.'
'But where exactly? Is that not relevant?'
Illustration: Dominic Xavier/Rediff.com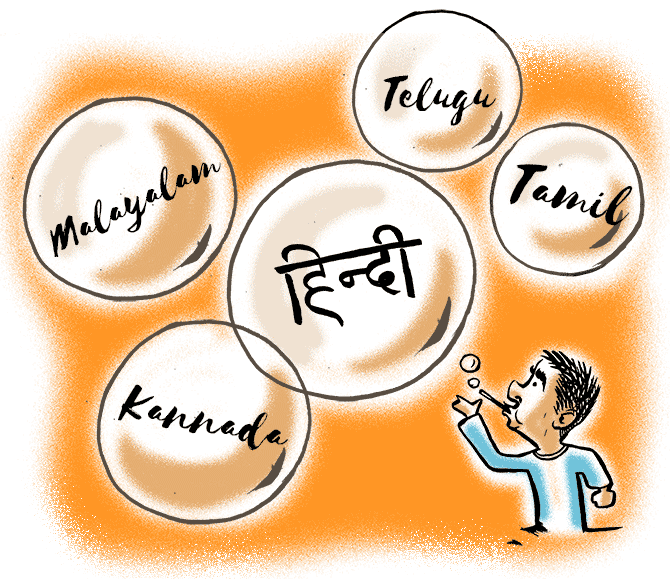 A few of those who attended music maestro A R Rahman's concert in London took to Twitter to express their displeasure because the Chennai-born Rahman played Tamil tracks alongside Hindi ones.
Some in the audience felt this was a 'disgrace' since it was 'Hindi music that brought him international fame'.
This comes at a time when activists have expressed concern about imposing Hindi in south Indian states.
In Tamil Nadu, English script is being erased on the milestones along National Highways and replaced with Hindi, a language the majority there don't speak.
Actor (Madras Cafe, Talvar, Airlift) and activist Prakash Belawadi speaks to Nikita Puri about why this imposition of Hindi needs to stop.
Select fans who attended A R Rahman's London concert are miffed because they felt that the Oscar-winning music composer didn't play enough Hindi songs during the event.
Do you think this grouse is justified?
It's the right of anybody in the audience to leave a performance if s/he stops enjoying it. But to make an issue of the item, or demand a refund for that reason, is stupid.
The reason for their dissatisfaction is shameful and ridiculous.
It's amazing that these are Indians in England. Seems they never really left their small towns.
(The title of the concert was Netru Indru Nalai, Tamil for 'Yesterday, Today, Tomorrow', and the set list had 16 Hindi tracks, 12 Tamil ones and a medley of both.)
Bengaluru has recently been seeing a wave of protests at the introduction of Hindi signboards on metro stations.
Hindi has now come to present a cultural identity.
Do you believe that these protests weren't just about a signboard, but an outcry against the imposition of certain identities?
The protests are not against the Hindi language, but the casual sense of entitlement that informs the move.
Notice how Union Minister Venkaiah Naidu justified it on the false ground that Hindi is our 'national language'.
The truth is that a Hindi implementation officer visited Namma Metro in 2016, demanded Hindi on the signage and the then chief secretary of Karnataka wrote an official objection to it arguing that Namma Metro was a state project.
Even if the Union government had made a financial contribution to the Namma Metro project, nothing in the official agreement warranted the use of Hindi.
Instead of replying to that letter, the Hindi panel of the urban development ministry simply issued a direction that metro signage in all non-Hindi states should include Hindi.
Why?
Some people make the vulgar majoritarian argument that a lot of Indians speak Hindi.
But where exactly? Is that not relevant?
This is an imposition. It needs to stop.
Our political representatives often mistake Hindi, one of India's official languages, for a national one.
Venkaiah Naidu recently referred to Hindi as our 'rashtra bhasha'.
Soon after, the Union government announced the move to issue bilingual passports, with personal details printed in English and Hindi.
What do you think of this move?
All of India's languages are important to India and to the linguistic states, in particular.
But, in the past 70 years, governments in Delhi have become used to giving one regional language -- Hindi -- precedence over all the others.
This imposition has led to violent protests in the past, but it seems governments never learn.
(The first of the anti-Hindi imposition protests date back to 1937 in the Madras Presidency, when it was announced that teaching Hindi would be compulsory in schools.)
Many, including economist Amartya Sen, believe that though the role of Hindi can be understood, imposing Hindi to enhance unity and integrity in the country is too simplistic an approach. Do you agree?
It's obvious. Of course, I agree.
Also there is a troubling demographic shift taking place in the country.
Highly populated northern states with high population growth rates and poor economic growth rates are seeing migration of labour in large numbers to southern states.
These migrations, of labour from the north to south, are in the hope of finding better livelihoods.
I think we will see more conflicts in the future if this trend is not arrested.
In your opinion, why are linguistic identities playing such a strong role in the nation's politics?
Can diversity be a threat to authoritarian rule?
Diversity certainly resists centralising totalitarian tendencies.
And, today, politicians and ministers pander to an authoritarian leadership.
It is not just linguistic, but many other identities of culture, religion, caste and ethnicity that beg the idea of an inclusive India.
The answer to the current issue could be in finding a uniform, broader and more inclusive language policy that enables usage of regional and even sub-regional languages.
Technology makes this all possible.
Yet, what comes in the way of development are petty and regressive mindsets.