'Since when have our concert audiences become so intolerant?' the legend asks Subhash K Jha.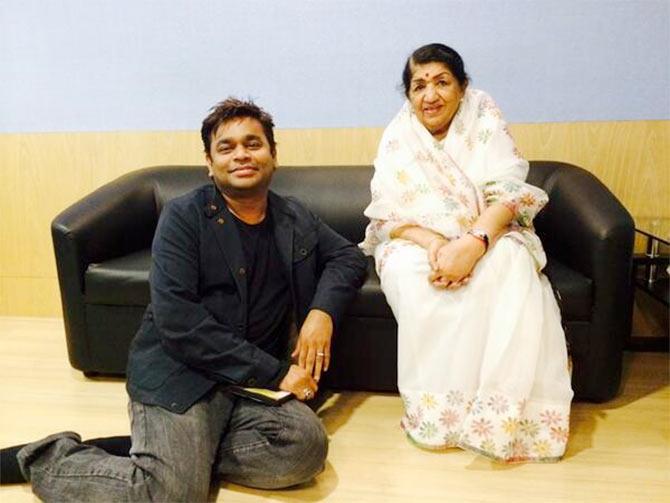 IMAGE: The Legend and the Maestro: A R Rahman and Lata Mangeshkar. Photograph: Kind courtesy Lata Mangeshkar/Twitter
A R Rahman seems to have angered a section of his audience by singing 12 songs in Tamil (as compared to 16 songs in Hindi) at a concert at London's Wembley Stadium.
Lata Mangeshkar, who has performed at Wembley at a number of concerts, is distressed to hear about this.
"Since when have our concert audiences become so intolerant?" the legend asks.
"In my experience of 70 years I've sung songs in almost every regional language on stage... Punjabi, Bengali, even Dogri. The audience back then loved hearing songs in every Indian language," Lataji recalls.
The Melody Queen feels music has no language.
"Many of Rahmanji's most memorable songs are in Tamil. And they have later been translated into Hindi. Both versions are equally popular. There are so many Hindi songs of mine that were originally composed by Hemant Kumar and Salil Chowdhary in Bengali."
"The Bangla version of Salilda's Na Jiya Lage Na (from Anand) and O Sajna Barkha Bahaar Aye (Parakh) as as much in demand at my live concerts abroad as the Hindi."
Lataji finds signs of intolerance growing in music.
"This is not a healthy development. I've sung a beautiful Hindi-Malayalam fusion song Jiya Jale composed by Rahmanji in Mani Ratnamji's Dil Se."
"The Malayalam portions added so much to the song."
In her long and illustrious career, Lataji has sung in 38 regional Indian and international languages.
She even sang in English -- the Canadian country singer Anne Murray's ballad You Needed Me.
Says Lataji, "I enjoy singing in every language though I don't understand all of them. My only fear while singing in a regional language is that I shouldn't get the pronunciation wrong."
"Luckily for me, no one has ever complained that I've got the accent or pronunciation wrong."