'Today, Dalits can become IAS officers, doctors, IPS, MLAs, MPs and even the President due to the Constitution.'
'If you destroy India's Constitution, then poverty will never disappear.'
'If the BJP is pro-Dalit, they must implement policies which are pro-Dalit.'
'It cannot work if they only talk.'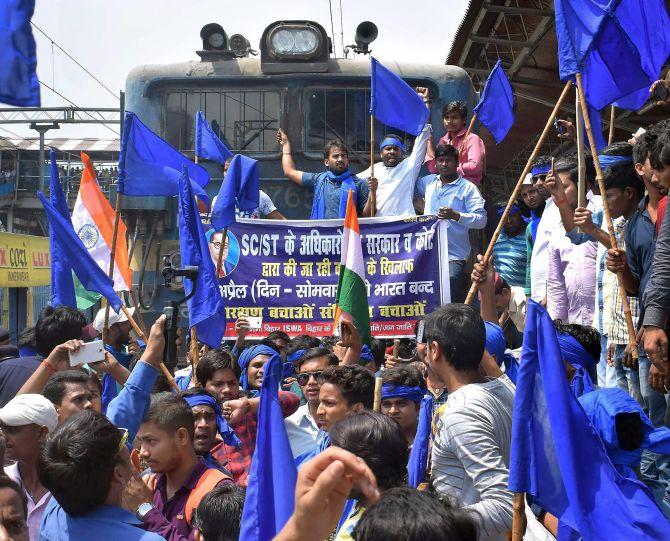 IMAGE: Bhim Army Sena members stop a train during the Bharat Bandh call given by Dalit organisations against the alleged dilution of the Scheduled Castes and Scheduled Tribes Act in Patna, April 2, 2018. Photograph: PTI Photo
On Monday, April 2, north India witnessed violence during the Bharat Bandh protests which were called by Dalit organisations to protest against the dilution of the SC/ST (Prevention of Atrocities) Act.
Already under pressure, the Narendra D Modi government faced internal rebellion when one of its own, Savitri Bai Phule -- the Bharatiya Janata Party MP who represents Uttar Pradesh's Bahraich Lok Sabha constituency -- accused the BJP of not doing enough to defend the rights of Dalits in the country.
"I am not opposing the Government of India. I am only saying give respect to Dalits," an anguished Phule tells Rediff.com's Syed Firdaus Ashraf.
What is happening in the BJP that is anti-Dalit?
The Constitution of India says that reservations must be implemented so that poverty in India disappears; and the difference between the rich and poor must narrow so that our country makes progress. This is my only demand.
Reservations do exist in the country.
I am not opposing anyone. I am not opposing any party. I am only asking for reservations and reservations are not being implemented the way it should be.
In jobs, reservations are not happening.
In promotions of jobs, Dalits are being neglected and they are being demoted.
Some of the ministers of this government say they want to make changes to the Constitution (Union Minister Ananth Kumar Hegde said the BJP would change the Constitution in the days to come.)
On other occasions, it is being said that reservations are being stopped completely.
Today, Dalits can become IAS officers, doctors, IPS, MLAs, MPs and even the President of India due to the Constitution of India.
It is one of the best Constitutions. And if you destroy India's Constitution, then poverty will never disappear.
The Modi government filed a review petition in the Supreme Court against the alleged 'dilution' of the SC/ST Act.
I am only saying implement whatever is required (reservations for the Dalits).
I am not opposing anyone. I am saying something and something else is being published (in newspapers).
Till date, the Constitution of India has not been implemented to its core.
You mentioned Union Minister Ananth Kumar Hegde earlier. He has since apologised in Parliament for his statement. Isn't that good enough?
Why did he say so, then? It must be there somewhere deep within his heart (against the Constitution of India) and therefore he said it.
Therefore, Dalits are hurt.
But the BJP says it is pro-Dalit; they made you a member of Parliament.
If the BJP is pro-Dalit, they must implement policies which are pro-Dalit. It cannot work if they only talk (for Dalits).
I have been saying this constantly in the Lok Sabha too. And I have never spoken against the party.
But word has spread that you have turned into a rebel.
I am not a BJP rebel MP. People are making their own statements.
What can I do? I am only saying what is right.
What must the BJP do for Dalits?
I am saying we are in power and I am only demanding what the Constitution of India says.

'If a Dalit man climbs a horse, he is being killed. Dr Babasaheb's idols are being broken all over. Why is it happening?'

Why are your demands not being met?
That is why I am raising the question. I have the right to ask for my demands.
It is not mine, but the demand of all Bahujans. Today, they are so poor that they are staying outside railway lines and it is very difficult for them to survive. Ask only those Dalits.
Reservation is our right.
For how long will reservations go on in India?
It will continue till the lower caste people do not come ahead in life and become equal with people belonging to the upper castes.
How many more years will it take? It is 70 years since reservations were first introduced.
Why are people poor in this country? We are poor because the Constitution of India was not implemented in its right spirit.
The poor are from all castes.
Therefore, resources must be distributed according to the population of castes.
I want a caste census to be carried out. You will come to know what is the population of the poor, according to their caste.
(Note: The Modi government has not released the 2011 caste census. The previous caste census was conducted in 1931.)
We are all Indians, why divide us along caste lines?
Did I make this caste system? Dalits are suffering because of that.
Somewhere if a Dalit man climbs a horse, he is being killed. Dr Babasaheb's idols are being broken all over. Why is it happening?
And we all are quiet.
Most states are governed by the BJP.
Therefore, I am demanding that these incidents must stop.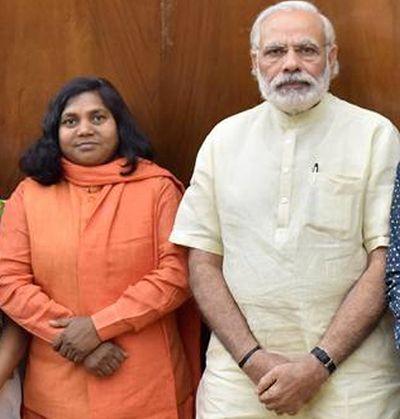 IMAGE: BJP MP Savitri Bai Phule says she isn't against Narendra D Modi or her party, but is simply asking that the condition of Dalits be improved. Photograph: Kind courtesy Savitra Bai Phule/Facebook
Will you be thrown out of the BJP for saying such things?
If I am getting hurt, I will shout, isn't it? I cannot keep quiet and be silent if I am feeling the pain and hurt.
I am getting beaten badly. I want the party to do something about this issue.
Prime Minister Modi says he is pro-Dalit...
Therefore, I am saying, implement the Constitution of India in its spirit.
If the government wants Sabka Saath, Sabka Vikas, it has to implement the Constitution of India in the right spirit.
Is it true that the upper castes in Uttar Pradesh are being unjust to the Dalits after Yogi Adityanath became chief minister?
Dr Babasaheb's idols have been broken in Meerut, Saharanpur and Allahabad.
Everywhere they are breaking Dr Babasaheb Ambedkar's idols.
If they (the Adityanath government in UP) had taken strict action against someone, do you think these incidents would have happened?
Dr Ambedkar wrote India's Constitution and his statues are being broken everywhere. There must be strict action against these people who commit such criminal acts.
Anyone who breaks Dr Babasaheb Ambedkar's statues must be declared anti-national and booked under the Rashtra Droh (sedition act).
What difference will the Supreme Court's recent ruling on the SC/ST Atrocities Act make it to Dalits?
There will be a huge difference. This Act protected Dalits and their women from not getting beaten.
They (the upper castes) will now put petrol and burn Dalits.
They (the upper castes) will now feel they will not get punished even if they commit atrocities on Dalits.
I am not opposing the Government of India. I am only saying give respect to Dalits.
I have raised these questions in the Lok Sabha too. I have travelled across India wherever there have been atrocities against Dalits.
Have atrocities against Dalits increased since Narendra D Modi came to power in 2014?
In some governments, atrocities are more and in some, there are less, but the fact is that Dalits and Adivasis are suffering and have suffered.
The Congress insists that Dalits suffer even more today.
I only say that these crimes must stop wherever it is happening.