'It was only relatively recently that Subhash Kapoor was able to secure the sources in India, Afghanistan and Cambodia, that allowed him to get the really highest level objects, and that helped propel him in recent years up the ranks.'
'The art market is a $50 billion market that is almost entirely unregulated. So people like Kapoor can operate without fear of being caught.'
Jason Felch, who has investigated the antiquities trade for many years, discusses the Subhash Kapoor case and the plundering of India's past in this fascinating interview with Vaihayasi Pande Daniel/Rediff.com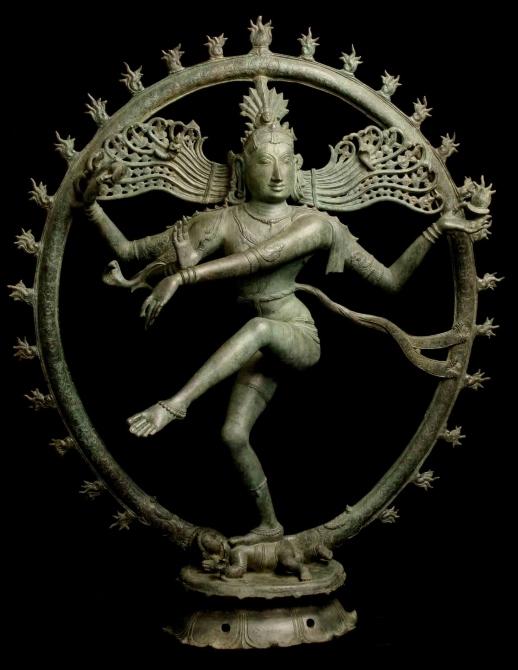 IMAGE: The 1,000-year Chola-era Nataraj idol was stolen from a temple in Tamil Nadu's Ariyalur district in 2006 and sold to the National Gallery of Australia in February 2008. In September 2014, Australian Prime Minister Tony Abbott returned it to Prime Minister Narendra Modi on the Indian leader's visit to his country.
When the ISIS blew up the 2,000-year-old majestic Temple of Bel in Palmyra, Syria, the world watched aghast, shocked at this crime against history.
The very same World has stood by, passively, for hundreds of years, as parallel loot/destruction occurred at innumerable sites of ancient civilisations, that dot several continents. The difference: It did not happen overnight, the way Palmyra did. It has been a slower erosion, over a long period of time, though equally horrific.
Have you ever been to The Metropolitan Museum of Art, New York, to look at the fantastic Buddhist stone/bronze sculpture of the Kushan Empire?
Or visited the British Museum, London, to see the Rosetta Stone and the Elgin Marbles?
Or maybe stood to gaze, in quiet awe, in front of the Nefertiti bust at the Egyptian Museum of Berlin?
All of these precious pieces were ripped out from their original resting place, by greedy, art-insensitive thieves, to be sold and shipped to 'treasure palaces,' read museums, of the Western world, in acts of wanton destruction, quite like what happened in Syria the other day.
Precious bronzes and beautifully-carved stone sculptures are still being brutally plucked from temples and archaeological sites to be stealthily shipped away to museums of the West -- while the world continues to look the other way.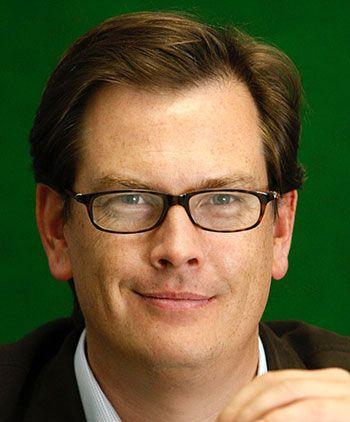 IMAGE: Investigative journalist Jason Felch Photograph courtesy: Jason Felch

On October 30, 2011, the lucky arrest of art dealer/impresario Subhash Chandra Kapoor, then 62, in Flughafen Frankfurt am Main, revealed that dealers like him were pilfering ancient treasures -- wholesale -- from Cambodia, India, Pakistan and Afghanistan to send to museums in the West, while the custodians of the antiquities, the police, customs, auction houses, museums, various governments, ignored or quietly colluded with this illicit trade in antiquities.
Indian-born, but a citizen of the United States, the suave, dapper, Kapoor, who ran a gallery -- Art of the Past at 1242 Madison Avenue in Manhattan, and belonged to a family of Indian art dealers, ---- was extradited to Chennai in 2012, where he awaits trial. He now cools his heels at the Puzhal Central Jail, awaiting trial, and is likely to be tried in the US eventually.
Kapoor was found to be responsible for the theft of 2,622 artefacts worth $107.6 million (approximately Rs 6,671 crore/Rs 66.71 billion), according to The New York Times.
Authorities made the largest seizure of stolen antiquities in the US in April, when they discovered Kapoor's priceless stash in storage facilities in Queens and Manhattan and later released a list that goes on for some 25 pages detailing these items, such as the Hanuman statue (Rs 23.2 crore/Rs 232 million), a Naga statue (Rs 62 crore/Rs 620 million), a wall relief of a male with sword (Rs 10.8 crore/Rs 108 million) etc.
In 2012, began the laborious process, called Operation Hidden Idol worldwide -- to hand over to law enforcement officials the stolen Kapoor antiquities they had acquired without proper due diligence.
A spokesperson from the Toledo Museum of Art, Ohio, one of the few museums who responded to an interview request, (most didn't), told Rediff.com, "Of the eight purchased items (from Kapoor), we have agreed to return the Ganesha figure (from the Sivan Temple, Tamil Nadu) and are in discussions with the US Attorney's Office in regards to the other objects. In regards to the gifts received from Kapoor, an art committee of the museum has voted to remove them from the collection and they are awaiting final disposition as well."
When a priceless Chola bronze (from the Chola dynasty, 11th to 12th century) stolen from its original home, in a temple in Tamil Nadu, travels through a series of cities and airports, to reach a museum somewhere in the world, why is its journey unbroken?
To really understand why not, Vaihayasi Pande Daniel/Rediff.com spoke to Jason Felch, researcher, writer and Pulitzer-nominated former Los Angeles Times investigative reporter.
IMAGE: A cameraman videos the 159 kilo Vishnu Lakshmi sandstone sculpture, one of three sandstone sculptures stolen from India, during a repatriation ceremony of the artifacts at the Indian consulate in New York, January 14, 2014. The sculpture, stolen from the Gadgach Temple in Atru, Rajasthan, was listed as Interpol's top 10 most wanted stolen works of art. Photograph: Shannon Stapleton/Reuters.


Felch uncovered the responsibility of various museums in wrongly acquiring antiquities; the J Paul Getty Museum, for example, acquired the statue of Aphrodite, which went back to Italy in 2007.
He co-wrote Chasing the Aphrodite in 2011, a book cataloguing the theft of antiquities from Italy and Greece. Felch has followed up on that investigation by updating a blog -- with the help of other art enthusiasts -- that relentlessly examines antiquities on display in museums to see if they could have been stolen.
His focus over the last few years has been on meticulously cataloguing missing Asian and Indian artefacts.
How did all these museums get into this pickle? Was it some common mistake? Or was it that they all got completely lured by Subhash Kapoor, and didn't stop to check if he was kosher?
I think it would be a little naive to think that all of these very smart museum curators were duped by Kapoor!
If you look back to the history of American and Western museums, in general, there is a long tradition of buying objects that have been illegally removed from the countries of origin -- that history had a long legacy and it is tied with the colonial legacy.
The mentality of colonialism which in essence says: 'We have a right to these objects; they are the world's patrimony not just one nation's patrimony. We are better able to protect them than the natives.' That's the kind of attitude with which these things have been traditionally acquired by American, British and other institutions.
There's a long history of that. In addition to that, what that looks like in recent times, is dealings -- not overt dealings -- with the black market, which Kapoor represents.
But a kind of a wink-and-a-nod system where Subhash would offer objects that were 'fresh' to museum curators and they are highly desirable because they haven't been circulated by the academic community and haven't been owned by other people. There is a commodity for those (kinds of objects).
---
'Museums knew if they asked the tough questions they would learn information that would make it impossible, under American laws, to buy things. If you buy something and know it is stolen, you go to jail under US law.'
---
Museum curators for many years have been happy to not ask the tough questions, knowing those tough questions would lead to awkward answers. I think it would be naive to say these museums were duped by Kapoor.
He used false paperwork while selling these objects. It didn't take me more than 15 minutes to look at that paperwork, when I got it, and determine that it was false.
Kapoor was using Salina Mohamed, his girlfriend, as the former owner of the objects. And many, many of the objects they sold cited his Salina as the previous owner. So it was a very thin facade he put around these recently-stolen objects.
Museums knew if they asked the tough questions they would learn information that would make it impossible, under American laws, to buy things. If you buy something and know it is stolen, you go to jail under US law.
They were happy to take things, with falsified provenance documents, and accept them, because what they really wanted were these objects.
But these are institutions. It is hard to understand this kind of greed on behalf of institutions. It is not personal greed. But it evidently exists.
I have been focused on this aspect of greed in the museum world for many years. So it is not surprising to me at all. It is very much a pattern of behaviour.
Many people who go to Western museums do not think: 'Gee, I wonder how this object got here from India to this lovely gallery.'
US law enforcement has mounted this large process to retrieve Kapoor's stolen cache. Museums seemed to have been rather slow in acting on the 'returning' task. I read somewhere that the Met (New York's Metropolitan Museum of Art), has been rather indifferent in dignifying these requests. How could museums get away with that?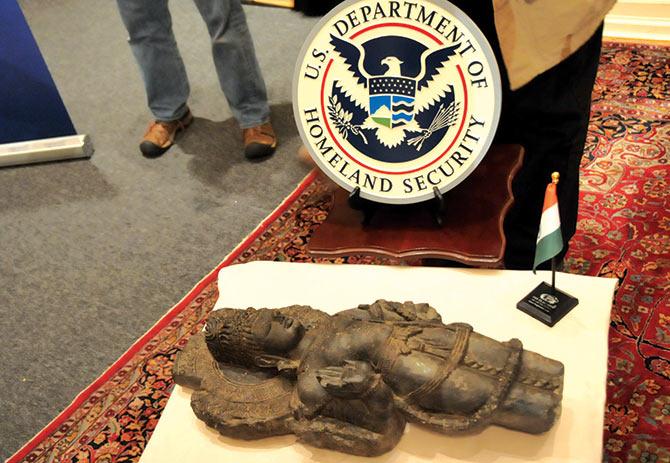 IMAGE: A recovered black-stone Boddhisattva from Bihar or West Bengal, dated to the 11th-12th century. Photograph: P Rajendran/Rediff.com
Museums are deeply troubled by this issue and are aware that they face considerable risk -- not just of losing these objects -- but also their reputations.
With every story about them being linked with a dealer such as Kapoor, the public begins to understand that these institutions have been doing naughty things and have been associating with unsavoury people.
The Met hosted a gala for Kapoor after he donated a collection of Indian paintings to the museum. There are some great pictures of Kapoor at the event being feted as a great donor.
We now have him on trial as an idol thief, essentially orchestrating a network of others like him. It is embarrassing to them. They would much rather stick their head in the ground and hope this issue goes away. Hope that nothing ever comes of it. Or quietly negotiate a settlement with law enforcement that does not reach the public eye.
They would much rather do that, than come out publicly and discuss why they were doing business with Kapoor.
Will museums be forced to meet law enforcement? They can't get away with that finally?
Correct.
When approached by law enforcement they will be responsive.
The challenge on that front is that this is an incredibly under-resourced area of law enforcement. There is essentially one federal agent in New York who is tasked with this investigation. There have been other people, who have helped him for sure, but it essentially falls on the shoulders of one person.
Given the huge scope of Kapoor's business dealings one investigator simply does not have the time to chase around dozens of museums, and private collectors around the world, who were doing business with Kapoor. So he sets his priorities and goes after the big fish when he can. He goes after his best evidence.
Meanwhile, museums sit, wait and hope that the investigator becomes distracted by another case. Or retires. Or this just goes away before that lone federal investigator has an opportunity to come to them.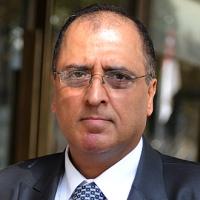 IMAGE: Subhash Chandra Kapoor
'The art market is a $50 billion market that is almost entirely unregulated. There are dozens of dealers in Manhattan who operate openly, are importing things illegally from India, and elsewhere around the world every day.'
---
What you just said is the partial answer to my next question: How could Subhash Kapoor have operated with such impunity? Was it because he knew it would take a long time for law enforcement agencies to get after him? Or for museums to open up to how they got their pieces?
If you are Kapoor, you are surrounded by other people doing the same thing. There are dozens of such dealers in Manhattan who operate openly, are importing things illegally from India, and elsewhere around the world every day.
There is no culture ministry in the US. This is not a priority for the law enforcement. I would say there is a kind of cultural bias. It is not really a crime to steal other people's culture. Don't we have a right to own this stuff? Shouldn't my home be decorated with beautiful things from India if I want that to be the case? So there just simply is not a culture of enforcement here.
It is a free market mentality.
There is no body of government that oversees the art market. The art market is a $50 billion (Rs 33,000 crore/Rs 330 billion) market that is almost entirely unregulated. So people such as Kapoor can operate with substantial latitude, and without fear of being caught.
Usually...
Every now and then it does happen. Kapoor, I'm sure, feels unfairly singled out because he is very aware that there are many others doing this today in Manhattan who are not on trial in India. That's just the nature of the beast.
Until I started reading carefully about this case, a lot of people like me who have gone to museums and seen this kind of art just assumed that it was all stolen long ago. We don't realise it is still being stolen even now. If we did, there would have been more public outrage.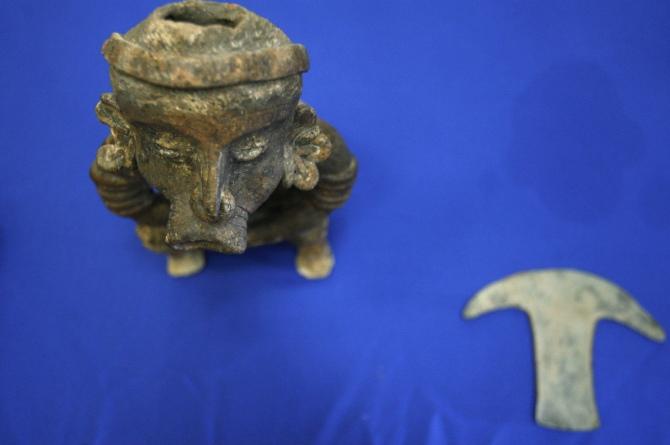 IMAGE: A pre-Columbian statue seen during a presentation at the consulate of Mexico in El Paso, Texas, October 25, 2012. Photograph: Jose Luis Gonzalez/Reuters
You are right.
The truth is that this is happening not just across India or all across South Asia, but around the world -- wherever there are rich archaeological sites. And this black market exists. It is true for North America, Africa or Asia.
India is a wealthy country in many ways.
There are places where you can bribe your way through customs...
It is not difficult to find officials around the world who are willing to look the other way when these objects are crossing borders.
On both sides?
Yes, on both sides.
I think in the last 10 years, in the US, our law enforcement agencies have begun to understand that this is a black market and it isn't legal trade. And it began to take enforcement more seriously.
This (Kapoor) case is directly related to that trend, because the particular agents involved in this case were trained by a group of archaeologists, who have been educating law enforcement about the illicit antiquities trade and helping to stop more objects, as they cross the border.
There has been a substantial increase in law enforcement attention to this issue in the US in the last 10 years.
That said, we are still touching a teeny fraction of the illegally-imported objects coming across the border.
Given your experience in the field, how big an operator do you think Kapoor was, given that the seizure from his warehouses were worth millions of dollars?
Kapoor was not the biggest fish. He was a small fish who had recently had been doing better. He had only been in business since the 1970s in New York.
He did not become a prominent dealer really until the mid to late 1990s. It was only relatively recently that he was able to secure the sources in India, Afghanistan and Cambodia, that allowed him to get the really highest level objects, and that helped propel him in recent years up the ranks.
We see in his warehouse the millions of dollars of worth of art that is sheeted, in storage facilities, his stock.
That gives a sense of what his business was like at the time it was stopped in 2012. And we see a wide variety of objects. We also see a number of not that expensive objects.
But occasionally, we see some very prominent objects -- in particular, the bronzes from Tamil Nadu -- they were some of the most important objects he possessed.
What led to Kapoor's outing?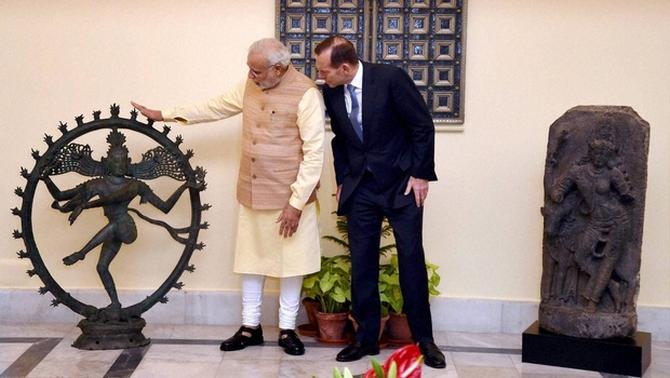 IMAGE: Prime Minister Narendra Modi explains the story behind the Chola-era Nataraj idol to his Australian counterpart Tony Abbott. Also pictured to the right is the Ardhanariswara, which represents Lord Shiva in half-female form, and dates back to the 10th century. Both statues were stolen from temples in Tamil Nadu in 2008 and their return was sought by India in March, 2014.
This investigation began in Tamil Nadu. Essentially, there was a series of temple robberies (in 2006 in Ariyalur district). The police there was able to arrest some of the lowest level guys who had broken into these temples (and were paid between Rs 200,000 to Rs 300,000 for three hauls).
They began to talk. They revealed Sanjeevi Asokan (a Chennai art dealer), who was their coordinator. Asokan identified Kapoor as the mastermind of the idol network and told law enforcement that Kapoor had come to Chennai in 2005 to meet him. He had revealed that there was an enormous interest in the art market for these (Chola) bronzes. And Asokan did know where to get more.
Asokan arranged for the supply. That is what Kapoor is on trial for in India. Eighteen bronzes (for which Kapoor allegedly paid Asokan in 2006 and 2008, approximately Rs 1.16 crore/Rs 11.6 million and Rs 1 crore/Rs 10 million respectively, as per details available with the Chennai economic offence wing records).
It is just a teeny fraction of his global network of suppliers. So we are just seeing a small window into how Kapoor worked in Chennai.
But I think it is fair to say that similar networks exist in the tribal regions of Pakistan and Afghanistan, where a lot of the Gandhar kingdom material comes out of (present day Kandahar).
And the border regions between Cambodia and Thailand, where ancient Khmer material comes from. Similar networks exist all over the place and were also supplying Kapoor.
Does he seem a knowledgeable kind, from what you have discovered about him in your research?
Kapoor's father had been in the antiques trade in Delhi, so he had a working knowledge of the material he was selling. My understanding is that Kapoor is a businessman, and he saw an opportunity. He knows enough to sell the material and how to market it to clientele.
He saw that these types of objects -- that his father had sold in Delhi in the 1950s and 1960s -- had an enormous market in Manhattan. Patiently, over the years, he developed his own dealership, and his own supply networks and found a niche in the market that he was able to supply this type of material to, initially through donations.
---
'Kapoor was selling sacred Indian objects for money. So that tells me as much as I need to know about his character.'
---
If you look closely at the acquisition histories for most of these museums, many did not buy expensive objects from Kapoor right away, because he would be an unknown dealer. The way he opened the door to these institutions was by donating objects to them.
If you look through the objects that have been identified in museums around the world (that came from Kapoor), many of these first acquisitions from Kapoor were donations that the museums accepted without asking any questions.
Once they got to know him as a donor, he developed a relationship with them. He turned it into a client relationship and began selling them more important materials as he got access to them. That was the evolution of his dealings with museums.
From whatever you have been unearthing about his case, are there any details about what kind of man he is and where his fortune is stashed away?
He was selling sacred Indian objects for money. So that tells me as much as I need to know about his character. I still don't know what his personality is like.
I know he had a series of girlfriends who all came to play a role in his business. He had an Indian wife who he left in the 1980s. There are some divorce records from that separation.
He was the son of an antique dealer... Then he comes to New York where everybody makes your dreams come true... (laughs).
Because you probably see the pattern in all these kinds of cases: Is it just more greed that finally outs them?
That's right. Also, often it is personal betrayal. Somebody you don't treat well calls the police and spills what you have been up to.
Or you get greedy and don't pay off your suppliers. Something like that is often what ends up bringing criminals into the open. That's not limited to the antiquities trade, that's just what happens with criminals. Don't treat people well they will betray you.
To go back to how museums acquire their treasures: Does it mean that any new artification a museum acquires is suspect? How can museums acquire in a morally and ethically correct way?
I think the problems are specific to the trade in ancient art. If a museum wants to buy old Masters, or a museum wants to buy modern art, there are different moral issues that come up. But essentially these ones are (specific) to the antiquities trade. And museums know this.
The antiquities trade is the darkest, shadiest corner of the art market. It is where the dirty business is done. You can't go digging in a field and find a Michelangelo. But you can go digging in a field and find a $5 million (Rs 33 crore/Rs 330 million) Chola bronze or some other great statue. Because of that fact the antiquities trade is totally (filled with) criminals and black market networks that are supplying (stolen) material.
Museums have known this for long. Curators are experts at the art market. They know who the suppliers are and where these things are coming from. But it is something that we and the public is now learning more about.
So if a museum wanted to be diligent (while acquiring antiquities) there is not very much scope. They need to maintain high standards about the documentation that comes with the object. What that means is that you do not accept a piece of paper saying: 'This used to be owned by my girlfriend.'
You ask: 'Well, are there any pictures of her having this object she claimed to have since the 1950s? Do you have any family photos in which this object appears?' Just those normal due diligence stuff you do to verify these claims, knowing that this is a dirty black market.
Museums -- at least in the US -- have begun to take this a little more seriously, in part, because they keep getting in trouble. But there is still much more work to be done.
---
'The antiquities trade is the darkest, shadiest corner of the art market.'
---
The initial focus was on Greek and Roman objects. Nobody was paying attention to objects coming out of Asia. Kapoor's case has changed that. Museums now know that these problems exist in India.
The Cambodian case, that we had here two years ago, involving Sotheby's, showed everybody that objects coming out of that country had been removed by the notorious Khmer Rouge (who once ruled Cambodia) and you need to be very cautious about buying those.
So we are very slow learners. The museum community is very slow to learn these things; but they are now learning that each of these areas of the antiquities trade has these same problems.
If they are not cautious, they are going to get in trouble. And the next Subhash Kapoor is probably the person (they) are doing business with today.
And Sotheby's and Christie's are part of this situation in their own way?
They are a very big part of this, because they are buying and selling a huge volume of material, much more than any museum, and they have a policy of keeping the consigner confidential. And because of this, they can be used by criminals to launder most of the looted material.
They also have very low standards on due diligence. They are happy to accept objects whose ownership history goes back only a few years. In my conversations with them, they are aware of the problem and not interested in getting into trouble.
But they are also business people. They know that if they set high standards they will simply not be able to sell Asian art. Because only a fraction of Asian art that is being sold every day has the kind of documented ownership history you need in order to be confident that it was not looted. So that's the problem.
If you are intent on buying and selling Asian art you are going to be involved in this black market .If you are going to limit yourself to the very wholly legitimate objects then there is very little for you to buy or sell.
So, museums and auction houses that see their role as buying and selling this stuff, try to manage that risk. But they end up getting in trouble again and again.
Isn't the easiest way for a museum to enhance its prestige -- instead of expanding its collection -- is just to organise exchange of objects from other museums, I mean, rotate the historically 'stolen' stuff between them?
I think this is the 21st century answer to the museum's dilemma.
The so-called universal museums we have in London, Paris, the Met -- these are relics of the colonial era. They are treasure palaces of the conquerors.
And a modern museum -- not built on a colonial mentality -- will look very different. It would be a place where we still are educating people about world cultures, showing people material from cultures all around the world. We are not acquiring that material to hoard it in our basement, possess it and steal it from others.
We are supporting those countries, whose culture we are displaying, in their own efforts to protect these objects, conserve these objects, explore these objects, excavate these objects, in a scientific way that furthers our knowledge, rather than destroying our knowledge.
The Getty Museum has $6 billion (about Rs 662 crore/Rs 6.62 billion) in the bank. Why doesn't the Getty Museum sponsor archaeological digs, which are chronically under-resourced?
The Archaeological Survey of India has been unable to complete its survey because it lacks the resources and attention from its government that it needs. Could the Getty bring some of this technology? Bring some of its resources to come help India preserve that?
Instead of just buying their art on the black market, why not support India? Indian museums have basements full of incredible objects that have never left the country.
Could India loan those objects to American museums in exchange for support? Or advice or whatever they need. I don't know what they need.
There is a better way and it is through loans, cooperation and a peer-to-peer relationship, not a patriarchal relationship. We are slowly getting there.
I think we have seen indications of that in recent years. There are more loans. There are collaborations happening. The tone is changing.
The old guard of Western museum directors, who had this kind of colonial mentality, is retiring and a younger generation understands that the world is changing. So it is happening slowly, but happening. By pointing out the criminality in the market, we are trying to speed that process up.