'It is nobody's contention that uncomfortable questions regarding national security should not be raised. But that is a topic for another day and another time when the immediate threat has faded,' argues Vivek Gumaste.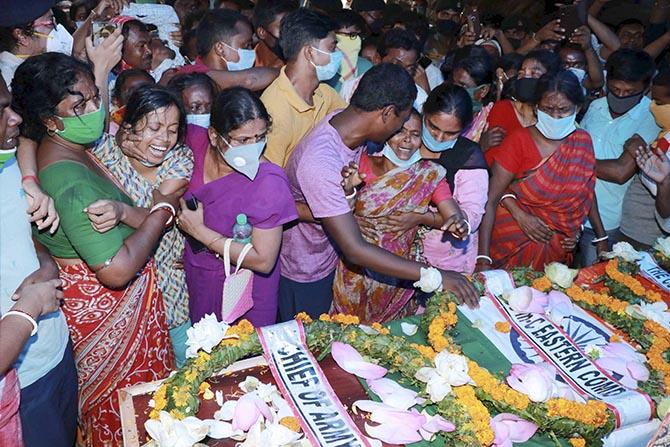 Even as the Indian government puts its head together to formulate a pragmatic approach to the formidable challenge posed by the Chinese threat, it is being broadsided by a dangerous, ill-timed, malignant domestic narrative, essayed by the 'pull down Modi' gang that speaks of policy failure, operational lapse and duplicity; an irresponsible baseless hectoring that will only serve to weaken the national resolve.
A cardinal tenet of any civilised nation is that in times of war, people demonstrate cohesiveness and rally around the leader.
The negativist campaign in play today, though masquerading as a well-intentioned debate, violates this dictum in its entirety.
Leading the charge in this campaign of vitriolic calumny is a dated, over the hill Congress party desperately seeking to extract political mileage from a grim national predicament even at the cost of national security.
Complementing the juvenile utterances of his master ('Surrender Modi', courtesy Rahul Gandhi), Kapil Sibal rolled out a series of five questions whose explicit purpose is to embarrass the government; these querulous interjections may have validity at another time but at this crucial juncture they come across as petty, vindictive and self-serving rhetoric.
One of the pivotal arguments in this concocted composition is that Modi was so smitten by President Xi Jinping's aura and his own ambitions of being a world statesman that he misread the Chinese president's intentions.
P Chidambaram indicts Modi (external link) for an error of misjudgement -- of failing to 'take a correct measure of Mr Xi' and accuses Modi of being conciliatory in the face of transgression.
Ajai Shukla writing in The New York Times reiterates the same line albeit in a more vocal manner. He characterises Modi's China policy as being 'in tatters'.
Using adjectives like 'pusillanimous', he portrays Modi as a gullible and expediently timid leader guilty of misjudging Xi, of being subservient to China and of being too late to 'discover his voice' in the current crises.
None of these wild suppositions passes the test of evidence or logic. Modi's overture of friendship towards China did not preclude or compromise the nation's military preparedness. Nor did it act as a dampner to strike up new strategic partnerships with countries inimical to China like the US, Japan and Australia.
In fact, China's current aggressive posturing is the direct result of India's accelerated pace of infrastructure build-up along the LAC in recent years and arguably also the fallout of the renewed impetus to the India-US strategic partnership.
Since Modi came to power in 2014, there has been a concerted drive to shore up our infrastructure in the vicinity of the LAC.
Bureaucratic hurdles have been removed (blanket approval for roads within 100 km of the LAC) and infrastructure build-up has increased at a faster rate: more roads have been constructed, more bridges built and more tunnels excavated in the last 6 years.
Anil Dhasmana, former secretary, Research and Analysis Wing, India's external intelligence agency, affirms (external link): 'The genesis of the building up of faster strategic infrastructure can be traced back to 2014, when the Modi government gave it a big push.'
'One of the first decision of the government was to issue a general approval in July 2014 for the creation of road network by the Border Roads Organisation within 100 km of aerial distance from the LAC,' points out Dhasmana.
'This general approval ensured that requirement of prior central government and other bureaucratic process were done away with.'
'This was in stark contrast to the approach taken by the UPA government where blocking of such sensitive infrastructure projects under various reasons was the norm. Only one tunnel was constructed between 2008 and 2014 while six tunnels have been made during 2014 to 2020,' notes Dhasmana. 'The construction of about 19 tunnels is also under progress.'
'During 2008 to 2014, 7270 metres of bridges were built, while 14,450 metres of bridges were built between 2014 and 2020. In the period between 2008 and 2014, roads of 3,610km were constructed on the border while 4,764 km of roads were built between 2014 and 2020,' the former RA&W chief points out.
'For about five decades after the 1962 War, the construction of these roads which were neglected has now been taken care of and it has been constructed in record period of time along the LAC.'
'Undoubtedly, India's push to build and upgrade infrastructure along the LAC is behind China's aggression and recent border skirmishes.'
Lieutenant General A L Chavan (retd), former director-general of Military Training and General Officer Commanding 3 Infantry Division, concurs (external link): 'In 2014, we had no access by surface means to Daulat Beg Oldi and Sub Sector North for almost half of the year.'
'Now, we can drive from Darbuk to DBO in approximately six-eight hours, and it has given us major benefits in terms of domination of Depsang Bulge in the DBO area,' says Chavan.
'It may not be an overstatement to claim that we will be at par or better connected than the Chinese within the next couple of years if the present momentum is maintained,' the general points out.
'This has given a quantum jump to the morale of the forces operating in this area in extremely difficult, super-high altitude terrain with substantial areas in permafrost. The equipment we have, too, has improved considerably and is the best available in the world,' the general adds.
India, under Modi, has acted as a mature nation: extending the hand of friendship without overlooking its national security interest.
An overtly pessimistic and deprecatory interpretation of Indian military missions, especially those conducted under the aegis of the Modi government, is intrinsic to this negativist lobby.
Nitpicking and scepticism rule the roost rather than an objective analysis. The current crisis suffers the same fate.
Yogendra Yadav's contention (external link) that the government failed to act promptly as 'the government's entire focus was on perception management rather than management of the borders', is wrong.
India acted in a responsible manner allowing negotiations to run their course before taking effective proactive measures.
And when China failed to de-escalate as per the June 6 meeting of the respective military commanders, India acted decisively.
The sequence of events as narrated by External Affairs Minister Subrahmanyam Jaishankar is as follows: China erected a 'structure' on India's side of the LAC even after the de-escalation agreement on June 6.
The Indian patrolling unit evicted the Chinese and demolished the 'structure' leading to the conflagration.
Satellite images (external link) shot a day after the June 15 combat show debris from the observation posts on a ridge on India's side of the LAC not present a week before.
For the Indian Army to demolish a Chinese post in the present tense situations speaks of exemplary courage and second, it is highly improbable that such a mission would have been undertaken without the concurrence of the government -- indicating a clarity of thought and purpose.
The Galwan incident emphasised the ability of the Indian Army to achieve its objective and by inflicting heavy casualties on the enemy sent out a strong message of deterrence to China. Anywhere between 35 and 43 Chinese were killed (American intelligence and ANI reports).
So, despite the continuing distrust of our own doubting Thomases, emerging information appears to corroborate the Indian claims of significant Chinese casualties including the death of their local commanding officer.
Post the Galwan episode, in a further show of determination, the government has deployed its specialised high-altitude warfare forces along the 3,488 km Line of Actual Control to counter Chinese aggression.
It is nobody's contention that uncomfortable questions regarding national security should not be raised. But that is a topic for another day and another time when the immediate threat has faded.
And at that time we should also seek an explanation from the Congress party which has governed India for more than 50 of India's 73 years of independent existence as to the cause of the power asymmetry between Indian and China; more specifically, we would like to know about the corruption scandal and the delay involving the completion of the strategic DSDBO road that is at the center of the current Indo-China confrontation.
Commenting on the current political debate raging in the country, General Ved Prakash Malik, Indian Army chief during the Kargil War, remarked (external link): 'National security is the biggest issue. It is a matter of great sadness that our political parties are publicly raising their fingers on the issue of national security.'
'Of course, raising questions is your right, but instead of doing it publicly, discuss it in the meeting, it would do better,' the general added.
Dissent and debate are the cornerstone of any democracy and it is important that we respect differing opinions.
I have explicitly refrained at any time from terming those who differ with me as anti-nationals. But when someone indulges in such boorish behaviour that undermines our national resolve and attempts to demoralise our army while an expansionist power is hovering menacingly on our borders, then the gloves are off.
---
My India: Musings of a Patriot. You can e-mail the author at gumastev@yahoo.com