'Today, we being the majority pass a law and if the Opposition parties do not like it, they stand on the benches and dance, throw files at the Chair, and beat up women marshals.'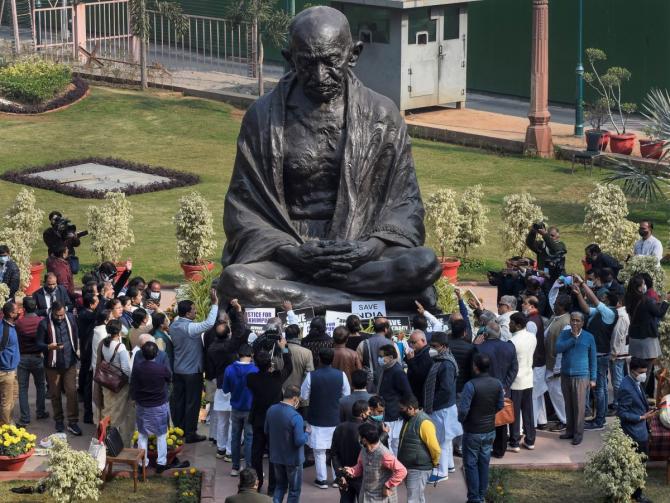 The winter session of Parliament concluded on Wednesday, December 22, a day before it was scheduled to end.
Some important bills were passed in this session -- like the Election Laws (Amendment) Bill, 2021, that seeks to link the electoral roll data with the Aadhaar ecosystem.
However, the highlight of the session was repealing the three contentious farm laws.
Another development that kept the session stormy all along was the suspension of 12 Opposition members from the Rajya Sabha.
This move gave the ruling dispensation a majority in the Rajya Sabha, thereby making it easier for them to get these bills passed in the Upper House.
Rediff.com's Syed Firdaus Ashraf asks Dr Rakesh Sinha, the Bharatiya Janata Party Rajya Sabha MP, for his impressions of the turbulent winter session.
What's your view on the outcome of the winter session of Parliament?
The outcome is more than satisfactory. We delivered on the businesses that were taken in the Lok Sabha and Rajya Sabha.
Many important bills have been passed, among which linking of Aadhaar with the voter ID card -- though this is voluntary -- and also the Appropriation Bill.
There was thorough discussion on all these issues.
The only thing is that there were many days without Question Hour and Zero Hour, which are dedicated to members of Parliament.
These hours are not (for) the government's business, but members' business and that suffered badly, especially in the Rajya Sabha.
Why is this happening in the Rajya Sabha?
Parliament is not alien to (the political) party system.
The culture of party reflects in the proceedings of Parliament.
There is a symbiotic relationship between the parliamentary party and party organisation. The political culture prevailing in the party at present is now reflecting in Parliament.
We are here (in Parliament) to use the power of logic and we are not enemies of each other.
It is natural that the Opposition is there to oppose the government and protest against it, but Parliament cannot be a platform for street fights.
We are the people who fought against the colonial government.
Mahatma Gandhi established satyagraha as the means of protest. And this dominated over nationalist revolutionaries.
Satyagraha became mainstream and nationalist revolutionaries did not become mainstream.
And here in our country today, Opposition members in the House of Elders, that is the Rajya Sabha, are throwing files at the Chairman. Is it acceptable?
This happened during the monsoon session. What was the need to suspend the MPs in the winter session?
The Rajya Sabha is a permanent House which functions in continuity and not the House which gets dissolved.
When such an incident happened on the first day, it was resolved. But on the second day, they (Opposition MPs) caused harm to the security personnel.
The security personnel's duty is to protect the Chair and were just preventing Opposition MPs from breaking the mikes and throwing files.
They (the MPs) broke mirrors of Parliament and punched security personnel.
A committee was formed which summoned these Opposition members, as these incidents were captured on camera.
The Opposition members say the videos were edited by the ruling party and the security personnel were not Rajya Sabha marshals but 'goons' who were brought from outside.
If they say so, let them go to court.
Is it possible (to bring 'goons' from outside into Parliament)? Are we living in a medieval age? Entertaining such questions is going against the ethics of journalism.
As a Member of Parliament, I entered the Rajya Sabha with great hope. One can understand MPs protesting and coming to the well to raise slogans, but here they brought whistles with which kids play and they were blowing it in Parliament.
If you do not agree with the government, take your issues to the public. They are mature enough to understand things.
If they feel the Narendra Modi government is not listening to them, they can go to the public. Do dharna or hold a fast.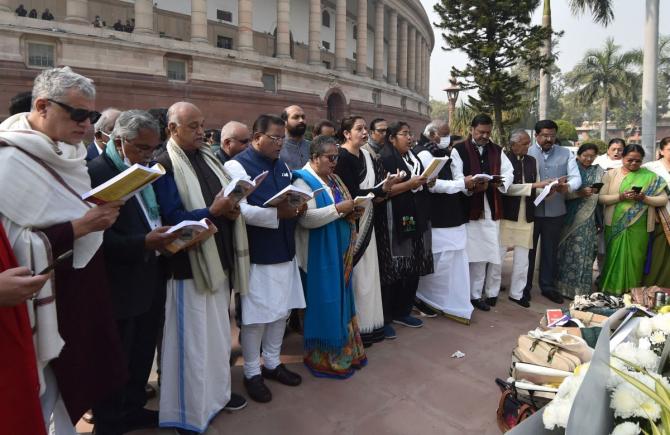 Is it not true that these 12 MPs were suspended because the government wanted a majority in the Rajya Sabha which it did not have to pass the bills easily?
There was a committee formed that had summoned these MPs. They were asked to apologise, but they didn't do so.
If we do not stop them here, tomorrow 10 MPs of the Rajya Sabha can hold the House to ransom.
If the ruling party members had got provoked with this behaviour of the Opposition MPs, there could have been fist fights.
We have seen it (fist fights) happening in many state assemblies; it could have happened in the Rajya Sabha too.
And there was only one condition (to revoke the suspension of these MPs), (that) they apologise (for their behaviour), which they did not do and sat on a dharna instead.
Many of these suspended MPs were seen at the wedding reception for Vice President M Venkaiah Naidu's granddaughter this week. (Naidu is also the chairman of the Rajya Sabha.)
I don't know anything about that.
People must know that Question Hour in the Rajya Sabha is the time where most Opposition MPs ask questions.
Ruling party members may ask questions too, but during this time, mostly the government is held accountable by the Opposition.
If I ask a question, the government has to reply.
Then there's Zero Hour, an innovation of the Indian Parliament, when MPs can speak if they feel the need to raise an issue related to their constituencies or of national importance.
On one day, during the last session, my number to speak during the Zero Hour was 26. It was difficult for me to get a chance to speak that day as I was one of the last speakers.
However, I did get a chance to speak as 10 Opposition members who were to speak before me did not do so.
They could have asked their question during Zero Hour and then let the Question Hour continue, and disturb the business hour if they had to.
What they did was to disturb Zero Hour and Question Hour.
In the last session, they disturbed private members's bill hours too.
In my opinion, the Opposition does not have any agenda as they only have leaders and not an organisation.
The Opposition has the banner, but not an ideology.
Due to the lack of clear, alternative socio-economic vision, they are using propaganda by creating anarchy and unrest as a tool to survive.
On the day the winter session began, the government withdrew the three farm laws without any discussion in Parliament. How could the PM take that decision unilaterally without any discussion?
When the three farm laws were brought in last year, the Congress was given more hours to speak in the committee of business.
Whether these laws were right or wrong is a different matter, but the Opposition got more time to speak on this issue.
During the voting on these laws in Parliament, the Opposition indulged in unprecedented violence.
This means they do not believe in the mandate that the people have given Prime Minister Modi's government.
They say they do not believe in our majority, then let them not believe in parliamentary democracy too.
Let them resign and say, like Naxalites, that they do not believe in parliamentary democracy.
The PM himself did not attend Parliament except on the first and last day, but he issued a diktat to BJP MPs to attend. Don't you feel the PM must attend Parliament as his absence is a bad sign?
Right from Jawaharlal Nehru, to Indira Gandhi, to H D Deve Gowda, to Atal Bihari Vajpayee, the prime minister comes to Parliament only when there is business that requires him to come.
When Opposition members are shouting and abusing in Parliament, what will the PM do there?
This is how Parliament is degraded.
When a new Cabinet is formed, it is the PM's duty to introduce his new Cabinet to Parliament.
When Prime Minister Modi came to introduce his newly inducted ministers, Opposition members did not allow him to introduce them.
They did not follow the norms and conventions. They were only shouting and creating chaos in Parliament.
This has to stop somewhere as there are rules of business in Parliament.
The PM has to run the country and comes to Parliament every day during the session. It is only when he is not in Delhi that he does not come to Parliament.
This time though, it looked like he was more interested in being in Varanasi for the inauguration of the Kashi Vishwanath corridor than attending Parliament. The message that he sent was his interest was more in the coming Uttar Pradesh assembly elections rather than Parliament.
What is wrong in the PM attending the Kashi programme?
China spends $10 billion to spread its soft power across the world and here, in our country, Prime Minister Modi is trying to reinvigorate India's (spiritual) soft power by going to Kashi.
One has to understand that when the Vishwanath temple was built, the Hindu population was only 4 crore.
It is not good that to visit our own holy site, we need to use the influence of some member of Parliament or bribe some priest. (Note: Earlier, the Kashi Vishwanath temple was surrounded by narrow streets, which became very crowded during the rush of pilgrims.)
There was also the fear of stampede because of overcrowding. All this (redevelopment) was done peacefully, without any law-and-order problem (arising due to the presence of the Gyanvapi mosque next to the temple).
The prime minister of India did not go to Japan to inaugurate a temple. He was in India only. Why should anyone have a problem with this? I fail to understand.
When Modi was chief minister of Gujarat, it was alleged that he suspended Opposition MLAs on the first day of the assembly session and got all the bills passed which he wanted on the next day. On the third day, there remained no need for the assembly to meet.
Those who make such allegations against Gujarat are mentally bankrupt. They are misconstruing the history of the Gujarat assembly.
Modiji has never done anything like that. He likes debates and discussions. He enjoys them.
The PM is a very democratic person.
This time, the Parliament session began on November 29 and ended on December 22. Who stopped Parliament's functioning? When these Opposition members got a chance to speak in Parliament, they were only shouting.
If you feel Aadhaar should be not linked to voting cards, then do a fruitful discussion in Parliament.
Had they done that, there would have been news reports on their speeches on this issue. After which they could have taken this matter on the roads, to the public.
The Modi government takes unilateral decisions without consulting anyone. This 'my way or highway' attitude causes all problems.
No ruling party MP has left his seat or gave a provocative speech during any discussion in Parliament.
On the contrary, Opposition members have become agents of unrest in Parliament.
You can attack the PM in Parliament if you do not like him. Who stops you from doing that?
If you don't like the BJP or even the RSS (Rashtriya Swayamsevak Sangh), attack them in parliamentary language and procedure.
In the 1950s, the Communist Party of India government of E M S Namboodiripad in Kerala was sacked by (the then PM) Pandit Jawaharlal Nehru (undemocratically).
At that time, the CPI was a very strong party in Parliament.
I want to ask the Opposition members to go through the discussion that happened in Parliament then.
Nobody stopped the functioning of Parliament even though it was a very hard decision taken by Pandit Nehru.
Intersection in debates used to happen only when someone was giving a factually wrong statement in Parliament.
Today, we being the majority pass a law and if the Opposition parties do not like it, they stand on the benches and dance, throw files at the Chair, and beat up women marshals.
I wonder how can someone do such acts in Parliament? If my party asks me to do all this, I will resign.
The problem is that the government bring bills that are divisive in nature. And that spark protests and controversy.
What should we do? The BJP will not seek permission from 10 Janpath (Congress President Sonia Gandhi's residence) to make bills.
We have been elected by the people and we will make our own bills.
Today, you are interviewing me and I cannot ask you why are you asking me such questions which is hurting me? If I do that, you will tell me 'Rakesh ji, you only send me questions and answers.'
The question here is you introduce divisive bills.
Take the bill that seeks to link Aadhaar to voter ID cards, which too is voluntary.
Take the simple example of scholarships for minorities.
One person with four different identity documents used to get four scholarships. And students who genuinely need the scholarships are deprived of it.
Now what we have done is to link minority beneficiary schemes to Aadhaar and all such elements have been eliminated.
Genuine minority students are getting government benefits now.
The fear is that your government is making India a police State with the help of Aadhaar.
The same thing was said when PAN card was introduced for filing income tax returns.
You should understand who does not want to do Aadhaar linking? These are people with vested interests.
I am always ready to link it because I have nothing to hide.
If today, a voter links his voter ID card to Aadhaar, automatically the database will show whether he is registered to vote at two or more places.
He will then be asked which voter ID address he would like to keep.
You go to stay in hotels today and you have to give your Aadhaar as identity proof.
Ten years ago, you never did that because there was no such crisis or complication in society.
Today, a murderer cannot escape to another city and shut himself by staying in some hotel of that city. He has to submit his Aadhar as identity proof to the hotel.
When he gets caught by the police, he cannot deny that he was not staying in that city when the murder took place.
When civilisation grows, good things surely happen, but with that, a lot of bad things happen too.
To curb the side effects of one pill, you need to take another.
These laws are just like that. And let me remind you again, this Aadhaar link to the voter ID card is voluntary.