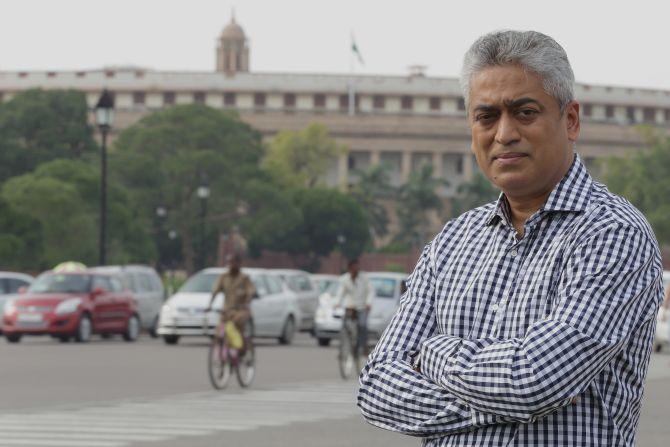 'I didn't want people to say that he is anti-Modi or pro-Modi. That was not the book. This book is about 2014, not 2002'
'The problem is 2002 converted a centrist journalist in the eyes of some people into a raving anti-Modi figure. It is not true'
'Togadia was the most powerful man in Gujarat in 2002. That I am convinced about now. Does that mean I am absolving Modi as a result? That is for you to decide'
Journalist and debutant author Rajdeep Sardesai talks about Narendra Modi, the Congress and the election of 2014, in an interview with Sheela Bhatt/Rediff.com.
The first of a three-part series.
Rajdeep Sardesai, 49, has been a journalist for 26 years, and has worked with the Times of India and NDTV, before setting up the IBN 18 network. He is currently consulting editor of the India Today group.
A graduate of St Xavier's college, Mumbai, where he studied economics, and Oxford University where he studied law, Rajdeep has specialised in national politics over an extended period of time. He has also been a former president of the Editors Guild of India.
In personal interactions he is so amenable that he gets away with many controversies. Son of the cricket legend Dilip Sardesai, he is now trying to hit a six in his maiden attempt at writing a book.
On the eve of the release of his book, 2014: The Election That Changed India, Rajdeep, image, above, spoke candidly in an interview with Sheela Bhatt/Rediff.com.
Rajdeep, you've been a celebrity television anchor and after reporting the 2002 riots you acquired a certain image. You were bracketed as a 'secular' voice. The way you reported and the way you highlighted the inactions of the Gujarat Chief Minister Narendra Modi, it formed one chapter on how the Indian media reported the 2002 riots.
But if one reads your book, it's very interesting to note that the Rajdeep of 2002 is not reflected enough in its full intensity. This book is trying to present the facts as it is and balances out the arguments.
That's a good point. I think one of my aims of this book was not to be judgmental. I didn't want people to say that he is anti-Modi or pro-Modi. That was not the book. This book is about 2014, not 2002. Having said that, I do reflect on 2002. I even mention what I believe was a near-death experience when I was caught on the highway in Gandhinagar and our car was stopped, our windscreen was broken, I was asked to remove my trousers to prove whether I was a Hindu or Muslim. I have reflected on all that.
But I've been very conscious of the fact that if I had got trapped in 2002, then this book would not have reflected what has happened in 2014. It is not that I have ceased to be a 'secular' journalist, I am very much a secular journalist in the sense that I believe that a secular journalist must always be ready to stand up for any kind of discrimination on the grounds of religion. Whether it is Muslims today, Christians tomorrow or maybe even Kashmiri Pandits in the Valley, I believe that is a secular journalist. So what I did on the Gujarat riots is there on record, I'm unapologetic about it. I have said in my book that I believe that the Gujarat government didn't do enough.
Having said that, I've also said that Pravin Togadia was the man in charge of Gujarat in 2002. In hindsight I've realised that. Maybe at that time I didn't realise it. In 2002, I saw Modi as chief minister of Gujarat. Today, over the years, as I've thought about it and as I've talked to more and more people about it, I've realised it was the Vishwa Hindu Parishad who was in control of Gujarat in 2002. Modi had been in power for only four-five months. I don't think he had a hold over administration that he should've had. That I believe is something I have understood over these years. Does that mean I have ceased to be secular?
I am not running a campaign against Modi. This book is a not a campaign against Modi. This book is an honest appraisal of a remarkable election in which Modi is a central figure. 2002 is not the central aspect of the book.
I understand, but even at your book launch, P Chidambaram and Arun Jaitley, such contrasting political leaders, are going to share the dais. This book seems like a journey of Rajdeep to now pacify himself and get into a centrist position.
I've always been centrist. You see, the problem is 2002 converted a centrist journalist in the eyes of some people into a raving anti-Modi figure. It is not true. I just happened to be in Gujarat covering the riots. If I had been a journalist in 1984, I would've covered the anti-Sikh riots with the same intensity of the television camera.
I have often said this, I covered the '92-'93 Mumbai riots with the same intensity but I was in print so nobody noticed it in the same way as television. Sharad Pawar threw me out of a press conference after the '92-'93 riots saying you are reporting against our government. He was the defence minister then. He threw me out of the press conference because I was questioning the role of the Mumbai police and Pawar was not bringing the army speedily enough into Mumbai. Nobody remembers that.
So if you are saying that Rajdeep is trying to recast his image as not being anti-Modi, I've never been anti-Modi. I have been a reporter reporting what I saw. I saw it in 2002. I saw something else in '92-'93. I have reported both honestly. Why should I be in a cage? You are putting me in the cage of 2002.
But what you said just now in response to my first question, are you trying to absolve Modi of the 2002 riots?
Not at all. There are two aspects to it. That is: was the (Gujarat) government incompetent or was the government complicit? Was the government involved in riots? When it comes to incompetence, I've said no riot can take place without the government being proven incompetent. A competent government can control a riot. To that level, the Modi government has to take responsibility for incompetence.
Complicity is a different issue. Was Modi directly involved in the rioting? Did he encourage the rioting? On that I've been very clear, I have no evidence to show that Modi was directly involved in the riots. It would be unfair of me to say he was. I never said it then, I'm not saying it now.
But Togadia's role, I believe, was never fully explored by us in 2002 to the extent we should have because Togadia was the leader of the VHP and in that sense I believe Togadia was the most powerful man in Gujarat in 2002. That I am convinced about now. Does that mean I am absolving Modi as a result? That is for you to decide. I'm presenting facts.
I do believe, after talking to lot of people in Gujarat, that Togadia was running the show in 2002. That many of the ministers owed to their allegiance more to Togadia and the VHP then they did to Modi and the BJP. Modi had been in power for five months. But I wish Modi said this. I would be happy if Modi said that, 'look, I was not in-charge of 2002 but Togadia was'. I wish he would say this. I think that would give us also as journalists little bit more clarity about what was happening in government that time.
Okay! Coming to your book, why do you say that the 2014 election is in the same league as 1952 and 1977?
Because I'm very clear that 1952 was the first election and at that time most people thought India will break up. Then, they said this election is a terrible idea, it's a gamble. But Jawaharlal Nehru succeeded so it was important to establish democracy through elections. In '77, people thought democracy was once again finished in this country. It was important to reaffirm our faith in democracy.
2014 is in the same league because 2014 has seen the emergence of a majority non-Congress government really for the first time. When I say majority I mean single-party majority. In that sense it marks a break with the last 60 years. So I think the scale of the victory is unprecedented. In 1984, it was a sympathy wave election. 2014 needs a deeper explanation about how India has changed after 1947. There is a new India emerging.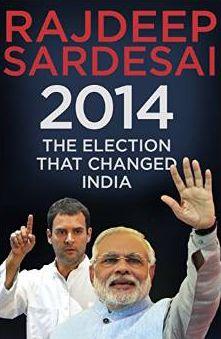 Why did India vote the way it voted? Is it because of Hindutva or development?
I think primarily it is because of a certain degree of anger that has built up, particularly in the last five years, against the ruling alliance. People thought the Congress government was incompetent, people thought the Congress government had failed and there was so much of negativism.
Modi's biggest victory in a sense was being able to channelise this negativism into a positive vote for him. He became Arnold Schwarzenegger. 'I have got the muscle, I will change the India'. So I think there was that element.
Hindutva was there in certain parts of India. There is no doubt in my mind that there was Hindu consolidation taking place, and there was this desire for better governance and faster development. So all three, Modi's image, governance as well as Hindutva, along with as I said deep anger against the present government worked for the BJP.
The main factor, without the anger, I don't think Modi would've succeeded. I think Modi was one leader who was the right person at the right time in the right context. In any other context, I don't think Modi would've succeeded. The context of anger and negativism, which we thought was his weakness, actually became his strengths.
In normal times we would've thought Modi is a polarising figure and dividing people, etc. In fact L K Advani was apparently telling the BJP this, don't make Modi a PM candidate because that'll polarise Hindus and Muslims. But actually, in the times we were living in, Modi became a unifier. You know, Modi stands for governance, the same person who stood for polarising elections was now being projected as a governance icon and it worked because there was this anger.
Did the media create the Modi wave? You have discussed this very interestingly in your book also.
It would be wrong to say that the media 'created' the Modi wave. The media, I believe, rode on the Modi wave. The Modi wave was there. See Jharkhand and Chhattisgarh. There is less media penetration there compared to other states. The BJP swept those states. So there was a Modi wave being built up, there is no doubt about it. The media rode on it. The media was intelligent enough to realise that Modi has TRP or Modi is selling. Rahul is not selling.
And we realised that last year itself, in 2013. So suddenly, Modi's rally got covered live. Often two or three rallies live and Modi was also clever to realise what is prime time or Sundays. There is not much news on Sundays so let's do our rallies on Sundays.
Modi was also clever to know how to use the media. Modi used the media perfectly. And I find it interesting that at one level Modi has contempt for the media. But he knows how to use us also beautifully. He is a master of using the media and at the same time he is contemptuous of the media also.
In your book you have shared insights you got as a top level editor in New Delhi. Tell me, you must have got the inside details of Modi's execution of this winning track, what is really striking about it?
Two or three things are striking. One, I did not know that Modi is such a good listener. Every young man who worked with Team Modi, I asked them what was it about Modi that is appealing. They say he is a very good listener. That, I didn't know.
Two, Modi empowers the young. I thought Modi keeps all power in himself but if he trusts you, he's ready to delegate it to you. Modi is very good at delegating power to younger people or people outside politics.
Modi's problem is in delegating power or working with people who are within politics or are his peers. So he finds it easier to work with younger people who are technocrats. His technocrats were people who were given real power to execute. Whether it was Chai Pe Charcha, whether it was the 3D campaign, he trusted Prashant Kishor of Citizens for Accountable Governance. He gave them power.
I always thought Modi kept everything to himself so I was quite struck by the fact that he was acting like a CEO.
Tomorrow: Rajdeep Sardesai lists the five people Modi should send 'thank you' cards to. Don't miss!
Photograph: Surinder Nagar