'There are enough funds to solve this problem.'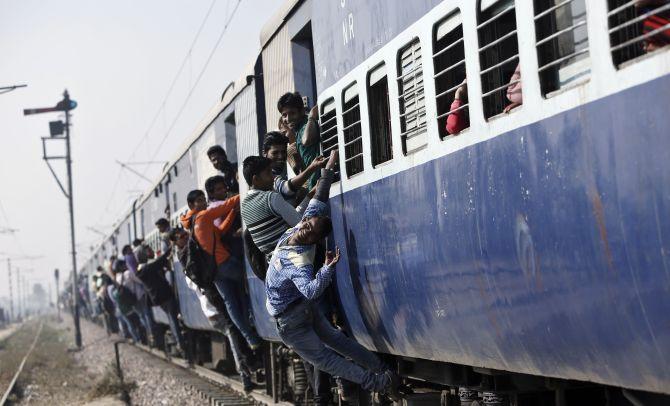 The tragic death of 13 schoolchildren on Thursday, April 26, in Kushinagar, Uttar Pradesh, has once again brought the issue of unmanned railway crossings to the forefront.
In the wake of the accident, Railway Board Chairman Ashwani Lohani has said that all such crossings will be eliminated by March 2020.
Statistics, says Haldwani-based Right to Information activist Gurvinder Singh Chadha, reveal that 613 people died at unmanned level crossings during the years 2011 to 2016.
In 2016-2017, there were only 20 deaths. In 2017-2018, there were four deaths.
The Railway Convention Committee Report (external link) submitted to the Parliamentary standing committee, on unmanned level crossings as on April 30, 2017, stated that 'there were 27,054 level crossings on the Indian Railways network out of which 19,504 were manned level crossings and 7,550 were unmanned level
"As a country we have failed because we don't value human lives in India," Chadha tells Rediff.com's Syed Firdaus Ashraf.
You filed an RTI query over unmanned railway crossings. Why, and what did you find out?
I had seen the data and found out that more people die at unmanned railway crossings than in rail accidents. Therefore, I filed an RTI.
I also wrote to the National Human Rights Commission about it.
I got a reply from the railways last year that they had begun work on unmanned crossings.
When I saw the news of this (Kushinagar) accident, I felt sad as these incidents should not happen.
Where do you think the system failed to control deaths at unmanned crossings?
There is no will shown by the government to stop these accidents.
They have to spend money on such projects. These things should be done on a priority basis. Such accidents cause so much loss for the railways.
Zone-wise number of accidents at unmanned level crossings and deaths therein during 2016-2017 and 2017-2018 (up to July 15, 2017):
Railway
2016-17
2017-18
No. of UMLC accidents
No. of Persons killed
No. of UMLC accidents
No. of Persons killed
Central
East Coast
East Central
4
6
1
2
Eastern
1
1
North Central
1
1
2
6
North Eastern
2
9
1
5
Northeast Frontier
3
4
Northern
4
9
North Western
2
3
South Central
South East Central
South Eastern
1
1
Southern
South Western
2
6
West Central
Western
Konkan
Metro
Total
20
40
4
13
As a country, do we fail to protect the lives of our citizens?
As a country we have failed because we don't value human lives in India.
A human life is considered very cheap.
I stay in Uttrakhand where so many people die because of there being no hospital facilities.
Yesterday (April 25) there was a girl who had pain in the stomach and had fallen ill in a hilly region.
It took six hours for us to take her to a good hospital and get treatment.
The cheapest commodity in India is human life.
India is such a huge country. Don't you think it is difficult to man every rail crossing?
There are enough funds to solve this problem.
In the early days of Independent India, railway ministers used to feel morally responsibly for accidents. But nowadays nobody bothers.
Ministers go and lament at the site of the mishap for one day and then everything comes back to normal.
Lal Bahadur Shastri resigned as the railway minister when there was an accident. Nowadays, there is no accountability.
New technology has come in. Why do such accidents occur?
Prime Minister (Narendra D) Modiji is doing a great job in making digital India and it is really praiseworthy. But the implementation on ground is not happening.
The Indian Railways is still running on the old system.
Isn't Digital India changing the way government functions, and hasn't the railways too adapted to these changes?
There is no implementation of Digital India in the railways.
Max, one can get milk for their child at the next station if they tweet about it to the railways.
This is the best they can do. But they have not done anything for human safety.
Did you give any suggestion to change the system?
I wrote about safety to the railway ministry, but nothing was done from their side.
What are the reasons for these accidents on unmanned railway crossings?
Plugging earphones causes maximum accidents. (Uttar Pradesh Chief Minister Ajay Singh Bisht claimed that, prima facie, the Khushinagar accident occurred because the van driver had his earphones plugged in for music.)
Many a time, people busy talking on mobile phones while crossing railway tracks meet with an accident. These things are common.
Drivers in air-conditioned cars or those playing loud music also fail to hear the train sound, which results in accidents.
Earphones are the most dangerous, though.
Then there are bullock carts which take time to cross the track and if they fail to judge the train's speed their fate is sealed.
State-wise number of unmanned level crossings on broad and narrow gauges as on April 01, 2017
S.N.
State
Number of Unmanned Level Crossings on Broad Gauge
Number of Unmanned Level Crossings on Meter/Narrow Gauge
1
Andhra Pradesh
272
0
2
Assam
141
0
3
Bihar
540
269
4
Chandigarh
0
0
5
Chhattisgarh
15
25
6
Delhi
1
0
7
Goa
0
0
8
Gujarat
791
1104
9
Haryana
92
0
10
Himachal Pradesh
2
4
11
Jammu & Kashmir
1
0
12
Jharkhand
113
0
13
Karnataka
253
0
14
Kerala
7
0
15
Madhya Pradesh
46
336
16
Maharashtra
76
192
17
Manipur
0
0
18
Mizoram
0
0
19
Nagaland
0
0
20
Odisha
223
0
21
Puducherry
2
0
22
Punjab
334
0
23
Rajasthan
472
333
24
Tamil Nadu
333
111
25
Telangana
37
0
26
Tripura
0
0
27
Uttar Pradesh
904
208
28
Uttarakhand
26
9
29
West Bengal
262
167
Total
4943
2758
Did you give any particular example to the government for taking action?
I wrote to them that there are unmanned railway crossings near Moti Nagar and Lal Kua in Haldwani, but no action was taken.
You complain or do whatever, it doesn't matter to the authorities.
I also give them the data about such railway crossings that need to be manned.
I now send all these details to the NHRC which served notices to the railway authorities. Only then they take action.
There have been some good results because of the NHRC stepping in.