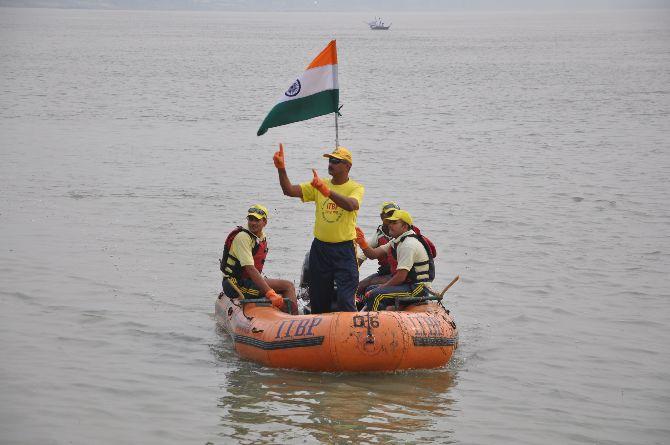 IMAGE: Team leader Surinder Khatri on one of the rafts during the expedition.
'Kanpur and Hoogly district are the most polluted on the Ganga.'
'Records say there are alligators in the Ganga. It is disturbing we could not find a single one. We saw very few tortoises too.'
ITBP Commandant Surinder Khatri, who led the expedition to study the Ganga and create awareness, speaks of what he learnt on India's holiest river.
The Union government has announced an ambitious plan to clean up the Ganga. As part of the 'Swach Ganga' mission the Indo-Tibetan Border Police undertook a special expedition from Uttrakhand to West Bengal.
The ITBP mission sailed on two rafts and collected water samples along the way. They also conducted awareness campaigns on the trip.
Commandant Surinder Khatri, who has been in the ITBP for 22 years, led this expedition. In 2004, he had led a team from Vishnu Prayag to Rishikesh.
On this trip, the ITBP sailed from Dev Prayag in Uttarakhand on October 2 and reached Ganga Sagar in West Bengal on December 12, covering 2,350 kms in 72 days.
Khatri spoke about the expedition with A Ganesh Nadar/Rediff.com
How many members were there on your expedition?
There were 46 members -- 15 on the raft, the rest -- administrative staff -- followed us by road.
On the road were three teams. The first was an advance team which had two members. The second team was part of the awareness programme. The third team made the food arrangements.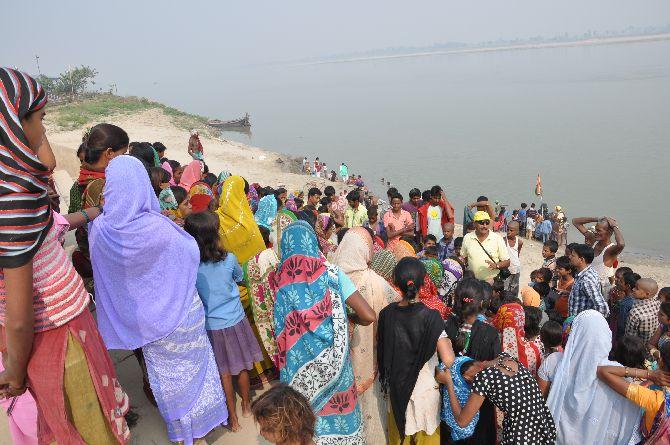 IMAGE: Team members speak to villagers on the banks of the Ganga.
How many rafts did you use?
We had three inflatable rafts. We used only two. 12 people were always on the rafts. This included an operator for radio communication, a photographer, a doctor and other members.
Did you break journey during the night?
We had night halts in 50 towns. We covered 50 stretches in 30 districts across five states -- Uttarakhand, Uttar Pradesh, Bihar, Jharkhand and West Bengal.
We gave awareness lectures in 150 schools and colleges on the way. On a normal day we were rafting from 7 am to 2 pm. Then we conducted awareness sessions and interacted with local civic authorities.
We also had a portable public address system on the raft. We spoke to fishermen and women on the banks with this system. We spoke to them about the importance of keeping the river clean. We did this at more than 500 points.
As part of our cleaning drive we removed plastic and silt from 50 ghats. While rafting we collected plastic and handed it over to the local authorities.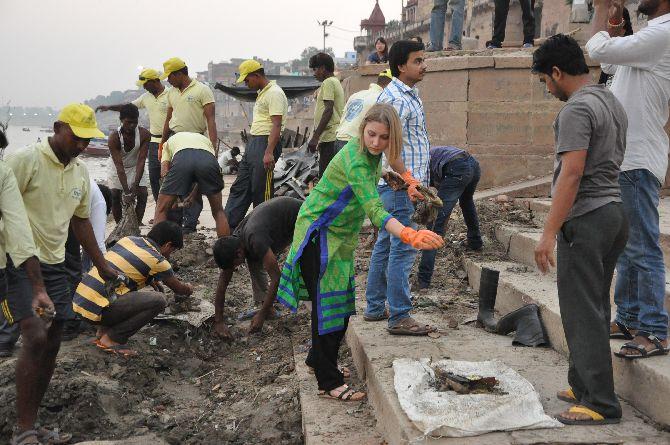 IMAGE: Cleaning the ghats at Varanasi.
Where did you stay?
District officials made arrangements for our stay. We stayed in circuit houses, guest houses and also in schools.
What equipment did you take for the mission?
We had GPS, a portable public address system, water testing equipment that checked 10 parameters in the samples we collected. Readings were recorded every day.
Did any scientist or technical expert travel with you?
No! This was an adventure activity to create awareness among the masses.
Where did you store all the samples that you collected?
We carried the samples with us. We tested it ourselves every evening. All records were written and maintained every day.
How difficult was the mission?
It was not difficult at all. We are from the paramilitary forces and we have covered much more difficult terrain.
The last stretch from Kakdweech to Ganga Sagar -- a distance of 30 kms -- was different from the rest of the journey. It was like we were in the sea. We were moving against the tide. We were drenched. It was thrilling.
Spreading the 'Clean Ganga' message was very satisfying to our team. There was no rain on the way. The weather was good.
IMAGE; Commandant Khatri speaks to a fisherman.
Some memorable moments?
One day we started at 8 am and we reached our destination at 7 pm. It was pitch dark when we reached the Atena bridge in Uttar Pradesh. The last one hour we could not see our way -- it was wonderful.
It was a big adventure. We had our headlights and torches. We could not see whether the water in the river was less or more.
On which other river would you like to go on a similar expedition?
If I was going for adventure I would choose Manali in Himachal Pradesh. If I was going to spread awareness about clean rivers, maybe the Brahmaputra, Yamuna and other southern rivers.
Your report says you saw hundreds of floating bodies (humans and animals). Where was this concentrated?
This was most in Uttar Pradesh. We saw them from Bijnore to Bihar, the Uttar Pradesh stretch. In Bihar we saw one or two bodies floating. In Bengal there were none. Dead animals floating in the water, we saw in all five states.
The reports also mentions funerals on the banks. Were people dumping un-burnt logs into the Ganga?
We saw more than 1,000 bodies buried on the river bank. They were covered only with sand. This was in Uttar Pradesh.
The funerals were also mostly in Uttar Pradesh. In West Bengal, there are electric crematoriums. There are only two places on the Ganga in West Bengal where they carry out last rites. Both have electric crematoriums.
In Uttar Pradesh and Bihar they burn using wood. Electric cremation costs Rs 600, wood costs Rs 6,000, Rs 7,000. They should also use electricity. People should be made aware of this. The people of Uttar Pradesh and Bihar are very religious.
The report mentions that 90 per cent of the water is diverted for irrigation. Which state uses it the most?
Uttar Pradesh uses the most water for irrigation. It happens in the Rishikesh to Narora stretch. After Narora the depth of water is not more than one-and-a-half feet. From Narora to Kacchla it is like this.
You found harmful traces of nitrate, phosphate, ammonia and fluoride in the water --- were you testing it along the way?
Yes! As I told you earlier we tested the samples every evening.
These are industrial pollutants. Were large factories releasing their effluents into the Ganga?
Among the cities, Kanpur and Hoogly district are the most polluted on the Ganga. We cannot name individual factories. We were on the river. Our mandate was not to check factories.
You also mention excessive fishing -- where is this happening?
Excessive fishing is happening in Uttar Pradesh and also in one part of Bengal. The stretch from Kakdweep to Ganga Sagar.
You did not spot a single Gangetic alligator.
Records say there are alligators in the Ganga. It is a disturbing fact that we could not find a single one. We saw very few tortoises too.
You have to understand that alligators are scavengers that reduce pollution.
Poaching of turtles is going on at night say locals in Uttar Pradesh. Even the tortoises we saw, they were very small, they too will be poached.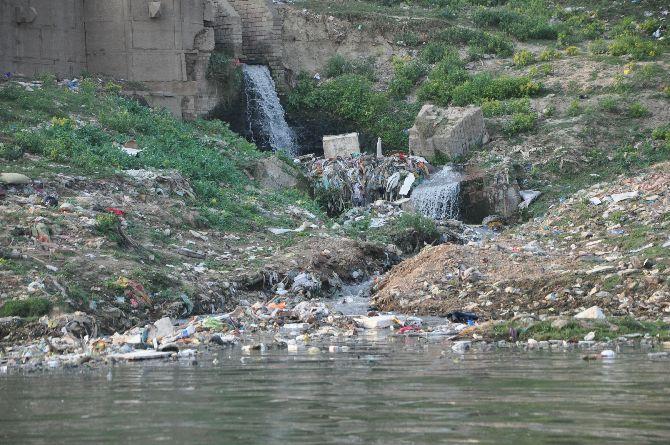 IMAGE: Sewage and effluents flow unchecked into the Ganga in Ghazipur.
You spotted 1,200 dolphins.
Fishermen leave dolphins alone and so they are safe.
What other problems did you come across?
Fishing nets are very fine, like mosquito nets. They catch very small fish. They are killing the diet of the bigger fish. This is very disturbing.
Sewage water drains into river mainly from Kolkata, Hoogly followed by Mirzapur, Kanpur, Farrukhabad and Ghazipur. Sewage treatment plants are missing. Kanpur is very bad.
We observed the manufacture of country liquor in 10 different places. They were using river water for their trade and also discharging hot water into the river. This is bad for the fish. This is happening in four states, it is not there in Jharkhand.
In most towns there is no dedicated place for plastic waste -- except Kannauj, which also had a recycling plant.
Sand is being taken for brick making from the river bank in some pockets. We saw this in around 50 points. This is happening in all the states.
During flooding, silt is accumulated in the river. Annual dredging should be done. After Allahabad dredging is done only for steamer traffic. It should be done to avoid flooding.
Creating awareness was very satisfying. We told women that soap and detergents affect fish. They did not know that.