'There were tears in my eyes when I parted with my medals. I thought was it for this moment did I become a soldier?'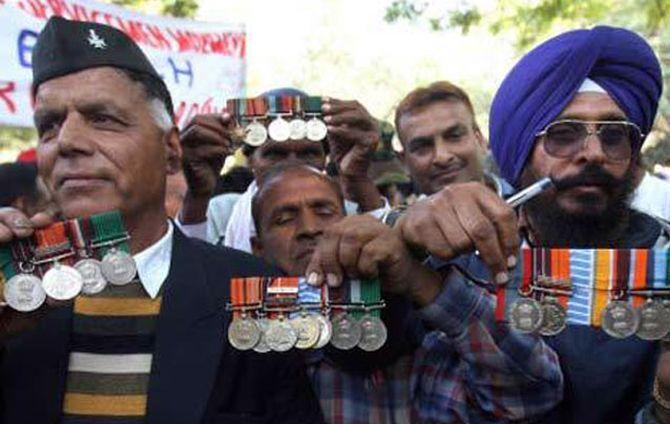 In 2008, Captain H Balakrishnan (retired) of the Indian Navy returned all his medals to the President of India to protest the government's failure to implement the One Rank One Pension scheme.
Captain Balakrishnan joined the National Defence Academy in 1964 and was commissioned as an officer in Indian Navy in 1969. After 23 years of service, he retired in 1991.
Now that the Narendra Modi government has announced its decision to implement OROP, Captain Balakrishnan, left, below), tells Shobha Warrier/Rediff.com that the OROP "is still not complete in letter and spirit."
After 42 years, the government has implemented OROP and the ex-servicemen who were on a fast unto death called it of. As an ex-serviceman, who had given back all his medals, are you satisfied?
I am happy with the government in its acceptance of the definition of One Rank One Pension, which basically implies that those in the same length of service in the same rank will get the same pension irrespective of the day of retirement.
But it doesn't end there. Any future increases in pension will have to be passed on automatically to the retirees. Unfortunately, the government has forgotten the second sentence.
So, the revision will not be automatic and like the government says, it will happen only every five years?
Yes. I will give you an example. Consider five colonels are retiring. One retired in 2015. Another colonel with the same length of service retires in 2016, another retires in 2017, another in 2018 and another in 2019.
The first colonel will get a certain pension and the person retires in 2016 will get more pension as there will be an increment while he is in service and the pension is based on the last pay drawn. The third person will get more pension than the first two, and so on.
Finally, the equalisation will happen after five years. Only then will all five colonels get the same pension. Where is OROP then? It is as simple as that.
There is a more important thing; our entire edifice is built on rank. How can you accept a major general who retired in pre-2006 getting a lesser pension than a lieutenant colonel and major who retired in 2014?
You must have heard Major General Satbir Singh saying that no senior should get a lesser pension than a junior.
But once OROP is implemented, will this not go?
It will happen, but the major general's pension will get adjusted only after five years. In five years, the pay scale of those who are in service will go up. And you will have to wait for another 5 years, to get your pension adjusted to that.
Actually this is a bogey created by the finance ministry babus that it cannot be equalised every year. We did that from 1947 to 1973 when there were no computers.
I also ask the babus and the finance minister to see the one million items that are put on the IRCTC Web site all across India. Does it have any problem? Then what is the problem in equalising the pension for a limited number of people every year?
When two colonels do not get the same pension, you are deviating from the concept of OROP when OROP is one rank one pension. There is a dichotomy in what the defence minister said. He said we accept OROP. If you are accepting OROP, you have to satisfy the two conditions; that same rank same pension for the same period of service, and any future increase in pension will automatically be passed on to the retirees.
This means you are not satisfied with what the government has offered.
I am happy that the government has accepted the concept of One Rank One Pension, but I am not happy with the interpretation. It is typical of babudom.
Our enemy is not Pakistan or China; our enemy is our bureaucracy.
There was OROP from 1947 to 1973 with annual equalisation in pension. Was it Indira Gandhi who was responsible for taking it away?
It was Indira Gandhi and the Congress that is responsible. After winning the war, we were rewarded with our pensions being reduced from 70 per cent to 50 per cent and for the civilians it was increased from 30 per cent to 50 per cent. Additionally, this was done ex parte. They didn't ask the services for their views.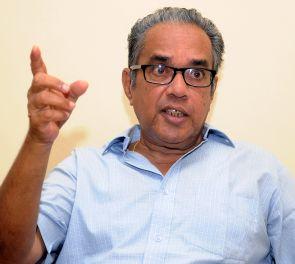 IMAGE: Captain H Balakrishnan (retd) of the Indian Navy. Photograph: Ramesh Damodaran
Why is it that nobody in the services protested when OROP was withdrawn in 1973?
Colonel Hariharan (retired) said that we are equally responsible for what has happened and I agree with this.
I only wish our service chiefs had shown more fight from then till today.
There is a Chetwode Hall (named after Field Marshal Philip Chetwode) in the Indian Military Academy and there is his saying written there; that 'the honour, welfare and safety of your country comes first and the honour, welfare and safety of your men come next, and your own comfort comes last, always last.' I wish our service chiefs had read the second part. Unfortunately, they have not done that.
The Fourth Pay Commission became operational on January 1, 1986. In that, Justice Ratnavel Pandian had introduced the concept of Rank Pay for officers in the army. It had two components, one of which had to be added to the basic pay and another was allowance.
Do you know what the babus did? They cut off the Rank Pay because if you add it to the basic pay, pensions increase, and they didn't want that.
One officer, Major A K Dhanapalan, went to the Kerala high court challenging this and he won the case. The government then appealed to a division bench in the high court and again he won the case in 1992.
'When a flood happens, when a small child falls into a well, why do you need me? Why don't IAS officers or the police get into the well? Why doesn't the chief secretary go to Ahmedabad and defend the city when the Patels agitated? Why do you need an army column? At the drop of a hat, you want us to come.'
Finally, the case was settled in the Supreme Court in 2012, 26 years after the cheating by the government. By now, many of them have left this world itself. If the government had grace, it should have given it to everybody in the beginning itself. More saddening was recently an officer said he had brought it to the notice of the chiefs but nothing happened.
So, not only the babus but our own chiefs are also responsible. The bureaucrats took advantage of the fact that there was nobody on the other side to fight for us.
Do you know what Lieutenant General P G Kamath (retd) wrote? That the bureaucrats waited for then General (later Field Marshal S F J H) Maneskshaw to retire to release the Third Pay Commission report. They knew if he was there, he would have thumped the table.
Similarly, in 1980, free ration was being given to army people, which the bureaucrats wanted to change, and give money in lieu of rations. Admiral Ronnie Pereira, the much loved naval officer, put his foot down and told Indira Gandhi that he wanted his boys to get something that was inflation-free.
You gave back all your medals protesting the non-implementation of OROP. Now that OROP has been implemented, will you accept them back?
I gave them up in Bengaluru in 2008. I don't know whether the medals will be traceable at Rashtrapati Bhavan. Another thing is OROP has not been implemented fully in letter and spirit and gracefully in a manner that is acceptable to ex-servicemen.
When Major General Satbir Singh says accept the medals, I will.
You used the word, gracefully. Is it because those who guarded the borders of the country had to resort to a hunger strike to get what is their due?
Yes, what a lack of grace! We started the protest in 2008. Major General Satbir Singh came to Bengaluru then. More than 65,000 medals were returned to the President.
How did you feel returning your medals?
Very sad. I cried when I parted with my medals, but what to do? We did that in disgust. There was a sense of disgust at babu-dom. I asked myself then was it for this moment that I became a soldier for this country?
You criticise the babus. What about the politicians? Are they not equally responsible?
The Bhishma Pitamah of the strategic community is the late Shri K Subrahmanyan who wrote the Kargil report. He wrote, 'Politicians rule without responsibility, bureaucrats have authority without accountability and military takes on the responsibility without any guidance.'
When a flood happens, when a small child falls into a well, why do you need me? Why don't IAS officers or the police get into the well? Who is responsible for the defence of India? The defence secretary, an IAS officer, not the service chief.
So, why doesn't the chief secretary go to Ahmedabad and defend the city when the Patels agitated? Why do you need an army column? At the drop of a hat, you want us to come.
'The babus never paid Field Marshal Manekshaw a penny till a fortnight before he passed away.'
Do you know how India treated its most famous son, Field Marshal Manekshaw? A Field Marshal never retires and he is entitled for allowance as a Field Marshal till his death. But the babus in the ministry of finance and defence never paid him a penny till a fortnight before he passed away.
When he was in a military hospital, a low functionary of the defence ministry went with a cheque of Rs 1.6 crore (Rs 16 million) as back pay for Sam Manekshaw.
If this is the way you treat your most famous son, how will it be for Major General Satbir Singh and the others?
So your grouse is mainly against the bureaucrats?
They are the main villains, the diabolic schemers. That is because the politicians have abdicated their responsibility.
Let me ask you, how many children of politicians and bureaucrats serve in the Indian armed forces? Naturally, there is no empathy. On the other hand, in Punjab, you will see third and fourth generation of family members in the armed forces.
Secondly, I dare say, with our own resources, we, in the armed forces, live in a very clean and disciplined environment and our children are healthy and go to school whereas the situation is different in the rest of the country. Probably, there is a feeling of jealousy.
Do you give Prime Minister Narendra Modi credit for implementing OROP?
Of course, I will give credit to Narendra Modi for accepting the concept of OROP. I am grateful to him. Having said that, I will also say, having accepted the concept of OROP, why don't you implement it in letter and spirit?
There was also a needless inclusion of the word Voluntary Retirement Scheme. There is no VRS in the armed forces; there is only premature retirement and that is done to keep the armed forces young.
My feeling is that (Defence Minister) Manohar Parrikar understood what was explained correctly by Major General Satbir Singh. Again, he is a prisoner of the system. The situation is, those who do not understand warfare and military ethics, sit and judge you.
Lal Bahadur Shastri meant well when he used the term 'Jai Jawan, Jai Kisan.' The others using it, is hypocrisy. When our jawans are on hunger strike at Jantar Mantar and the kisan killing himself, where is Jai Jawan and Jai Kisan?
What do you feel about A K Antony's reaction to OROP?
It is like a devil quoting the scriptures. I would say, India's worst defence ministers were V K Krishna Menon and A K Antony.
Some people feel the armed forces are not appreciative of what the government has done. What do you have to say?
I am sorry to say the Fourth Estate has not educated the public properly. I will give you an example. There were two fasts that were taking place at Jantar Mantar; the relay hunger strike and the fast unto death. What did the media report? Hunger strike called off. No, the relay hunger strike was not called off; only the fast unto death was called off.
'They can write off MAT, Rs 20,000 crore as NFFU and Rs 62,000 crore tax break for your corporate world, but you cannot give Rs 8,000 crore to your soldiers who guard you day and night.'
Similarly, some in the media do not understand the difference between premature retirement and voluntary retirement. If the public feel we are not correct, I will blame the media.
I want to ask, why didn't the media write about the Rs 20,000 crore (Rs 200 billion) loot of the exchequer in the 2006 scheme called Non-Functional Financial Upgrade, which has not been applicable to the armed forces.
If there are 100 officers belonging to the IAS, IPS, IFS, IRS, etc, and if one person goes to the next grade, all the 99 also will be given the same pay as the one fellow who got promoted. That is OROP, if you don't mind.
There was not a whimper in the media about this. It is only the Rs 8,000 crore (Rs 80 billion) for the OROP of the armed forces you talk about and not the Rs 20,000 crore.
Are you hopeful of a graceful solution?
We all live in eternal hope. All that Modi has to do is, tell Arun Jaitley and his finance ministry officials to implement it. He should say, if you find it difficult to implement, we will find some other finance minister as they are the stumbling block.
See, they can write off minimum alternate tax, Rs 20,000 crore as NFFU and Rs 62,000 crore (Rs 620 billion) tax break for your corporate world, but you cannot give Rs 8,000 crore to your soldiers who guard you day and night.