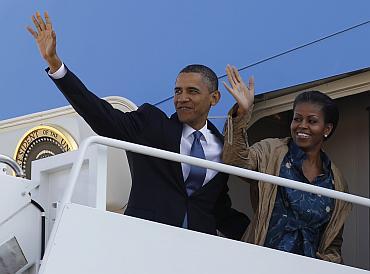 US President Barack Obama left for India as part of his four-nation Asia trip that would also take him to Indonesia, South Korea and Japan.

The Air Force One aircraft carrying 49-year old Obama along with the First Lady Michelle took off from the Andrews Air Force Base for a 10-day visit to Asia. Obama, dressed in a suit and tie, and the first lady in a slate blue dress with cream detail, a camel-coloured jacket and black boots, boarded the plane at 7:35 pm IST,waving to the cameras.

The presidential plane would have a stop-over at Ramstein in Germany to refuel and his scheduled arrival in Mumbai is at 1250 pm on Saturday.

In Mumbai, Obama would stay at the Taj Hotel, which was attacked by terrorists in November 2008. After a two-day stay in Mumbai, the President will travel to New Delhi on Sunday.

Image: US President Barack Obama and first lady Michelle Obama step aboard Air Force One at Andrews Air Force Base in Maryland.
Photograph: Jason Reed/Reuters