Shrug off the yoke of the imperialism of Delhi.
That is why the DMK manifesto offers what it offers: The promise that Tamil Nadu will, one day, become an independent republic, notes Aditi Phadnis.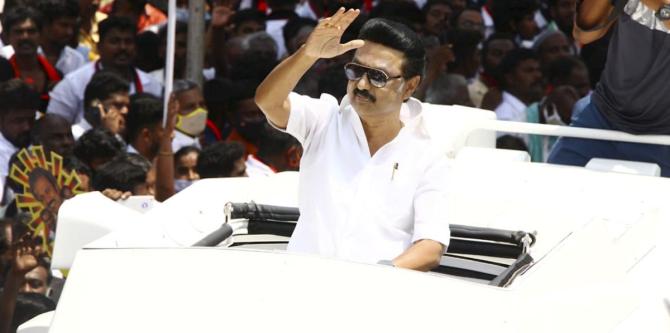 In its election manifesto released earlier this month, the ruling All India Anna Dravida Munnetra Kazhagam in Tamil Nadu offered the voters free houses, free washing machines, 2GB data service free for one year to college students, and free cable connections.
On the other hand, the Dravida Munnetra Kazhagam has offered Rs 1,000 per month to every woman-headed household in the state.
But it also offered ideas. It told voters it would fight for Tamil Nadu's autonomy and self-respect.
If the DMK comes to power, it will reserve 75 per cent jobs in industry for Tamils, increase reservations for women in government jobs to 40 per cent, and appoint 215 persons from various caste groups as priests in temples.
The party will strive to bring education, currently on the Concurrent List of the Constitution, to the State List, by starting a movement on this.
It will scrap the central government's New Education Policy, which is against social justice and suborns Tamil.
And the party will put together a committee of educationists which will draw up an education policy that serves the needs and aspirations of Tamil Nadu.
In other words, 'One Nation One Everything' will not apply to Tamil Nadu if the DMK comes to power. And the party now believes nothing in life is free.
The DMK has broken a lot with its past: As you sometimes have to do if you are a political party and want to continue to be relevant.
Under its top leader, M Karunanidhi, the party styled and restyled itself responding to the needs of the time.
Now, it is under a new management. M K Stalin is fighting his first election without the guidance of his father.
The DMK has been out of power for 10 years. This manifesto is Mr Stalin's imprimatur on the DMK.
Tamil Nadu is known for politics of welfare: Many like to call it winning elections by offering freebies.
It isn't quite as simple as that. The DMK came to power in Tamil Nadu in 1967, but C N Annadurai's death in 1969 brought Karunanidhi to power: Both as head of the DMK and chief minister.
The party was born out of a mass movement. It was a disciplined organisation that gave its district chiefs a fair amount of autonomy.
You needed to carefully listen to people and manage their expectations if you wanted to stay in power.
The DMK did this in two ways -- acting on advice from its district level leaders, it made changes in the state's governance structures, drawing into the lower levels of bureaucracy people from socially disadvantaged groups; and poured the distillate of the ambition, longing, and yearning it heard into a coherent and recognisable form -- through government policy.
This meant that after clearing slums, the government announced housing programmes for the poor.
The government built homes for fishermen, police personnel, and the Adi Dravidars (a scheduled caste).
Tamil Nadu was already giving rice at Rs 1 a kg. A systematic effort was made to extend the PDS.
By 1976, the entire state was covered by the PDS, which provided rice, sugar, kerosene, and wheat to card holders as well as special rations including saris and dhotis on Pongal.
It wasn't politically correct, in that it was grant-based.
But no one was complaining. The net result was development indices improved noticeably during these years.
Between 1970 and 1976, per capita income rose by around 30 per cent, literacy rates were up from 39.5 per cent in the 1971 census to 54.4 per cent in the 1981 census.
Infant mortality rates dropped from 125 in 1971 to around 103 in 1977.
All this meant there was room for politics of ideas.
When the DMK split and M G Ramachandran formed the AIADMK, the roots of populist politics had already gone so deep that you needed to water them: Or face political reversal.
Tamil Nadu was the pioneer in the mid-day meals scheme for children, MGR's brainchild.
But that was in the beginning.
Every subsequent election brought forth competitive populism, sometimes appearing to verge on the absurd, like Jayalalithaa's free goats scheme (which may sound ridiculous but has worked really well -- both by empowering people and winning them over to the AIADMK).
But you also needed to engage people's minds.
This meant resurrecting the idea of Tamil pride. It began with the struggle for Eelam. And now that's over, it is to shrug off the yoke of the imperialism of Delhi.
That is why the DMK manifesto offers what it offers: The promise that Tamil Nadu will, one day, become an independent republic.
If poll surveys are to be believed, the DMK is coming to power.
If that happens, New Delhi needs to watch out.