'Singh is complaining that politicians are summoning Waze after bypassing him.'
'But Singh is himself undermining the hierarchy within his force by interacting directly with Waze.'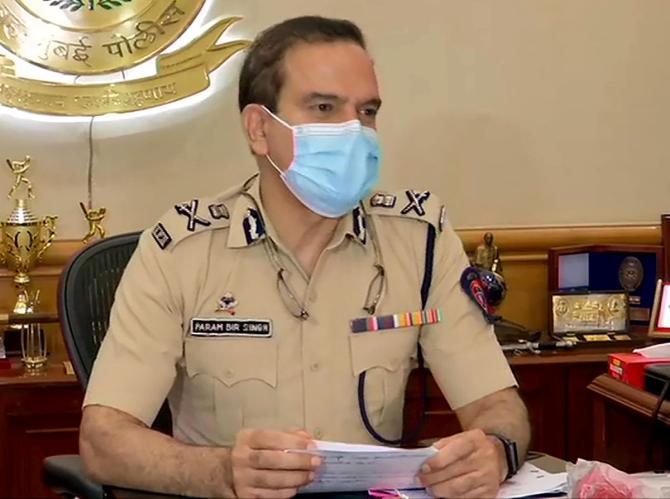 "A police force where a relatively junior officer reports to the CP directly is even more baffling," former Delhi police commissioner Neeraj Kumar tells Aditi Phadnis about the upheavals in the Mumbai police force.
Some shocking revelations have become public about the working of the Maharashtra police force, especially in Mumbai. The former Mumbai police commissioner is making charges that indict the elected leadership in the state. Is this normal?
What is happening is most abnormal to the extent of being bizarre. One has never heard of the political leadership in any part of India using the police force as its collectors of funds or agents of extortion from common citizens. What is even more revolting is they all turn to an officer from their police force to meet their rapacious demands.
Why is everyone turning to Sachin Waze? How has he become the pointsperson, a man who will definitely deliver?
That is one side of the story. And the other side is: Why is the same officer the blue-eyed boy of the commissioner of police?
Why is it that an assistant police inspector is made in charge of the Crime Intelligence Unit of the Crime Branch by easing out two others senior to him?
And why is it that this man reports directly to the police commissioner?
Complaints against political masters are one thing. But a police force where a relatively junior officer reports to the CP directly, after being made in charge of the CIU is even more baffling.
And somewhere, these two different strands meet. That is what worries me most.
So does that mean an IPS officer who has risen to the rank of police commissioner is basically dancing to the tune of a junior rank officer like Mr Waze?
No, what I'm saying is, it is worrisome that he is patronising the same person who is being used by unscrupulous people in the political hierarchy for extorting money and collecting hafta and so on.
Why is such a person being allowed to report to the CP directly?
Let us assume for a moment that Waze is a rogue cop. And let us assume that the politicians think their unholy purpose is best served using Waze. But why is the commissioner of police close to this person?
The CP is, on the one hand, complaining that politicians are summoning Waze after bypassing him. But the CP is himself undermining the hierarchy within his force by interacting directly with Waze.
That's what worries me, because the police are a well-structured, regimented and disciplined force. We don't allow such things to happen. I've never seen this happen in the Delhi police, for instance.
Then we come to the sensitive issue of extortion itself. Why does this continue to happen? So many states report that this happens routinely...
The reasons are many. The policing system requires a lot of money for legitimate things to be done.
For instance, an investigating team finds that 50 vehicles stolen from Delhi have found their way to a remote state in the northeast. The investigating team goes there, locates these vehicles and seizes them.
How do you think the police team would bring them back to Delhi? The vehicles have to be driven back to the capital. So drivers have to be engaged. Petrol has to be paid for. Food and other incidental expenses of the drivers have to be paid for.
Is there a mechanism in place by which such expenditure can be recouped from the government? The short answer to that question is: No. Such expenses are not catered for in any state.
In day-to-day police work, such expenses are commonplace and, regrettably, there is no easy system for reimbursement. An investigating officer is thus left to fend for himself.
What does he do in the process? He makes up by becoming a part of a system of collusive collection of money from people who themselves are trying to misuse the system.
For instance, if you are running a bar, if the scheduled time of closure is 11 pm, you may like to run it till midnight to make some extra money. You pay some to the excise department and police to look the other way while you run your place for an extra hour. It is a collusive system because both sides stand to gain.
Most expenditure made by the police for legitimate jobs that cannot be recouped on account of cumbersome governmental processes is taken care of by such well-oiled collusive modes of money collection.
I am not trying to justify corruption in the police but am only giving an insight. Of course, as and when a specific act of corruption is reported it is dealt with without demur.
In this case, politicians are ordering officers to collect money...
Yes, this is unheard of. In this case, reported from Mumbai, politicians are telling the police: Go beyond the existing system of hafta collection.
Up the ante and the rates. We want our cut, a cut that might necessitate going the extra mile on your part.
Where do you think all this is going?
My feeling is that the status quo ante will be soon restored. People will have to go back to the old system where the money to be doled out by bar owners, etc, will be affordable and reasonable.
As and when people like Waze, Param Bir Singh, and Anil Deshmukh are taken out of the equation, the old order will come back.