'If a politician asks the policeman to do something which is not correct, then why blame the politician?'
'If you do it, then you are equally liable.'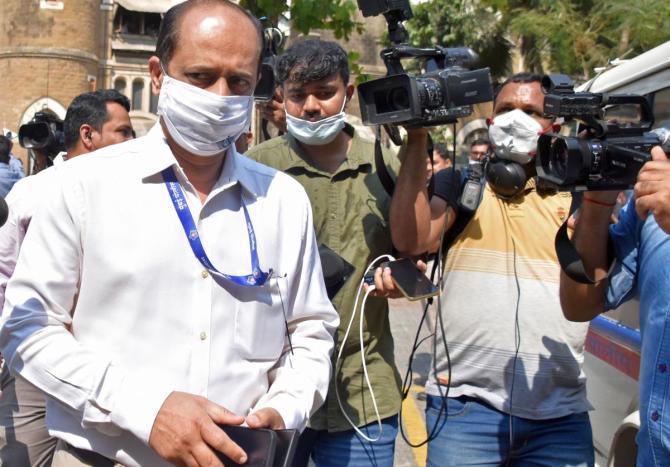 At a time when the Mumbai police need an image makeover owing to the Sachin Waze episode, the Maharashtra government has once again sidelined 1986 batch Indian Police Service officer Sanjay Pandey.
Pandey, the senior-most IPS officer in Maharashtra, has been shifted to head the Maharashtra State Security Corporation. He was DG, Home Guards, earlier.
Pandey was transferred after Param Bir Singh was removed as Mumbai's police commissioner.
Upset with 'side-postings', Pandey, who has busted many scams in his career and is considered to be upright, wrote to the Maharashtra chief minister and home minister. 'Sir, please convey my heartfelt gratitude to CM for his thoughtfulness in demolishing careers,' one of his messages read.
He was also reportedly upset with the government for not formally informing him about the new posting and is planning to appeal to the Bombay high court that he has been unfairly overlooked in appointments and postings despite his seniority.
Speaking to Syed Firdaus Ashraf/Rediff.com, Pandey says, "Transferring policemen from their job is a politician's power, but not doing the politician's job is the policeman's power."
The first of a two-part interview:
Would you like to comment on the Sachin Waze case?
The assistant police inspector shaming the entire Mumbai police is nonsense. There are 50,000 policemen on the streets of Mumbai and one Waze cannot shame the Mumbai police. It is not correct to say that.
Investigation is ongoing and not completed and I don't think what we are seeing today is the last word.
Your video clip from the Aamir Khan show has gone viral, which you say how extortion is prevalent in Mumbai; everybody is talking about it.
That is the present, that was the past and that will be the future. Everybody knows it. Just because Sanjay Pandey said that, the clip became viral.
You people (journalists) also know what is happening on the ground. I said something which is true today, was true yesterday and will be true in the future.
Is it impossible to fight this kind of corruption in the system?
It is not impossible to fight. It is just that government servants have to do their job legally. If they do their job legally and morally correct way, I do not think any of these things can happen.
You may say I can say this as a policeman, but then as a student too I never had to pay a bribe or anything which was done by corrupt means.
It reminds me of the movie Dev where Amitabh Bachchan's character says the 'Constitution of India is my rule book'.
Why should the Indian Constitution not be the rule book for everybody? After all there is the Indian Constitution, the Indian Penal Code, Code of Criminal Procedure. You have to follow these code of ethics and if you don't follow then you have these problems which you are seeing today (the Sachin Waze case).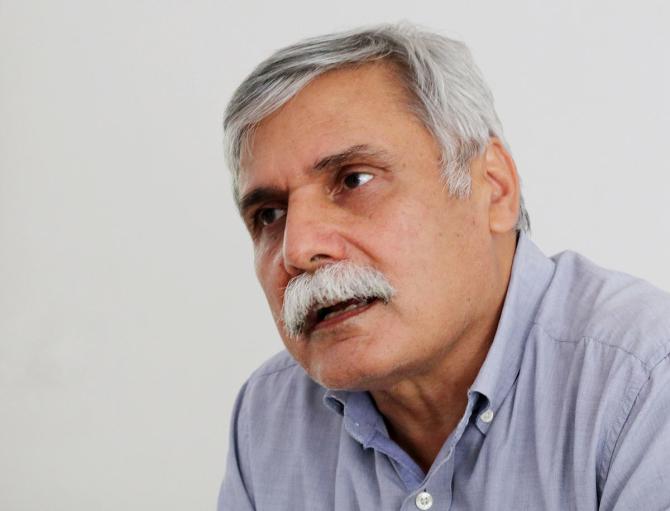 Did you ever introspect why no politicians liked you? Be it the BJP, Congress, Shiv Sena or the NCP.
I had leaders whom I have respected and they have respected me. Recently, Girish Bapat was my boss. He is in the BJP. I was in the meterology department and which leader will walk from the Vidhan Sabha on foot and say, 'Mr Pandey, I could not help you as you are transferred.'.
Similarly, Mr (Gopinath) Munde did not stop my transfer, but told me he can help me out to go to Harvard University.
Sushil Kumar Shinde was helpful and so was Sharad Pawar. Pawar stopped my transfer when a particular political party went against me.
I got respect from everyone at least in my personal interactions. I have people who respected me. Some people did not like me, but that is how life is.
When you witness the Param Bir Singh case it feels like if you are a police officer you must know which palm to grease to get a better posting. Is it so?
He has filed some PIL which is in court. Nobody asked me to grease the palms of any politician and in my case, I have never greased the palms of any politician.
Transferring policemen from their job is a politician's power, but not doing the politician's job is the policeman's power.
If a politician asks the policeman to do something which is not correct, then why blame the politician? If you do it, then you are equally liable then.
In my case I have refused to do things which were not correct. Policemen should do things which is legally correct and not go astray even a bit.
Would you like to comment on your letter to the government against Param Bir Singh (external link)?
In the letter you have said Singh told Assistant Commissioner of Police Trivedi to take back his complaint against senior police officer Deven Bharti.
ACP Rajendra Trivedi came to me and told me that he was told to withdraw the complaint and he did not want to withdraw the complaint. He produced the evidence and that was an audio recording. So, I wrote to the government about this as this was an inquiry and not an investigation.
From my side the matter is over. My right is to inform the government and the government has to take a call on that.
Was Param Bir Singh protecting extortionists?
I cannot come to that conclusion at all. The fact is clear that Param Bir Singh was telling ACP Trivedi who is retired not to complain and withdraw the complaint. And other than that nothing else.
You have moved the high court against not being given your due promotion, and Param Bir Singh went to the Supreme Court over his transfer.
Moving courts should not be seen as a sign of weakness. Courts provide checks and balances. If the executive is harming somebody's interest then courts can check on that.
People ready to move the courts is the strength of the system and not weakness. That is how you should look at it.