'Strategy is to divide and polarise electorate on communal lines.'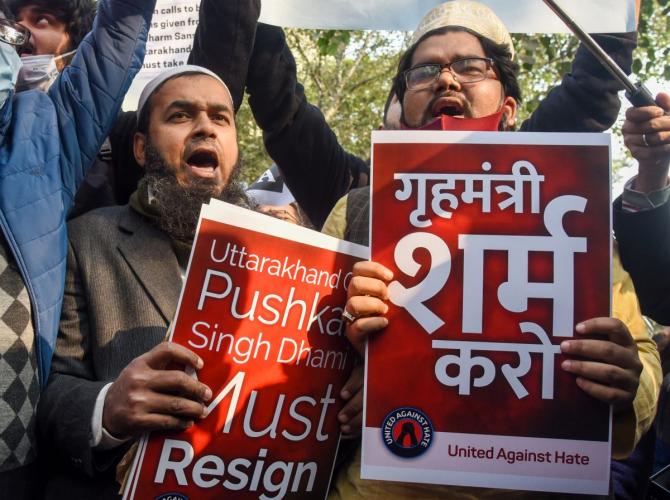 As the assembly elections near, hate speeches using extreme offensive language against Muslims and Christians have increased.
In an exclusive interview to Rediff.com's Shobha Warrier, N Ram, the distinguished journalist and former editor of The Hindu, discusses what is happening in the country.
The second of a multi-part interview:
Do you feel India is now divided on religious lines like never before?
It is hard to say. After the bloodbath and other horrors of Partition, it was because of the hard work of Mahatma Gandhi, Jawaharlal Nehru, Sardar Patel, Dr Rajendra Prasad and other leaders belonging to secular parties that resulted in the Constituent Assembly functioning and drafting what was by and large a very good Constitution.
It is secular, it is democratic, it is republican, and the core of it is social and economic justice.
But in recent times, the situation has become qualitatively worse.
Can India overcome the situation?
Yes. I have hope. Some of the election results suggest that.
For example, during the West Bengal assembly election campaign, communal hate was unleashed, and attempts made to polarise the electorate in a way rarely seen before.
The official machinery was used flagrantly in favour of the BJP.
They used central agencies to raid Opposition candidates, or those who are close to them.
But these methods resulted only in a debacle for the BJP.
We are seeing the same methods in play now, ahead of the Uttar Pradesh assembly elections. Let's see how the voters respond.
Do you think denying foreign funds to an organisation like the Missionaries of Charity will affect India's reputation internationally?
Yes, the Missionaries of Charity are a highly respected organisation in India and internationally.
It is an apolitical and a completely law-abiding organisation.
Targeting it in this way will definitely bring infamy abroad for this government, but I hope not for India.
How do you compare the regimes of Atal Bihari Vajpayee who was said to be then the moderate voice of the BJP, and that of Narendra Modi?
It is hard to say whether the difference is just in degree or in kind. In degree, definitely.
It is not just about one individual. Of course, Prime Minister Modi is at the centre of it and the most powerful among the BJP leaders.
But the RSS has always been and is, today the command centre of the Hindu Right -- and there is orchestration of the different activities of the Sangh Parivar.
But we didn't see such incidents happening when Vajpayee was prime minister...
I don't know. There might have been cases of such calls, but they were not encouraged or tolerated. This kind of impunity did not operate at that point.
Of course, many awful things happened like the large-scale violence during the Rath Yatra, the retaliatory terrorist attacks, etc.
So, we can't give Mr Vajpayee's prime ministership a clean chit either.
You mean, only the degree varies?
I am yet to make up my mind. I am raising the question, whether what we are going through with the present BJP regime is only a difference in degree, or is it a difference in kind? I wouldn't yet say in kind with any certainty, but in degree, certainly.
Do you think the BJP has succeeded in creating a kind of fear in the minds of the minorities, both Christians and Muslims?
To some extent, yes. But the minorities are certainly better off in the south.
For example, in Tamil Nadu, I don't see any fear among Muslims and Christians. Nor in Kerala.
If an incident like Haridwar were to happen in Tamil Nadu, not only will the fascistic hate-mongers be arrested immediately, but very serious charges will be slapped on them.
What if Yogi wins in 2022 and Modi again in 2024?
That's too far! Much might happen before 2024 and I always retain hope.
We do not know what will happen in UP except that the SP (Samajwadi Party) seems to be on a roll, and will put up a serious fight.
We don't know what the result will be.
One point I wish to make in this connection is that this hate-mongering and these divisive activities increase when elections are round the corner.
The strategy is to divide and polarise the electorate on communal lines.
It may work for some time, but not all the time..
Feature Presentation: Aslam Hunani/Rediff.com