'In India, the establishment not only endorses, but many a times instigates anti-Muslim hatred.'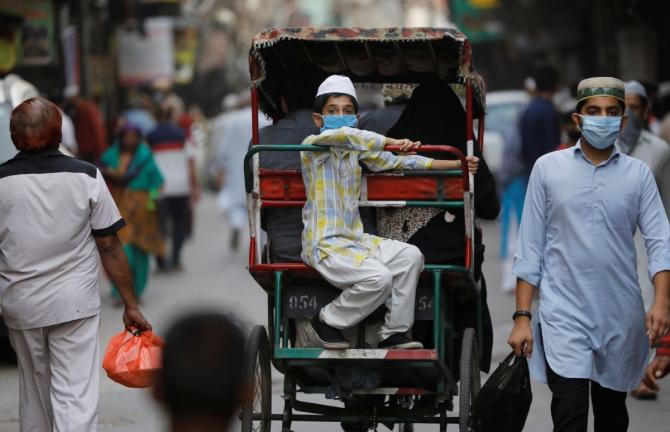 "They (the establishment) don't lose any opportunity to insult, humiliate and mock Muslims," Apoorvanand, professor at the Delhi University and a critic of the Hindutva ideology pursued by the Narendra Damodardas Modi government, tells Rediff.com's Shobha Warrier.
The third of a multi-part interview.
Do you feel their voices have been stifled, and they feel scared and threatened now?
When I spoke to journalist Sidhique Kappan's wife, she said, to be a Muslim in India is very difficult.
There is definitely an attempt from many quarters to terrorise the Muslims into silence. The arrest of Sidhique Kappan is an example. The arrest of the Muslim leaders who participated in the anti-CAA movement in Delhi is yet another example.
The message that the UP government wanted to send when they gunned down the Muslim protestors was, if Muslims came out and protested, they would be dealt with very severely.
But you are seeing Islamophobia not just in India but all over the world...
It is true that Islamophobia is an international phenomenon.
But it is also true that for example, in a country like the UK both the conservatives and the liberals try to define Islamophobia and take measures to counter it. In the USA too.
After four members of a Muslim family of Pakistani origin were killed in Canada, the Canadian parliament spoke in one voice. Prime Minister Trudeau admitted that islamophobia existed in Canada, but he condemned it.
You mean, the difference between India and the other countries is that the establishment there talks about it and also condemns it.
Yes, the establishment is talking about it. The establishment is identifying with the Muslims.
You may remember what the New Zealand prime minister did after the Masjid shooting. She attended the Friday prayer publicly, and also covered her head as a mark of respect for their tradition.
This is what the establishment does in these countries, acknowledge that different ideologies are there in a society and there may be islamophobia or anti-Semitism. But the point is, whether the establishment endorses those regressive views.
In India?
In India, the establishment not only endorses, but many a times instigates anti-Muslim hatred. They don't lose any opportunity to insult, humiliate and mock Muslims.
Do you feel India is divided on religious lines to an extent which we have not seen before?
What we see today is unprecedented. There were religious lines before too, but they used to live together. Also, people observed the religious activities of the other groups.
I grew up in a Muslim mohalla. I never found namaaz strange. My traditional mother, a devout Hindu who religiously did all the pujas, lived in a house owned by a Muslim family, and it was not a problem for her.
India has a tradition of co-living. So, it is not right to say that we were a divided society. We have lived with each other, not necessarily curious about each other; maybe indifferent to each other. But we were not hateful.
It is said that Narendra Modi grows stronger and stronger as the person pitted against him is Rahul Gandhi who is looked upon as a weak leader. Is it not true that we do not have a have a strong opposition leader?
It is not because there are no strong Opposition leaders that Modi is getting strong.
Modi is strong for two reasons. One. The corporate capital of India knows that it is Modi who will ensure their well-being and prosperity at any cost and get all resources for them . They are the patrons of Modi.
Secondly, Modi personifies anti-Muslim and anti-Christian hatred. Even when he stops talking against Muslims, his mere presence represents anti-Muslim hatred.
These are the two reasons why he remains strong, and it is not because Rahul Gandhi is weak or Akhilesh Yadav is weak or the others are weak.
Once the corporate capital decides to withdraw its support from Narendra Modi, you will see most of his strength going away.
Feature Presentation: Aslam Hunani/Rediff.com