'The strange thing about the Karnataka election is that the BJP looks more like the Congress of the past and vice versa.'
'Siddaramaiah has been able to out think the BJP almost every single day on every single issue.'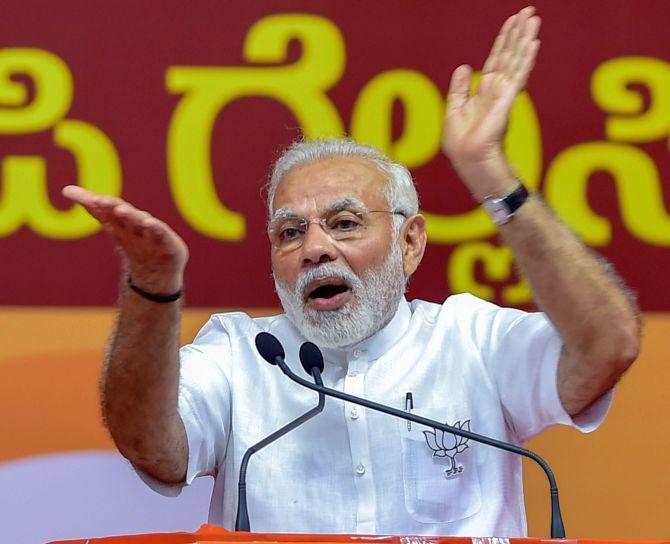 As May 12 draws near, political activity in Karnataka is at its peak.
With electrifying rallies and speeches by its tallest leaders, the ruling Congress and the Bharatiya Janata Party -- which is trying to wrest another big state from the Grand Old Party -- are fighting for much more than just a state assembly.
This election will certainly have a bearing on the 2019 Lok Sabha poll. Moreover, a victory for either party will result in increased confidence and morale for the coming Chhattisgarh, Madhya Pradesh and Rajasthan assembly elections where the BJP and Congress are once again locked in direct combat.
Most opinion polls are predicting a fractured mandate.
Krishna Prasad, the well-known journalist and former editor-in-chief of Outlook magazine, believes the Congress has an edge over the BJP in Karnataka this time.
Krishna Prasad, a native of Mysuru, has been presenting his analyses of the election in Facebook videos for months now.
"Karnataka is not a homogeneous state like UP or Gujarat or Rajasthan. In this huge heterogeneous, multi-lingual, multi-ethnic state, polarisation is very unlikely to have a great impact beyond a few pockets," Krishna Prasad tells Rediff.com's Utkarsh Mishra in a comprehensive telephone interview.
The first of a multi-part interview:
Most surveys and opinion polls project a hung verdict in Karnataka. How do you see the situation now and how do you expect it to change with Prime Minister Narendra D Modi's campaign?
It has become a standard operating procedure now to predict a hung assembly whenever the BJP is doing badly. And I think that is exactly what is happening in Karnataka.
In Karnataka, as we speak today, there is no question that the Congress is ahead of the BJP. So there will be an attempt to paint that as a hung assembly, especially to draw the fence-sitters to this side or that side.
So we shouldn't take that seriously. I think what one should take seriously is that in the 2013 elections, none of the opinion polls put the BJP ahead of the Congress, that was five years ago.
And in 2018, of all the published opinion polls only one has put the BJP ahead of the Congress and that too by a margin of about two seats. It seems that the 2013 and 2018 opinion polls, more or less, are the same.
My answer to the second (part of the) question is also again from 2013. The same question was asked then, that will Modi's entry will change the BJP's fortunes in Karnataka. It did not.
And even now I would presume that it is (Modi's entry) not going to greatly change the situation in Karnataka.
Because two things have happened: Between 2014 and now I think the 'Modi wave' has completely collapsed and people can see through his claims and promises far too easily. So I don't think it would have a huge impact.
It might at best muddy the waters. It might polarise the environment and raise temperatures, but my presumption is that Modi no longer has the appeal, no longer has the draw of the people to change the course of an election, especially when the other party is ahead.
In 2013, Modi addressed only one rally, because the prediction was very clear that the Congress would win. So he decided not to take part in more rallies.
Even this time, I notice that he was not very keen to come to rallies in Karnataka, and the BJP used Yogi Adityanath in the process.
All this confirms only one thing, that the BJP, for all its bluster, kind of admits that it is not going too well in Karnataka.
The opinion polls are showing it is not going too well. And therefore they used Adityanath and expended his force rather than allowing Modi to campaign and face defeat.
In one of your Facebook videos, you said B S Yeddyurappa's son Vijayendra was denied a ticket from Varuna as the party wanted to cut the former to size.
But why would a party do that with its chief ministerial candidate, especially when its prospects don't seem good?
I think they are doing that because they have realised that they have made a mistake by pushing Yedyyurappa (for the chief ministership). He is beyond the age of 75 years.
It contravenes the BJP's whole stated policy on leaders above 75 years of age. As you know after the 2014 elections, most of those beyond 75 years were pushed in the so-called 'Mardarshak Mandal'.
But in Karnataka the BJP stuck with Yeddyurappa because it has no other candidate of a similar pan-Karnataka stature. There is no other leader who appeals to everybody across the state. They had to use him for that reason.
They had to use him otherwise the Lingayat vote would have been lost. The BJP is presumed to have lost in 2013 because the Lingayats had gone away from the BJP to Yeddyurappa's KJP (Karnataka Janata Paksha).
It was presumed that almost 13 to 14 per cent of the vote had gone away from the BJP because Yeddyurappa had left the party.
By bringing him in, they think they will get those Lingayat votes back. And they'll get a pan-Karnataka leader which they don't have. So, I think, they were forced into this decision.
But Modi and (BJP President Amit A) Shah have their own way of working. As you know, in Maharashtra they didn't announce (Devendra) Fadnavis before, but imposed him after the election. Likewise in UP, they imposed Adityanath after the election.
So my suspicion is if the BJP wins in Karnataka, they will do something like that. They might not do it immediately and take some time to do it. I think these are a couple of reasons why the BJP developed second thoughts.
It also developed second thoughts because, you know, Yeddyurappa is a slightly moderate figure. Yeddyurappa is very aware of the limitations of hard Hindutva in a state like Karnataka.
So, I think, the BJP, under Amit A Shah, wants a hard Hindutva leader unlike a soft Hindutva leader like Yeddyurappa.
But primarily, I think, they denied a ticket to Yeddyruppa's son to send him a signal not to take anything for granted. And certainly not to take them (the BJP leadership) for granted.
So if not Yeddyurappa, who will be the CM if the BJP comes to power -- Ananth Kumar or Anant Kumar Hegde?
Well, I don't know that. The BJP has claimants to the seat of CM in every constituency -- not just Anant Kumar Hegde.
You know, for a long time, Union Minister Ananth Kumar has been wanting to be the chief minister of Karnataka. He will certainly want to push his case.
In fact, the Yeddyurappa faction believes Ananth Kumar was the cause of the denial of the ticket to Vijayendra. So Ananth Kumar could be in the race.
Five-time MP Anant Kumar Hegde could also be one of those in the line. You hear a lot of names.
You hear the name of a man called B L Santosh, who is an RSS leader, but has now shed all pretentions of being one and is openly politicking in Karnataka. So you hear a lot of names and you don't know who's going to make it.
But one thing is clear in my mind that many people in the BJP do not expect a great victory for the party in 2019 (the Lok Sabha elections), if at all. And therefore those of them who are from Karnataka feel it is better to be in the state than being at the Centre by that time.
So I think people like Ananth Kumar will throw in their hat, because Yeddyurappa has already had one stint as the CM. I don't think they would allow him to have a second one.
From all these developments it becomes clear that there will be dissensions in the BJP, even if it comes to power.
The first time the BJP came to power they were always hobbled by dissensions and dissidence.
There was always somebody or the other pulling each other's leg, trying to pull them down. And looking at the incidents of the past few weeks, I think it will continue if the BJP were to win in Karnataka.
Given the presence and influence of the RSS in Karnataka, why would the BJP's politics of polarisation not work, unlike UP or Gujarat?
Because Karnataka is a more literate and socially uniform state than most states in India.
Karnataka is the first state which introduced reservation as a policy 110 years ago.
And most importantly, Karnataka is not a homogeneous state like Uttar Pradesh or Gujarat or Rajasthan or any other state of the cow belt.
We have five different regions within Karnataka: Coastal Karnataka, Old Mysore, Central Karnataka, North Karnataka and Bombay Karnataka. These five are not homogeneous.
We don't have any one language across the state. Kannada is, of course, there but we also have Telugu, Tamil, Marathi, Kodava and Tulu.
Most importantly, this is a state which is home to Hindus, Muslims as well as Sikhs. You should remember that one of the Sikh gurus died in Karnataka.
We also have a large Christian population and second-largest Muslim population in South India after Kerala.
In this huge heterogeneous, multi-lingual, multi-ethnic state, this kind of polarisation is very unlikely to have a great impact beyond a few pockets.
You should look at a survey by an organisation called Lokniti, which shows that in Karnataka, every non-Muslim has at least one Muslim close friend. That average is much higher in any other state in India.
So there is great interaction between Hindus and Muslims. There is no ghettoisation as you see in Gujarat or UP or other states.
However, at the same time, it would be foolish to say that there is no polarisation.
The BJP has always considered Karnataka, especially the west coast of Karnataka, to be its laboratory in the South. It has always considered Karnataka as a gateway to the South.
So all the controversies you see in the country, be it the demand for ban on cow slaughter, or 'love jihad' or moral policing, all have their roots in the west coast of Karnataka.
So the BJP and RSS have tried, but they have made very limited success because of the reasons I gave above.
Chief Minister Siddaramaiah is also flirting with a different kind of polarisation in the state, be it the Namma Metro campaign or a nod to a separate state flag or giving minority status to Lingayats.
Well, I would not use the word 'polarisation' for something like that. We should be very clear on what polarisation is.
Polarisation is injecting communal poison in our society, which is not the same as raising issues like a separate flag or anthem or any of those issues.
What Siddaramaiah is trying to do is temper the communal mobilisation of the BJP with his own caste outlook.
His decision on the Lingayats is an example of that. He is using caste and language and regionalism to take up these issues.
Because we find a brazen attempt to impose Hindi on this country by the BJP after it came to power at the Centre in 2014. The BJP always had the image of being a Hindi, Hindu, Hindutva party and so far they have lived up to that image.
So I think what Siddaramaiah is doing very much echoes what is happening in Tamil Nadu, in Kerala, in Andhra Pradesh and Telangana, where there is a certain, very clear blowback against this kind of imposition of Hindi, against the attempt by the BJP to have a very unitarian, very homogeneous approach towards India.
Siddaramaiah has chosen what are very emotive issues in a large state like this.
I would not call it polarisation at all, but a very clever strategy which has so far been very interesting. He has essentially been able to out-think the BJP almost every single day on every single issue.
Usually the BJP sets the agenda in most states. But in Karnataka they are on the back foot because Siddaramaiah has been able to tell them everything what they would have tried to tell him.
Left to themselves, the BJP would have tried to take up the issue of the flag or anthem. It's just that Siddarmaiah and the Congress have been able to do so.
Ultimately the power to grant minority status to Lingayats rests with the Centre. So why would they not like to vote for the BJP instead of Siddaramaiah? Why is it being said that this move will only benefit Siddaramaiah?
They might well do so. I don't know whether they (the Lingayats) will please the Congress or the BJP. But the credit for stealing an issue which was in the air for a very long time will go to Siddaramaiah and the Congress.
Whether it will electorally benefit them, we don't know.
But it's up to the Centre to deal with issues like this. There is enough historical and anthropological research to show that the Lingayat issue is a dormant issue. It has been there for a long period of time.
Again, this is a clever strategy (by Siddaramaiah) which has caught the BJP on the wrong foot. And therefore, they are accusing him of pursuing caste politics whereas the BJP is very much guilty of playing the same between Hindus and Muslims.
So I think nobody is clean, in this hamam of politics. All of them are naked.
The ultimate decision (on the Lingayat issue) rests with the BJP (government at the Centre). But we have a very superficial notion of what Lingayats or Veerashaivas are.
The truth is that there is a very large section of Lingayats which belongs to the underclass, who are not as rich as we would think, who require State support in terms of reservations, employment, etc.
So there is a large section of people who will feel that this (granting minority status) would be the right thing to do.
Anyway the Lingayats are opposed to the fact that they are clubbed with the Hindus whereas their customs are not Hindu.
There is a very big difference between Hindus and Lingayats, viz, the latter worship only one god; they worship the vachanas, which is their version of the scriptures; they do not go to temples; they do not worship stone idols, and so on. So they are very different from the Hindus.
But for strategic and political reasons the BJP has always seen them as Hindus.
And Siddaramaiah keeps on pointing out to Amit A Shah that the latter is a Jain and that he doesn't need a lesson from Shah on whether he is Hindu or not, or whether he is dividing Hindu society or not.
He says all I'm doing is responding to a long-standing demand of Lingayats and Veerashaivas to separate them from Hinduism.
At the end of the day this a fairly complicated issue, but the credit for taking it to the next level will go to Siddaramaiah.
Whether it succeeds or not will depend on the Centre. But no government is permanent.
If the BJP doesn't do it, then perhaps the Congress will do if it comes back to power.