'My confidence in the Indian judiciary is absolute after I saw justice being delivered in Gujarat even when a BJP government was ruling the state. The Muslims of Gujarat believed that they will never get justice in a BJP-ruled state, but the facts are before all of us to make a judgment.'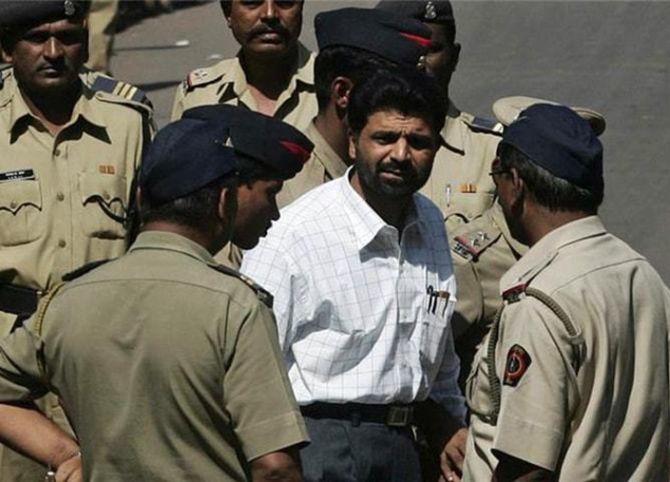 Zafar Sareshwala, below, left, who is considered by many as someone close to Prime Minister Narendra Modi, spoke to Prasanna D Zore/Rediff.com after the Supreme Court verdict in the Yakub Memon case.
Your reaction to the Supreme Court rejecting Yakub Memon's mercy plea....
Supreme Court ka decision sar, ankhon per. Let me say this categorically: The judgment of the Supreme Court is final and binding on every Indian citizen.
There are no ifs and buts, now. There should not be any discussion now that the Supreme Court said what it had to say.
I also want to make it clear categorically that India's Supreme Court, or for that matter any other court in the country, has never made any judgment based on a person's religion.
The judiciary in India is one democratic institution that is above fault. I have seen that myself in Gujarat, for example, where 465 Hindus have been convicted and 63 Hindus have been given life imprisonment.
Now, all the judges who delivered the verdicts were Hindus. All the victims were Muslims.
All the lawyers who fought against the accused were Hindus.
If there were even an iota of discrimination against Muslims in Gujarat, then so many convictions would have never happened.
The judicial system in India is absolutely unbiased. Even in the Western world we get to see discrimination based on someone being an Asian or a black. But this has never happened in India.
And I have seen this in Gujarat. I myself doubted that Muslims will ever get justice in Gujarat after 2002, but then we saw these convictions happening.
Even in the Godhra train carnage, 93 Muslims were arrested, but ultimately 64 were released. Even in the 1993 Mumbai bomb blasts, 11 convicts were given death sentence, but later on only one person is facing the gallows.
My confidence in the Indian judiciary is absolute after I saw justice being delivered in Gujarat even when a BJP government was ruling the state.
Gujarat ka Mussalman yeh samajhta tha ki BJP ki sarkar hai toh use kabhi bhi insaaf nahi milega. Lekin hamare saamne jo haqeeqat hai who kuch aur hi hai (The Muslims of Gujarat believed that they will never get justice in a BJP-ruled state, but the facts are before all of us to make a judgment).
Zakia Jafri's petition is still pending and coming up for hearing in the Gujarat high court on August 4.
Yes, that is true. But what I am saying is weren't 465 Hindus convicted for their crimes? 63 people were convicted for life including Maya Kodnani (a minister in then Gujarat chief minister Narendra Modi's cabinet).
But she is out on bail now...
That is a different issue. But let me tell you that she was finished the day the sessions court gave her life imprisonment.
Do you think one can compare the heinous acts of Yakub Memon and Maya Kodnani?
Maya Kodnani has been sentenced to 28 years in jail considering her age. The lady judge said that she could have very well awarded the death sentence to her and others, but then she wanted them to die every day of their life. And that is what is happening.
Look at Maya Kodnani even if she is out on bail. She is completely finished. She has been in a state of shock ever since. She is finished mentally. She looks like she is at the last stage of her life.
You go and see her. If you meet her, you won't recognise that the person you are meeting is Maya Kodnani.
If you meet Babu Bajrangi (another convict in the Naroda Patiya murders who has been sentenced to life imprisonment till his death)...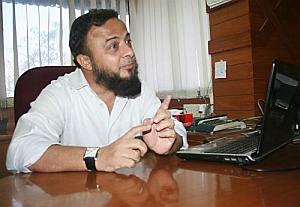 According to me there is hardly any difference between capital punishment and life imprisonment. I think life imprisonment is worse than death because then you die every day of your life.
The Mumbai bomb blasts are far more sinister than the other crime which is aiding and abetting rioters.
Yakub's is an act of terror.
Can't we also label what Maya Kodnani and Babu Bajrangi did as an act of terror?
There is a little bit of difference.
The post Godhra riots -- as is the Godhra train carnage -- may also be considered an act of terror just like the Mumbai bomb blasts. Both led to the killings of Indians by Indians. In the former case, Pakistanis helped Indians commit the blasts and in the latter Indian themselves conspired in India to kill fellow Indians...
The judgment against Maya Kodnani and Babu Bajrangi delivered by Judge Jyotsna Yagnik has blown the defence of the accused to smithereens and clearly stated that life imprisonment was far severe a punishment than a death sentence. I fully agree with the judge's verdict. I think justice was done for the victims by this judgment.
Do you see Muslims reacting on the streets of Mumbai if and when Yakub Memon is hanged?
Not at all. There could be some minor reactions, but that too orchestrated by political parties with vested interests. Muslim civil society will remain calm.
I want to make another point.
Yakub Memon and his entire family, who came back to India to cooperate and help India establish the Pakistani connection, should not be equated with Dawood Ibrahim and 'Tiger' Memon at all.
They surrendered before the law of the land. And I am saying this with great empathy and pain.
Don't equate Yakub with terrorists like Dawood Ibrahim and Tiger Memon.
He cooperated with Indian agencies and still he is facing a death sentence....
My contention is if Yakub was really a criminal and involved he would have never come back to India to help Indian authorities.
He would have never come to India by himself, leave alone his wife who delivered a baby soon after his surrender and his old parents.
He came here with genuine intent. I am not saying that he was not involved in the bomb blasts.
He came back to help Indian investigating agencies, which he did. He came with lots of information.
Till the time he had not surrendered hum log hawan main goliyan chala rahe the (we were just firing in the air). We had no clue as to what had happened and who were the real perpetrators of the terror acts of March 1993.
It was only after he came back and spilled the beans along with evidentiary documents that we came to know that even Dawood Ibrahim and Tiger Memons were pawns of the ISI (Pakistan's Inter-Services Intelligence). It was because of him we got to know of the evil machinations of our neighbour.
Are you convinced that it was because of Yakub Memon that India could nail Pakistan's involvement in the Mumbai bomb blasts and shame the country globally?
Absolutely. It happened because Yakub came back with tonnes of evidence of their direct involvement. Till that time India only had a doubt of Pakistan's involvement. But Yakub converted our doubts and helped us unravel the truth.
Considering all these things, do you think he should have been shown some mercy?
I want to ask you what is it that was he asking for... was he asking for acquittal? No. He is just asking for commuting of his death sentence... and this is not without precedence.
For 21 years this man has been rotting in Indian jails. If we had done this, we would not have done it for the first time or something that is unprecedented.
Plea bargaining happens all over the world. Even dangerous terrorists like David Headley and Tahawwur Rana have been spared because they helped the American agencies as well as the law of that land with precious information about various terror networks.
When I was in England I would often come across people from the Pakistani establishment and I would openly tell them that because of their dastardly acts Indian Muslims have to prove their nationality.
I told them that they were not only merciless butchers but with acts like the Mumbai bomb blasts you have allowed many people in India to paint the entire community as traitors.
But still it is the magnanimity of Hindus and India that they very clearly distinguish between people like you and Muslims in India.
Personally, I would rather have mercy on Yakub rather than send him to the gallows for helping the investigating agencies reach a conclusion.
We could still get a lot of fugitives of law back to India by promising them some kind of mercy in lieu of revealing everything that they know about terror networks in India.
Didn't we sign a deal with the Portugal government to not only not award capital punishment to Abu Salem, but also not to award imprisonment of more than 25 years?
I am not asking for something that has never happened before in India.
Are you hoping for a Presidential clemency for Yakub?
I don't know, but would think that the President of India consider all these things. I am an ordinary Hindustani and bear no influence on which way the President will go.
I have made my appeal as a Hindustani and not as a Muslim of India.
I, Zafar Sareshwala, am speaking as a Hindustani. I am not seeing Yakub Memon as a Muslim, but as a criminal, who came back to India along with his entire family and revealed all those things that we did not know at all.
I don't want this to become a political game. If people on both sides, those who are thinking that hanging Yakub will be an act of bravado and also those who are giving it a religious colour, my appeal to both these sections is, let us think of ourselves as Indians first.
I also have a few questions for an MP from Mumbai Kirit Somaiya who said he would raise the issue of Salman Khan tweeting about Yakub's innocence in Parliament.
Why don't you raise the question of 13,000 Hindus who have been robbed of Rs 5,700 crore (Rs 57 billion) by the scam at the National Spot Exchange Limited in Parliament? You know who these scamsters are, but you don't dare to raise your voice for these people getting back their money from those who duped them.
Also, Indian banks are having bad assets worth Rs 4 lakh crore (Rs 4 trillion). Why don't you raise this issue in Parliament? Isn't this also an act of terrorism?
Why isn't Kirit Somaiya raising these issues in Parliament? Why is he mum on these issues?
And there is not a single Muslim involved either in the NSEL scam or in creating such huge bad debts in the country.
Do you think that the Hindus of Hindustan are fools?
IMAGES: TOP: Yakub Memon being taken to a TADA court in 2007. BOTTOM: Zafar Yunus Sareshwala. Photograph: Reuben N V/Rediff.com