'I believe Modi mentioned Balochistan only to embarrass Pakistan and also divert attention toward the situation in Kashmir.'
Malik Siraj Akbar is one of Balochistan's senior journalists and a respected political analyst and the founder and president of the Balochistan Institute in Washington, DC.
He is the author of two books: A Broken Democracy and The Redefined Dimensions of Baloch Nationalist Movement.
He has also worked in the Daily Times and The Friday Times in Pakistan.
Sudhir Bisht spoke to Akbar over emails and Skype for this interview on Balochistan and India's interest in the region.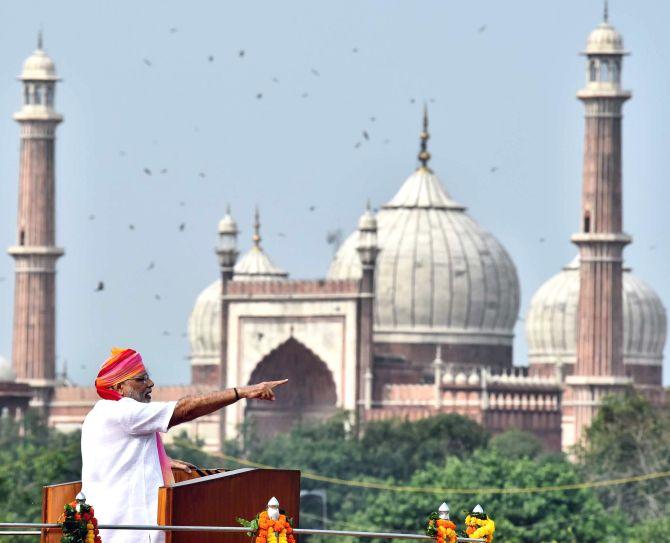 IMAGE: Narendra Modi addresses the nation from the Red Fort on August 15, 2016, where he mentioned Balochistan. Photograph: PIB.
There was so much celebration at the mere mention of Balochistan by Prime Minister Narendra Modi in his Independence Day speech. Why this euphoria? Is it because political analysts believe this is the beginning of the internationalisation of the Balochistan issue?
Baloch nationalists have been struggling for several years to internationalise their cause. They have been seeking support from all countries of the world. They were super excited when Modi mentioned Balochistan. It was the first time ever that any foreign head of the government had officially mentioned Balochistan.
In an op-ed in the Indian Express, I said it was a 'game-changer' for the Baloch nationalists in terms of recognition for their movement at the official level. I totally agree with you that the Baloch were overexcited.
I believe Modi mentioned Balochistan only to embarrass Pakistan and also divert attention toward the situation in Kashmir. The Balochs, on their part, are so upset with Pakistan, that they warmly welcomed Modi's statement.
I think the Balochs, India and Pakistan have all benefited from Modi's statement. For the Baloch, the mere fact that a foreign prime minister spoke about them was a big deal. For the Indians, they just discovered the 'B-bomb' (or the 'B word') and its magical powers. They can throw the Balochistan bomb now at any international forum, conference and diplomatic setting to embarrass Pakistan.
As far as the benefits of these statements for Pakistan are concerned, now many serious people in Pakistan, not only conspiracy theorists, will begin to believe their government's claim that India is involved in promoting unrest in Balochistan (even if it is not). This will help Pakistan defame and discredit a homegrown Baloch movement.
In the past, journalists and human rights activists continuously asked the Pakistani government to provide evidence if India was behind the insurgency in Balochistan. Now, Islamabad will simply quote Modi's statements and the message from the Baloch leaders who thanked him, as 'proof' of an Indian 'conspiracy' against Pakistan. This will give Islamabad a stronger reason to accelerate military operations in Balochistan.
'I think from now on, India intends to raise Balochistan whenever Pakistan brings up Kashmir or upsets them on the issue of terrorism.'
Modi exhibited genuine friendly disposition towards the Nawaz Sharif government. But his gestures of friendship were unrequited. Now he can be expected to harden his stand on Pakistan. What is the view that prevails about Modi in Balochistan?
The people of Balochistan have never had negative feelings about India although Pakistani textbooks teach too much hatred toward India. In provinces like the Punjab, which had a direct connection with the Partition, anti-Indian sentiments are deep-rooted. The Baloch people do not have any such feelings. They are mostly indifferent because Balochistan, unlike Sindh and the Punjab provinces, does not share a border or culture with India. There is little people-to-people interaction.
The Baloch have relatives in Iran, Afghanistan and the Gulf region but no such connections with India. Balochistan has a sizeable Hindu population who are well integrated in society.
I think the people of Balochistan have mostly welcomed Modi's statements. The Baloch excitement comes from weariness toward Pakistan's brutalities and injustice.
Modi tried to improve relations with Pakistan but Islamabad did not reciprocate to that gesture. I think from now on, India intends to raise Balochistan whenever Pakistan brings up Kashmir or upsets them on the issue of terrorism.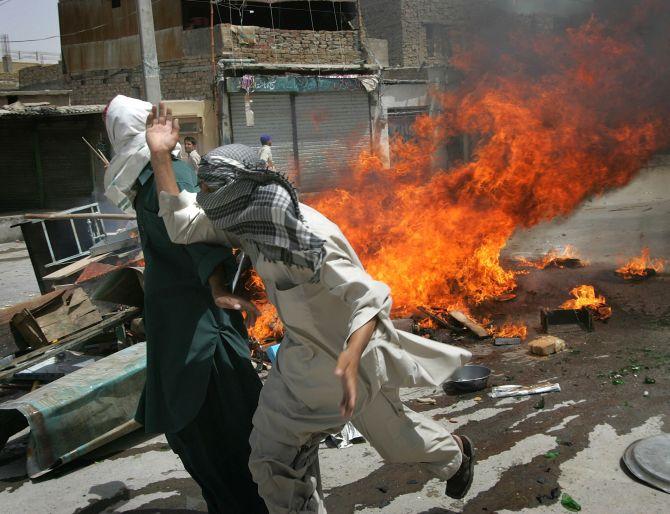 IMAGE: Quetta, the capital of the Baloch province, had been wracked by violence for decades. Photograph: John Moore/Getty Images.
There is so little known in India about the Balochistan's desire to secede from Pakistan. What is the exact grouse of the people of Balochistan?
To your admission that Indians do not know much about Balochistan, I will add that even most people in Pakistan don't know or acknowledge our history.
What was known as the Kalat State in 1947 was forcefully incorporated into Pakistan as Balochistan against the wishes of the people. The Khan of Kalat was forced to join Pakistan although Baloch leaders were opposed to it. The first Baloch rebellion against Pakistan began in 1948. Prince Abdul Karim, the younger brother of the Khan, led it.
Throughout these years, Pakistan has consolidated its grip over Balochistan. The Baloch nationalists say they have been forcefully occupied. Hence, one part of the Baloch population never considered Balochistan a part of Pakistan.
Since 1947, the Baloch and the Pakistani State have been fighting. Pakistan has crushed the Baloch aspirations through brutal tactics.
The Baloch complain that the government takes away their mineral resources and does not share the benefits with them. Islamabad extracts Balochistan's gas and other minerals to help the country's economy. Lack of equal treatment, representation and continued human rights violations against the Baloch people by the Pakistani army add to the Baloch grievances.
'Balochistan is the least developed of Pakistan's four provinces. It is the least educated and least economically developed. People are agitated that a region so rich in mineral resources and a sea-port is still so poor.'
The common impression about the Baloch people is that they are brave, honest and loyal but far from progressive. That they believe in a preponderance of tribal laws and customs over any other set of modern laws. Many believe that an independent Balochistan will be a retrograde country which will force women to remain confined to their homes.
People in India don't know much of your capital city of Quetta. Does it have the hustle and bustle of say an Islamabad or Karachi? Or is it just curfew, fear of violence and fearful quietude?
Balochistan is the least developed of Pakistan's four provinces. It is the least educated and least economically developed. People are agitated that a region so rich in mineral resources and a sea-port is still so poor. The British did not develop infrastructure in Balochistan. If you look at some of the educational institutions elsewhere in Pakistan, they were built almost a hundred years before Balochistan got its first university in 1970.
There is a constant blame game between the Baloch and the central government as to who actually is responsible for this lack of development. Pakistan blames Balochistan's tribal chiefs while the Baloch nationalists insist that Pakistan intentionally wants to keep Balochistan backward so that people are not empowered enough to resist Pakistan's exploitation of their resources.
Balochistan is a tribal and heavily male-dominated society. I think only education can lead to more democracy, an end to tribal influence and empowerment of women. Please note that there is a strong relationship between Balochistan's corrupt tribal chiefs and Islamabad. They support each other's interests. Islamabad does not question these tribal chiefs influence because they always serve Pakistani interests. Islamabad runs Balochistan with the help of these corrupt tribal chiefs.
Quetta is the city of hope for Balochistan. People from all over region go there to get a university degree, find a job and it is the epicentre of political activism. It is big enough to have universities, cafes and hotels but it is nothing as compared to bigger cities like Karachi, Lahore and Islamabad. Many times, when a new bank or a company launches operations in Pakistan, they hardly include Quetta among their top desired destinations. I think this kind of negligence has led to dissatisfaction among the people.
Life in Quetta is difficult because it has experienced tremendous violence in the past one decade. The city has become the hub of religious, sectarian and nationalistic violence. On top of it, there is heavy government security. The city has been militarised where there are checkpoints to monitor people's movements.
If life is like this in the capital, you can imagine how everyday life is in the remaining 29 districts. In most districts, people have no access to 24x7 electricity, health facilities, education and drinking water. There are no industries and employment opportunities in Balochistan's smaller districts.
You have often written that that the commander of the southern command and the inspector general of the Frontier Corps have more authority than the elected chief minister. Why do you say so? After all in the last elections, 43 percent voters turned up, in spite of threats of violence by the Baloch National Front. The chief minister of Balochistan (Sardar Sanaullah Zehri) is the member of Pakistan Muslim League-N, the party of Nawaz Sharif. So what stops the CM and PM to ensure peace and progress in Balochistan?
In Pakistan, the army has remained in power at least three times since 1958. The army is a strong political and economic power. It does not trust the political leaders because it views them as incompetent and insufficiently patriotic. Therefore, the army very closely scrutinises and dictates politicians. The army is zero tolerance for political dissent or criticism.
Hence, it finds reliable allies in Baloch tribal chiefs or religious leaders who keep flattering army officers only to stay in power. Politicians in Balochistan represent an elite group that has remained in power for generations. In order to stay in power, they have remained loyal to everyone who was in power in Islamabad. Their politics is not based on ideology but determined on who is coming to power.
Most of the people in the current Balochistan government were once with General Pervez Musharraf or former President Asif Ali Zardari but have switched loyalties to Sharif. The army looks at Balochistan solely from the national security point of view. It believes it has a responsibility to fight alleged foreign (Indian) 'agents' who are out there to disintegrate Balochistan. Therefore, the real power still rests in the hands of the army commanders.
But the fact is that the Balochistan government is also extremely corrupt and incompetent. There are of course issues for which the army and the Frontier Corps are responsible but there are also numerous issues that the provincial government can and should resolve but it does not.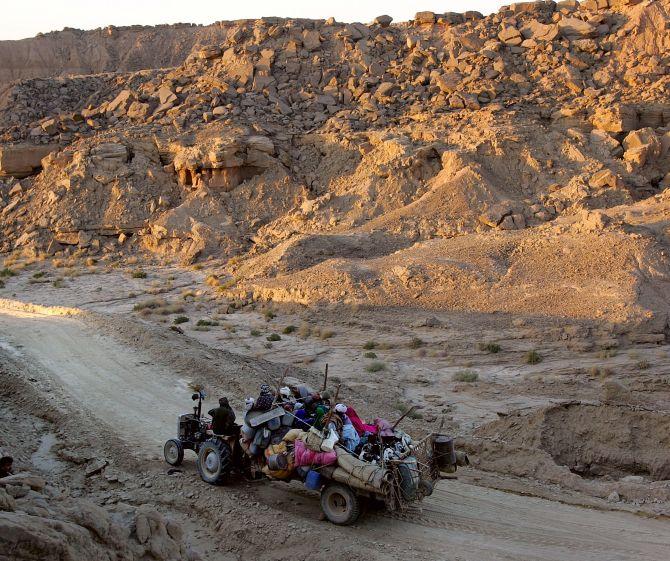 IMAGE: A family from the Bugti tribe evacuates the city of Dera Bugti in the Balochistan province. Photograph: John Moore/Getty Images.
Who are the main players in the freedom movement of Balochistan who believe in dialogue and a non-violent movement? Similarly, why can't all parties which believe in armed struggle unite under one banner? Why so many groups? I also read that children of some top Baloch leaders are in the US or Switzerland or Canada?
The Baloch armed resistance is far more sophisticated than its political counterparts. The Baloch Republican Party and the Baloch National Movement are two known political parties, joined by the Baloch Students Organisation (BSO-Azad), which openly yet peacefully call for a free Balochistan.
However, these parties have not been able to organise and mobilise support on the ground because of the Pakistani government's crackdown against Baloch activists.
Prominent among Baloch armed groups are the Baloch Liberation Army, the Baloch Republican Army, the Baloch Liberation Front and Lashkar-e-Balochistan. They operate in different geographical parts of Balochistan. Given its vast territory and tribal structure, every armed group has a great understanding of the region where it operates.
People in Balochistan do desire that all Baloch leaders should get closer and unite on a single platform. It does not seem likely because of competition among some big egos within the Baloch nationalist movement.
Balochistan is known to be rich in mineral resources and natural gas. It has a long coastline and a port. The China-Pakistan Economic Corridor runs through Gilgit Baltistan and connects with the sea at Balochistan. The Pakistan-China partnership in Baloch port area has the potential to create so many job opportunities for the local people. So it is not as if Pakistan isn't trying to develop your state. Am I right or just ill-informed?
The Baloch have concerns about the CPEC. Even the government of Pakistan recently admitted that the details of this deal with the Chinese were 'secret'. The CPEC is the brainchild of the Pakistani army.
Here are some areas where the Baloch have concerns.
1. They feel that they will be converted into a minority in their ancestral land in Gwadar once the project begins because of a massive demographic imbalance. Non-Baloch from other parts of Pakistan will come to Gwadar and convert the Baloch majority into a minority.
2. The Baloch want to be given priority in job opportunities. The Pakistani government has not taken sufficient measures to train and prepare Baloch youth to be employable at these projects. Hence, it is very likely that people from other parts of Pakistan will come to grab these jobs.
3. The Baloch want to make sure that people who come from outside Balochistan will not be given the right to vote or register as locals.
4. There is a demand that any outsider must partner with a Baloch. What I worry the most about CPEC is its security plan. Under the disguise of this project, Islamabad will tremendously militarise Balochistan. Any 'development' in Balochistan that does not benefit the Baloch will not be acceptable, secure and sustainable.
'Islamabad insists that Balochistan is not Bangladesh and there is no way it can break away from Pakistan. On the other hand, the Baloch think that armed resistance is a must to keep their movement alive. But the insurgency has not reached a point where Pakistan should officially feel threatened.'
Do you think that Pakistan will let go of this area without a long, protracted, fight? Do you think some kind of a middle path will be arrived at eventually?
Forget about the minerals. Balochistan is half of Pakistan's territory. It shares borders with Iran and Afghanistan and has a port that will soon connect Pakistan with Central Asia. No country easily gives up its territory easily. This is why there is so much bloodshed in Balochistan.
No movement for independence is painless. The middle ground you're talking about sounds like a great idea but I think it is currently unpopular or unacceptable to both the Pakistani government and the Baloch. Both sides are (misleadingly) confident that they can accomplish their goals militarily.
Islamabad insists that Balochistan is not Bangladesh and there is no way it can break away from Pakistan. On the other hand, the Baloch think that armed resistance is a must to keep their movement alive. The armed groups have bothered Pakistan more than the Baloch political leaders. But the insurgency has not reached a point where Pakistan should officially feel threatened. The generals in Rawalpindi still believe they are in full control of Balochistan.
There is a middle ground but I wonder if it has any takers. That middle ground is maximum internal autonomy for Balochistan. If autonomy was offered a decade ago, this would probably be acceptable but today there is so much mistrust between Quetta and Islamabad, I am not optimistic that the stakeholders will sit down and negotiate.
Violence is the new normal for the local people. That's not a good sign. The Baloch are not tired of fighting and the Pakistanis are not weary of carrying out military operations against them. There are no advocates of the middle path.
Sudhir Bisht is an author and columnist based in New Delhi. He tweets @sudhir_bisht