'Predators will always try, but I'm sure there will be less. We need one or two big examples like this.'
Illustration: Dominic Xavier/Rediff.com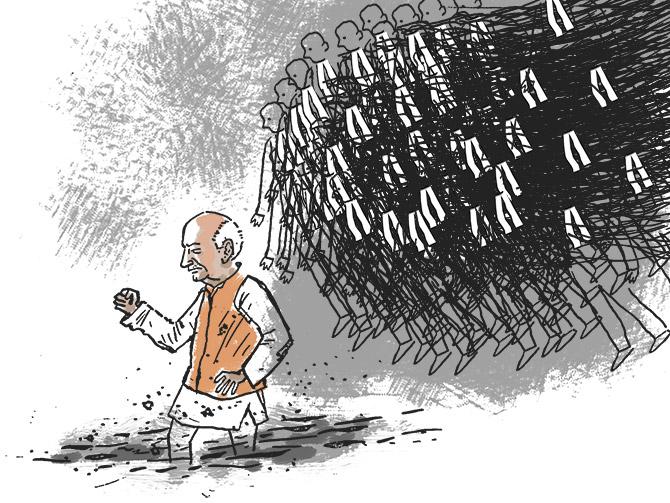 Olga Tellis is one of Indian journalism's legendary reporters.
Olga -- as she likes to be called even by journalists 30 years younger -- has spent half a century reporting on politics, social issues, corporate warfare and other matters of importance for multiple publications before giving up active journalism recently.
She started off in a tiny news bureau in Mumbai, the first woman reporter to be hired by the Ananda Bazar Patrika group of publications.
Olga tells Rediff.com's Archana Masih about how the work environment has changed for women journalists since she began her career 52 years ago, about the sexual harassment charges against M J Akbar, her editor at two publications, and where the #MeToo movement is headed.
How the work environment has changed for women journalists
When I began in journalism, it was a man's world. There are more women than men in journalism today.
I was the first reporter to be taken in by the Ananda Bazar Patrika. They had women doing food columns, but when I joined, Ananda Bazar had never had any woman reporter. My interview was not even like an interview.
I remember being told 'See how they take to you', but they accepted me from the first day. Within a month of my joining I was sent on an assignment to Sri Lanka.
There was a small bureau in Mumbai. I went, sat in my place and started to work.
It was just me, the manager and one more person who looked after advertising.
I started to report whatever there was. Whenever men came from the Calcutta office (where the Ananda Bazar Patrika group is headquartered), they always looked sideways to see who this creature was.
I was one of those wearing tight skirts and heels. A female on the staff was a novelty over there.
When you are young you are very confident, you think you can do anything. I was accepted even by colleagues at other newspapers. They used to say that they treat women badly and do not take them seriously but from day one, I was taken very seriously.
In fact, I owe a lot to male colleagues from other newspapers who really helped me.
If junior reporters ever complained to her about sexual harassment
No. No junior came to complain to me. I don't know how we never knew about (M J) Akbar. Women did not complain about it. (Olga worked with Akbar twice, at the Mumbai bureau of Sunday magazine and then at The Asian Age when Akbar was the editor based in Calcutta and New Delhi).
I was quite shocked to know that all this was going on. One knew that Akbar had a glad eye like a lot of men have, but never to this extent that one is reading.
I was very surprised. He educated you in journalism -- he told you what to do with your story, how to start it, etc. He had a hot temper and I owe a lot to him, but whatever he is today, I am pretty shocked.
In Mumbai I knew he would call people to his room, but I never heard that anyone had complained about it.
He joined Sunday as the youngest editor at 27. He changed the look of the magazine and it became a must-read for everybody. It was so popular.
Wherever I went, people knew me because of the magazine. No other paper or magazine had such an impact.
Then he employed me in the Asian Age. He was always in Delhi. He then became a politician.
He had such a respected journalism career. It is sad how he has squandered everything.
Whether she feels let down by M J Akbar
I don't feel let down. To each his own. But I am very surprised. He is finished now.
I don't see anyone giving him any due. He was at his peak as a minister and that is all gone.
Sometimes I wonder, people like this who are so brilliant don't realise it and take it for granted, as their right. They think they are irresistible and everyone just falls for them or something. I don't know.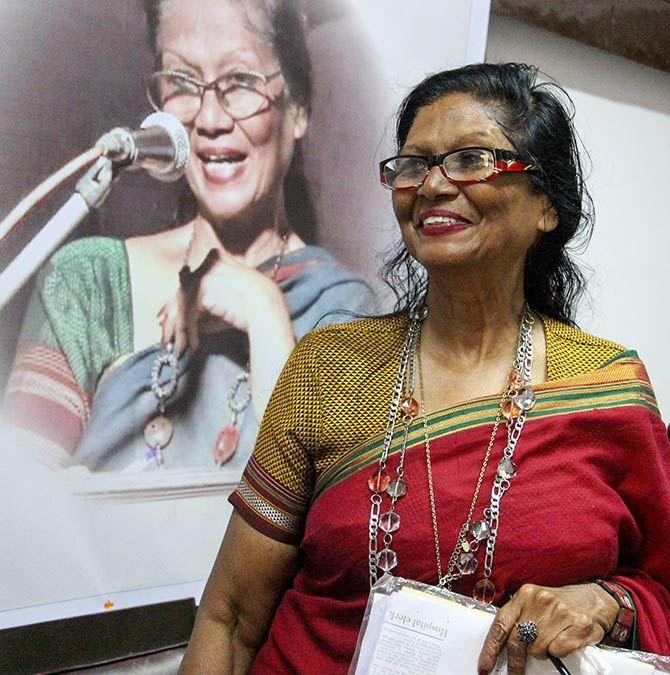 Will the #Me Too movement continue with the same intensity?
I hear men are trembling now. I hope they realise that you can't get away. Of course, there will always be these kind of predators.
Predators will always try, but I'm sure there will be less. We need one or two big examples like this.
Maybe fatigue will set in and it will get pushed back, but it will have an impact.
There are always these cycles that come. People know there is a #MeToo movement. As long as it continues abroad, it will still have an impact here.
If the interaction between men and women at the workplace is likely to change after #MeToo
Yes. Today, if you touch someone on the shoulder it could be seen as harassment -- that he touched me inappropriately.
I think even a compliment like what a nice dress you are wearing could be misconstrued. It is quite scary.
The relationship with old colleagues will not change, the camaraderie will continue, (but) with newcomers it will change.
Whether she ever encountered sexual harassment in her career
No, not at all. Even when I went to interview people I never had any problems -- and I have interviewed smugglers to whatever. Maybe because I was very intimidating in the way I dressed and carried myself.
I have never faced any harassment, but I know people have. I don't dispute what they have gone through.
I never experienced anything or heard anything.
On men saying they are being subjected to false sexual harassment charges
But you can't use that as an excuse. False cases will be found out later. And these cases will be very few.
If political parties should set up sexual harassment committees
We live in an interconnected world. I think it should impact politicians too. I read that even while giving tickets women are expected to give favours. Hopefully, it will stop if this was continuing.
The Vishakha guidelines are still not in place in many organisations. Maybe they will put them in place now.
On the charge that #MeToo is an urban phenomenon
The people who say this are petty-minded. In households, maids are being abused and people are saying how come no one is saying anything about this and it is an elitist thing.
But this leads to change and will percolate down.
It will snowball and in various other places people will come out and speak.
The justice system also has to change. You can't wait for 20 years for a judgment.