'Respect nature, working with (it) rather than against it.'
Dr Rattan Lal, a soil scientist at Ohio State University, has been chosen for the 2020 World Food Prize, given to those who improve 'the quality, quantity or availability of food in the world'.
Though his work addresses food security, Dr Lal, the Distinguished University Professor of Soil Science and founding director of the Carbon Management and Sequestration Center at Ohio State University, focuses primarily on environmental sustainability and climate change.
Born in what later became Pakistan, his family fled to India during Partition and engaged in subsistence farming to survive.
The young Rattan was put in charge of the cattle.
He grew up to earn his bachelor's degree at the Punjab Agricultural University in Ludhiana; his master's degree from the Indian Agricultural Research Institute, New Delhi; and his PhD from Ohio State University.
He worked at the University of Sydney for a year before going to the International Institute of Tropical Agriculture in Nigeria, finally going back to OSU in 1987 as an associate professor, before working his way up to his current position.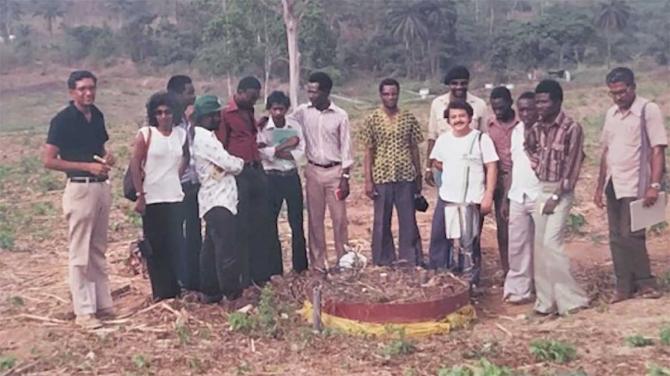 During his work in Nigeria, Dr Lal saw how deforestation led to soil erosion and degradation over time.
He argued for ways to maintain organic material in the soil to stop an inexorable drop in quality of the soil and, ultimately, its crop yield.
Distrustful of the widespread use of commercial fertiliser, Dr Lal promoted methods that have become part of enlightened farming everywhere.
As the World Food Prize Foundation put it in describing Dr Lal's work, 'He explored and transformed techniques such as no-tillage, cover cropping, mulching and agroforestry that protected the soil from the elements, conserved water and returned nutrients, carbon and organic matter to the soil.'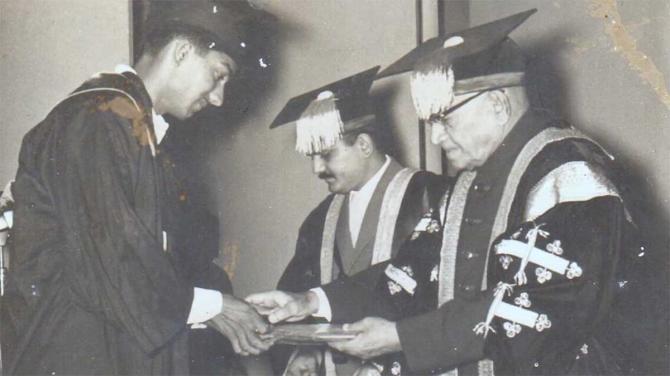 The prize, which honours those who help improve the food security of people worldwide, was set up to fulfill the dream of Dr Norman Borlaug, the renowned agronomist and Nobel Laureate.
Among his own honours, Dr Lal received one from Dr Borlaug himself, the Norman Borlaug Award. That was in 2005.
Among his accolades are the Japan Prize in 'Biological Production, Ecology', won last year, and the GCHERA World Agriculture Prize and the Glinka World Soil Prize, in 2018.
Dr Lal speaks to Senior Rediff.com US Contributor P Rajendran.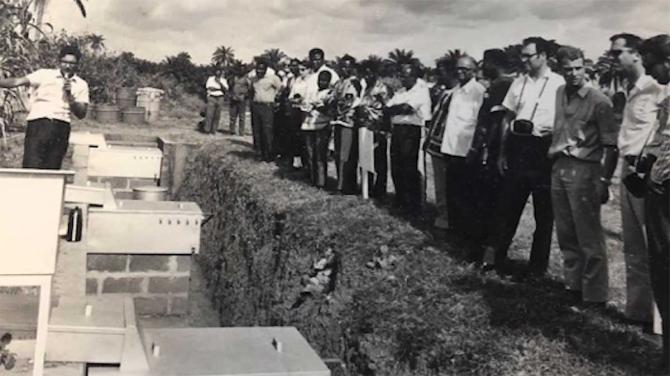 How do you feel about winning the World Food Prize?
It is very difficult to explain the feeling. It's a very unique prize.
Very people are lucky enough to get it like me.
Dr (M S) Swaminathan was the first Indian to receive it.
This (award) is based on a different philosophy.
Dr Swaminathan, Dr Borlaug -- they were working on seeds and improved varieties (of crop).
My concepts (are based on) improved soil, improved environment, and climate change.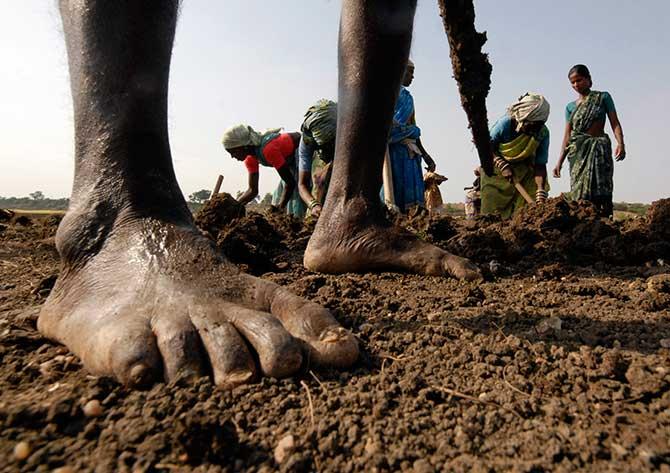 You've described soil as a living thing.
It is, yes.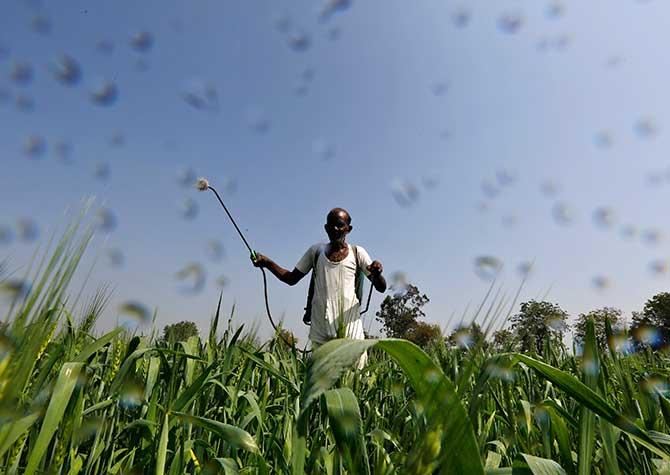 Are you talking of the soil as the bacterial content, the fauna, or something else that is constantly changing and evolving?
It's both -- what you just said. Very correct. One, soil is full of organisms.
A spoonful of healthy soil may contain more biodiversity than (seen in plants and animals) in the Amazon.
(About) 25 percent of all living things live in soil.
It is the living part of the soil that makes it very dynamic, ever-changing.
It is that life in the soil that creates ecosystem services essential to life -- to humans and to nature (in general).
So soil is a living thing -- and from that point of view we should respect it as a living thing.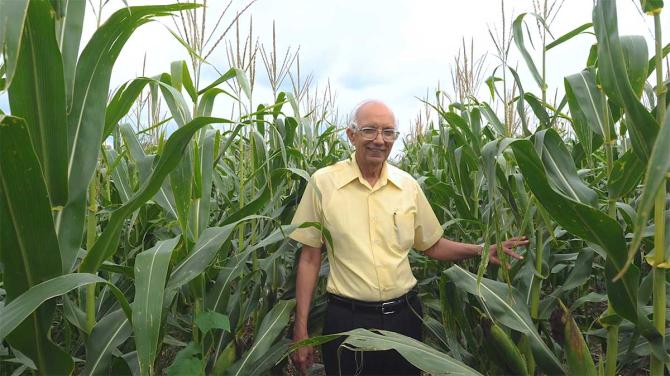 But if it's a living thing, it also needs to be nurtured as a living thing, right?
So you don't just leave it alone, but work to keep it in good condition, too.
So what do people need to know when they deal with soil?
You cannot indiscriminately put chemicals, pesticides and herbicides, indiscriminately plough the soil, flood the soil, take away the crop residue* or burn it in place.
When you burn the residue, three things happen: a. You're killing the organism; b. You're destroying the food that the organism eats; c. You're putting pollutants in the air.
In 2017, they estimated that people breathing polluted air in India was a major cause of death and disease**.
This is what I mean when I say treat the soil carefully.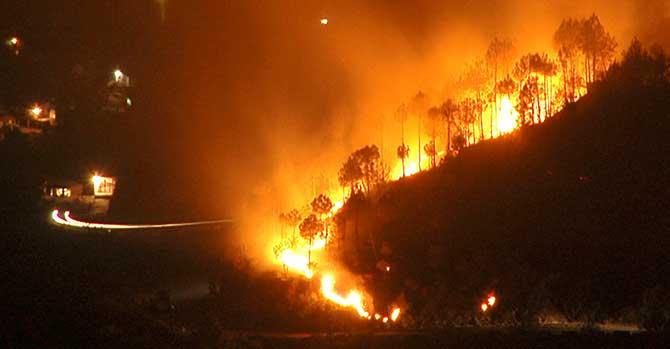 But you would also probably argue that in certain cases forest fires do actually help -- in controlled conditions, and in certain places.
Natural fire, yes, in a fire-prone ecosystems like savannahs and other (ecosystems) that depend on fire for regeneration.
But these are not fires set by people to burn residue like rice straw*** so that they can speedily grow the next crop.
That's a different kind of fire than natural forest fires.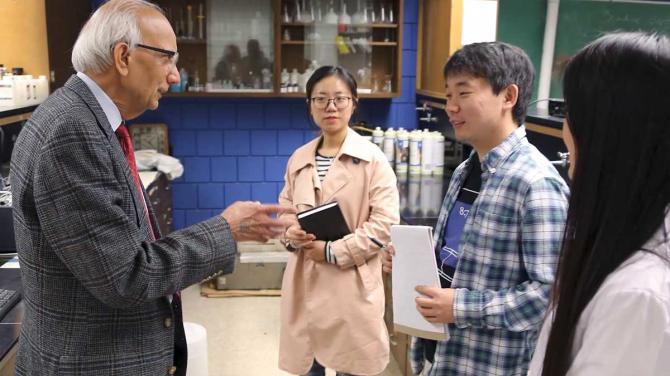 You have been addressing the issue of climate change over the years...
Yes, that's correct. My way of addressing climate change is using nature as a solution.
A natural solution is taking carbon dioxide from the atmosphere and putting it back in the trees, soil, wetlands, degraded land.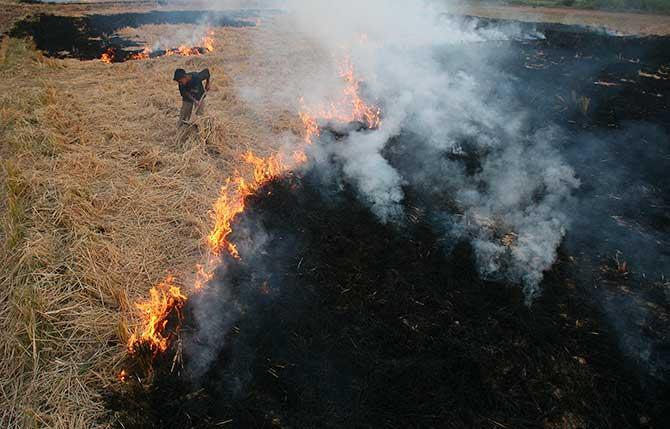 Will that only apply to soil?
Most of the carbon dioxide released is absorbed by the water, and organisms in the water, right?
The ocean absorbs a lot of carbon dioxide -- I think 2.3 billion tonnes out of 11 billion tonnes emitted by humans.
The atmosphere absorbs about 5 (billion tonnes) and 3 (billion tonnes) is absorbed by land.
About 60 percent of the carbon (dioxide)) emitted by humans is absorbed by ocean and land - and land (in the form of) trees and soil.
So three components -- soil, trees, ocean -- absorb the carbon dioxide that is not absorbed by the atmosphere.
Because the ocean, soil and trees have a limited capacity, the atmosphere is absorbing a lot more.
The only way to save the atmosphere from getting overheated (thanks to carbon dioxide) and overpolluted is to stop [or] reduce emissions from fossil fuels.
Do you think climate change is reversible in the short term?
You know, when this closedown happened due to the pandemic, we had clean skies even in Delhi (which was the world's fifth most polluted city in 2019, according to the World Air Quality Report).
You could see the Himalayan mountains from 100 miles away (from Jalandhar).
The Ganges water, because industry was not (putting in) pollutants into the river -- I read a report that the water was drinkable.
At the Hawaiian Mauna Loa, the mountain where carbon dioxide is monitored, the peak in February-March was lower this year than before.
Many cities in Europe had lower concentrations of nitrous oxide and other gases.
So it seems that if humans are given an education not to emit (greenhouse) gases and pollute environments, nature has a capacity, a resilience, to bounce back to a certain limit.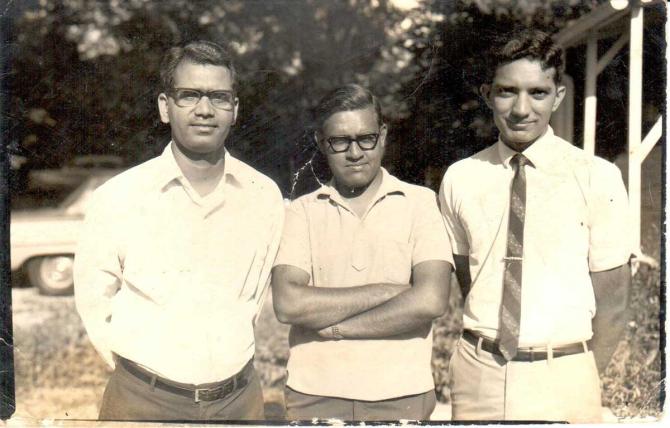 Despite all this, do you think these steps are enough?
I know that carbon dioxide levels have been falling this year but what about the long-term.
No, it's not enough.
The fossil fuel emissions -- at the moment 10 gigatons per year -- is too much.
They have to be cut down in the long term, and we have to find a non-carbon fuel source.
Whether it's (wind), solar, hydro, nuclear, geo(thermal), bio(fuel), it should be non-fossil fuel.
Eventually, we have to buy that... In the meantime, using land, forest, wetlands as a sink for some of the emissions is a good strategy.
It is a natural way and it has many benefits.
It's (also) economical.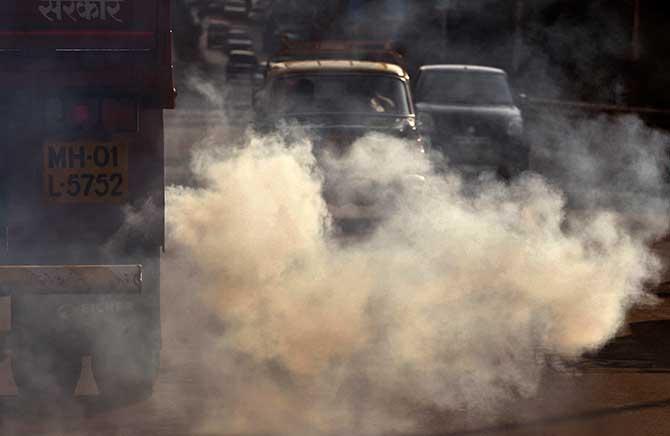 I read that researchers at the University of Rochester have streamlined a process that can convert carbon dioxide into biofuels...
You can convert CO2 into biofuels using microbes (too)], but the process is not going to happen tomorrow.
It will be a long time before it becomes economical.
Those are options, but it is not a justification to keep burning fossil fuels.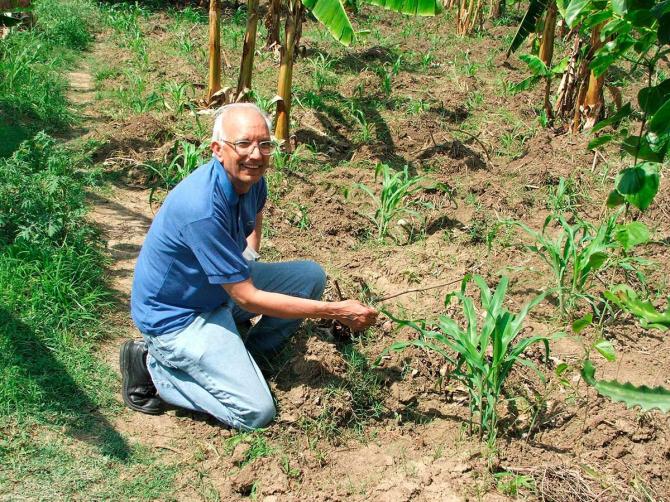 What would you have people know as being most important from your point of view?
I'm not in a position to advice people; I'm not a prophet.
But in my own experience, food wastage, which is a very common issue, especially during this pandemic, sometimes involving panic purchases of food and then wasting it, I think we should avoid...
I have a garden in my yard where I grow everything.
I grow tomatoes, cucumbers, zucchini, okra, lauki, brinjals, mint, turnip, radish -- enough for us to eat.
So we can be quite independent if we grow our own things.
I also promote (the idea that we) eat vegetarian (food), which is another way to be helpful to the planet.
So I think if we simplify our lifestyles and keep close to nature, we can alleviate some of the suffering.
Try to respect nature, working with (it) rather than against it.
That is where my interest in soil comes from.
Our scriptures, they all respect nature: Bhoomi, Prithvi and Dharti Mata.
We should follow our scriptures (when it comes to nature).
---
* Crop residue is the material remaining after harvesting.
If left there instead of being removed or burnt, it provides more organic material that makes the soil richer, and better able to fix carbon dioxide.
It also gives soil better structure, slows down erosion and rates of evaporation.
** According to a study in the Lancet Planetary Research, in 2017 pollution caused 12.4 lakh deaths in India, which is 12.5 percent of the total number of deaths that year.
Part of the problem in Delhi, one of the cities worst affected, was the number of crop residue fires in nearby Punjab and Haryana.
***The stubble of the rice crop, the burning of which results in local pollution and the release of greenhouse gases that raise global temperatures.
Feature Presentation: Ashish Narsale/Rediff.com