'The sanctions are biting him.'
'He also has a chance to come out into the world and reshape his nation.'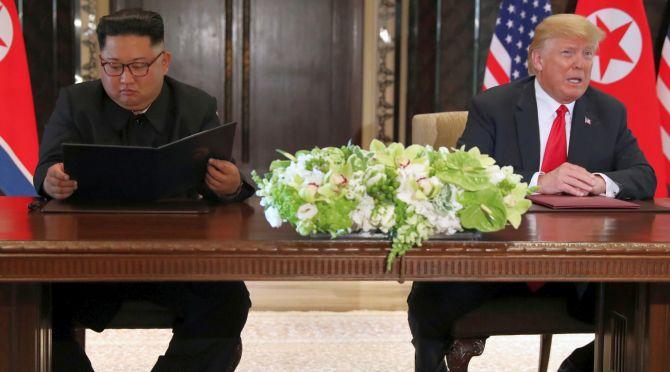 Ravi Velloor, Associate Editor, The Straits Times, Singapore's leading newspaper, has compared the handshake between United States President Donald J Trump and North Korean leader Kim Jong Un on Tuesday as one of the two watershed moments in US history in the first half of the 20th century.
The first being the 2008 election of Barack Obama as America's first Black president.
In an e-mail interview to Rediff.com's Archana Masih, Velloor -- from whose 2016 book India Rising: Fresh Hopes New Fear, we published 'That Inept Saint Antony' -- took time off a very busy news schedule at his newspaper to explain why the meeting is lead news across the world and its Indian connection.
Can you briefly speak about the people of India origin in the Singaporean government that have played a significant role in this summit?
There are three of what you call Indian origin people who have played a big role in this.
First is Singapore's Ambassador to Washington Ashok Mirpuri, the other is Foreign Minister Dr Vivian Balakrishnan, whose father is Indian and mother of Chinese origin. And the third is Home Minister K Shanmugam, who underwrote the security.
Dr Vivian travelled to Washington and Pyongyang before the summit.
What is the guarantee that Kim will adhere to the agreement of denuclearisation? Isn't there a strong possibility of him reneging on that commitment?
I think Kim should be given the benefit of the doubt.
The sanctions -- which are biting since China imposed them vigorously -- are biting him.
He also has a chance to come out into the world and reshape his nation.
But he also needs cast iron guarantees, first for his regime's security, and secondly, his family's security.
He has been wanting to talk to the US for a very long time, and he has now achieved it.
Is the world expecting far too much from this meeting? Or is such scepticism misplaced considering this meeting was unthinkable for many in their lifetimes?
Yes, when it comes to North Korea you should be careful to not be over excited or despondent. These are very serious issues being sorted out.
North's nuclear programme was not built in a day and dismantling will not be done in an hour.
This will take months to accomplish and it is important that both sides show good intentions.
In the past there have been failures by both parties to stick to their word.
That said, never before has a serving US president dealt directly with a North Korean leader.
What has been the buzz in Singapore since news of the Kim and Trump summit?
Singapore is quite happy, or thrilled you could say, to have hosted this landmark event.
It has brought the world's attention to the island, and what it stands for: Neutrality, an open, inclusive architecture in Asian affairs and faith in a rules-based world order.
What does this meeting symbolise for hostile neighbours in other parts of the world -- like India and Pakistan?
Hostile neighbours? Well, this one was between the US and North Korea, so not exactly close neighbours.
But the April 27 meeting between the Koreas was a landmark one and it shows that given goodwill and good intentions on both sides, a lot can potentially be achieved.
It starts with a realisation that the people share a common culture and language and heritage and it then looks toward a shared future.