'They did not spare the girls or teachers; they beat all of them.'
'We kept calling the police, but no one came.'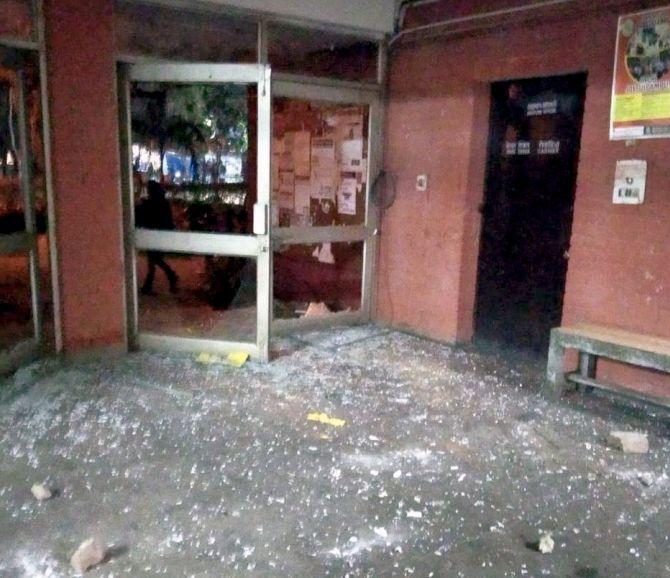 Some students thrashed, some cowering in their hostel rooms hoping to escape the trauma unscathed and all around chaos.
That was the scene on the Jawaharlal Nehru University campus on Sunday when masked assailants went around the campus, entering the Sabarmati and Periyar hostels, and assaulting students and teachers with lathis, rods and hammers.
As many as 28 students and teachers were injured in the attack.
Eyewitnesses accused the police of failing to stop the mob from entering the campus or ending the violence sooner, despite calls from JNU as well as frantic students and teachers.
Amid these scenes of anarchy and pandemonium, Mehboob Rehman, a PhD student in demography in population studies, recounts the horror to Syed Firdaus Ashraf/Rediff.com while hiding from the assailants who were on the rampage.
"I was having tea with my friends in the campus around 6.30 pm when I suddenly saw 40, 50 people walking together, with their faces covered and armed with sticks and lathis.
Without any provocation, they started thrashing the students and didn't leave anyone.
Their aim, it seemed was to thrash all JNU students. They did not spare the girls or teachers; they beat all of them.
My friends and I did not know what to do and in all that chaos and confusion we ran towards our hostel.
These goons entered our hostel too, they thrashed everyone they found.
We locked ourselves in the hostel room, called the police and sent out an SOS to everyone we could.
We switched off all the lights and hid and therefore, they could not find us. They, however, broke all the windows of our hostel and many hostel doors.
We kept hiding there. Luckily, these goons could not break my room door and so we escaped the attack.
I have no idea how they were able to enter the campus.
Security is always present and one needs to show a valid identification to gain access into the campus.
I have no idea where our own security guards were because I did not see them when these goons were unleashing their terror on students.
It seems this was a pre-planned attack. Their only aim was to beat JNU students because they went to all 16 hostels and beat up the students.
These goons created terror for two hours and nobody was there to stop them.
We kept calling the police, but no one came.
The registration of admission (for semester exams) was on JNU.
JNU students had boycotted this registration because of the fee hike.
The protest against the fee hike is ongoing, therefore some students did not give exams as well and did not register for further semester exams.
There were some other students who did not boycott the registration and this was the reason for the tussle, I guess. I think the ABVP (the Akhil Bharatiya Vidyarthi Parishad, the Bharatiya Janata Party's student wing) wanted to do the registration whereas the Left students union did not want to register for further exams.
But in general, many students did boycott the registration.
At this moment, we are sitting in our hostel room and we can see many injured people from here.