'Bommai was a minister in my cabinet. It is not ethically correct.'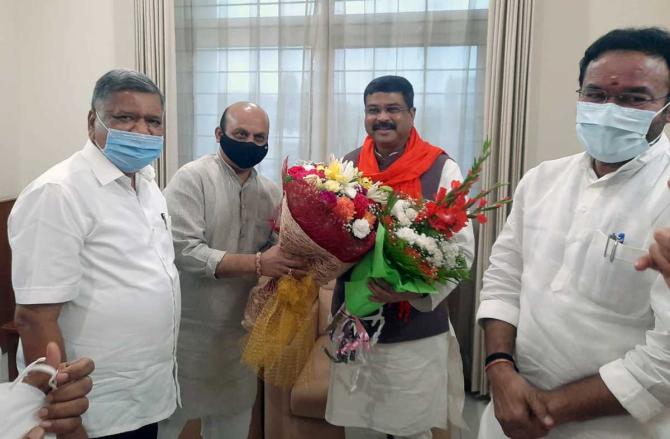 Jagadish Shivappa Shettar, 66, is a former chief minister (2012-2013) of Karnataka.
After B S Yediyurappa resigned on July 26 as Karnataka's chief minister, some observers expected Shettar to be appointed his successor. After all, he was a former CM and a long-time member of the Bharatiya Janata Party. Moreover, like Yediyurappa, he was a Lingayat, the politically influential community in Karnataka.
However, the BJP Troika in New Delhi -- Narendra Damodardas Modi, Amit Anilchandra Shah, Jagat Prakash Nadda -- preferred another Lingayat, Basavaraj Bommai -- who joined the BJP from the Janata Dal-United -- as chief minister.
Disappointed, Shettar, a senior minister in the Yediyurappa government, announced that he would not be a minister in the Bommai government.
"I will follow the wishes of the party. I will do what they want," Shettar tells A Ganesh Nadar/Rediff.com.
Sir, how disappointed were you that you were not appointed chief minister by the BJP leadership in Delhi despite your credentials both as a former chief minister and a long term member of the Sangh Parivar? Why were you ignored for the job in your opinion?
I don't know the reason. I am a committed party worker. My family is in the party since the Jan Sangh days. I am a RSS worker. I am committed to the organisation. Anyhow, the decision taken by the party is binding on me and I agreed with it.
Do you think the BJP leadership caved into Mr Yediyurappa's demand that his nominee be made chief minister?
The public opinion is like that. Even the MLAs are saying that.
Do you think Mr Basavaraj Bommai has the ideological commitment to the Sangh Parivar to be made Chief Minister of the Sangh's primary state in the South?
He joined the party from Dharwad district while I was there. I don't want to comment on that.
Why do you think Mr Bommai was selected over a senior BJP leader like you and other seniors as Chief Minister? Is it only because of the outgoing chief minister's insistence?
Is it because Mr Yediyurappa felt he would be able to push Mr Bommai which he could not do with you?
I don't want to discuss this.
Why don't you want to accept a ministerial position in the Bommai cabinet?
Is it only because you feel as a former CM you would not accept a position in a government headed by someone who is junior to you in politics?
Did you pre-empt the possibility that you would not be made a minister by saying you would not accept a ministership?
Did no one in Delhi persuade you to become a minister?
At that time I clearly said that as a former chief minister I am not inclined to becoming a Minister to a person junior to me in politics.
He was a minister in my cabinet. It is not ethically correct.
I worked under B S Yediyurappa because he is the senior-most leader in the state and senior to me also.
Do you feel Mr Bommai is a stop gap CM and could be replaced by someone like Mr B L Santosh or Mr Pralhad Joshi before the assembly election? Or do you think that it is unlikely given the likely electoral retaliation from the Lingayat community to a Brahmin CM?
No comment!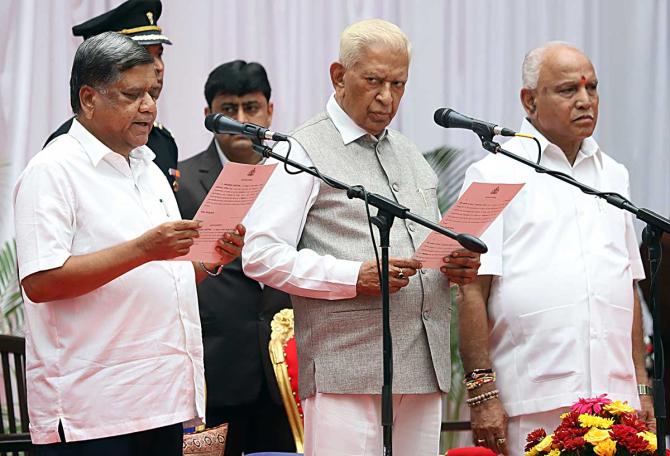 What are your expectations from the Bommai government? What does it need to do quickly so that the BJP can retain power in Karnataka after the next assembly election?
He has to take into confidence all the MLAs and the party workers. He should provide transparent governance. Ours is a cadre-based party and so the cadre should always be taken into confidence.
Why do you think the BJP leadership wanted Mr Yediyurappa to resign?
Is it solely because of his age or is it because of the belief that his sons were interfering in governance?
What about the charges of corruption leveled against him?
What happened between B S Yediyurappa and the high command is not known to me. I don't want to comment as I have no knowledge of it.
What is your frank assessment of Mr Yediyurappa as chief minister, as a politician? He has said he will continue to be involved in Karnataka politics. Do you think it is time for him to retire?
No! I don't think it is time for him to retire. Retirement is left to him. He is the tallest leader in the party. He built the party. I have also worked with him.
The party has grown strong because of his leadership.
Do you believe Mr Yediyurappa is the tallest Lingayat leader in Karnataka politics? Do you believe only a Lingayat must be chief minister given your community's numbers in the electorate? When the BJP is giving so much importance to Lingayats, don't you think the other communities will be upset?
All the communities are represented in our party. OBC and SC leaders are also there. I have links with both Lingayat and other community leaders.
There is a feeling that Mr B L Santosh (the BJP's national organisation secretary and a Kannadiga) interferes too much in Karnataka politics. What would you say to that? What is your assessment of Mr Santosh as a political strategist?
There is no interference.
What are the biggest challenges facing the BJP in Karnataka now? Would you say infighting is the main ailment affecting your party?
Actually in Karnataka the BJP is always strong. From 1967 to 1977 we had four Jan Sangh MLAs. In 1983 we had 18 elected MLAs which went down to two in 1985. In 1994 we had 40 MLAs and in 1999 we had 44 MLAs. In 2004 we had 79 MLAs.
So you can see that we have been steadily growing.
What are your future plans in politics?
I am a committed worker of the party. I will continue to organise the party. I will follow the wishes of the party. I will do what they want.
Feature Presentation: Ashish Narsale/Rediff.com