'The BJP has been wooing him for quite some time.'
'But he didn't join the BJP; he started his own party.'
'Remember he has Hindus, Muslims and Christians as his fans.'
'He will never antagonise any of his fans.'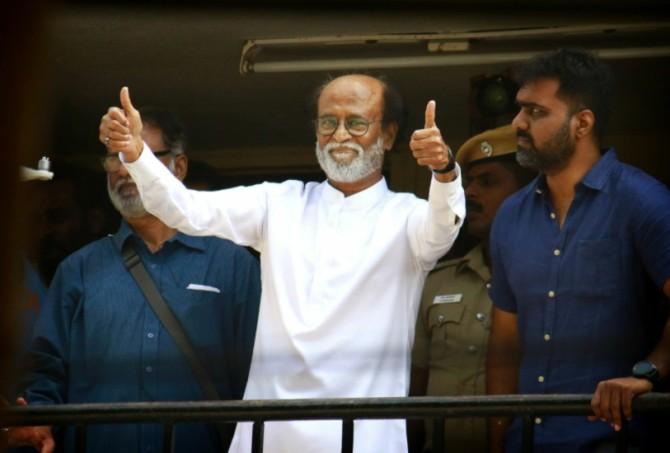 IMAGE: Superstar Rajinikanth greets his supporters after announcing his decision to enter politics. Photograph: Kind courtesy @Rajni_FC on Twitter
Finally, after decades of speculation, superstar Rajinikanth has announced his decision to enter politics and start a political party.
Can he make an impact in Tamil Nadu politics?
Yes, he can, Dr P Sudarshan, co-ordinator, Tamil Nadu Election Watch, and trustee, Association of Democratic Reforms, tells Rediff.com's Shobha Warrier.
Rajinikanth has finally announced his decision to enter politics. His fans are naturally excited. Do you think the people of Tamil Nadu would be as excited?
It is true that he has a dedicated fan base and they would be very excited by his decision to enter politics.
Yes, there is excitement within Tamil Nadu and outside, but the people of Tamil Nadu will be on a wait and watch mode as they would be more interested to know how he is going to approach various issues, who is going to fund him, how he will campaign for his party, etc.
He had appeared indecisive about entering politics. Do you feel that the indecisiveness is over with his announcement on December 31, 2017?
I think he has moved onto the next phase. People may wonder whether he is ready for the aggressive campaigning and mud-slinging associated with politics.
I feel he is ready to face the rigours of politics as he has been in the film industry for 40, 50 years.
He will be able to handle the political pressures pretty well. In fact, political parties are scared of him because of his huge fan base.
One thing is clear. It is also the right time for him to make the plunge as he expects the assembly elections some time this year, and the political scenario in Tamil Nadu is in disarray.
Both the AIADMK (All India Anna Dravida Munnetra Kazhagam) and DMK have a strong cadre base all over Tamil Nadu while Rajinikanth has only fans. Will it be easy to convert his fan base into party cadres?
Though it may appear tough, we have seen how Vijayakanth converted his fan base into party cadre quite effectively.
I think Rajinikanth can also do that as he is a very responsible person, unlike Vijayakanth.
There is also a possibility that the AIADMK may split and join his party. Vijayakanth's cadres also may join him.
The way he announced his decision and how he projected himself was very well thought about and calculating.
His fan base has people from various political parties. Can he convert cadres from the DMK, AIADMK, etc to his party?
It will be a big challenge for him.
The youngsters from the 1990s will remember what he had done against Jayalalithaa and Karunanidhi. They had listened to him then and became Rajinikanth voters rather than AIADMK or DMK voters.
Those urban voters will still be with him and they will still be his supporters and voters.
He will be a hit with women too because of the characters he has portrayed on screen.
Except in the early days, he has been quite careful about the way he was projected on screen.
Can he be another MGR (the late movie superstar and later chief minister M G Ramachandran who founded the AIADMK) who created an image of himself as the saviour of women and the downtrodden?
From the 1950s, MGR carefully cultivated an image of himself as a person who respected women and old people, and helped the poor.
He was also known for his philanthropy not only within the film industry but outside too.
He was basically the fund-raiser for the DMK for many decades and was very much a part of politics.
MGR prepared himself and had years of experience in politics before he branched out on his own. Don't you think Rajinikanth is at a disadvantage with practically no experience in real politics?
I feel he has been preparing himself very carefully from the 1990s by creating an image of himself that is acceptable to the poor.
If you look at his films like Annamalai, Basha, Muthu, Arunachalam, etc, they have a political tone. His image was that of a man who worked for the people. So, the work has been going on for more than 25 years.
If his team uses technology and social media effectively, he can reach out to today's youngsters, especially the urban population. Today, all political leaders have strong IT cells and use technology and social media to their advantage.
The challenge, of course, is the rural population where the AIADMK and the DMK have strong bases.
Is Tamil Nadu being a very urbanised state an advantage for Rajinikanth then?
Yes, it is an advantage for him that 49% of the state is urbanised.
So, he has to work on the problems the urban voters face like housing, transport, cleanliness, etc. But he has to work more on what the rural voters want.
Rajinikanth also spoke of spiritual politics. How much will it strike a chord with Tamil Nadu voters who have only seen Dravidian politics which is contradictory to what he has said?
Spiritual politics could be like Gandhian politics; the politics of dharma and karma whereas there is no dharma in Dravidian politics.
Instead of material things, Rajini would look at dharma in politics. I feel it would strike a chord with those who are fed up of the kind of corruption perpetuated by the AIADMK and the DMK so far.
Both these Dravidian parties have no moral high ground to claim while Rajiniknath can talk about bringing back dharma into politics.
He was very close to Cho Ramaswamy who was like a mentor to him. He is also close to Prime Minister Narendra D Modi. Do you feel the BJP can be a natural ally for him?
It is a very important question because the BJP has been wooing him for quite some time.
But he didn't join the BJP; he started his own party.
He might have the BJP as an ally, but he will have other parties also as his allies.
Remember he has Hindus, Muslims and Christians as his fans.
While dharma may attract all -- as it is more like what MGR had practised -- he will never antagonise any of his fans.
After all, the BJP has the stamp of Hindutva.
As a person who goes to the Himalayas and is a devout Hindu, he already has an image of a spiritual person. In that sense, he can be acceptable to all sections of people.
Will his proximity to Modi make him accept the BJP as an ally?
More than Rajinikanth needing the BJP, the BJP in Tamil Nadu needs him.
Because Tamil Nadu has been neglected for nearly two decades, Rajinkanth can use it as a reason to ally with the BJP. Also, the DMK was part of the Vajpayee government.
Corruption was a major issue that Rajinikanth spoke about. Do you think corruption is an issue with the people of this state?
Today, the people of Tamil Nadu feel that they have the right to take money from corrupt politicians. At some point, this has to end.
With the court saying that not only those who give money but those who receive money can be arrested, this attitude may change.
If some people get arrested for accepting money for votes, there will be an end to this.
Rajini will be able to do some cleansing in Tamil Nadu politics.
So many young people are fed up of the corrupt politics that is practised in the state.
More than one-and-a-half crore (15 million) people are below the age of 30. Almost two-third of the voters are below the age of 50.
If Rajini can make himself acceptable to these voters, they will be a great asset for him.
With Kamal Haasan also announcing his decision to enter politics, are we going to soon see a Kamal versus Rajini in politics?
Kamalahaasan's cultural capital is different. He is very popular among the educated elite, minorities, Communists, etc, but his messaging was very confusing. It was not a well thought out announcement. That is his problem.
Another problem is, he is a Brahmin and he cannot be a chief ministerial candidate.
But Jayalalithaa was a Brahmin...
Jayalalithaa was an exception. That was because MGR was the face of Dravidian politics as the fund-raiser of the party, travelling and meeting people all over the state.
And he using Jayalalitha as the propaganda secretary of the party and grooming her well, helped her immensely.
People identified her also as a well known face of the party slowly. So, after MGR, she could project herself as the heir apparent of the party.
Did you feel while Kamalahaasan was confusing, Rajini was very clear in his message?
Yes. Rajini's was a well-planned and well-timed announcement, soon after the RK Nagar polls.
Now that the political scenario in the state is so messy and without any leaders, he could project himself as a charismatic leader who is clear in his mind. Yes, there was a clear contrast in both the announcements.
More than a political leader, Kamal Haasan can be an institution builder.
Subramanian Swamy said Rajinikanth would have no impact in politics as cinema's influence in Tamil Nadu politics had ended.
It is not just cinema, anyone who used media effectively, has always won in politics, like Abraham Lincoln to MGR to Jayalalitha to Narendra D Modi.
Those who say that film stars have no experience, I beg to differ. They manage budgets, people's perceptions and careers. It is like managing a mini political career. And these people have been managing all these for many decades.
There is no Jayalalithaa, Karunanidhi is unwell and there is a kind of vacuum in Tamil Nadu politics now. So, do you see Rajinikanth as the next chief minister of Tamil Nadu?
Quite possible. I think that is the reason he waited so long.
There is a huge vacuum in Tamil Nadu politics right now. Even before he announced his decision to start a party, a poll showed 30 percent of the people wanted him as chief minister.
If he plays his cards well and plans his moves intelligently, he will definitely be the next chief minister of Tamil Nadu.
It is advantage Rajinikanth now!