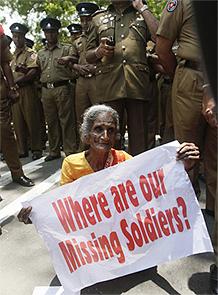 Prime Minister Manmohan Singh's decision not to attend the Commonwealth Heads of Government Meeting at Colombo has once again put the focus on alleged cases of human rights abuses in Sri Lanka.
Worse, Sri Lanka has been accused of targeting human rights activists who have been speaking out against the government. Many rights activists have disappeared; they remain untraced till date, while other activists have been forced into exile.
One such activist is Ruki Fernando, who was forced out of Sri Lanka and now lives in New York City. Fernando has been urging leaders of Commonwealth nations to boycott the CHOGM.
In an interview with Amberish K Diwanji, Fernando explains why such a boycott is imperative:

You have called for a boycott of the CHOGM, claiming the presence of leaders of Commonwealth nations in Colombo is an insult to the victims of human rights abuses and to the Commonwealth itself. Would you elaborate on this?

Victims of human rights violations in Sri Lanka and their families, with the support of some concerned individuals and groups, have been struggling for truth and justice for many years. But the Sri Lankan government has been adamant about blocking all such attempts.
They (Lankan authorities) have also threatened, discredited, deported and rejected respected officials of the Commonwealth and the United Nations, such as the UN High Commissioner for Human Rights, members of parliament from Australia, New Zealand and Canada etc.
Attending CHOGM is an indicator by Commonwealth leaders that they are on the side a regime that has rejected all forms of engagement -- including with UN Human Rights Council's experts and the secretary general's panel of experts -- and which regularly kills, abducts, attacks, threatens and discredits those who criticise the regime, as well as ethnic and religious minorities.
If the Commonwealth is to truly be an organisation that is based on the values of human rights, rule of law and separation of powers, it is simply not acceptable to have the CHOGM serve as yet another red herring.
Is a boycott the best way to tackle the problem of disappearances and human rights abuses in Sri Lanka?
In terms of the CHOGM, a boycott is the best way. Many years of experience show that other forms of engagement such as bilateral discussions and public statements don't bring about any change in the behaviour of the Sri Lankan government.
Heads of States can still continue to engage the Sri Lankan government bilaterally and multilaterally in other forums, where human rights issues can actually be discussed, unlike the CHOGM, which is unlikely to discuss human rights.
How severe are the human rights abuses in Sri Lanka at present?
Very severe, particularly for those critical of the government -- like judges, lawyers, journalists, priests, student leaders, trade unionists, NGO workers and political leaders from the opposition.
Even a few months ago, three youth were killed by the military during a protest to demand clean drinking water.
A few days ago, two MPs of Australia and New Zealand were detained, questioned and not allowed to conduct even a press conference.
Visas for distinisguished representatives of the International Bar association, which included serving and former UN Special Representatives, were also revoked.
There has been no genuine attempt to address the root cause of the civil war through a political solution that respects political aspirations of the Tamil community. Instead, there are fresh attempts to dominate and assimilate them, even after the end of the war, through the occupation of traditional Tamil lands by the military and majority Sinhalese community, building of Buddha statues in predominantly Hindu areas which also have significant Muslim and Christian populations, sexual abuse and custodial torture.

Fundamental rights in Sri Lanka were curbed due to the civil war. What is the reason for keeping the curbs in place today?
This is a question that's better posed to the government that places the curbs -- in policy and in practice! I imagine it is because they want to contain the growing outrage and criticism of the government, so that they can have total control of power and the economy.
Sri Lanka witnessed a civil war due to various issues. Have those been resolved? Will the current peace last forever?
As I said earlier, there have been no genuine attempts to address the root cause of the war through a political solution that respects political aspirations of the Tamil community.
There has also been no genuine attempt to ensure accountability for serious allegations of war crimes, by a manner in which the victims, their families and supporters can have confidence in. If these issues are not addressed, and the present repression and violations continue, it is unlikely that peace will last forever.
What can the international community do to ensure human rights abuses stop in Sri Lanka?
They need to act in more principled and concrete ways. They should see through the eye-washing attempts of the government. They watched as tens of thousands were massacred (in Lanka during the civil war).
At least now there has to be some kind of strong action, through multilateral forums such as the UN and Commonwealth, to the extent possible. That is not still happening. The Commonwealth Secretariat is complicit in this, by covering up for bodies such as the National Human Rights Commission, whose commissioners have publicly defended the government instead of defending victims and human rights activists who continue to be attacked, threatened, discredited and restricted.
Is the Commonwealth the appropriate forum to speak on human rights abuses? Let us not forget that for years, the United Kingdom and some other countries refused to take a strong stand against the regime practising apartheid in South Africa?
If the Commonwealth wants to live up to the values it proclaims, like the Harare declaration, Latimer House principles etc, then it is indeed an appropriate forum to speak on human rights abuses.
In the past, the Commonwealth has stood firm about human rights violations and departure from Commonwealth principles in dealing with some countries -- such as Fiji and Pakistan. It may have failed in some others.
The way to overcome failures is not to repeat these failures -- but to stand firm and make up for them, particularly when an opportunity is there. That sadly will not happen when CHOGM 2013 is allowed to be held in Sri Lanka and if the Sri Lankan government is allowed to take leadership of the Commonwealth.
Do you think India should speak up more against human rights abuses in Sri Lanka? Or will such a move make India seem too much of a 'big brother' in South Asia?
India should definitely speak up more, and it has spoken to some extent by conveying Prime Minister Manmohan Singh's decision not to attend CHOGM and expressing its support towards the resolutions against Sri Lanka at the UN Human Rights Council in 2012 and 2013.
But it needs to do lot more. It is now about being a 'big brother' or meddling in internal affairs or domestic Tamil politics in India, but being principled in words and deeds, and standing by victims of rights violations and their families.
Incidentally, South Asia is replete with human rights abuse cases. What can be done to improve the situation?
Governments have to change their policies and practices, citizens must express outrage about violations against them and all citizens, and they must be supported in words and deeds by all other people of goodwill, including governments and organisations like the UN and Commonwealth.
Image: A mother from the 'Dead and Missing Person's Parents Front' organisation holds up a sign during a protest ' Photograph: Reuters