'The Government of India could aggressively promote developmental projects that will alleviate poverty particularly in communities where South Africans of Indian origin and our black brothers and sisters live as neighbours.'
Over the last few days South Africa has been engulfed by the worst unrest and mass violence since the end of apartheid.
While things have settled into an uneasy calm as the military patrol the worst-hit areas, the nation remains anxious and fearful.
The violence, triggered by former South African president Jacob Zuma's imprisonment for contempt of court on July 7 has already seen at least 212 deaths, the supply chain of an entire province destroyed, billions of dollars worth of damage inflicted on two of the country's major cities, and hundreds of businesses and key parts of South Africa's infrastructure burned to the ground.
The Indian community in South Africa is living in apprehension of danger to their homes and businesses as cases of riots, arson and violence are being reported in Durban and the KwaZulu- Natal province where the largest community of Indians outside India live.
In an e-mail interview with Syed Firdaus Ashraf/Rediff.com, Narend Singh, chief whip of the Inkatha Freedom Party in South Africa's parliament, the national assembly, notes: "The recent looting and mayhem caused over a weekend in South Africa has been unprecedented in terms of scale, and damage to property and infrastructure."
"It has left in its wake the unintended consequences of racial polarisation, poverty, food and medical shortages, and the need for the South African government to have adequately responded to the challenges."
"What started off as a protest -- against the incarceration of former president Zuma, in what was known as the '#FreeZuma' campaign -- developed into a situation where, I believe, even those who planned this campaign could not have envisaged its intensity."
"The combined challenges of poverty, hunger, and unemployment gave birth to mass civil unrest. Not only were these challenges left to fester, but this unrest was additionally -- and allegedly -- orchestrated by certain political leaders. I do not believe that everybody who participated was committed, to the #FreeZuma campaign. News coverage showed that many people had other reasons for their participation such as hunger and poverty."
What is the reason for this sudden outburst of violence against the Indian community in South Africa?
As explained above, there have been unintended consequences, one being racial polarisation. In the absence of a government or the ability of the security forces to protect lives and property, communities decided to take this responsibility into their own hands.
Such actions, albeit 'illegal', were a response to the circumstances at the time.
The security cluster eventually beefed up personnel on the ground and enlisted the assistance of the South African defence forces through an announcement made by the president. This has had a salutary effect on the ground.
However, there have been reports from the Phoenix area, largely populated by South Africans of Indian origin, of attacks, some fatal, on community members from neighbouring black townships. This is what has given rise to racial tensions.
There has been no reprisals from the black community, save for threats and expression of total dissatisfaction at what had happened.
To this end, as a South African of Indian origin and leader in South Africa, we demand that the police thoroughly investigate these unacceptable acts, arrest and prosecute those responsible, irrespective of race, colour, creed or religion.
I will also be calling for the president of the country to establish a commission of inquiry, headed by a retired judge, to investigate the causes and effects of the conflict, particularly in the Phoenix/Bambahyi areas and to recommend prosecution of those involved in illegal acts.
In India we fail to understand what the co-relation of Zuma's arrest is to the violence against Indian businesses.
Protests began as a response to the former president being sent to prison for contempt of court. The protests were, as reported by the government, seemingly planned in advance and during these marches, protesters decided to start looting shops and businesses.
It is not only South African Indian-owned businesses that became casualties, but widespread looting and destruction took place across the provinces of KwaZulu-Natal and Gauteng.
Have corruption allegations against the (absconding) Gupta brothers damaged the image of Indian businessmen in the eyes of South Africans?
We do not believe that as a society it is correct to group those who have committed crimes according to race. Populist politicians have tried to push this narrative, but the citizen's resilience to race-based politics has prevailed.
However, the alleged involvement of the Gupta brothers in widespread corruption has certainly had a negative impact on the integrity and honesty of all South Africans of Indian origin.
The Gupta family and associates need to present themselves to the judicial system of South Africa to answer questions of alleged corruption and looting.
Is there a feeling in the black South African community that they have not made economic progress and that they blame Indians for their misery?
No! The South African government has not adequately addressed the issues of poverty, unemployment and hunger, which prevail in all communities in South Africa, in particular the marginalised African communities. To my knowledge there is no pointing of fingers towards South Africans of Indian origin for these failures.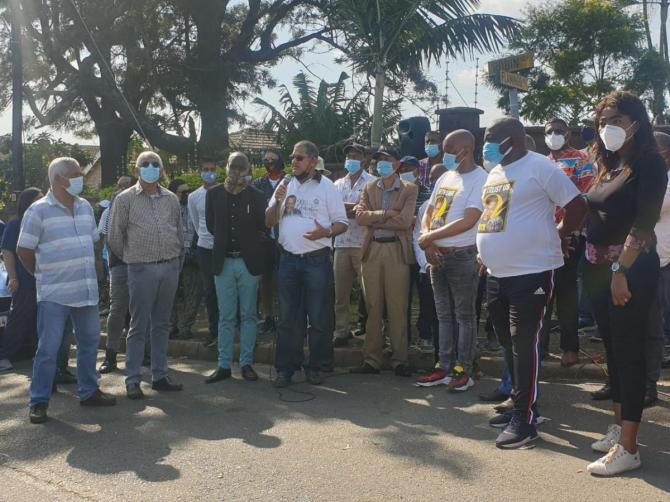 Do you feel the current violence is a one-time incident or you feel in the future too there can be attacks like this on the Indian community?
There were no specific attacks on the 'Indian community'. We have to continue building on the goodwill that has been created by former prominent leaders like Mahatma Gandhi and Nelson Mandela.
The Indian community contributed immensely to the anti-apartheid struggle. Has this been overlooked?
The government and people of India played an important role alongside the majority of South African Indians to defeat apartheid. This is a well publicised fact.
What about the African National Congress party? Is the ANC not intervening to safeguard Indian interests?
Leaders of all political parties are making statements to condemn the violence and racial tension.
Was President Cyril Ramaphosa's government caught offguard after the Zuma verdict? Didn't Ramaphosa anticipate such large-scale violence post the court ruling? Is he to be blamed for the lack of preparedness?
The president himself has admitted that his government was unprepared and slow to respond.
Do you feel after Nelson Mandela's death, the ANC leadership failed to bring in racial reconciliation among different communities?
I believe that leaders have failed to capitalise on the goodwill and unity of the nation as espoused by former president Nelson Mandela.
What do you expect the Indian government to do for the Indian Diaspora in South Africa?
Firstly, the Indian government has a responsibility towards Indian nationals residing in South Africa.
As far as South Africans of Indian origin are concerned, the Government of India could, as they are currently doing in South Africa, aggressively promote developmental projects that will contribute to alleviating poverty, hunger and unemployment amongst all communities, but particularly where South Africans of Indian origin and our black brothers and sisters live as neighbours.