'Nobody is killing you in Kerala because you are Hindu unlike in North India where Muslims have been killed only because they are Muslims and were carrying some meat.'
Illustration: Dominic Xavier/Rediff.com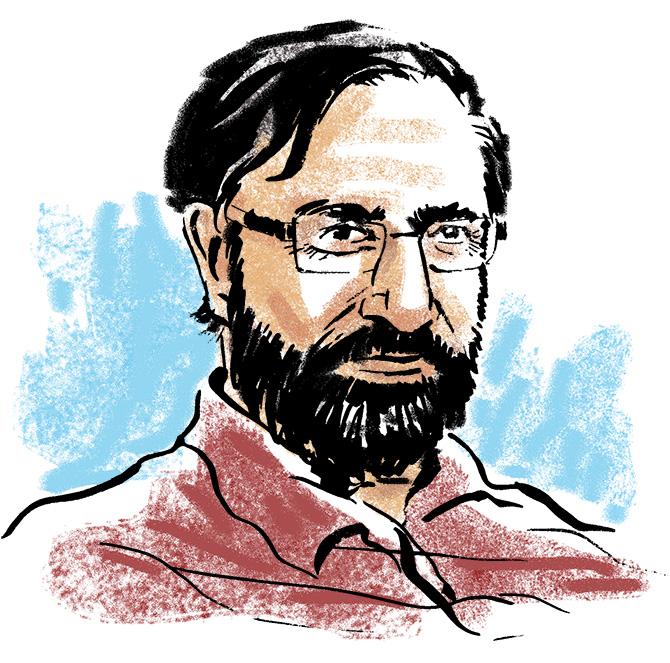 Novelist K P Ramanunni has been threatened with the amputation of his hand and leg if he did not convert to Islam in six months for his writings in the Malayalam newspaper Madhyamam.
On an evening last week, I am on my way to meet him in Kozhikode. It is getting dark and he has spent the last 45 minutes speaking in Malayalam to an assortment of strangers on my phone who then keep directing me to his home.
A shopkeeper helpfully writes the address down in Malayalam so that it can be shown to others ahead to guide me.
With the help of strangers and a khichdi of languages, I arrive at his home nearly 45 minutes late.
The recipient of the Kerala Sahitya Akademi award, K P Ramanunni was threatened with amputation for a series of articles in Madhyamam.
In the articles, he articulated Kerala's tradition of Hindu-Muslim amity and the need for its preservation.
The postman delivered the letter towards the end of July. It was received by his wife.
"Do you have any security for your protection?" I ask tentatively, sitting in his front room, with several awards and photographs of felicitations.
He smiles, almost apologetically, and says the police has provided him with a security personnel, present on the porch outside.
"I have requested them to withdraw it, but they are hesitant," he smiles, this conversation taking place four nights before Gauri Lankesh was murdered in Bengaluru.
He sat over the threatening letter for six days and only approached the authorities after seeing his wife's anxiety.
He has received letters of abuse in the past, but none threatening brutal bodily harm as the latest one.
His stand for Hindu-Muslim communal harmony has been a constant irritant for extremists on both sides of the ideological divide.
A couple of days before Kerala's biggest festival, Onam, the writer spoke to Rediff.com's Archana Masih about Kerala's unique culture of religious harmony and remained hopeful that the memory of that fine tradition would not let communalism spread in God's Own Country.
You got a letter threatening you that your hand and leg would be cut off if you did not convert to Islam for advocating Hindu-Muslim amity. What was the content of your article?
My article in Malayalam -- 'A heartfelt appeal to Hindus and Muslims' -- appeared in the Madhyamam newspaper.
It was serialised for six days on the edit page.
In that long article, I was trying to establish that there is no point in considering Hindu and Muslims hostile.
It does not have any historical background or philosophical support.
Our history is that Hindus and Muslims lived here together.
When the Mughals came they became Indians. They accepted many things from the culture here.
The Mughals had ministers who were Hindu. Hindu kings had Muslim gurus.
In the Bhakti movement, sufis and sadhus were together.
Kabir was loved by both Hindus and Muslims. Hindus wanted to cremate his body and Muslims wanted to bury him.
A cloth was put on his body and when it was lifted, his body had turned into flowers.
This is the symbolic representation of the relationship between Hindus and Muslims in India.
Our Upanishads were translated by Dara Shikoh, a Mughal prince.
Thousand years of Hindu-Muslim amity was destroyed by colonial forces.
The British for their existence made Hindus and Muslims enemies of each other.
Shashi Tharoor, in his book Era of Darkness, writes how 200 years of colonialism bankrupted and communally divided our country.
In the first Independence struggle the British were threatened because Hindus, Muslims and Sikhs were together.
They thought this was very dangerous. They made this devious plan to divide Hindus and Muslims and they were successful.
Now these people who talk about Bharatiyata are imitating colonial ideology.
Hindutva people are propagating the same ideology as the British.
What claim do they have to represent India?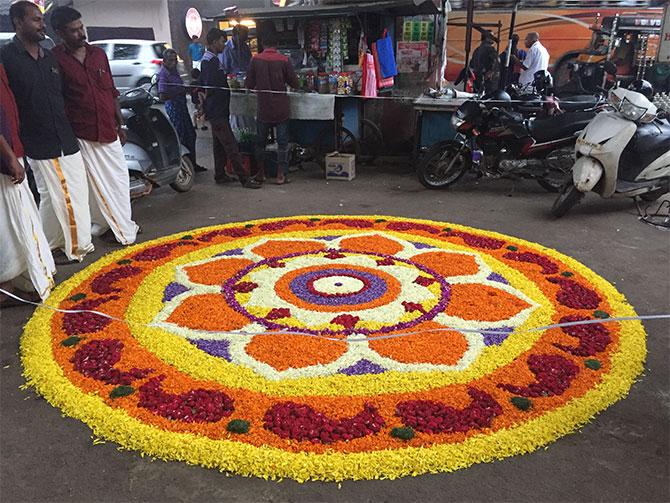 IMAGE: Bystanders admire an Onam Pookalam or traditional flower motif under a flyover in Kozhikode, Kerala. Photograph: Archana Masih/Rediff.com
What are Hindu-Muslim relations in Kerala like today?
Kerala is called God's Own Country for a reason. This is not just tourism department propaganda, there is meaning in that description.
It has been seen from early human history that migration leads to a clash between migrants and local inhabitants.
It is natural because limited resources like soil and water have to be shared with the new settlers.
But in the history of Kerala -- and we can call this God's blessing -- this clash did not happen. The geography of the state also helped in this.
Even before Buddha's time, more than 3,000 years ago, North Indian Brahmins came through the Arabian Sea to Kerala.
The Dravidians were astonished to see these strange people, but they did not object.
They made room for them because of the geography of the region -- its fertile land.
Even now you can see that despite all this construction, Kerala still has its greenery.
The locals and migrants became friends.
Ours is a unique history and nowhere in world history do we get to see this phenomenon.
Even the British were astonished to hear about this history.
Buddhists, Jains, Muslims, Christians -- they all came to Kerala, but there was no conflict.
The locals accepted them and learnt from them. The migrants adapted the local cultural ethos.
The Christians made their first church in Kerala. With the faith of Christianity they adopted some local customs.
When the Portuguese came they encountered a different kind of Christians here with different kinds of customs.
Even in the time of Prophet Mohammed, Malik Deenar (one of the first Muslim preachers to come to India) came to Kerala and Cheraman Perumal (the king of the Chera dysnasty) went to visit him and converted.
Malik Deenar came with 11 Muslims and our Hindu maharajas were very happy to receive them.
We gave them land, property, women to marry. That was a peculiar type of relationship and you can't imagine that relationship.
It was not a relationship of resistance and conflict.
With the coming of Islam, Muslims accepted out matriarchal system.
Local traditions of jaram, dargah were mixed with Hindu customs.
According to the Holy Quran, local customs can be accepted as given by God, so Islam's basic principle is not against plurality.
Dominique Sila Khan, a Jew married to a Sufi Muslim in Jaipur, lived in Kerala till her death last year. In her book Sacred Kerala, she writes about the shared spaces by religion in Kerala.
In my home district of Malappuram, whenever a festival is going on in a Hindu temple, permission should be granted from a Muslim family. That tradition exists in some temples.
The thangal (Muslim cleric) also participates in the ceremonies.
That is the history of religious harmony in Kerala for thousands of years which is now changing.
How is it changing?
It is an all-India spectrum and people are trying to create that divide in Kerala with political motives.
But even then, communalism has not spread in Kerala because we have the memory of this fine tradition.
The Sangh Parivar and communal elements are trying to spread poison.
The Salafi movement of Muslims is trying to do the same. They are trying to do a mechanical interpretation of the Holy Quran.
They are trying to discard the local culture. That is also encouraging some division between the two communities.
IMAGE: K P Ramanunni has written four novels and several short stories.
The Kerala government is facing heat from the BJP over the killings of RSS workers.
In Kerala's history, there are political problems.
There has been a fight between the CPI-M and RSS for decades.
If you look at the facts, the majority killed are from the CPI-M.
But the RSS is doing propaganda that only RSS people are being killed.
This is not a communal fight, it is a political fight.
Nobody is killing you because you are Hindu unlike in North India where Muslims have been killed only because they are Muslims and were carrying some meat.
This cannot happen in Kerala.
In Kerala we are proud to say that this is the only suitable place to live in India.
There have been serious concerns that 'Love Jihad' has resulted in young Hindu women converting to Islam.
The NIA is investigating the Hadiya case in this context.
What do you think of 'Love Jihad'?
There were so many inquiries into this. The (Kerala police's) crime branch found that there was no such phenomenon.
Yes, there have been love affairs. When the man is Muslim, the girl sometimes converts to Islam.
Muslims girls are also getting converted to Hinduism when they are in love with Hindu men.
There are some fringe elements like the ISIS type of people -- 100 to 150 -- who want to radicalise youth and invite them to Syria.
They are trying to recruit people and maybe trying to approach the girls. But there is no proof of that yet.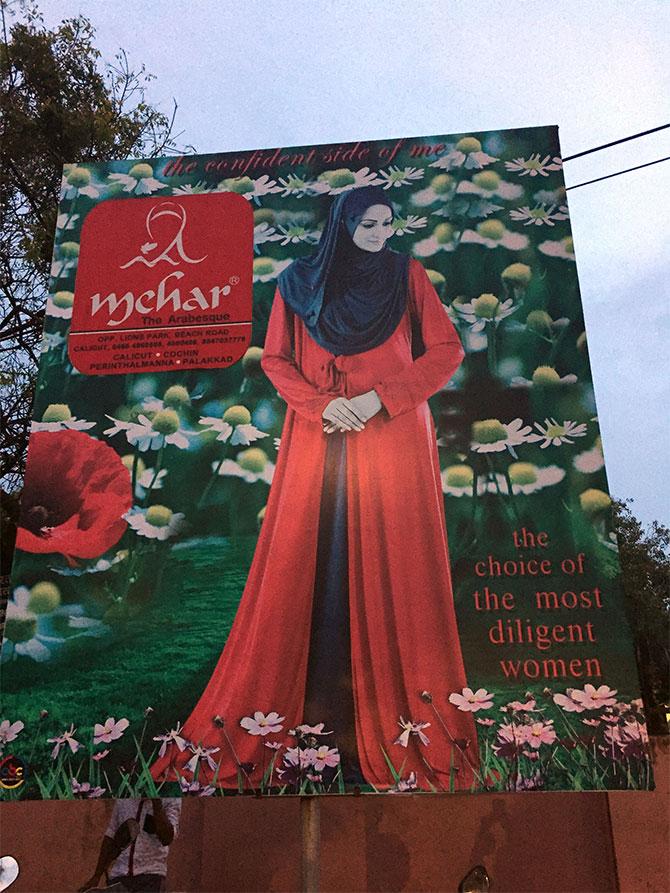 IMAGE: Advertisments with the latest burqa designs can be seen in several places in Kozhikode. Photograph: Archana Masih/Rediff.com
Kerala Muslims are much better off economically, socially and educationally than Muslims in North India. Why should they be drawn to ISIS?
In Kerala, we are always keeping our eyes and ears open to the outside world.
Here there is communal harmony, but people are very bothered that north Indian Muslims are being penalised.
Everybody is bothered -- Hindus also. Muslims feel that Muslims are being penalised.
Educated Muslims think we are a little better in Kerala, but Muslims are suffering in other parts.
There is also the Gulf influence, the Salafi-Wahhabi thinking.
In Kerala, we take out so many protests for the Palestine issue. We identify with all these people.
Protests are held for the Palestine cause in Kerala?
I have also participated. A Palestinian woman writer came here recently. Two novels have come out in Kerala on the Palestine issue.
People are very aware and identify with people outside. That empathy is there.
There have been cases where Muslim youth from Kerala have gone to fight for ISIS.
A man from Kerala who joined ISIS is said to have died in a drone attack.
Is its ideology attracting Muslim youth?
The Muslim League party is not communal in Kerala.
When the Babri Masjid was demolished, anything could have happened in Kerala, but the thangal decided that there should not be any problem.
Some radicals in Muslim groups think the Muslim League is not giving justice to Muslims, is too soft, does not even protest.
So these people with radical Salafi thinking try to oppose the Muslim League.
Attempts are made to radicalise, but even then, in spite of these efforts the major Muslim groups of Kerala are not radicalised.
The Jamaat-e-Islami is against ISIS, the Muslim League is against ISIS.
The Sunnis are very against this ISIS kind of radical thinking.
The Jamaat has put up big boards that ISIS is not Islam.
Radicalisation is very less in Kerala, but going to Syria makes news, more so if one boy has also died. You can find 100, 120 people in that group.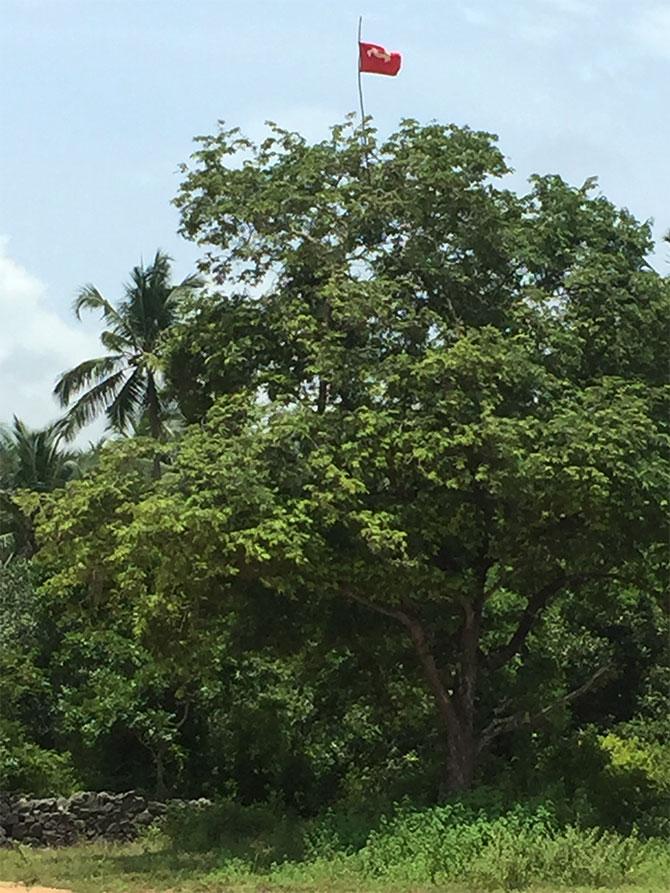 IMAGE: A CPI-M flag flutters on top of a tree on Kappad beach where Vasco da Gama landed in India. Photograph: Archana Masih/Rediff.com
Kerala is one of the last bastions of Communists in India.
Can the Communists withstand the BJP onslaught which is winning state after state?
In my article I have written how these forces developed. We have forgotten Gandhi. He had taken the correct political step. He was revolutionising the Hindu.
He was not allowing Hindus to be trapped by the forces of Hindutva.
Nehru also did many mistakes.
He did not take our culture as being important and allowed it to be hijacked by the Hindutva brigade.
That is why the Hindu Mahasabha hijacked cultural nationalism.
If Gandhi's path was followed, the Hindu religion would be revolutionised and democratised.
My contention is that if the Babri Masjid problem had happened in Gandhi's time, he would have solved it amicably.
But what Nehru did... and we can't accuse him because he thought within 50 years there would no religion because that was the modern way of thinking.
He did the symbolic thing. He locked up the Babri Masjid. He turned his back on that concept of religion, culture.
Gandhi would not have neglected it. Hence, it has brewed and become like a cancer.
What we have left now is a dirty representation of Hindutva.
This hatred for Muslims is ruining Hindus more. Hindutva people are ruining the Hindus more.
The real self is getting distorted.
I am a practising Hindu. I go to the temple. I am also a bit Muslim because I am a real Hindu.
Islam is misrepresented by Western people. (Historian Arnold) Toynbee, the great thinker, said Islam is one of the best religions, but with the worst followers.
The basic tenets of Islam are very good.
The Communists have made many mistakes. What are some of their biggest mistakes?
In Russia, during the revolution, Lenin said Russia is a great country when it wasn't!
But for the (Russian) revolution, they wanted to uphold the tradition.
But in India, no Communist ever had the slogan that India is a great country (laughs).
The Communist ideology has to have a new Left way of thinking.
They are actually against mainstream Western modernity -- that mechanical way of interpreting materialism. Giving more importance to material things than the world of imagination.
The world of imagination is also a material force.
I am living in my world of imagination. 90% of human beings are living in their imaginative world.
Western materialism did not take care of those aspects -- that influence has ruined Communist thinking also.
What happened in Russia and China is because of the material way of thinking.
Aren't the Communists disconnected with the India of today?
They have been disconnected for many years.
They didn't go for the culture of India. They did not address the root of the caste system.
If they have to come back, they have to address India's culture and be relevant again.
Only then can they have some influence.
Do you see a time when the BJP will gain power in Kerala?
It is very difficult for the BJP to come to power in Kerala.
They are causing worrying divisions. They are making the 'other' hell.
The other community is hell.
The other language is hell.
The neighbour is hell.
This mentality is very good for fascist type of people. They are trying their best.
It is very difficult for the BJP to win over the people of Kerala.