'In which other country can Hindus feel protected?'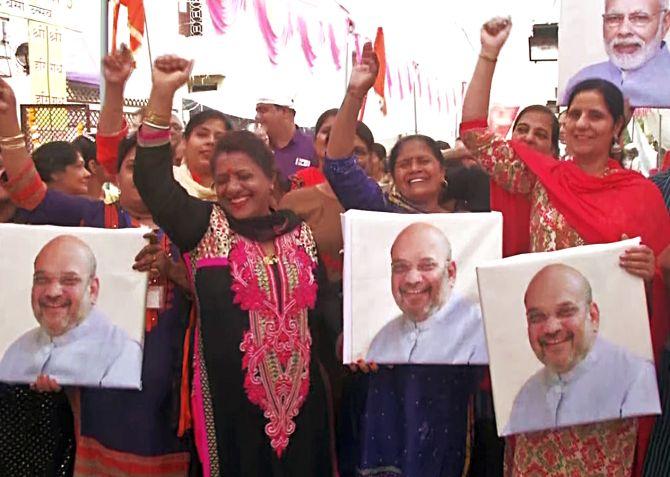 Gurumukh Jagwani migrated from Sindh in Pakistan to India in 1985.
He had come to India on his honeymoon, loved the country so much that he stayed back after getting a long term visa.
Five years later he became an Indian citizen and became one of the staunchest supporters of Hindu refugees from Pakistan.
In 2004, he became the first Pakistani Hindu member of the legislative council in Maharashtra, and again in 2014.
"With the Citizenship Amendment Bill," Jagwani tells Rediff.com's Syed Firdaus Ashraf, "Hindus from Pakistan can come to India. They have got a way."
It has been a long wait for Hindu refugees from Pakistan for the Citizenship Amendment Bill.
I am thankful to Prime Minister Narendra Modi and Home Minister Amit Shah and all those members of Parliament who have supported this bill.
In 1947, when we got Independence, Sindhi Hindus from Pakistan used to come without a passport to India. In the 1950s, the Government of India and the government of Pakistan signed a pact called the Nehru-Liaquat agreement regarding security and rights of minorities in both countries.
How easy has it been for Hindu refugees from Pakistan to settle down in India?
Earlier, Hindu refugees born in undivided India or their children or grandchildren could settle in any part of India with certain conditions.
One condition was that you had to have a relative in India who gave you a guarantee. The other condition was that once you were in India you could not move out of the city for which you were given a visa.
There were great difficulty in doing so. These cases used to be pending for 20 years, in some cases for 30 years. They used to get long term visas. And all this process used to happen from Delhi. People on a Pakistani passport could not go anywhere except the city in which they lived.
When I became a member of the Maharashtra legislative council in 2004, I started pursuing the cases of Pakistani Hindu citizens. We (Sindhi leaders) met many political party leaders, including Sonia Gandhi. Only in 2016 did Sindhi Hindu refugees get relief from the Modi government.
It was (then home minister) Rajnath Singh who got an amendment for people migrating from Pakistan which said that these people could get driving licences, Aadhaar cards and even change cities. The only thing they were not given was voting rights.
This was specific to Hindus, Christians, Sikhs, Parsis and Buddhists who migrated from Pakistan, Bangladesh or Afghanistan. This was a big achievement for us.
Did this include the right to buy property in India?
Yes. Earlier, if a Pakistani Hindu bought a property in India, the police would land up the next day. Then, the income tax people used to harass us. In 2016, the Modi government gave us this big relief.
The bigger achievement in this amendment was that the central government gave the power to every state home minister and collector so they could give citizenship certificates to Hindu refugees.
In Maharashtra, the power was given to the Mumbai collector, Pune collector and Nagpur collector. If you were not from those cities, then the home minister of Maharashtra was allowed to give citizenship to Pakistani Hindu refugees. These Hindu refugees could surrender their Pakistani passport and get an Indian passport.
How many Pakistani Hindus received Indian citizenship between 2016 and 2019?
The biggest hurdle that was solved was that all the cases pending in Delhi were transferred to Mumbai. All the cases pending for the last 15-20 years were cleared.
The second problem was the inquiry by the Intelligence Bureau. There was one- to two-year inquiry and our cases used to be pending.
After this bill is passed, everything will be decided locally. Earlier, it was a seven-year waiting period. Now, it will be a six-year waiting period.
Are Sindhi Hindus harassed in Pakistan?
At present, there are 25 lakh (2.5 million) Sindhi Hindus in Pakistan. They live in Sindh. Those who have not come over are well settled in Karachi.
The problem is for Hindus settled in the small villages of Pakistan where they are forcefully converted (to Islam).
I am not saying everyone is involved, but some Muslim fundamentalists are.
After the Taliban's rise, Pakistan's Sindh province has become very communal. In madrasas it is taught that Hindus are kafirs (disbelievers in Islam).
Now forceful conversion has increased. They have a leader called Mian Mithu who openly talks of conversion of Hindus to Islam. They also kidnap Hindu girls.
With this bill, Hindus from Pakistan can come to India. They have got a way. Today, the deadline is 2014 and hopefully this CAB deadline is extended to 2024.
Does the Citizen Amendment Bill not represent a second Partition of India as its critics say?
There is no country in the world where Hindus can go and say this is our country. This is my personal view. It is only in India we can say that.
In which other country can Hindus feel protected?
If India does not give protection to Hindus, who will?
We are Hindus and our roots are in India. We can go out, but our roots are here. We cannot go to Dubai or any other country.
Our religion, our food, our dress, everything is in India.
What does the word 'secular' mean for India?
This bill has got nothing to do with secularism. We should welcome this.
But this bill excludes Muslims.
Muslims have their countries. We Hindus have only one country and that is India.
But the Hindus in Bangladesh also fought the Pakistan army in the 1971 W\war.
Let them stay in Bangladesh if they are happy.
This bill is for the minorities of Afghanistan, Pakistan and Bangladesh. If they want to come to their parent country, they must be allowed to come.
Muslims fought with us and got their country so they must stay there.
You mean that Muslims from Bangladesh or Pakistan must not try to enter India while Sikhs, Hindus, Christians, Parsis and Buddhists get entry through the CAB.
Yes, that is my point. If you see history, the migration of Hindus from West Pakistan or East Pakistan was very high till 1958.
Again, till the 1971 War, there was a low ratio. After 1980, during Zia-ul Haq's time, trouble started for Hindus in Pakistan.
So Hindus started migrating to India due to religious persecution whereas Muslims started migrating from Bangladesh or Pakistan due to economic gains.
Why is the CAB being called communal?
It is not communal. You have to understand that after four generations this has to stop somewhere.
---
Syed Firdaus Ashraf has been a correspondent for Rediff.com since its inception. He can be reached at firdausa@rediffmail.com