'The NRC had an effect on Assam and I think to cover up or make up for that, CAB has been brought in.'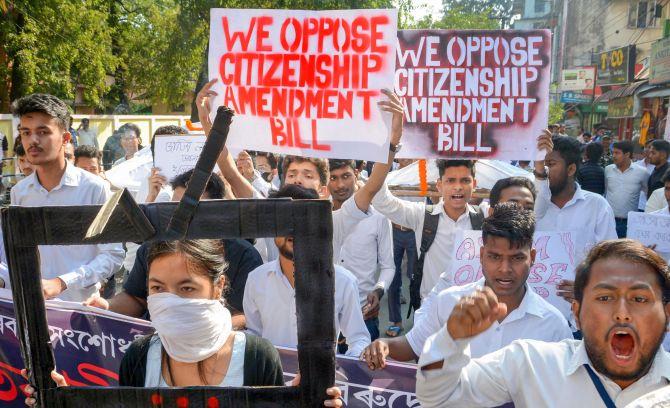 On December 4, the Union Cabinet passed the contentious Citizenship (Amendment) Bill. The controversial legislation is expected to be introduced in Parliament on Tuesday, December 10.
The legislation, which aims to provide citizenship to non-Muslim refugees from Pakistan, Bangladesh and Afghanistan, has been opposed by several political parties, some calling it 'divisive' and 'unconstitutional'.
India's north east has been vehemently opposing the bill, stating that a number of illegal Bangladeshi migrants will become citizens, leading to a change in demography, loss of livelihood opportunities, and erosion of indigenous culture.
Prominent among those raising their voice is Bhaichung Bhutia, below, former captain of the Indian football team.
Explaining his stand to Syed Firdaus Ashraf/Rediff.com, Bhutia, founder of the Hamro Sikkim party, says the "Citizenship (Amendment) Bill will not affect Sikkim immediately, but definitely it will affect us later."
What is your reaction to the Citizenship (Amendment) Bill?
I can only speak through a Sikkim perspective. I belong to Sikkim and my family lives in Sikkim. Sikkim is a special Indian state; we became a part of India in 1975 and it was obviously during Indira Gandhi's time.
We are a special state and a lot of agreements were signed then. We already have Article 371F which bars anyone (from buying property in Sikkim). To introduce the Citizenship (Amendment) Bill and include Sikkim in it, everyone opposes it.
Bangladesh is the nearest country for us. We would definitely not be happy to have CAB. This CAB will not affect Sikkim immediately, but definitely it will affect us later, down the line -- 10 years or 20 years later.
But the CAB has safeguards for tribals, doesn't it? Doesn't the revised CAB say that?
That is what we are fighting for -- they could exclude Sikkim from this bill. Earlier, CAB had excluded Jammu-Kashmir. My only demand is they must exclude Sikkim too.
Currently, other Indians cannot buy land in Sikkim. So why are you worried?
What is wrong in putting it on paper that this bill excludes Sikkim?
People from three countries -- Afghanistan, Pakistan and Bangladesh -- can live in any part of India and that is fine, but exclude Sikkim.
Other north eastern states too are demanding this.
And what is the worst case scenario you foresee?
Tomorrow, if this bill allows anybody to come and live in Sikkim -- especially refugees (Hindus, Sikhs, Christians, Jains, Buddhists) from Pakistan, Bangladesh and Afghanistan -- then you must understand that Sikkim already is a very small state.
Opportunities for our younger generations will be very challenging in future. We are a tiny state and we have got very few job opportunities.
We have educated people from our state working outside Sikkim and it will become more difficult for locals if you bring in more people from outside Sikkim.
But in a city like Mumbai, people from all over the country come and build their homes. Don't you think it is good for nation-building and in the larger interest of the country?
The world is changing now. America is talking of America first. You look at Brexit. Great Britain too is leaving the European Union.
Sikkim is not the first state to talk about the interests of its own people. We have seen in Maharashtra where political parties talk of 'Marathi manoos' and this demand is there. Whether it is right or wrong is a different question.
Then you have Madhya Pradesh Chief Minister Kamal Nath who is talking of reservation of jobs for the local youth of the state.
In the north east you have the inner line permit and they are fighting for it. There is nothing wrong in it. You are fighting for your state and identity.
We are proud to be Indian and are proud of its diversity. Today, you have lots of tribes in Sikkim like the Lepchas who are the original inhabitants of Sikkim, who are on the verge of becoming extinct.
The Sikkimese language, Bhutia, is almost vanished. So it is important for us to fight for the rights of Sikkim. There is nothing bad about it.
I am not saying people must not come to Sikkim and work, but in terms of safeguarding our interests of jobs and buying properties, it has to be protected.
But...
(Interrupts) Today some billionaire from Mumbai or Delhi could come and buy a huge plot of land in Sikkim. So the original people of Sikkim will be landless.
Also, Sikkim became part of India with an agreement with the Government of India. That has to be respected.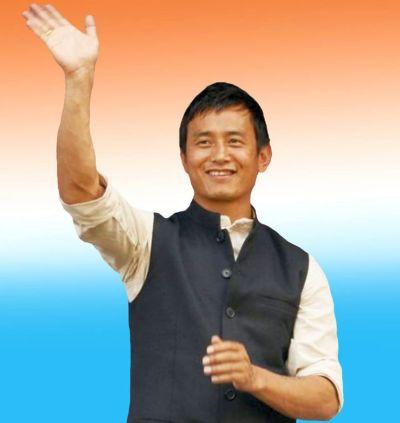 You used a nice word, diversity, in your answer. Do you think the citizenship bill does not respect diversity?
I am looking at the complete interest of the Sikkimese people. I am here to protect that. I feel honoured and proud to be an Indian. I just think it is a little too much.
Did you speak to Home Minister Amit Shah?
I have not spoken to him. It is up to the government of Sikkim to speak to him. In fact, the new government in Sikkim had opposed CAB in its manifesto.
Do you think there will be violence if the CAB comes into effect?
I don't know and I don't want to get into it. There is lot of politics happening on this issue. There are other states too who are not happy.
The NRC (National Register of Citizens) had an effect on Assam and I think to cover up or make up for that, CAB has been brought in.
For me, having a political party (Hamro Sikkim or New Sikkim party) my main concern is to safeguard the rights of the people of Sikkim.
The government is worried about the persecuted Hindus of Pakistan, Bangladesh and Afghanistan. One needs to have empathy with them too, as where will they go?
They can go to Madhya Pradesh or Delhi. I am saying this only to safeguard Sikkim's interest. I am only talking in the interest of Sikkim. I am sure Uttar Pradesh is accepting them and other BJP-ruled states are accepting them.
In no way am I saying Hindus (refugees) must not be allowed (in India), but I am only talking in Sikkim's interest.
You fear the demography of Sikkim will change.
Sikkim is the smallest state of India. We have a population of around 6 lakhs. We have 60%, 70% forest cover area. The livelihood is through agriculture. More influx of outsiders will be difficult for the Sikkimese people.
Also, we are surrounded by three foreign countries.