'You cannot give authority to citizens to start policing the State.'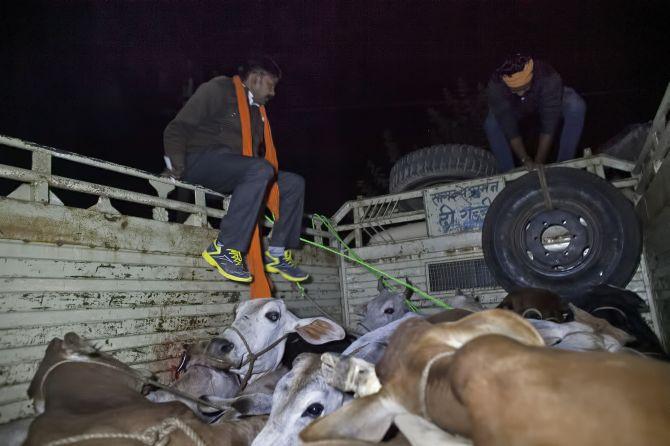 IMAGE: Cow vigilantes try to free cows from a truck transporting them. Photograph: Allison Joyce/ Getty Images
On Monday, January 29, the Supreme Court issued notices to the Rajasthan, Haryana and Uttar Pradesh governments following a contempt petition initiated against these administrations for not following the Court's order to prevent violence perpetrated in the name of protecting the cow.
"Inaction by the State against mobs who are taking the law into their own hands is in a way patronisation and encouragement," Tushar Gandhi -- the Mahatma's great grandson and one of the petitioners -- tells Rediff.com's Syed Firdaus Ashraf.
What led to your petition in the Supreme Court against the gau rakshaks?
We filed the plea in the Supreme Court against mob lynching by the gau rakshaks. We had suggested certain measures that the Supreme Court had told the government to implement, like patrolling highways and to take stricter action against cow vigilantes, and methods to appoint officers who would be entrusted with keeping the peace in the states.
Even after the Supreme Court ordered the states to implement these practices, we noticed that incidents of mob lynching were not lessening.
Even after these states gave an affidavit in the Supreme Court that they would follow their orders (against cow vigilantism), we noticed that these people (gau rakshaks) were not brought under control at all.
Our main reason to file the plea was to stop all this (killings in the name of gau raksha) and when the government did not take any action, we went to the Supreme Court for support.
In these three states, even after agreeing to stop these (killings), the status quo was maintained and therefore we filed a contempt notice application against these states.
I am happy that the Supreme Court gave them notices. At least now, these states will become more serious.
Did the situation change on the ground after your petition?
Incidents of mob lynching and rampant arrogance of cow vigilantism did not stop in these three states in spite of our petition in the Supreme Court (and its order).
Therefore, we decided to file the application for contempt. And we are happy that the court agreed with our contempt plea.
Do you feel there is a political agenda as these gau rakshaks openly flaunt their power?
Of course it is. Inaction by the State against mobs who are taking the law into their own hands is in a way patronisation and encouragement.
Even in this whole Padmaavat fiasco the Karni Sena has been let loose and told to go ahead and do what they like.
Even in the Padmaavat case, the Supreme Court told the states to take action, but it seems that had no effect.
Of late one does not hear about gau rakshak attacks?
The last two months you did not read because Padmaavat got another bunch of louts to get into action.
What is happening is one way or the other one bunch of mobsters is attacking and the State is abdicating its authority.
When cow vigilantes were in action, the State was absent.
The last two months, Padmaavat was under attack and again the State was absent. You cannot allow that.
Neither the state government nor the central government performed their duty and therefore, in this kind of situation, somebody has to do something about it.
People do smuggle cows, don't they?
Do you mean if I smuggle cows I should be killed?
Does our Constitution allow that?
There are laws which say cow smuggling is illegal, then law agencies must take action.
You cannot give authority to citizens to start policing the State.
BPrime Minister Modi has spoken against gau rakshaks?
Empty words do not matter. People in authority must take action.
Merely speaking and shedding a couple of tears at every death -- that does not assert the authority of the position.
Every time you go to the Red Fort and say those words in speeches, they are only hollow empty words.
Your great-grandfather too spoke about the cow. What would have been his reaction today to the gau rakshaks?
It is the Constitution of India and rule of law which matter.
Bapu always called himself a Sanatani Hindu when it came to cow protection.
In our country he said there are people who traditionally eat beef and we cannot force our religious sentiments on them.
If it was voluntary giving up of eating beef it is a different matter, but you cannot put a gun to someone's head and tell him to give up eating beef. These are his words.
He said you cannot force our religious belief and sensitivity on others. Therefore, he refused to support the banning on beef, but at the same time, he said he would be happy if people give it up voluntarily.