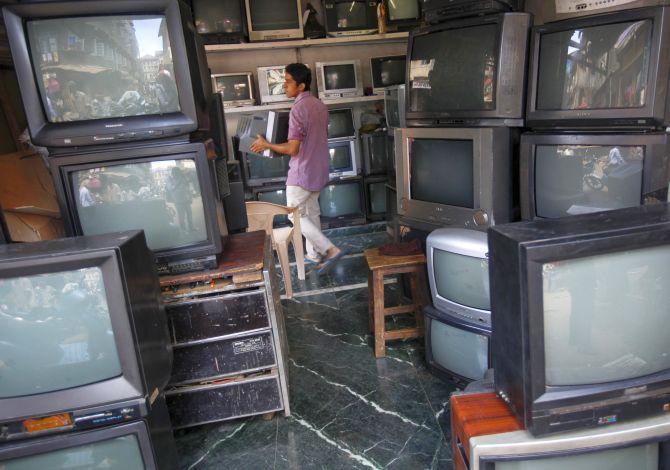 'People don't want to watch a screaming channel if given a decent alternative.'
Jawhar Sircar's Twitter account describes him as one who has paid a price for airing his views frankly.
The outgoing chief executive officer of the public broadcaster Prasar Bharati quit his post a year before it ends due to 'tiredness of unsuccessfully bringing a change.'
In a conversation with Arindam Majumder, Sircar, below, left, on his last day at office, blasts the sarkari culture at the organisation and stops short of saying it will die if it does not accept change.
Your tenure comes to an end earlier than expected. What changes have you tried to bring in and were they successful?
Doordarshan had gone on a self-destruction mode long ago.
Why did Greece fall?
Why did Turkey with such a glorious past now become a problem for the region? Because, they refused to change with time.
The decline started getting noticed when private players such as STAR got syndicated programmes at a heavy cost. They got in Who Wants To Be A Millionaire to India as Kaun Banega Crorepati and improved upon it with Amitabh Bachchan, while DD (Doordarshan) was happy with its cardboard programme.
It happens because its decision-making powers are constricted. Despite that, DD was able to grab eyeballs thanks to good programmes such as Ramayana, Mahabharata, Nukkad, and Buniyad, which were done by outsiders.
Since 2003, there was a rethink by management and it decided to create its own programmes. That was a disastrous decision.
They drove away talent and operators started coming in.
From 2012 when I took charge, I tried to cut free of this syndicate and there was resistance. Most of the officials were in 'no change' mode.
Those who started talking realistically were branded 'class enemies.'
I believe I was branded one, but somebody had to tell the emperor that you are not wearing clothes. The syndicate started working against me.
Still, I am glad that there is 100 per cent unanimity now on the board regarding the slot sale.
Why do you think a public broadcaster should sell slots to private parties? How does it benefit?
First of all, DD's losses are real.
The moment we go in for slot sale, the slot operator is not living off government money. It means, when a private player bids Rs 4 lakh (Rs 400,000) for the slot, he earns that Rs 4 lakh through quality programmes.
This also helps in breaking the syndicate of some 'favourite producers' who kept on doing sub-standard programmes under different names.
But Doordarshan officials say it has been unsuccessful in finding bidders meeting the basic eligibility criteria...
When somebody is under economic threat, they will not kiss you.
The battle has been fought thrice and finally there is consensus that it needs to be done.
Who gave DD the authority to decide suo moto that nobody in India is eligible?
If you have such a strong view, then you come back to the board.
Who has delegated that power to them?
Am I to believe that among the four top producers in India doing top-class work elsewhere, no one was eligible? It's a ridiculous decision.
While the board at Prasar Bharti sent a message, the babus there sent a very different message. There was cross-messaging going on.
Basically, it is a step to open up the system to private players.
It happened in telecom, airlines, and banks.
Why should Doordarshan follow a backdated policy?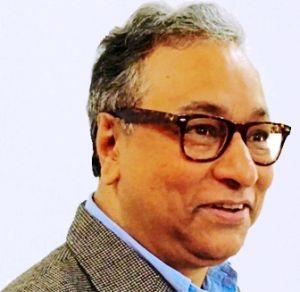 Have you been able to convince the board of the policy?
I will not say that. But, the board was very clear -- anybody who doesn't agree with the system should get out.
DD also lost the competitive advantage because it stopped many educational programmes...
I was coming to that. Serials are just the lead.
Why is nobody looking at the regional channels? So, the question of cross-benefiting was thought of.
If there are good documentaries in Tamil or Kannada, let's show it in Hindi.
DD can never be a national channel by not showing regional programmes.
By January, DD will be showing more features and quality features.
Has the shift from analog to digital has been slow for Prasar Bharati?
Yes. I had a huge fight regarding this too.
Do you know how much short waves guzzle? Around Rs 120 per crore per year!
All India Radio doesn't even have 120 listeners. Why are they running?
The board has ordered its closure. There is a need to shut down terrestrial towers and let go half the workforce manning those.
Why do Doordarshan programmes fail to attract viewers?
Because it's completely sarkari.
Now that is a problem when you are competing with the private sector -- lack of creativity.
A small example: AIR doesn't have a sanctioned post for a radio jockey in the days of FM!
Anyone who tries to change things is shunted out.
The English king never does any wrong because he never does anything.
DD News in one hour during prime time alone has 60 per cent viewership among all English news channels.
How? We hired a guy from a private channel and gave complete freedom.
People don't want to watch a screaming channel if given a decent alternative.
When we show sports, people watch us. That means people want to watch DD.
There should be a system where you don't need to wait for UPSC (the Union Public Service Commission) to find you a video editor.
There should be recruitment from industry on short-term contracts and there should be a hire-and-fire policy.
It's all about a single guy who comes and decides to bell the cat.
You have been a bureaucrat. Do you think you should be the last and this organisation should be led by specialists?
I will be happy to be the transition man. But who from the current market will be ready to work for Rs 80,000 a month?
Is the organisation ready to pay Arnab Goswami's salary? We will get Arnab then.
Main image published only for representational purposes. Jawahar Sircar's image: Kind courtesy Ramank257/Wikipedia Commons