'Bangladesh is a country of immensely organised terror outfits.'
'His murder has left a deep scar. Why, why, why, my mind asks me. How could this happen to my Avijit?' asks Professor Ajoy Roy, father of slain Bangladeshi-American scientist and blogger Avijit Roy.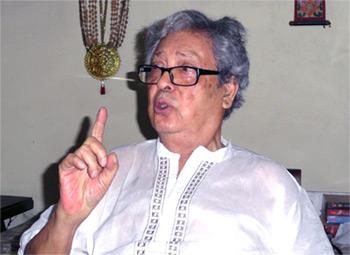 "Avijit still visits me in my dreams," the father of the slain Bangladeshi-American scientist and blogger Avijit Roy, tells Rediff.com
In Kolkata for a brief visit, Professor Ajoy Roy vows to carry on Avijit's mission of propagating secularism and rationalism and also seek justice.
Image: Professor Ajoy Roy is a Bangladeshi freedom fighter. Photograph: Noor Islam.
A muktijoddha (freedom fighter), the stoic elderly gentleman's voice does not waver a bit when he pronounces, "I will not spare my son's killers. I will fight to the end."
On February 26, Avijit and his wife Rafida Ahmed Bonya were brutally attacked by machete-yielding murderers near Dhaka University as the couple returned from a book fair.
The Roys were on a three-week trip to Dhaka from the US. Avijit died of his wounds while his wife lost a thumb. Bonya returned to the US for further treatment in early March.
Professor Roy spoke to Indrani Roy/Rediff.com
How are you and your family dealing with this tragedy?
My daughter-in-law Bonya is a very strong woman. Despite her grievous wounds, she has decided to carry on Avijit's unfinished job. She is anchoring his brainchild -- the Mukto-Mona blog.
Her daughter, who is a student in the US, is lending support to Bonya.
My wife has been ailing for years. She is wheelchair-bound. After Avijit's killing, her health has deteriorated considerably. And what's worse, she has stopped talking.
I thought I was the bravest of the lot. But Avijit keeps visiting me in my dreams. Last night, I had visions of him. They were so clear. I woke up. I cried.
It seems his murder has left a deep scar. There is a constant feeling of pain, a sense of anger. Why, why, why, my mind asks me. How could this happen to my Avijit?
Prior to his visit to Bangladesh, you had alerted Avijit, right?
Yes. Avijit had e-mailed me in January expressing his intent to visit Bangladesh.
As I knew he was receiving death threats from fundamentalists, I had told him, 'It may not be safe for you to be here. You are being targeted by the Islamists. Please don't take any rash decision.'
However, he was insistent. 'Baba, I am not a street agitator like you. No one will cause me any harm,' he would tell me.
'I miss you and Ma a lot. I want to see you. Please don't stop me from coming to Bangladesh,' Avijit had said.
Two of his books -- Shunyo Theke Mahaviswa (co-authored by Meejan Rahman) and Victoria Ocampo -- were scheduled to be inaugurated at the book fair which is held around Bhasha Dibos (International Mother Language Day).
Avjit had chalked out a detailed plan and a trip to Kolkata too figured in his itinerary.
(Pauses) I was worried about Avijit's safety in Bangladesh, but had never imagined that he would get physically eliminated.
We heard that Avijit and Bonya were asked to stay back at the book fair to take part in a discussion on the evening of February 26.
Yes. I had specifically asked both of them to move around at the fair in a group and to return early.
However, on February 26, as Avijit and Bonya were about to return, an acquaintance requested them to stay back to take part in a discussion on religion, science and rationality that was going on.
Avijit could not resist the offer. I think that was nothing, but a trap to alienate both of them from their friends.
I culled the names of all those who attended that book fair event and have submitted the list to the police.
The police have interrogated the group leader and asked him not to leave Dhaka until further notice.
I heard from a close family friend that he had seen Avijit and Bonya walking out of the fair gate around 8.30 pm on February 26, their hands full of packets containing books.
The friend, a young man, had offered to help them carry the packets.
'No need, we can manage. Our car is just across the road,' Avijit had told him.
After a few minutes, the young man heard Avijit and Bonya's screams.
When did you get the news?
I got a call from a Dhaka University professor around 9.30 pm.
'Avijit is critically wounded and is being treated at the Dhaka Medical College (and Hospital),' I was told.
I rushed to the hospital and gate-crashed into the operation theatre where Avijit was taken.
The doctors initially stopped me, but on knowing my identity, they offered me a chair to sit close to the operation theatre.
Was Avijit alive when you reached the hospital?
Yes, he was.
I kept asking the principal of the Dhaka Medical College, 'Is my Avijit alive?'
'We are trying our best to save him,' he assured me.
After a while, I saw Avijit lying amid a tent-like set-up.
'What's that?' I asked.
'He has been put on life support,' the doctors told me.
The end is not far, an inner voice cried. Yet I kept hoping against hope. Around 10.30 pm, my son was pronounced dead.
I told the medical college principal to preserve Avijit's body till the final rites were performed and left for home around midnight.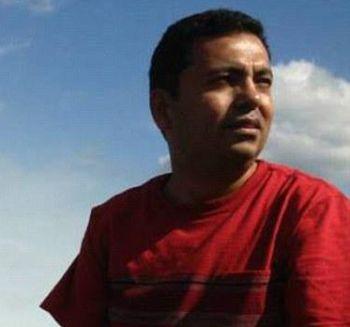 We came to know from the Bangladesh media that you too received threatening calls after Avijit's death...
Image: Avijit Roy was a Bangladeshi-American scientist and blogger.
Yes. I reached home from the hospital around 12.45 am. Around 1 am, I received a call on my cell phone. I heard a voice in Arabic chanting verses from the Koran.
'Who is it?' I asked.
'It is time you listened to these holy lines. If you don't, you too will have the same fate as your son,' the voice at the other end said.
I disconnected the line, but the call came a few more times till my youngest daughter-in-law intervened and shouted at the caller.
I noted the incoming call number and handed it over to the police later.
However, till today, I have not got any information about the caller's identity.
Are you satisfied with the investigation so far? How much progress has the Federal Bureau of Investigation made?
How can I be?
According to eyewitnesses, two of Avijit's attackers were seen speeding away on motorbikes.
Farabi Shafiur Rahman has been arrested, but I doubt he was the real perpetrator. He sent out threats to Avijit on a social networking platform and may have acted as the motivator.
But what happened to the actual killers?
When I asked the police why couldn't your officers chase them, to my utter shock, they said, "It is not easy to follow criminals in such a crowded place."
The comment had me dumbfounded.
During my first interaction with the police, I had said, 'Just as a railway minister resigns taking moral responsibility for a train accident, your top officers also should have quit following my son's killing.'
As for the FBI, it can act effectively only if it gets proper assistance from the Bangladesh authorities.
It can direct the law and administration head to take certain steps, but the real job is to be done by the latter.
Tell us about Avijit. Was he passionate about writing from the beginning?
Not really. He was a keen follower of cricket. He played the game really well.
Once when he was in Class 7 or 8, I bought him a rather expensive cricket bat. His eyes shone bright as he exclaimed, 'Baba you are great!'
One of Avijit's cricket bats is still there in a corner of our home.
The apparatus that he used while studying engineering is there as well. All the time, they remind me of him.
Avijit took up writing at a much later stage.
We visited Santiniketan in the early 1990s. The trip had a far reaching impact on my son. It changed the pattern of his life.
He started writing articles and started weaving his scientific and rational thoughts into them soon after.
His first book -- Alo Hate Choliyache Andharer Jatri (A Traveller of Darkness With A Lamp In His Hand) -- was published in 2005.
It dwelt upon the creation of the universe and outlined the lives of the greats like Galileo Galilei, Isaac Newton, Nicolas Copernicus and even Stephen Hawking.
Who was his inspiration?
I think he was motivated by Rabindranath Tagore. Avijit wrote an article on me in which he claimed I was his inspiration (smiles).
'It is Baba who taught me to be an atheist. He trained me to question everything and seek an answer,' he had written.
You were a freedom fighter. You lost your eldest son to the fanatics of the country you fought for. Do you blame the government for this pathetic law and order condition?
It would be wrong to say that Prime Minister Sheikh Hasina has not been running the country efficiently.
However, she has not succeeded in countering the fanatic forces.
Within a month of Avijit's murder, another blogger Wasiqur Rahman Babu was hacked to death. The administration just couldn't do anything.
Why do you think the Hasina government is unable to tackle this fanaticism?
Bangladesh is a country of immensely organised terror outfits. Studies indicate that several international terrorist organisations, mostly from Saudi Arabia, regularly send funds to ultra Islamic groups in the country.
Often, funds are channelised through various non-government organisations and also through Islamic banks strewn across the world.
The ultras have a lot of manpower, huge armoury and unending financial resources.
It is very difficult to deal with these outfits through democratic means.
Moreover, various wings of the state administration like the Border Guard Bangladesh, Rapid Action Battalion, Bangladesh Police have failed the government to a great extent.
Hence, fanatics are finding Bangladesh a safe haven.
You have said that your fight to seek justice will continue.
I will not rest until my son's killers are punished.
We are organising rallies, meetings, candlelight marches in Bangladesh. We are writing essays on atheism and ideals that Avijit spoke about. We are creating human chains to spread the words of peace.
Avijit is dead, but it is our responsibility to keep his ideology alive.
During an interview to the BBC, Bonya said she got overwhelming support from bloggers, activists, others across the globe. What about you?
I, too, am floored by people's support from all over the world. Let me share with you a heart-wrenching incident.
A couple of days ago, I visited a Kolkata hospital for a health check-up. There I met a friendly young woman, a physiotherapy professor.
We sat together at the hospital canteen for lunch and interacted freely on many issues at length. But she never mentioned Avijit even once.
As I was on my way out, she walked me to the door.
Just before bidding goodbye, she held my hands and muttered, 'Amra sobai Avijit ('We all are Avijit').
My son couldn't have asked for a better tribute than this.
ALSO READ