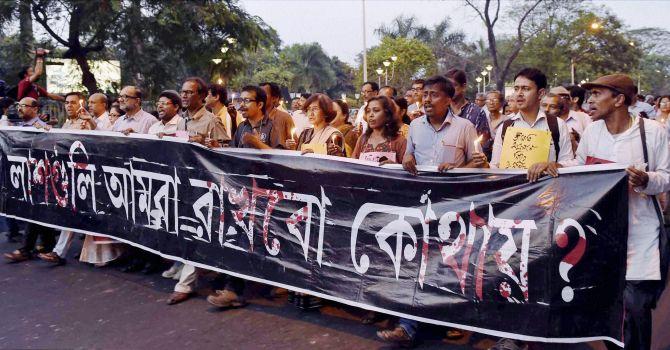 People during a protest against the brutal killing of Bangladeshi- American blogger Avijit Roy in Bangladesh, in Kolkata. Photograph: PTI photo
Cesar Vallejo is dead. They struck him,/all of them, though he did nothing to them;/they beat him hard with a stick and hard also/with a rope.
- "Black Stone Lying On A White Stone", Cesar Vallejo

Avijit Roy was murdered this week by killers who hacked him to death as he and his wife Rafida Ahmed Bonna were coming out of the Dhaka Book Fair, attacking the couple from behind with axes and knives. Rafida is severely injured and was still in hospital at the time of writing.

Bangladeshis have mourned the death of Roy, founder of the atheist website Mukto-Mona (Free Mind), well-known for his staunch commitment to atheism and secularism, dangerous ideologies to cite in a time when the intolerant hold power across faiths and all kinds of nation-states. But though there was horror, there was little shock: Roy, who lived in the United States, had received death threats for many years.

Farabi Shafiur Rahman was arrested this Monday -- the accused has strong ties with an extremist Islamist group, and admitted to having made death threats: "It's a holy duty of Bangla Muslims to kill Avijit", he is reported to have posted on Facebook last year.

There should be a word for the intense grief you feel for the death or disappearance, torture or imprisonment of a stranger whom you have never met, but whom you have admired or respected from a distance. That feeling, distinct if unnamed, has been in the air all of this winter and spring, as ripples of change across the world take their toll on a very particular category of writers - bloggers.

For Bangladeshis, the extreme hatred with which the murder of Roy was executed had painful history behind it -- it was in another spring month, in February 2013, that blogger Ahmed Rajib Haider's body was found, hacked to death as he left his home in Mirpur. His assailants used machetes to kill 'Thaba Baba' -- his blogposts had been sharply critical of Islamic fundamentalists, and he had demanded that war criminals be brought to justice. Other Bangladeshi bloggers and journalists have been killed or severely harmed, the violence escalating over the last two years.
MUST READ: 'Bangladesh nurtures fanatics'
But these murders should not be seen in isolation. While there is good reason to fear that Bangladesh might be headed into a time of rising violence and greater suppression of dissent by either the state or by fundamentalists, that country is not alone.

If you track attacks on bloggers worldwide, from harassment through legal cases and imprisonment to house arrests, torture or violent assaults, you soon realise they are the canaries in the coal mine. Crackdowns on bloggers often signal the ominous rise of religious fundamentalism (across most faiths, from Islam to Buddhism, Hinduism and Christianity), or precede an assault on civil rights by the state itself.

This January, Perry Link at The New York Review of Books reported that Chinese authorities were going after the well-known human rights lawyer, Pu Zhiqiang, who has been detained since May 2014. Link reported fears that Pu Zhiqiang might face life imprisonment for charges as vague as "picking fights and causing trouble" with his Weibo blogposts.

On February 23, in Egypt, the respected political activist and blogger Alaa Abd El-Fattah was sentenced to five years imprisonment. The charge was ridiculous; Abd El-Fattah was found guilty of organising a public protest without taking due permission. In an earlier interview with his aunt, the writer Ahdaf Soueif, after he had been released from prison in May 2006, Abd El-Fattah described his relationship with blogging as "organic"- "The blog is sometimes a space to tell a story (which is often a story of activism), sometimes a place to discuss things (which is often a discussion of what to do about a specific political issue)."

This is what different regimes and fundamentalists find so threatening about bloggers -- the malleability the space provides, the feedback loop between blogger and reader, blogger and potential dissenter. Media reports suggest that the Saudi Arabian blogger Raif Al Badawi, the founder of the Free Saudi Liberals website, might be retried this month. Al Badawi had already been sentenced to 1,000 lashes; the charges against him included "insulting Islam", "apostasy" and "setting up a liberal network".

At his first whipping, held in public, someone smuggled out a video that captures the applause of the crowd as Mr Al Badawi is beaten. This January, Al Badawi's lawyer, Waleed Abu Al-Khair, known for his human rights work, listened, his legs shackled, as his 15-year prison sentence was reinstated by the courts.

Last year, Russia announced a set of harsh new rules for bloggers that removes anonymity, forces those with more than 3,000 readers to register with the mass-media regulatory authorities and gives the state access to bloggers' archives. The murder of the outspoken Putin critic, Boris Nemtsov, gunned down on February 27, Special Forces Day, was just another deadly incident in the long roster of murders and detentions of prominent bloggers. Magomed Yevyolev, owner of the website ingushtiya.ru, which often criticised local leaders and authorities, was killed by the police in 2008; Alexei Navalny, prominent Russian opposition leader, continues to face short stints in jail and is still outspoken on his own blog.

In an essay he wrote some years ago, Roy recalled the wonder that he felt when he discovered the internet as a university student in the United States, surfing on relatively high-speed connections, discovering a world of open debate, a thousand sites that helped him form his opinions on politics, atheism, to find the books and thinkers who would shape him.

He began Mukto-Mona the way most of that first generation of bloggers did, as a Yahoo! user group, migrating to its own website after 2001. The cache of pages from his blog has a kinship to the rough, handmade feel familiar to Weibo dissident blogs, Navalny's website and Al Badawi's site: text-heavy, the type often small as though the blogger wants to cram in everything she or he has to say.

I have little doubt that there will be more killings, more crackdowns, more detentions over these next few years, given the space now occupied by fundamentalist, intolerant leaders, parties and religious organisations. But it is remarkable that of all the things that dictators and bigots fear the most, at the top of the list everywhere are bloggers, armed with nothing more than their laptops and their views. They are easily killed, but far less easily silenced.