The Dhaka police have identified 15 suspects in the horrific Avijit Roy murder case. Indrani Roy/Rediff.com reports.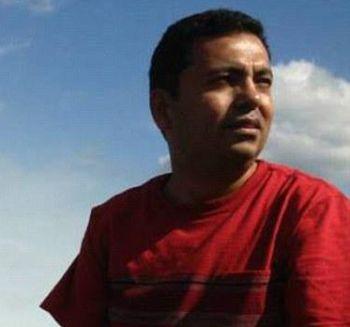 Soon after blogger Avijit Roy, left, was hacked to death in Dhaka on February 26, his blog Mukto-Mona wrote: 'We mourn, but we are not out.'
His widow Rafida Ahmed Bonya, who was also brutally attacked and lost a thumb, echoed similar sentiments.
Bonya has returned to the US for further medical treatment.
In her first statement to the BBC and the Centre for Inquiry from an undisclosed location, Bonya said, 'My husband Avijit Roy wrote about science and rationalism and critiqued religious fundamentalism. Because of this, he was murdered. As his wife, fellow writer, and a freethinker, I strongly condemn this gruesome act of terror.'
'While Avijit and I were being ruthlessly attacked, the local police stood close by and did not act. Now we demand that the Bangladesh government do everything in its power to bring the murderers to justice,' she said.
Roy and Bonya arrived in Dhaka on February 16 to meet the blogger's ailing mother and participate in a book fair. The couple were scheduled to return to the US in March.
They were attacked when they were returning from the book fair in the Dhaka university area.
Ajoy Roy, Roy's father and a former Dhaka university professor, has urged the Bangladesh government to bring his son's murderers to book.
Federal Bureau of Investigation agents met Professor Roy in Dhaka on March 7. The FBI is involved in the investigation because Avijit Roy was an American citizen.
Professor Roy will maintain his son's blog, sources told Rediff.com over the telephone from the US.
A source in the Bangladesh media told Rediff.com over the telephone from Dhaka that Bonya informed the police that she remembers the faces of her husband's killers and can identify them.
The half-a-dozen murderers, Bonya told the police, were about 25 years old, wore jeans and T-shirts, the source said.
Bonya recorded her statement to the police shortly before leaving Bangladesh.
A source in the Bangladesh home ministry told Rediff.com that the police have zeroed in on 15 suspects.
Bangladesh Home Minister Home Asaduzzaman Khan believes several people were involved in the conspiracy and crime. A list of suspects, the minister told the media, has been drawn up.
Another source told Rediff.com that a group of 10, 12 young men followed the couple at the book fair.
"To us," the source told Rediff.com, "they appeared to be Roy's fans, but who knows, they could be his killers."