'The Muslim community is disappointed with this judgment.'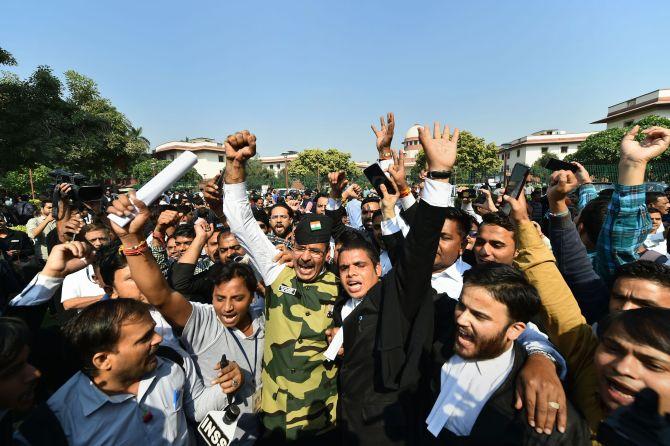 On Saturday, November 9, the Supreme Court of India delivered its long-awaited, historic, verdict in the title suit of the Ram Janambhoomi-Babri Masjid dispute.
In a unanimous ruling, the 5-judge Constitution Bench handed over possession of the 2.77 acre plot to the deity Ram Lalla, one of the three disputants in the case, and said a mosque should be constructed at a 'prominent site'.
Soon after the verdict, S Q R Ilyas, joint convener, Babri Masjid Action Committee and a member of the All India Muslim Personal Board, spoke to Rediff.com's Syed Firdaus Ashraf.
Your first reaction to the Supreme Court verdict.
We are very disappointed. We had given lot of proof to the court and our lawyer Rajeev Dhawan made a very good case for us, but now the verdict has gone in favour of the Hindus. I am unable to understand at this moment how this has happened.
The Supreme Court said there clearly was some pre-Islamic structure under the Babri Masjid.
If you dig any old structure you will surely find some ancient relic under that structure. So this is not proof of a mandir under the Babri Masjid.
And let me make it clear, the Supreme Court did not say the Babri Masjid was built by destroying a Ram mandir.
In cases of title suit these things are not considered as evidence.
Muslims have been given a five-acre land for the mosque. What is going to happen with that?
This is what (Bharatiya Janata Party leader) L K Advani said during his rath yatra, that Muslims must take some other land to build the Babri Masjid in Ayodhya. The Supreme Court has echoed his words.
Advani said outside Ayodhya but the Supreme Court is giving us inside the 67 acres of land.
Is the Muslim community happy overall?
The Muslim community is disappointed with this judgment.
But at the same time we are happy that we kept all our records in front of the Supreme Court of India.
Now the Supreme Court's judgment is final and at best we can file a review petition. We will think what to do about it.
There is no need for Muslims to welcome this judgment. How can you welcome this judgment!
The Allahabad high court had given 1/3rd land to Muslims, but the Supreme Court has taken that way.
This is a huge disappointment for sure.
Will this judgment strengthen Indian secularism?
The court said this judgment is not based on faith. That is what I have to say.
It looks like the judgment was based more on evidence.
In 1947 our country got independence. What happened 500 years ago has no relevance today.
Would you like to comment about the disputed site going to a temple trust?
This temple trust (Ram Janambhoomi Nyas) came into existence in 1989. Before that there was no existence or belief of Lord Ram being born at that site. And these people who came into the picture in 1989 got the title. This is wrong.
The Supreme Court did say demolition of the Babri Masjid was wrong and placing of Lord Ram's idol in 1949 was an act of desecration.
They had to please Muslims in some ways so they said this. This statement is just appeasement.
The case has gone in favour of Hindus on the basis of faith and we have no option now.