'The lawyers who assaulted Kanhaiya Kumar and the journalists have not read our Constitution,' says former Supreme Court Justice A K Ganguly.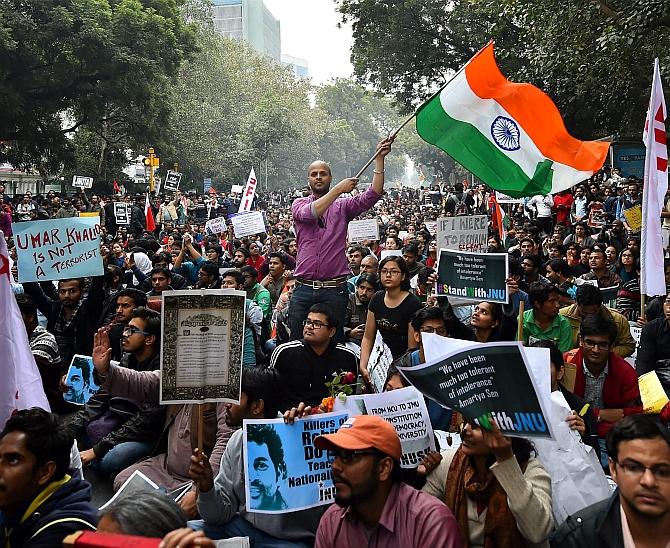 Justice Ashok Kumar Ganguly (retired) is sad and anguished.
The former Supreme Court judge cannot get over the fact that the detained Jawaharlal Nehru University Students Union president Kanhaiya Kumar was attacked by lawyers within the Patiala House court premises on Wednesday, February 17.
Justice Ganguly feels in this case, the basic tenet of law -- protection of the innocent -- has been violated.
And "what is scarier," he says, "is that a group of people even roughed up journalists who had come to cover the court proceedings."
"Are we living in a democracy?" he asked.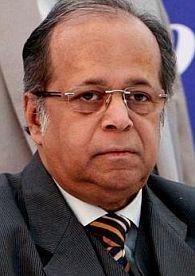 Justice Ganguly, image, left, shared his anguish at the events in a telephonic conversation with Indrani Roy/Rediff.com
You caught glimpses of the attack on Kanhaiya Kumar on television.
I was shocked. It was horrible!
Having served the law for years, I helplessly watched lawyers beating up an accused, charges against whom are yet to be proved.
When lawyers are roughing up an accused, beating up journalists within court premises, how can the common people trust the legal system?
What happened at the Patiala House court complex is unacceptable.
The lawyers who assaulted (Kanhaiya) Kumar and the journalists have not read our Constitution.
They don't understand the pluralism of India neither do they believe in secularism and socialism.
They are aberrations.
Common people should not lose faith in the entire system because of these people.
What do you think the Supreme Court should do to prevent such incidents?
I am no one to instruct the Supreme Court on what it should do.
I have deep respect for the apex court and I am sure it will take all the necessary steps to protect the law.
I have full faith in the court and I am certain it will help people of this country realise that all is not lost.
Even in these dark hours, there is hope.
What about the anti-national slogans raised at the JNU meeting? The same was heard at a rally taken out by Jadavpur University students in Kolkata as well.
I don't support any anti-national stand taken by anyone in this country -- be it in JNU in New Delhi or Jadavpur University in Kolkata.
Having said that, one must understand that students are young, emotional, souls.
They are easily influenced, often misled.
If there were anti-national slogans raised at the JNU, the government should have intervened immediately. It should have initiated a discussion instead of sending in the police and picking Kumar up.
Talks can win many wars which force cannot.
Do you think the JNU issue was mishandled by the government?
Of course! Anti-national stand is wrong, no one doubts that.
But it is the government's duty to find out who are raising these slogans and why.
Instead of resorting to force, the government should have tried to ascertain the root cause.
Soli Sorabjee will lead the team of lawyers for Kumar's bail in the Supreme Court.
It's great news. No matter how critical a situation is, you will always find some sane voices that help you regain the balance.
In this case, too, it's heartening to know that a few good souls are coming together to stand by those who are wronged.
I think what Kumar has gone through so far is unjust and wrong, cruel and inhuman.
And what is even more worrisome is the other day I heard BJP national secretary Rahul Sinha stating that some 'patriotic lawyers expressed their anger in the Patiala House court and that there was nothing wrong in it.'
I was dumbfounded. What can one expect from a party that justifies such a gruesome act?
I am perturbed. These incidents are putting democracy at stake.
We are living in terrible times.
I am sure people of this country won't tolerate this for long.
The BJP (Bharatiya Janata Party) came to power with a majority.
Actually, people had very little option.
For decades, they were 'ruled' by members of a particular family.
Even the erstwhile UPA (United Progressive Alliance) government led by Dr Manmohan Singh used to sing to the tune of the same family.
Hence, the people wanted to try out the second best option.
Little did they know that the new regime would usher in such intolerance.
How should the common man fight this?
People in any part of the world are stronger than any political outfit.
They have immense power.
As we all know, protests against the present government's intolerance are pouring in from every corner.
All this opposition will culminate into a huge platform that will drive out the last bit of prejudice from this country.
I have no doubt about it.
Should that platform be a political or apolitical?
Intolerance has to be fought in every possible way -- political and non-political.
At the political level, democratic, secular forces are coming together to fight the elections.
Similarly, at non-political levels too, people should come together to fight the present crisis.
What are your views about the Congress-Left alliance in West Bengal?
I think it is a very, very positive step taken by both parties.
Such alliances will help people fight the divisive forces in Bengal and elsewhere.
Why do you think West Bengal Chief Minister Mamata Banerjee and her team has kept mum over the JNU issue so far?
(Laughs) It's but natural.
She is up to her neck in her own problems.
I think she is too scared to raise her voice against the BJP government lest the latter should spill the Saradha scam beans to the people prior to the assembly election.
With the Congress-Left alliance materialising, the chief minister can't afford to open her mouth about the JNU issue at this moment.
Prior to the last Lok Sabha elections, Banerjee had threatened Narendra Modi with arrest, but now she is falling at his feet for her political survival.
MAIN IMAGE: Activists and students from various organisations march from Mandi House to Jantar Mantar in New Delhi on Thursday, February 18, 2016, in solidarity with JNUSU President Kanhaiya Kumar. Photograph: Kamal Singh/PTI Photo