'If your oxygen saturation is okay and is maintained after the six-minute walk test -- which has been described all over the world -- and you do not have an unrelenting fever, then you can even be managed at home.'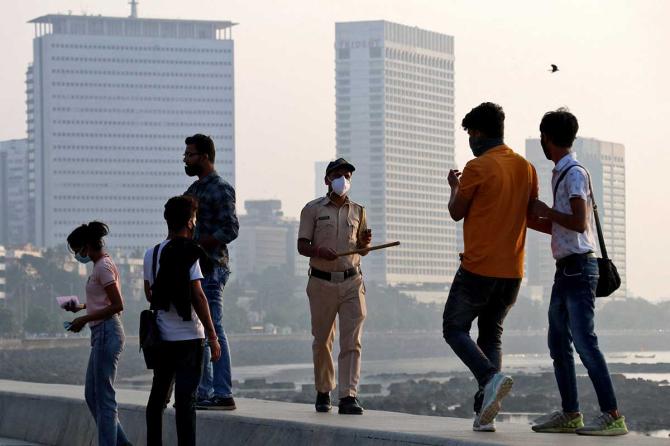 Omicron case counts are shooting up. At unbelievable rates. Especially in Mumbai.
Every second person you know is sick, a suspected Omicron case or is testing.
Why has Omicron found such a swift and firm footing in the city?
Dr Zaheer Virani, a Mumbai-trained interventional nephrologist and transplant physician, who has done more than 400 kidney transplants and practices at several key Mumbai hospitals, is a member of the Maharashtra COVID-19 Task Force right from the start of the pandemic.
In Part I of a two-part interview to Vaihayasi Pande Daniel/Rediff.com, he explains:
Why numbers are rising dizzyingly in the city.
What are the most common symptoms.
Why it is important to test immediately and maybe more than once.
And how we must not panic.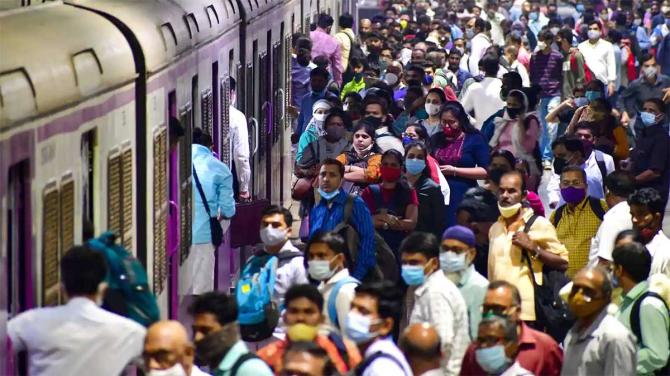 Why are COVID-19 cases, due to the Omicron variant, increasing so fast in Mumbai?
It is a contagious virus. We are a tightly packed city. Our housing (situation is such that) multiple people live in a smaller space. It's very difficult to have physical distancing.
If one family member gets it, most likely the entire family is already exposed, before you can get to a diagnosis.
The symptoms develop only one or two days after you get infected. That is the reason why we are going to have a much quicker outbreak.
Also, we have to have a much better masking protocol. We have to keep insisting on people being masked with surgical masks or N95 masks.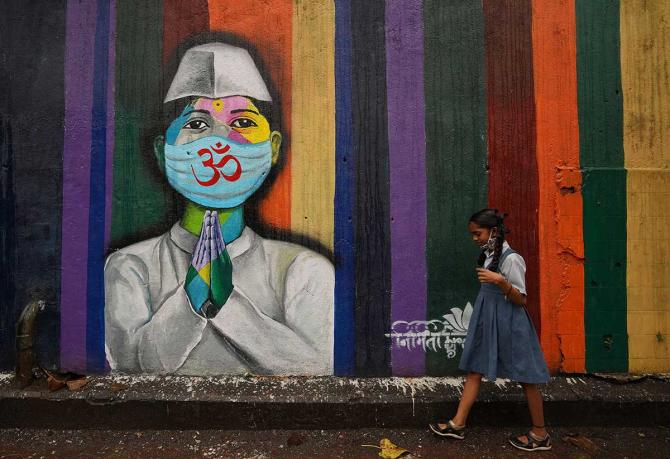 Also because of the way Mumbai travels?
And in any mode of transport, which is a closed space, the air is bound to circulate in that space.
Even in a cab, if you have three people sitting in it, and they're not properly masked, they're very likely to get it. Or even if two people are sitting in it and if they're not masked, then one is going to infect the other.
As you mentioned, physical distancing is very difficult in flats in Mumbai, especially if there is only one bathroom.
Omicron is more contagious and if one member of the family is a suspected case of Omicron, it's very difficult to isolate in not so large spaces. What are their options?
There are a lot of COVID-19 care centres, which were opened in the first and the second wave -- like we have one at BKC (north west Mumbai) and at Richardson & Cruddas at Byculla (south central Mumbai).
The government has made it possible for you to go to the centres and get isolated, if it is difficult for you to isolate at home.
They have enough nursing staff and doctors there who will take care of you.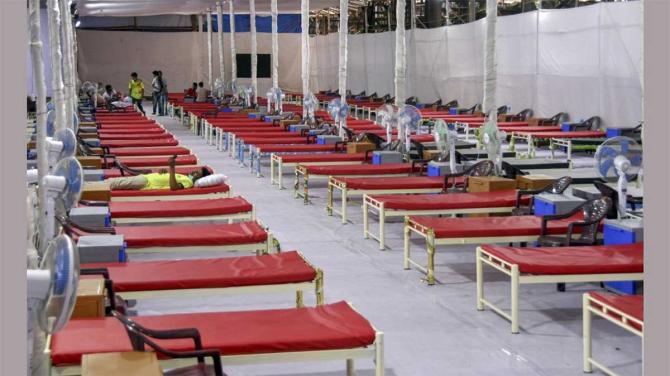 Are these centres back to working with full strength??
They are already open; they are not reopening.
When we had the second wave, they were opened and when the second wave subsided, the centres were used for vaccination drives.
Now that we are back where we were -- looking like we are headed into or are already into the third wave -- they will be more than happy to take care of this wave.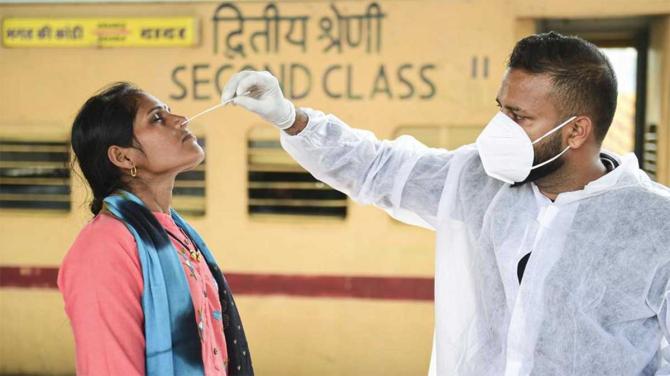 Our healthcare workers have not had boosters yet.
As you know, the CDC (Centers for Disease Control and Prevention) in America had set up guidelines, which said: If you are asymptomatic and you're positive, then at five to seven days you can do another RT-PCR and if you test negative you can go back to work.
So there will be a cycle of healthcare workers getting sick and then getting well?
Yes.
The healthcare strength will temporarily deplete at points -- not everyone will get sick at the same time -- but after a cycle of illness, those who were sick will be back?
Yes.
If you isolate and then turn negative, after about seven to 10 days, you will be back into the workforce.
A physician I spoke to in the US said a lot of healthcare workers have left the field because they got very traumatised or burnt out by earlier waves of COVID-19 and Omicron might cause a shortage of healthcare workers. I don't think this is a problem that exists in India or Mumbai.
No, I don't have any colleagues who have left their professions.
(Laughs) My 70-year-old father, who's still working and who's a doctor, goes to work every day. He works more than me, I guess!
That's so for all levels of healthcare workers from bottom up?
We haven't had any problem with healthcare staff here (people have gone abroad for other opportunities which happens every year), but otherwise, our nursing staff, even our Class 4 workers, who are taking care of the patients' day-to-day needs, the doctors, the residents, the interns are all here. Nobody has left the field.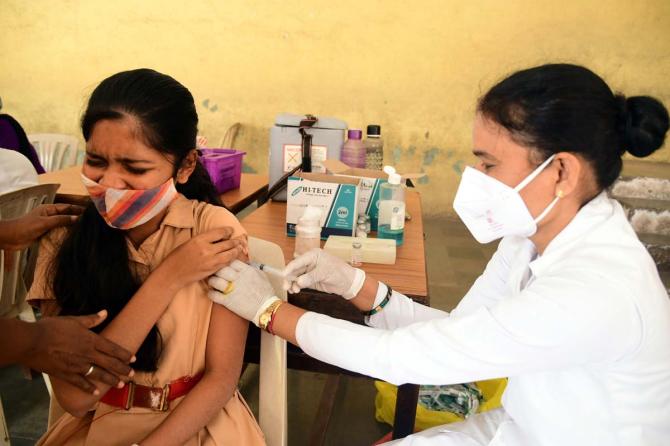 Do you think we have reacted rather slowly to getting the boosters going?
No.
Basically, vaccination is a central government issue (decision). And there has to be something known as vaccine equality.
These decisions come from the Government of India at the Centre and I'm not privy to the thought process behind it because I'm not a part of the national task force.
But I have a feeling that they were more inclined to vaccinate everybody with their first and second doses, before they gave everybody their boosters.
I would still say that, as a country, we have done pretty well. Most of our citizens are vaccinated*. If you look at how the US is doing right now and how we are doing -- we are obviously going to get hit, but at present, we are looking at mildly symptomatic to asymptomatic cases. We're not getting over-flooded with ICU patients, who are requiring oxygen and ventilators.
So, so far so good.
Obviously, we are right at the beginning of the curve right now.
I cannot make a bold prediction and say that we are not going to get into trouble. But let's hope for the best, because quite a bit of our population, at least in Mumbai, is now vaccinated.
They made a sort of calculated decision and chose between going full steam ahead with first and second doses of the COVID-19 vaccination for all, rather than the boosters just yet. Is that your implication?
You only have have a certain number of vaccines.
You would like to everybody to get their second shot in, before you start giving the third shot to people -- that's what I'm trying to say.
We all know that double-vaccinated people are better protected against Omicron. You would prefer that most of your population is double vaccinated, because then obviously there will be some amount of vaccine equality.
Mumbai is one part of the country. Everybody else also has to get the vaccine. You don't want Mumbai to be doing well and another part of the country not to be doing well, because they didn't receive the second dose of the vaccine. It's more about vaccine equality.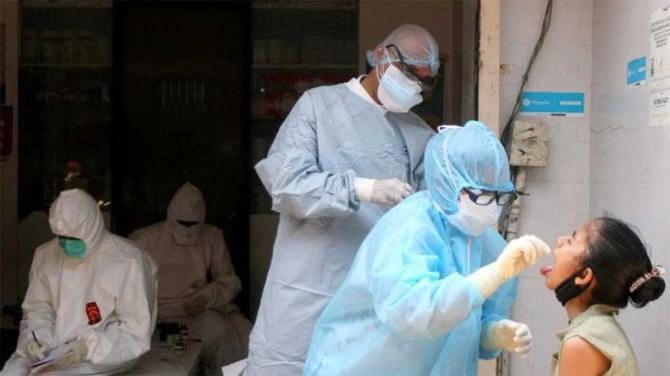 Omicron is a much more contagious variant than Delta, but it's not as bad or virulent as Delta.
From a doctor's point of view, what do we have to tweak in the way we face, individually, this variant?
We don't need to panic number one, because this is more contagious, so more people will get infected.
Everybody need not rush to a hospital. If you are otherwise okay and you have a family physician who can manage you at home, or somebody with whom you can phone consult or video consult with, then you can even stay at home.
SARS-CoV-2 (the virus that causes COVID-19) only becomes a problem when you get hypoxic and your oxygen saturation drops, or you have an unrelenting fever.
If your oxygen saturation is okay and is maintained after the six-minute walk test -- which has been described all over the world -- and you do not have an unrelenting fever, then you can even be managed at home with oral paracetamol and Molnupiravir, which is the newer oral antiviral, which is available in India.
What are the top three or four symptoms that seem to indicate that you may have contracted Omicron, as opposed to just a standard cold and cough?
From whatever I have seen so far, it's severe body ache. Patients tend to have severe body ache and a headache.
These are the two symptoms which they tend to have.
And they have a little bit of a persistent cough.
Normally -- when you have just a cough, cold, fever, which we used to have in the good old days -- your cough subsides in about 48 to 72 hours. But if you have associated body ache and headache with the persistent cough, then it's more likely to be SARS-CoV-2.
I would suggest -- we're in the middle of a pandemic -- if you have a fever, cough, cold, you should just get yourself tested.
If you test yourself and you (learn) that you're SARS-CoV-2 positive (and therefore begin to isolate), you're doing a service to society as well, because you're not going to infect somebody who's immunocompromised or elderly, who might not respond as well as you (to an attack of Omicron).
Just as a good citizen of the country, you should test yourself, so at least you don't cause harm to society.
But there is always been a little bit of debate about on which day you should test? Should you just go and test the moment you get a fever, cough or any other symptom?
Technically, in the case of Omicron, you can test almost any time after you get symptomatic.
If it's negative, you can retest yourself as well.
Because if you test positive and you're contagious, (it being Omicron) you're going to spread it around to more people. So, it's better to test a little early.
Now you have freely available rapid antigen tests too, which are not very expensive in our country.
I would totally agree with you that in the good old days (during the first and second wave), we would say that you should test after a particular period of time.
But in this case, because it is so contagious, you would prefer that you don't infect your society and your family members and everybody.
If it's negative, and you still have persistent symptoms, 48 hours down the line, you can retest yourself.
But if you're positive, then you should isolate yourself, so that you don't cause more infection to spread in society.
*According to a December 14 Rediff.com report: 'Over 55 per cent of India's adult population has received both the doses of COVID-19 vaccine, Union Health Minister Mansukh Mandaviya said.'
And as per a Hindustan Times report citing information from a BMC officer, by November 13, 2021, 100 per cent of the city's residents had received the first vaccine dose.
Feature Presentation: Ashish Narsale/Rediff.com