'We know, from our experience of this virus, that there's something known as long COVID-19, where you have this persistent fatigue and some people have lost their neurological acuteness and they are not as sharp as they used to be.'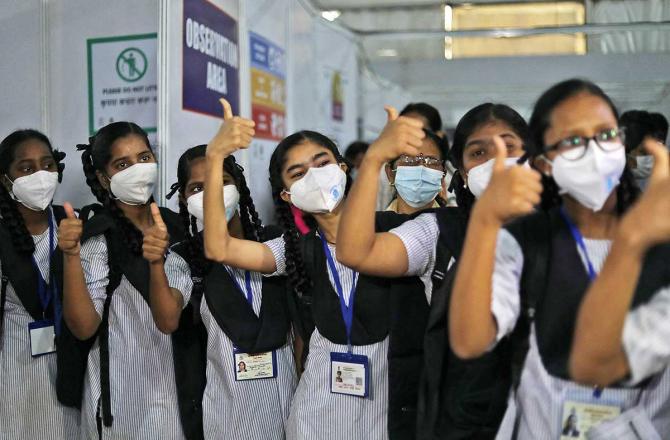 Dr Zaheer Virani, member of the Maharashtra COVID-19 Task Force since early 2020, in Part II of his interview to Vaihayasi Pande Daniel/Rediff.com addresses doubts that must be top-most on all our minds.
Will Mumbai get locked down?
Is a lockdown required?
What happens if the spread of Omicron is uncontrollable in the city?
The Mumbai interventional nephrologist and transplant physician methodically sorts through these worries and misgivings and offers calm words of reassurance.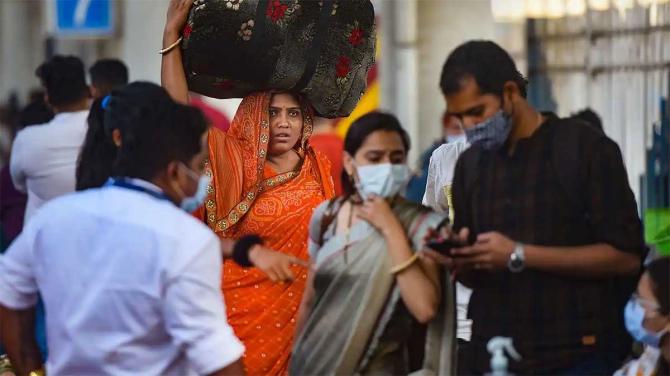 Won't controlling the spread of Omicron be a much greater public health challenge because everyone's guard is down?
It would seem like people are much more careless about protecting themselves from COVID-19 in December 2021 than they were in December 2020.
You're absolutely right. But this is this is basically COVID-19 fatigue.
It's happening to the general public; It is happening to us as doctors. We are also tired.
I'm sure you know how it is -- cycle after cycle after cycle keeps hitting us; wave after wave.
We have to just keep on reinforcing the fact that people have to mask up, get vaccinated, physically distance and events that are not absolutely essential should be curtailed when we're going through a wave like this.
Eventually, I'm quite optimistic that vaccines are the way forward and we will come to the end of this pandemic.
It's just a matter of time. So, we have to hold on for that.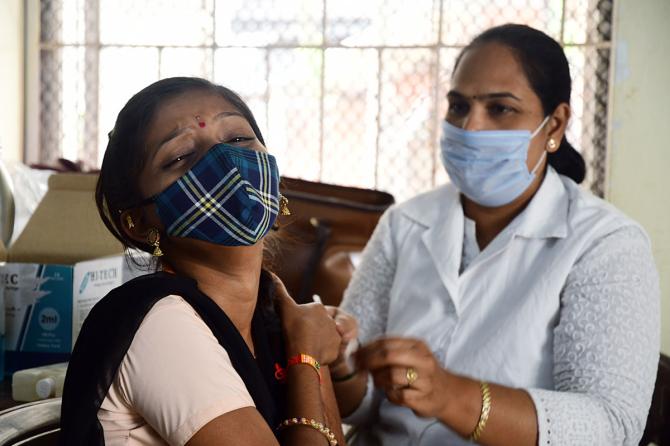 Is the Mumbai administration reacting quickly enough to the outspread of Omicron?
Schools are shut. They are shut till January 31.
My children haven't gone to physical school since the beginning of the pandemic, truthfully. They have been homeschooling and we have it all online.
As far as the trains are concerned, they were opened for fully vaccinated people, and for Mumbai trains are the lifeline of the city, and everybody has to get to work.
So, if we cram the same people into buses, taxis and private cars, it's going to be as bad, if not worse, because it is just going to be the same situation. Everybody is coming from distant places, or from the suburbs and there will be four people packed in a cab or around 50 or 60 people packed in a bus.
If we can divide the travel load between multiple modes of transport, that might help, instead of packing everybody into one mode of transport.
If you see the pictures from the beginning of the pandemic, you'll see these huge lines at the bus stands, extending for metres and metres together, people standing one behind the other, all trying to get into a bus.
From a practical point of view, we need the healthcare workers to come to work, we need the ancillary workers to come to work, we need the industry to function. For this, we need people and to get people from Point A to Point B, we need transport. And these are the transportation modes that we have.
So, we have to use it in the best way -- double vaccination, masking -- and we should be fine.
Obviously, if you don't double vaccinate and don't mask, then -- whatever else you do -- it (Omicron) is eventually going to come for you.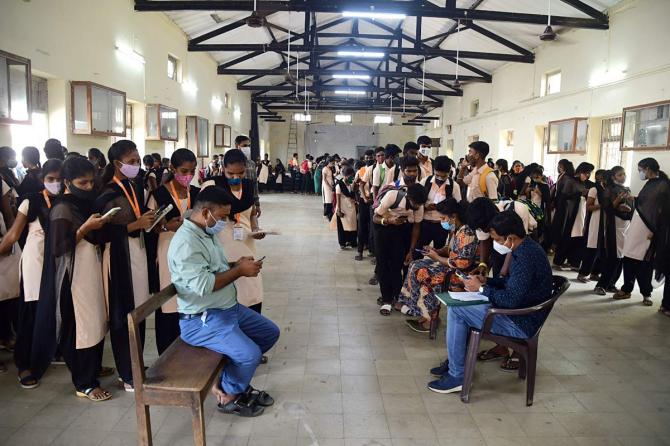 Mumbai has incredibly high levels of vaccination. Everybody now has at least a single vaccine. But when the more transmissible Omicron starts reaching the slums, in a much larger way, is it going to create a bigger problem than the first or second wave?
At present, it doesn't look like that.
And I must tell you that the slums -- basically Kurla-Ghatkopar, Mankhurd, Dharavi and Wadala -- most of them have suffered COVID-19 in the beginning, and then they got vaccinated.
Basically, they have actually got literally three shots, the disease itself and then two shots.
Also, if you note the numbers, it seems more like COVID-19 (the Omicron variant) is not coming from the slums this time, but from multiple complexes where there are multiple buildings.
Slum dwellers are very sharp. They vaccinate themselves, and they are very conscious of the disease, because, you have to understand, if they get quarantined, they are also losing their livelihood.
They know this time that they have to protect themselves from the disease because (caution will safeguard) their livelihood and they have to go to work to make their livelihood.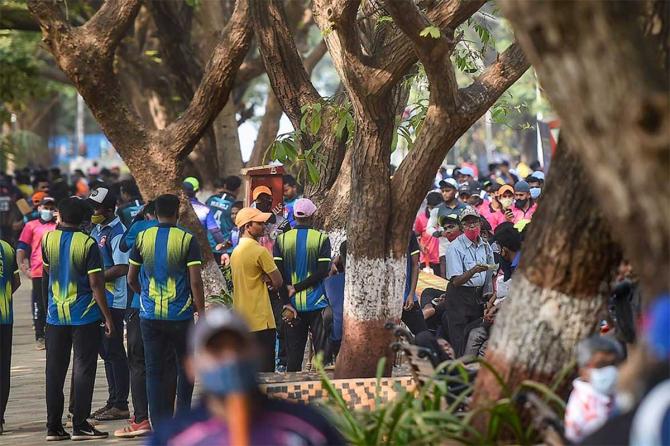 Omicron is a more infectious variant of the COVID-19 virus, but it is also a much milder variant and people everywhere are confused.
It's been said: Are we hiding in panic from just a cold?
But in America, for instance, the unvaccinated are dying, very young too in many cases.
What's your take?
So, two points to this:
You basically answered your question yourself. If you are vaccinated, then it seems to be very mild or asymptomatic.
But if you are not vaccinated, then you are in trouble. It then might behave like a bad lower respiratory tract infection, like a viral pneumonia, which might cost you your life.
Number two, the data on Omicron has been available only from the end of November, beginning December. But we know, from our previous experience of this virus, that there's something known as long COVID-19 as well, where you have this persistent fatigue and some people have lost their neurological acuteness and they are not as sharp as they used to be.
We are right now very early in the Omicron wave. The short-term symptoms are coming now, as a cold, cough, fever. But I'm sure in the long run, nobody wants to have persistent fatigue or lose their mental sharpness or a persistent backache.
In the initial (round of COVID-19 infections) some people have also got tinnitus, which is a buzzing sound in the ear after COVID-19.
We don't know what's coming down the line when it comes to all these side effects.
We should not be alarmist. It's definitely looks at present to be milder than Delta. We should mask and vaccinate, and we should only hospitalise those for whom it's absolutely necessary, like those who require oxygen or have an unrelenting fever or multiple comorbidities like transplant patients or the elderly with other cardiac or lung ailments.
To guard people's livelihoods, we may not be headed either for a national lockdown or a state lockdown right now?
This question is difficult to answer because only time can tell. Once you say something it cannot be carved in stone.
Secondly, the decision to lock down is basically a decision which is made by multiple people.
This is what I feel: When your oxygen requirement goes above a particular limit, or your oxygen-requiring beds in the hospitals are getting exhausted, that is when you talk about a lockdown-like situation.
At present, what I would look at, is restricted activity. You don't need to have a football game at this point. You need not have a huge marriage with 600 or 700 or 800 people. Or a birthday with so many people invited. Those are those activities should be curtailed.
But day-to day living, where a person is going out to make his bread, is not required to be curtailed at present, because, like you rightly pointed out, it's a milder variant. If somebody falls ill with a cough, cold, fever, and is otherwise okay, s/he can isolate himself at home for five days and then get back to work.
We have in Mumbai a good capacity of oxygen at present. We have a good capacity of beds, where we can give oxygen to patients, at present. As long as we do not hit a particular (shortage) mark, which has been set by us as a group (the medical task force in the state), I think life should continue with curtailed activities. We should not do things which are not essential at present.
Feature Presentation: Ashish Narsale/Rediff.com