'Now they're talking about changing the Constitution; they feel they have no reason now to hide their intentions.'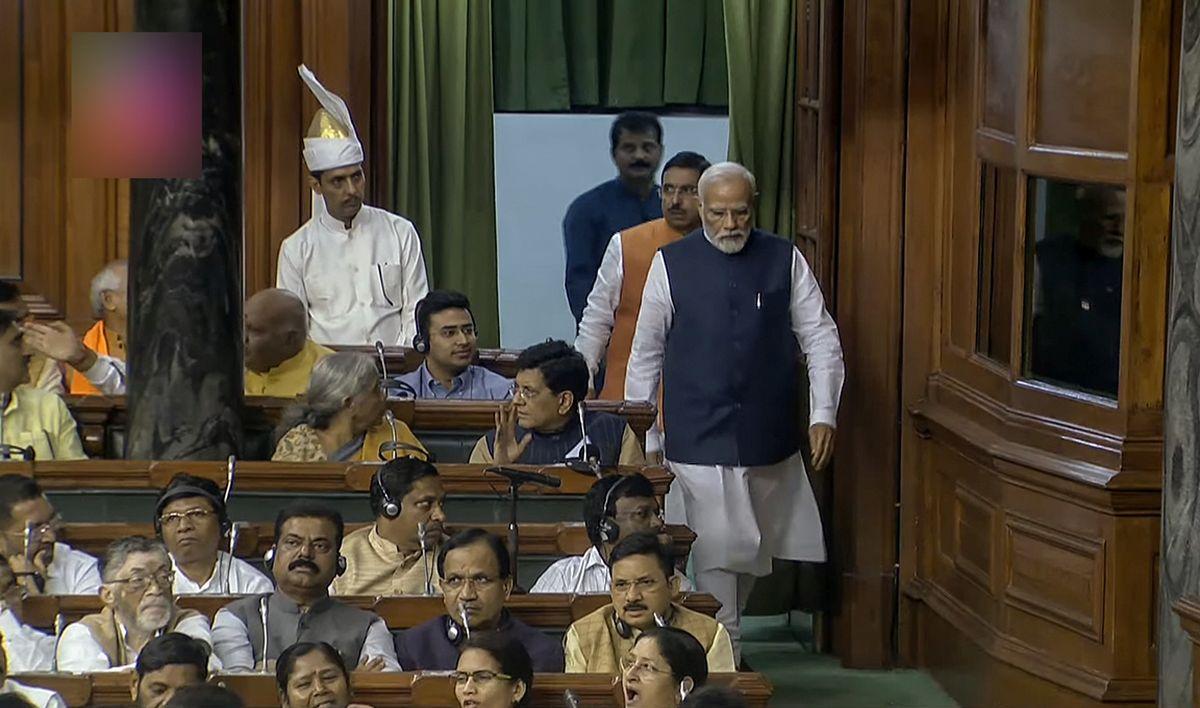 28 parties make up the INDIA Alliance, but only 3 bothered to attend the activists' meeting in its support held on the eve of the alliance meet in Mumbai. CPI(ML) General Secretary Dipankar Bhattacharya was one of them.
Now 61, Bhattacharya's involvement in politics began while at the prestigious Indian Statistical Institute, from where he graduated and also holds a master's degree. Here he talks to Jyoti Punwani about the raison d'etre of the INDIA alliance, how democracy is of vital interest to the poor; and the untapped potential of Bhagat Singh and Ambedkar as inspirational icons.
The first of a two-part interview:
People have different expectations from the INDIA alliance. Some, like Medha Patkar, want it to commit to an entirely different developmental model; others feel if it removes the BJP, that's enough. As part of it, what do you expect?
There are some factors we need to consider.
One, a large section of people has begun to realise that two terms of this government has brought nothing but destruction, and they may not be able to bear the consequences of a third term.
Second, we had a multi-party system, but now we don't even have a bipolar system. It is one party rule at the Centre, and they talk of ruling till 2047.
On August 9 last year, Nitish Kumar left the NDA and joined hands with the RJD in Bihar. Just 10 days earlier, BJP President J P Nadda had said in Patna that no other party could fight the BJP at the national level, and all other parties would be destroyed.
So, from Congress-mukt Bharat the BJP has gone to vipaksh-mukt Bharat. Hence we call it fascist and feel an urgency to remove it.
Fascism here goes beyond Germany's model. There, there was one Hitler. Here, Modi goes, Yogi's waiting. There's a supply line.
How did we reach here?
It's been a long process.
The build up to the demolition of the Babri Masjid in 1992 led to Gujarat 2002 and now to the targeting of Muslims. The New Economic Policy of 1991 led to the first Vibrant Gujarat summit of 2003 and now to crony capitalism. The early hydel projects in Himachal and Uttarakhand laid the stage for the current disasters there, with the added push being given by the BJP's obsession with tourism and roads. UAPA was already there; the BJP just built on it.
2014 was a great opportunity for them. Since then, things have moved so fast that now they're talking about changing the Constitution; they feel they have no reason now to hide their intentions. Ambedkar's Constitution is being described as a 'British Constitution'.
It's interesting that there's no mention of Hindu Rashtra in Bibek Debroy's article on changing the Constitution. The aim is politicisation of governance; doing away with separation of powers between the three institutions of government.
The BJP may have said it's not their official view, but Debroy is the PM's chief economic advisor, so what he says is important.
To understand today's situation, it's very important to remember what Ambedkar had said.
First, he spoke about the dangers of a personality cult in India. 'Democracy in India is only a top-dressing on an Indian soil, which is essentially undemocratic,' he had said.
Second was his warning that electoral equality wouldn't mean much if economic inequality kept increasing, which is happening now, as the Oxfam Report shows.
Finally, he described a Hindu Rashtra as 'the greatest calamity for this country'.
All three situations described by him exist; we are in a calamity.
To face a calamity, common sense says we must have a disaster management approach. The first thing to do then is a Rescue operation. We have to rescue democracy. How much will be recovered in that operation, I can't say.
After Rescue comes Relief. Those targeted by the calamity need relief, be they minorities or MSMEs, Dalits or Adivasis.
The third step is Reconstruction. We need to rebuild a robust democracy which would be able to counter fascism.
It is in recognition of this situation that INDIA has been formed. It's a broad based alliance, and also an alliance in the making. Five years earlier, it would have been unthinkable for the Shiv Sena and the Left, the RJD and the CPIML, to be in one group. But today it's the demand of the situation.
The CPI(ML)'s trajectory is from Rescue to a system of robust socialism. Others in the alliance may only want some balance to be restored.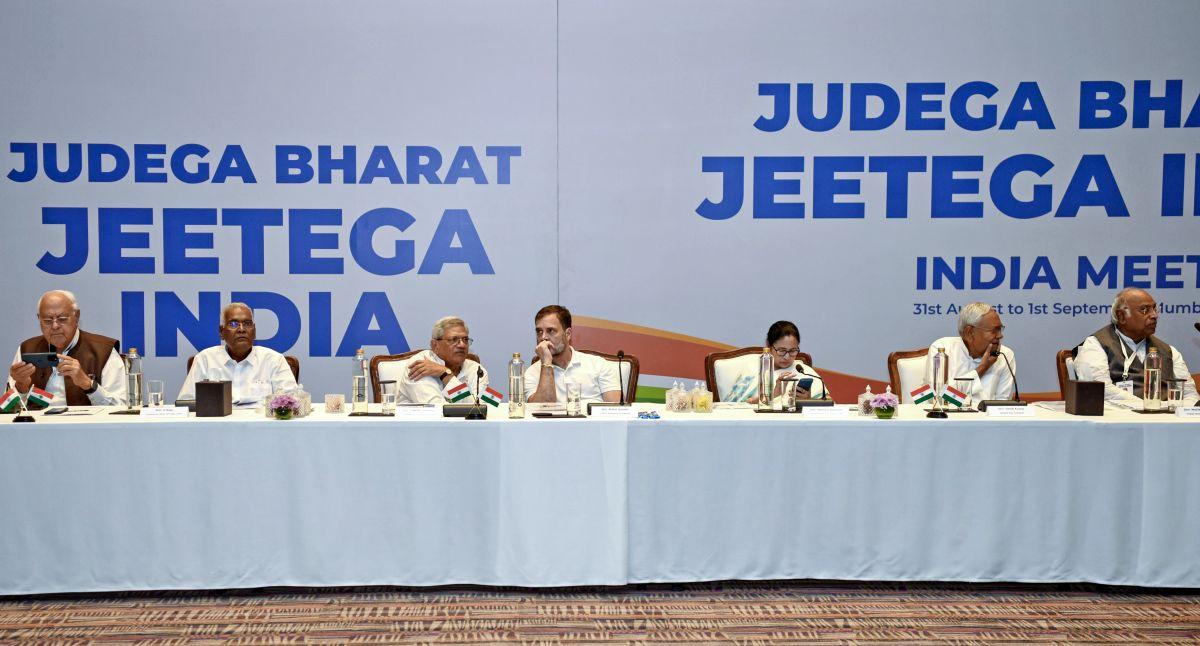 Some activists wonder that given the kind of parties in the alliance, can't the Left support it from outside instead of joining it?
That can be decided if a government is formed in 2024.
In Bihar, even with 12 MLAs, we are not part of the government. We didn't want ministries, we wanted to influence government through people's movements. When we feel the government is anti-people, we oppose it.
We recently had two long agitations. Teachers protested against the state government's new recruitment rules, which would have meant that those recruited years ago through panchayats, would have had to sit afresh for a state-level exam. These teachers had been waiting to get recognition as state government employees.
The CM finally met the striking teachers and assured them of a solution.
The second agitation was for ASHA workers, who in Bihar, were not even paid an honorarium. They were given something called a paritoshik, meaning reward. Their 31-day strike resulted in them getting an increase of Rs 1500, and their payments being renamed honorariums.
In both these struggles, our comrades were leading from the front. We thus managed to play the role of a bridge between people's aspirations and the government.
Have things changed now in Bihar that the BJP is no longer in power?
Not really. Bulldozers are used in Bihar too. The administration and the police still act on the behalf of the RSS.
In May, people coming out of Baba Bageshwar Dham's lecture in which he advocated a Hindu Rashtra, vandalised the nearest statue of Ambedkar they could find. Later, a platform build for another statue was demolished by the administration. In both cases, we led strong campaigns for their restoration.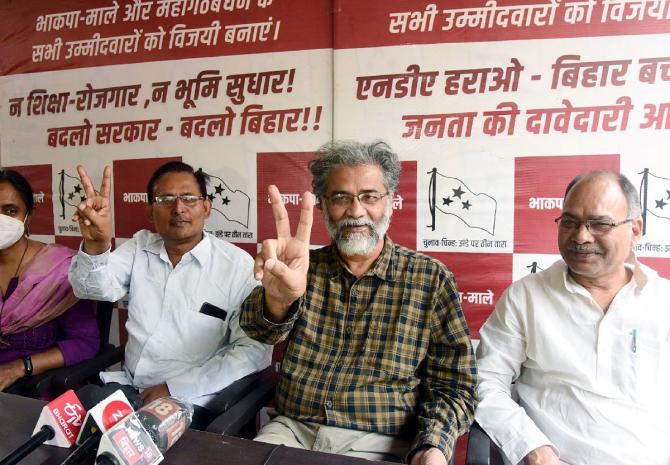 Talking about Ambedkar, how do you see Dalit politics today?
If you separate identity from ideology, then identity politics will be used by the dominant political force. That's what's happening today with Dalit politics. We have to wed identity to ideology.
Unfortunately, the way the Ambedkarite ideology has grown, has reduced Ambedkar to a Dalit icon. He's been glorified only as framer of the Constitution and author of the reservation policy. Now the BJP has appropriated him, using his writings out of context to portray him as anti-Muslim.
Ambedkar and Bhagat Singh are the most underutilised ideological icons. Bhagat Singh has been presented only as a revolutionary who gave his life for freedom. But his ideas speak to you in today's situation.
The same with Ambedkar. Had we taken him seriously, his impact would have been different. Actually, not just Dalits, the country needs to rediscover Ambedkar. We must present his ideas to the people. We have to start describing the Constitution as the most important gain of the Independence movement, after freedom itself.
Ambedkar has to be seen as one of our foremost freedom fighters. There were those who fought for a free India, and those who visualised what free India would be like. That's what Ambedkar did.
There's historically been a misunderstanding and distance between the Dalit movement and the Left movement. If this were to be removed, fascism could be resisted more successfully. Fortunately, in Bihar a new slogan is emerging from the ground: Jay Bhim Lal Salaam.
Feature Presentation: Aslam Hunani/Rediff.com