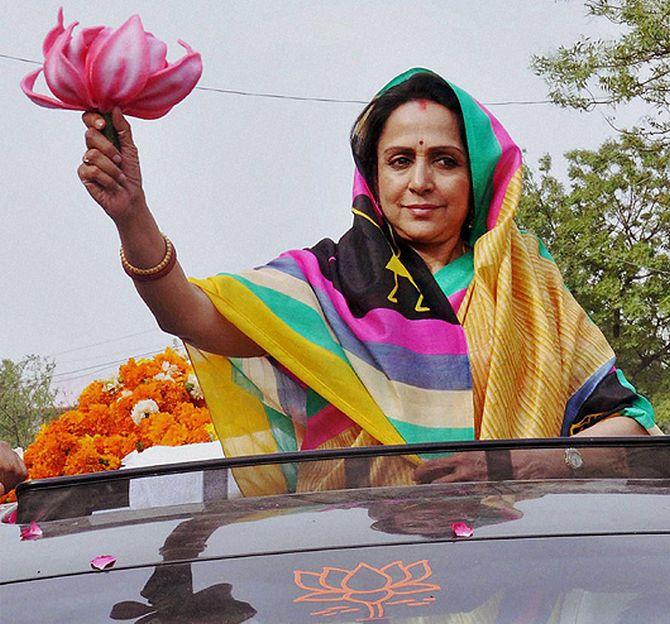 'When Revenue Minister Eknath Khadse called Hema Malini to Mantralaya and handed over a plot to set up a dance academy, I felt there is some problem in it.'
'Hema Malini was given a plot in 1997 in Versova. That is not developed. Now she has been given another garden plot.'
RTI activist Anil Galgali on the sell out of Mumbai's open spaces.
Right to Information activist Anil Galgali has alleged that the Bharatiya Janata Party member of Parliament and actress Hema Malini has been granted undue favours by the BJP-Shiv Sena government in Maharashtra.
A month ago, the state government allotted her a 2,000 square metre plot in Oshiwara, in the north-western Mumbai suburb of Andheri, to set up a dance academy.
According to Galgali, the actress was given land worth Rs 70 crore (Rs 700 million) for only Rs 70,000 by the BJP-led state government.
Syed Firdaus Ashraf/Rediff.com spoke to Galgali, below, left, about the controversy.
When did you find out there are irregularities in the allotment of land to Hema Malini?
When state Revenue Minister Eknath Khadse called her to Mantralaya and handed over a plot to set up a dance academy I felt there is some problem in it.
Till date no minister calls a celebrity to his office and gifts such plots. Therefore, I decided to file an RTI.
When the documents came I found out there were irregularities involved.
Is this not the same plot which the Maharashtra government had alloted to Hema Malini in 1997 for a dance academy, but was not given because of red tape?
This is wrong information the BJP people are spreading. Hema Malini was given a plot in 1997 in Versova area (north-west Mumbai) for a dance academy. That plot's total area was 1,711 square metres.
That plot is different and it is in her possession till date. Now they have given her a new plot.
She has not developed the old plot. This new plot is in the Ambivali area of Andheri.
What was the reason that she did not develop the first plot?
There was a CRZ (Coastal Regulation Zone) issue. The first plot, which she was given, was on marshy land. She said no one will come to that area.
She took that plot and realised later that nobody will come to that area and it will not be profitable.
She has taken that plot for business purposes and not for charity. Therefore, she asked for a new plot.
When was that?
She asked for it in 1997 and in 2000 the government responded saying it will look into the matter. In 2016 the BJP government finalised this plot for Hema Malini.
This is a plot reserved for a garden and its area is 28,000 square metres. The government gave 2,000 square metres to Hema Malini for her dance academy and said she should develop the rest of the plot as well.
Will this garden be open to the public or will it be a private garden?
We will know this only after the garden comes up. At present the Mumbai public don't get entry into such gardens. There is a big fight going on over this issue.
Many such gardens have been occupied by private parties and the common man does not get entry. The people of Mumbai don't have open spaces and gardens.
Don't you think this plot has been given to promote art and culture and therefore it should be supported?
Art and culture is all fine, but this should not be given to a private NGO. Art and culture must be promoted by the government. The government must create places with their own funds.
Instead you give away such spaces to private parties. This process has been going on for the last 25 years.
And moreover, why give a garden plot to Hema Malini?
What are your demands?
We have demanded that firstly, the government must take back the old plot (located at Versova) from Hema Malini. Secondly, the government must charge market rates from Hema Malini.
Moreover, you cannot do any kind of construction on a garden plot because if you do, then it no longer remains a garden, but turns into a private property.
This is a threat because all plots in Mumbai have been taken over like this by private parties and encroached upon.
What is the market price of this plot in your opinion, and how much money has Hema Malini paid?
The market price is Rs 70 crore and Hema Malini has been given this plot for only Rs 70,000.
That is a huge difference!
Yes, but the government has taken this step, what can I do?
Will you call this a scam?
No, I will say it mehrbani (favour).
What is your next plan of action?
I am not going to court. I believe in Chief Minister Devendra Fadnavis. He will rethink on this issue.
Many times the government makes mistakes in allotment, but they can rectify it.
Don't you think Fadnavis is in the know about this issue?
Fadnavis may not be in the know of this plot issue. Many times what ministers do in their department, the chief minister may not be aware.
In the BJP-Shiv Sena government of Maharashtra, the Shiv Sena runs its own departments separately, so how will the chief minister know what is happening in every department?