'If the government has not listened to scientists, it must.'
'It's obvious that this is a science-driven campaign (fight), a science-driven situation.'
'We cannot afford to ignore the science.'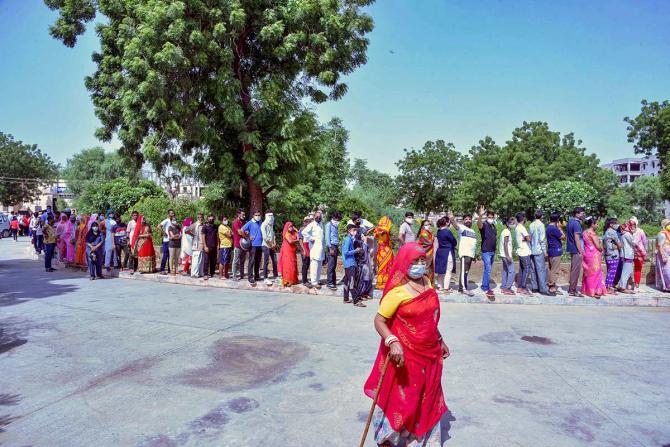 The unexpected onset of the COVID-19 pandemic saw, the world over, a vast change in the way traditional medicine is practiced.
More and more doctors, everywhere, were forced to see their patients via solely or mainly by video conference.
Psychiatrists, dermatologists, pediatricians, internal medicine physicians, neurologists, diabetologists and specialists in many other fields of medicine took to video apps to look after their flock.
Teleconsulting became the norm rather than the exception, with in many places virtual visits topping 90 per cent.
India was no different.
Dr Ambrish Mithal, when he examined his patient records, discovered that he and his team did over 8,000 video consultations after COVID-19 began in 2020 right till date.
A New Delhi-based endocrinologist and diabetologist, with many decades of experience under his belt in treating diabetes, Dr Mithal had, before the pandemic, patients coming to him for treatment from neighbouring states and even from as far away as Bihar. He was able to have many/most of his patients switch over to video conferencing, whereby he could still keep looking after them, in spite of the distances and the inability to have them come see him personally.
In the final segment of a three-part interview to Vaihayasi Pande Daniel/Rediff.com, Dr Mithal, who received a Padma Bhushan in 2015 for his services to medicine and the Dr B C Roy Award in 2017, and who is the chairman and head of the departments of endocrinology and diabetology for Max Healthcare hospitals, discusses boosters, hopes for normalcy and practicing medicine during COVID-19 times.
The normal range of creatinine in the blood is below one.
If diabetes gets exacerbated, maybe post COVID-19, or more chronic in a person who has been suffering diabetes for many, many years, will he/she be living, after a while, with a higher level of creatinine?
Will creatinine levels gradually inch up, above normal levels and not climb down? And what is the prognosis for chronic diabetes sufferers living with creatinine levels marginally over 1?
It's not uncommon at all.
If you have long-standing diabetes -- and if the kidneys are beginning to show the impact of long-term, like 15 or 20 years of diabetes, especially if it's been uncontrolled -- you will first start getting protein in the urine. And then at some stage, the creatine might start going up a little bit.
Obviously, it's not a great sign. But it's no reason to panic.
You still have to take the same measures -- control your diabetes well, control your blood pressure well. That's very important for the kidneys. And to take the right kind of medication. There are medications that help protect the kidneys or reduce the progression of kidney disease.
As an endocrinologist, who has been looking after his patients through this last, most terrible wave, what have been your observations? Maybe about the effect of COVID-19 on diabetes. Or anything that has surprised you or that has been really interesting or puzzling?
Quite clearly, when the first wave came, we were a little bit surprised by the extent of glucose elevation in the blood during COVID-19 (for those suffering the disease), ie at the numbers (for blood glucose) that we saw. We are used to seeing those numbers, but never as frequently. We were seeing blood sugar values of 500 and 600 like suddenly, out of the blue.
That plainly said: This is not routine. This is bigger. We have to pull our socks up and get ready because we don't know enough about this disease, about this virus.
So, number one was the severity of the increase in blood sugar with COVID-19.
Secondly, the long-term use of steroids has -- if I may say -- really messed up endocrinologists' happiness. This kind of use of steroids really has made our job much harder, very hard.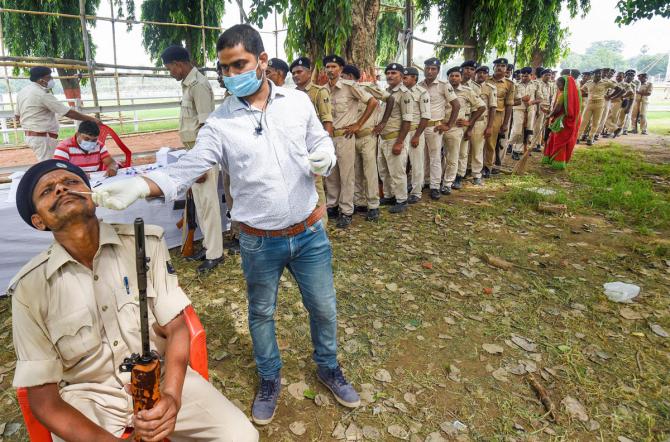 Anything else?
Thirdly, in particular, what we struggled with, in the second wave, was having to treat people at home.
There was a 92 year old I was treating at home, who had diabetes (and COVID-19), was on steroids, sugar was 400 and 500. Now you can't go into the patient's room. The attendants can't either, unless they wear PPE. And then the situation would get bad. It became quite chaotic.
The use of telemedicine was a boon in this environment, even the use of the simple Whatsapp video (mode), or otherwise any of the good video apps available. It made a huge difference and allowed us to deliver care to our people with diabetes.
Overall, doctors did a very good job of taking care of diabetic patients, who could not reach the hospital, but consulted their doctors only via telemedicine. We were able to manage their insulin, manage their sugar. There were so many tools available for monitoring, etc.
That gave a sense of gratification. It opened up a new channel for us, in the sense that we realised that this is also a good approach in cases, where the patient cannot really make it to the hospital.
We would never have done this if we had a choice. If you had a choice, you would never have attempted managing somebody with 500 blood sugar at home.
We still won't.
But we know now that at least we can initiate treatment and we can do something at home, before the patient can or will reach the hospital.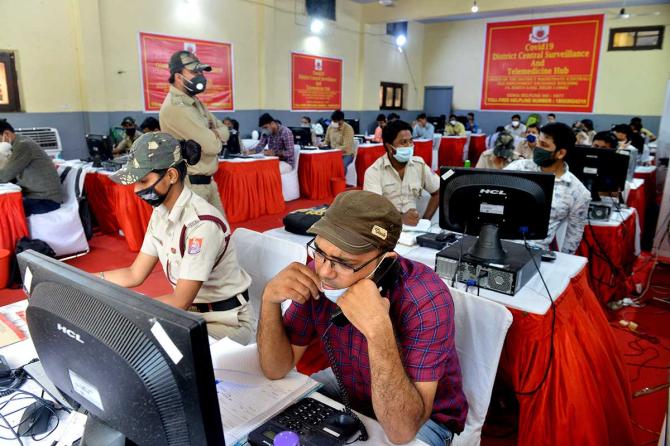 Medical video-consulting came of age in India?
The use of remote consulting is one huge gain that endocrinologists and diabetologists have had during the pandemic (they gained confidence with the medium and streamlined the process).
Starting from last year, till the end of May 2021, I had, along with my immediate team (not the whole department), done 8,012 consults.
Some of them may be repeats. But the fact is that one is able to help a lot of people without them having them come to the hospital. That is the optimistic part.
I do see some proportion of our practice staying as remote, maybe 10 per cent, maybe 20 per cent. I am sitting in Delhi and my patients come from all over UP, Bihar, MP, eastern India, Haryana. Now, we have the confidence that if routine patients reach us even once a year (in person) and they do a video consult once in a quarter, then we can manage them. We weren't doing this earlier.
A lot of people with diabetes did not go and do their regular tests and checks because of fear of COVID-19. And that seems to have caused a problem with many of them during the pandemic.
Testing is critical in diabetes. Glucometer testing is not a problem at home.
Also, India has a unique system of home collection of samples. In which part of the world do you see that?!
You can actually get everything done from home.
We have packages -- I'm sure most doctors have. The laboratory personnel go home and pick up your samples and all the test results come on my computer. And then we do a video consult with the patient and we have all the results in front of us. That kind of model has developed very well.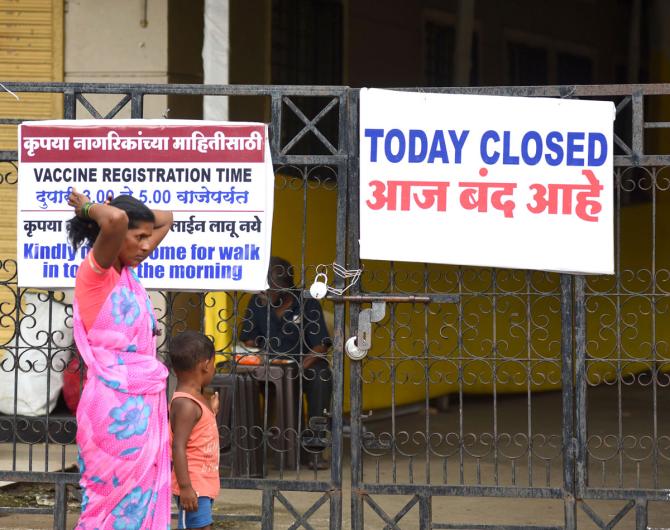 Do you think the arrival of a new central health minister, Mr Mansukh Mandaviya, is going to make a difference in how India handles the pandemic in the days ahead? Is the government listening to doctors and science a little bit more carefully now?
The government always had its committees in place -- all the required recommendatory bodies and advisory bodies.
The government takes decisions based on many things that we don't understand, as doctors.
For example, as a doctor I would have said: Don't open nightclubs and bars right now. But they have to keep the wheels of the economy churning.
While it's sometimes easy for us to criticise everything, number one, there are areas where we don't understand the full implications.
Number two, yes, of course, if the government has not listened to scientists, it must. It's obvious that this is a science-driven campaign (fight), a science-driven situation. We cannot afford to ignore the science.
Where everyone went wrong, was in predicting the magnitude of the second wave.
Definitely, at the time of the onset of the second wave, no one could predict the gravity and the government didn't take it that seriously. They dismantled all their healthcare facilities/arrangements that was set up for this. Everyone went back to life as normal and we suffered as a consequence.
So, it was a combination of the virus and the change in attitude that took place then (that caused the suffering).
I don't think that's happening now or any government (central or state) right now, is not seized of the problem. I think whatever decisions they are taking now are very considered decisions. They are not random. They are not being cavalier. I don't think they can afford to be.
So, the appointment of a new health minister is good news?
We welcome him.
Well, not the appointment of him per se, but the fact that they are working on making changes?
Yes.
I would not relate it to the health minister, per se. But I do think there are enough experts now within the government who understand this situation.
I don't think you can say now that they don't understand the problem. They understand the problem very well.
What about normalcy? Till we as a country don't reach a certain level of vaccination, normalcy is far, maybe as far as next year?
Yes, that's correct.
We might need boosters for our COVID-19 vaccines as well, if the vaccinologists feel that we do. And there is already talk that it may be required for some of the COVID-19 vaccines?
I think it's very probable. We don't have final evidence yet. But for the vaccines that we took -- I took Covishield for example -- it is very, very likely we will require a booster.
If healthcare professionals start falling sick again, we are in trouble. So, before the year is out or in January (we may require boosters). I don't know how we're going to do that.
From the point of view of a doctor, normalcy is still a long way away?
Yes, that's the truth -- normalcy as in what being normal was in 2019 -- yes, it is far away.
Well, that may never come back. But there could be the arrival, maybe, of a new normal?
I don't want to think about that (laughs).
Feature Presentation: Ashish Narsale/ Rediff.com