'In the last two months, we have only done 16,000 tests and that is nothing.'
'If coronavirus cases in the community picks up and infection spreads, then we will be in big trouble.'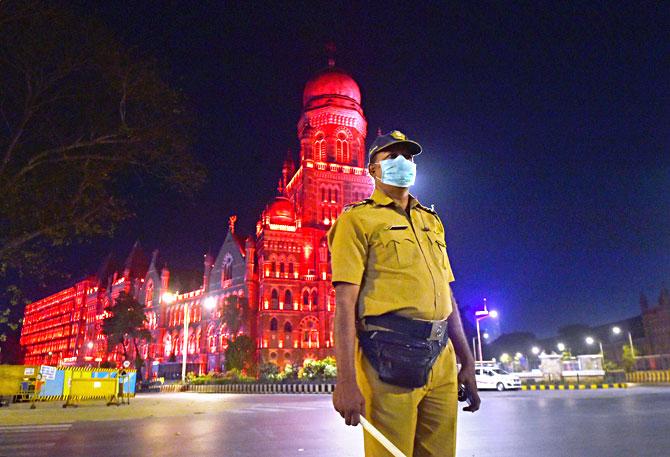 Nearly all of India -- 560 districts in 32 states and Union territories -- are under a complete lockdown to contain the spread of the coronavirus.
No one at this moment knows how serious the situation is. As of now, India has reported nearly 500 cases with nine deaths. While some say India will rebound and not see too many cases, some others warn an Italy-like tragedy is also a possibility.
Critics say that very few cases are being detected because India is not conducting enough tests. What is the truth?
Syed Firdaus Ashraf/Rediff.com spoke to K Sujatha Rao, the former Union health secretary, to find out.
How prepared is India at this moment to take on the coronavirus threat?
We are dealing with it and coping with it, but it all depends on how the situation emerges after a week. We are in a state of lockdown and now it all depends if there are more cases or not.
We will have to wait and watch to see whether this one-week lockdown will result in reducing the number of coronavirus patients or not.
If the number of patients is limited, then we will be able to tackle the situation, but if the cases go beyond our reach, then it will create havoc.
And if India reaches an Italy-like situation, then there will be chaos, especially in north India.
Do you believe India is in stage 3 of the virus transmission now?
There is no evidence to say which stage we are in right now.
Only yesterday (March 23) we have expanded testing protocols and added more cohorts.
In the last two months, we have only done 16,000 tests and that is nothing. In America, they are doing 25,000 tests a week.
Unless and until we do more coronavirus tests we will not be able to know whether we have been able to contain it or whether it has begun spreading through community transmission. It is anybody's guess.
I don't know on what basis we are saying we are in stage 2 and not stage 3. What is the evidence? That is the reason many epidemiologists are questioning the Government of India's numbers.
Do we have the testing capacity? Are there that many testing centres in our country to find out whether a patient is infected by coronavirus or not?
Yesterday, Balram Bhargava, director general, Indian Council of Medical Research, said we can test 70,000 samples a day. And at present we are not even testing maybe 1,500 samples a day.
We have a huge capacity, that is not a problem, but we are testing only those with a travel history. Today they are saying anybody coming with symptoms of flu will be tested.
Even in a city like Mumbai we do not have many testing centres that can confirm if a patient has contracted the coronavirus or not.
If you have a testing centre inside your home, who will come and test? You have to expand.
Yesterday, the DG, ICMR, said they have 111 testing sites. Initially, we had only 52 testing sites and now they have doubled it.
They should have more testing sites. They are at present taking time to accredit private labs. They must get to at least 200 of them.
I am sure they will do it in 2, 3 days and allow testing to be done by private labs. Only then we will come to know how bad the situation is.
Do you think we should have stopped international flights to India earlier? That could have prevented the inflow of travellers with possible exposure to the virus.
I don't know whether we were late or not as we don't know how many cases are there.
As of now, if you say 415 coronavirus cases are there, then it is nothing, it is peanuts. But if coronavirus cases in the community picks up and infection spreads, then we will be in big trouble.
Lockdown is all right, but more important are TESTS, TESTS and TESTS.
We have to act it on now. We should begin to do 5,000 tests in a day and only then we will come to know whether the coronavirus has spread in the community or not.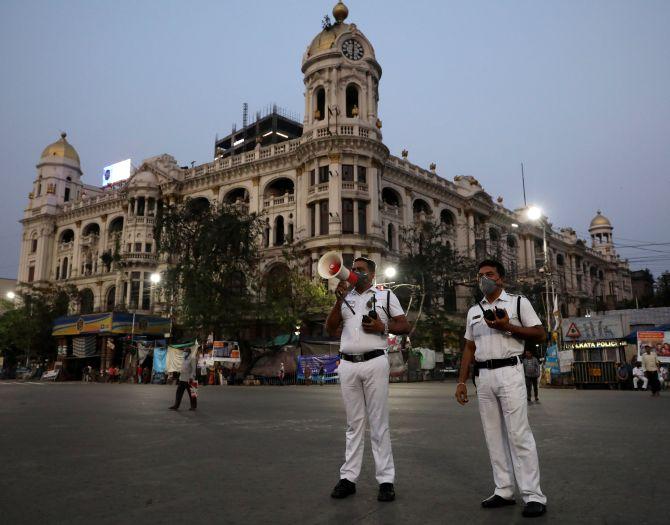 How prepared are we in terms of ventilators, etc?
It depends as preparedness is equal to number of cases you are getting.
At present, 400 cases are reported so we are prepared, but if we have 50,000 people then we are not prepared and we cannot manage.
The United States of America, France and Italy have such an excellent health system for their citizens, but they too cannot manage now.
Every county has a capacity for a normal situation, but if the situation becomes abnormal no country in the world can manage. That is the reason people in Italy have died.
It was not due to bad health conditions, but they did not have enough of ventilators. These patients died because there were not enough beds with ventilators available.
And if we have a situation where many people come together and require say 50,000 beds with ventilators, then we will be in trouble.
As it is our health system is weak and on top of that if this coronavirus crisis adds, we are heading for big trouble.
Hospitals come under the states's purview so is it the state governments's responsibility or the Centre's to ensure that the facilities are up to speed?
It is not a state subject. Hospital is a state subject, but infectious disease is a concurrent subject.
The central government is as responsible as the states. It comes under the concurrent subject of the 7th Schedule of the Constitution. That is why tuberculosis, HIV, polio -- all these policies came from Delhi.
What is your advice to people who are at home?
You have to keep a distance of one metre from people as you never know who is carrying coronavirus.
If you have the slightest symptoms, go to the hospital immediately and get tested and treated.
Viruses hang around surfaces so keep washing your hands. It is very important.
Don't go on touching every knob or door handle and after that do not touch your mouth or eyes.
After all, the coronavirus is a lung infection and as long as you don't allow the virus to enter your mouth you are safe. That is how you keep yourself protected.
How can one increase immunity against coronavirus?
Good nutrition keeps you strong and, of course, yoga and pranayama improves your immunity against coronavirus.
Try it, there is no harm. Pranayama is a breathing exercise and even astronauts do it to improve their lung capacity.
Improve your lung strength by breathing exercises and going for walks. These are the standard practices.
But poor people don't get good nutritious food so their immunity is low as they are malnourished.