'People had said it will explode and everyone will die. Nothing of that sort has happened.'
'Our government has done a splendid job so far.'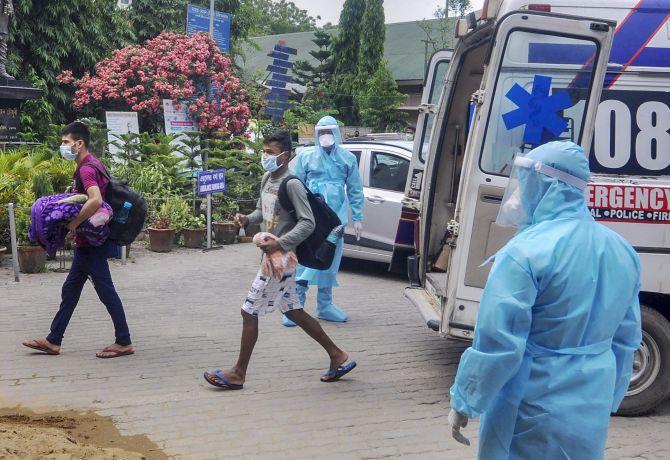 Dr Soumyadip Chatterji, Senior Resident at the Infectious Diseases department of the All India Institute of Medical Sciences, New Delhi, was posted to AIIMS's new COVID-19 facility at Jhajjhar, Haryana, last month.
"There will be dips and spikes in the infection, but we are really at a loss to predict what is coming," Dr Chatterji, below, tells Swarupa Dutt/Rediff.com.
How long have you been posted at AIIMS, Jhajjhar?
For over a month now and I'm up for quarantine. So, we are on duty for two weeks and then on quarantine for two weeks.
All the healthcare staff here follows this schedule, unless there is a medical emergency and shortage of staff.
This hospital caters to which geographical area?
Most of our patients are referrals from Ram Manohar Lohia Hospital or from AIIMS, Delhi. We cater to Delhi, Uttar Pradesh, Haryana and the NCR (National Capital Region).
How many bedded facility is this?
There are two buildings in this facility where over 300 patients can be quarantined.
Till date there have been nearly 500 admissions of which 190 patients are still admitted.
This facility was basically the National Cancer Institute, which is working in a restricted manner for cancer patients, while the rest of the facility has been converted for treating COVID patients.
The two sections are completely separate. The entrances are separate because most of the patients coming here have already tested positive for COVID-19.
How many hours do you work?
We work six-hour shifts because wearing a PPE beyond that is extremely uncomfortable.
Is the PPE reused?
No, we do not reuse our PPEs.
Of course, there are guidelines that the PPE should be reused when there is not enough supply, but as of now we have adequate supply, so each time we get to work we use a fresh set of protective gear.
We have the very best quality PPEs, a video laryngoscope and whatever protection that is required.
AIIMS is doing a wonderful job to support healthcare workers
Are critically ill COVID-19 patients brought here?
There are a few critical patients, I think there is one patient on the ventilator, as well.
But in general, we do not have critically ill patients. If they are very serious, they are sent to the main AIIMS hospital in New Delhi.
COVID-19 patients who have co-morbidities and mild to moderate illness are kept in the ward and those with very mild symptoms are quarantined.
The Jhajjhar facility does not treat patients who are so sick that they have to be put on a ventilator.
Are doctors asked if they want to be deputed to a hospital treating COVID-19 patients?
Yes, we are asked. It's not fobbed on to us, because the situation is not yet so bad that everyone has to be forced to work here.
Why would you choose to work with COVID-19 patients?
I am an infectious disease specialist. I work with the department of medicine, the infectious disease department is under it.
I will complete three years soon at AIIMS Delhi. I have done my MD in tropical medicine and I am doing my DM in infectious diseases from AIIMS, Delhi.
So, for me, treating a patient with an infectious disease is nothing new. Anyone working at a COVID-19 facility for the first time will be a bit apprehensive till they actually begin work.
Doctors who are from other disciplines may be more apprehensive. But AIIMS has ensured all protocol is in place, so even that apprehension dies quickly.
As someone working with the infectious disease department, is this the most virulent virus you have faced?
This is one of the most infectious agents I have come across in my small practising career. Whether it's virulent? Well, virulence is altogether a different term.
So if you have to compare Ebola or HIV, how would it rate with novel coronavirus in terms of infectiousness?
We cannot compare and should not compare novel coronavirus with HIV because the latter is not a respiratory virus and the mode of transmission is quite different.
Novel coronavirus (SARS-Cov-2) is as big a hazard as any respiratory pathogen.
Ebola is not a respiratory pathogen either. But in terms of infectiousness, recent reports have shown that SARS-Cov-2 is probably more infectious than Ebola.
If there is no treatment for COVID-19 what kind of care is actually given in hospitals?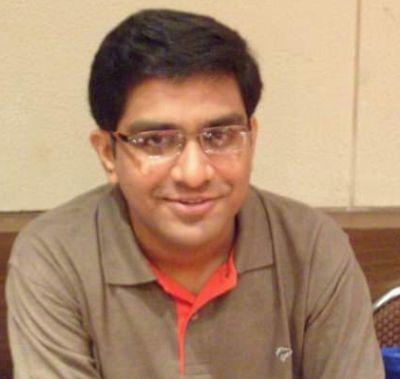 When patients have very mild symptoms or when they are asymptomatic they are given supportive or symptomatic treatment.
So if a patient has mild fever, he will be given Paracetamol; if he has a runny nose or there is mild sneezing or a slight sore throat, he may be given antihistaminics (anti-allergy medicines).
People often use Vitamin D as well. As part of the government recommendations, Hydroxychloroquine has also been given to our patients, so HCQ becomes definitive therapy as per the guidelines.
Supportive care also includes taking care of nutrition and the psychological aspects of being separated and quarantined.
WShen is a patient put on a ventilator?
A ventilator is required for less than 5 per cent of the patient load all over the world and it is used only when the oxygen saturation in the blood falls and his lungs are unable to supply adequate oxygen to the blood.
Why is it said that intubation is supposed to be dangerous for a patient?
Intubation is not dangerous, it's actually protective. So people who have been saying that it's dangerous or means death, are wrong and are only creating panic.
We intubate patients and put them on ventilators because they require it. Any procedure can be dangerous but in trained hands, it will only make the patient better.
But intubation is dangerous for the doctor?
Yes, it is. So we use a chamber that protects us from the aerosols from the patient's mouth and, of course PPEs. We also use video-assisted laryngoscopy.
How long does it take for a patient to be able to speak after the intubation is removed?
When the patient is on ventilator you put a tube which goes in between the vocal cord so that creates some oedema, or swelling of the cords, that requires some time to subside which could take a couple of weeks.
Till that time the patient's voice will be hoarse.
What is the irreparable damage that COVID-19 can cause a patient?
If there is low oxygen in your blood, and it is persists for a long time unattended, it can create brain damage, which can become irreversible.
Lung fibrosis can happen in the long run, you can develop chronic kidney disease in the long run.
Why do patients who recover and have tested negative, test positive later?
So, there can be a few possibilities.
The first possibility is that since the PCR-based test does not have 100 per cent sensitivity there are chances that even when the virus is present, it may not detect it especially if the virus load is low.
So, by the second week of the illness, there is a precipitous drop in the viral load that is present in your body.
So the chance that the test may miss picking up existing virus is significant.
Another reason is this test even picks up non-viable virus; it basically picks up the RNA of the virus.
So even if the virus is not viable, meaning it cannot cause infection, it's RNA can persist in your respiratory tract, and the test can pick that up.
Have you come across any (such) cases?
It's common enough that one test may be negative, followed by a positive test. Only if two consecutive tests are negative, do we discharge a patient.
Are patients being given psychological counseling?
These are part of the integrated management of critical care patients.
There are psychiatrists and psychologists in this facility. Healthcare staff is also counseled.
In your experience, does plasma therapy work? Is plasma therapy being enabled at this facility?
There are reports of plasma therapy being effective in trials.
ICMR (Indian Council of Medical Research) has also come up with definite guidelines for starting these trials and based on whatever case reports are available, it seems it works when given on time.
At this facility, we do not have critical patients, so we do not provide plasma therapy.
Are there any new symptoms that you have observed?
All viral illnesses have skin manifestations like mild itching, rash, redness to diffused redness, lesions, petechiae, which are small spots on the skin as a result of bleeding, to large bleeding areas on the skin, which are called ecchymosis.
In COVID-19, we have seen there is an increased chance of coagulation of blood, which manifests as skin lesions.
COVID-19 toes are lesions which may be due to inflammation of the vessel wall or it may lesions from the viral illness itself.
We do not know the exact pathogenesis, and it is very rare.
Here, we have seen clotting manifestations like gangrene affecting the feet.
We use blood thinners which will prevent blood clotting in moderate to severely critical COVID-19 patients.
And when you talk of guidelines what are they?
There are various bodies which have come up with guidelines.
AIIMS has its own guidelines. ICMR has its own, which the ministry of health and family welfare uses.
There are guidelines from Centres for Disease Control, World Health Organisation, there is the European CDC, there are many.
We follow the AIIMS guidelines, along with the ministry of health and family welfare guidelines.
Do children react to this virus differently from adults?
Yes, it is seen that children don't get as badly affected as adults do, but then again I'm not a pediatrician.
Generally what we see is extremes of ages get affected, which means people above 60 or 65 and those below 5 are the ones at an increased risk.
This is generally true for all viruses
When do you think this nightmare will end?
That's a very difficult question. Coming from an infectious disease doctor's point of view, it doesn't look like it will end any time soon.
There will be dips and spikes in the infection, but we are really at a loss to predict what is coming.
But I can say for sure that the pandemic will go on, unless a substantial proportion of the population builds immunity to deal with it which may come from the disease itself or which may come from any vaccine eventually.
So, COVID-19 will be a part and parcel of our lives like, say, tuberculosis?
You cannot compare the two -- one is a chronic disease and one is an acute disease.
Rather compare COVID-19 with influenza, which is present in society, which when it comes, comes in epidemic proportions, after an interval of a few years and then it goes away.
But we do not know when COVID-19 is going to die down to a level that is not worrisome, or whether the COVID-19 will go away totally.
Do you believe that we can develop herd immunity like the United Kingdom tried to do?
India has never gone down that path. We have been more sensible in dealing with the disease than what the Western world and we have not exposed our population to the onslaught of the enemy.
We do not even know for sure whether the disease gives you immunity to the infection.
But if it does, then there's a possibility that we may develop herd immunity. Now, what proportion of the population needs to be infected to give us herd immunity is not clear.
What the UK has done is a failed concept. And the countries which have followed that concept have suffered.
Our government has done a splendid job so far. Everyone had spelt doomsday for India, but that did not happen.
The manner in which you expose your population to the virus is a matter of debate in policy-making.
What would be the efficacy of Remdesivir in treating COVID-19?
Mutations have been reported on the genes in COVID-19 on which Remdesevir acts.
There may be more mutations which may render the virus more susceptible to Remdesevir, or they may come a point when the drug may become ineffective.
We don't know which way it will go, but mutations will keep coming.
As a natural course the virus mutates. That is how it evolved and came to humans.
And why Remdesevir? Any drug, whatever drug we are thinking of currently, may be ineffective with mutations.
The other part of our concern is if at all we are getting protective immunity from secondary infection any mutation can render a change in a virus to which the immunity can be ineffective.
The virus is smart. Every time we make progress, the virus may be one step ahead of us.
Most of organisms mutate and viruses mutate more; RNA viruses like SARS-Cov-2 mutate even more.
So, there is no hope?
No, I won't say that. We do not know how much the virus will mutate. The mutation can be very slow.
All mutations do not translate into a problem. Some mutations are silent or which have no effect.
So it is pure chance what mutation will come next and the resultant effect.
Despite extended lockdowns, we don't see a flattening of the curve in India at all.
But one thing is true that the disease has no geometric progression in India.
People had said it will explode and everyone will die. Nothing of that sort has happened.
Yes, numbers are definitely spiraling, but if there is no social progression of cases or what is called community progression then that in itself is a flattening of the curve.
There is no explosion of the disease because of the lockdown and effective quarantine. Yes, a lockdown cannot go on forever, but how and when it will be lifted is for the government to decide.
Do you feel overwhelmed with what you see around you?
At times it's stressful to see a lot of patients getting affected, families disrupted, life as we know it, disturbed, but that is how a pandemic affects everyone.
What are your learnings from this crisis?
A doctor learns as long as he lives as long as he practices medicine, it is a continuous process.
From the COVID-19 pandemic we learn man management, facility management, how to build up a facility in times of crisis.
This will make our system, not only individuals but the system as a whole, more prepared to face untoward situations like this in the future.