'Once you resume economic activities, life will be normal.'
'The younger people will tolerate the virus very well. So, life will become normal very soon.'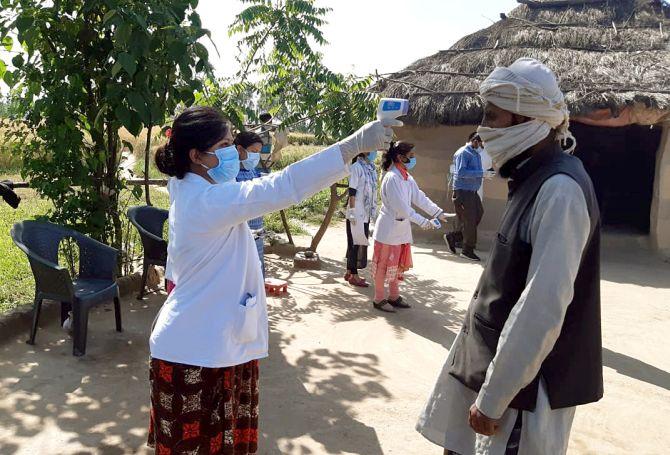 Uttarakhand is one state in India that has been quite successful in tackling the coronavirus.
On April 14, it was reported that the state had not recorded any new COVID-19 case for four days. But on the 15th morning it had two positive cases, raising the total number to 37 out of which nine have recovered.
The state has seen no coronavirus-related deaths so far.
At the forefront of treating coronavirus patients is the All India Institute of Medical Sciences, Rishikesh.
"There is no Ram baan to fight the virus," AIIMS-Rishikesh Director Dr Ravi Kant, below, tells Rediff.com's Shobha Warrier.
Uttarakhand did not report any positive case for four days.
Ten days ago, there were two positive cases in Roorkee, and when we repeated the test on April 13, one case was still positive.
Another case tested positive 12 days ago in Haridwar. There are four positive cases in Dehradun and more numbers in Udhamsingh Nagar.
I would say we had an initial cheer because these cases had either a travel history or contact history. But there is no data that shows that there was any community transmission in Uttarakhand.
The state government has implemented the lockdown very strictly. I must congratulate the state government for doing so.
Next, we do lab tests at multiple places and the patients are quarantined there itself.
We have prepared an outer circle where the suspected patients are quarantined in individual rooms with bathrooms. Till they are tested positive, they will be in these rooms.
If they are tested positive, they will be divided into three groups.
Patients with no temperature, normal blood pressure and oxygen level normal and who do not require any external support and can be treated like a common cold. They will be kept in hospitals or ashrams.
Then come those patients who require oxygen and blood pressure control and they will be kept in nominated hospitals which include AIIMS.
Those patients who require ventilation will be in hospitals with that facility.
Where do you have the outer circle where the suspected patients are kept?
We have isolation centres in Roorkee, Haridwar, Dehradun, etc so that they need not come to AIIMS as long as they do not need oxygen or blood pressure support or ventilation.
What AIIMS-Rishikesh has done is we have improved the diagnostic services so that we can do 100 tests per day. We are also starting the antibodies test very soon.
Part two is, we have converted the entire trauma centre into a COVID-19 centre with 100 beds.
Initially, we will have 15 beds with ventilators which we will ramp to 100.
Even though not many new cases are being reported, why do you want to increase the number of beds with ventilators?
AIIMS-Rishikesh, is in line with the Centre's policy of being ready with maximum preparedness when the need arises.
We are readying roughly 400 beds for a possible COVID-19 disaster.
Out of these 400 beds, we will gradually make 200 beds with ventilation. The rest of the 200 beds will have oxygenation supply for patients.
AIIMS will be the higher centre of treatment when the need arises.
The state quarantined around 800 suspected cases Is that the reason why you could stop the spread and only 37 positive cases reported so far?
If you look at the way the pandemic spreads, it is from one person to another. If you can stop it from spreading from one to another, you can stop the disease. It is that simple.
So, if your response is quick with total quarantine with absolutely no contact, you can stop the virus from spreading, and you can solve the problem. But there will be a challenge.
The challenge is the economy of the state is based on the Char Dham yatra, Haridwar darshan, etc. So, the question is, what will happen once the gates are opened to outsiders?
This is going to be the challenge and we will see once this happens.
So, you are preparing yourself for such an eventuality.
Exactly. It doesn't matter whether you open in May or in September; the moment you open, people will come from outside and the barriers will be gone.
I saw two reports, one is from the Robert Koch Institute of Infectious Diseases in Berlin in Germany and another from a lab in America. They both say that unless 65% of the population is infected with the virus, the problem will not be solved.
You mean, till herd immunity is created?
Yes. That is the only answer.
Lockdown is a temporary period for preparing the hospitals.
Lockdown cannot eradicate the disease unless you shoot the person with the disease like they do in North Korea!
The virus will stay among the population and the moment people start meeting each other, it will start spreading.
So, the new guideline is, save the elderly and let the new population be exposed to the virus as they can resist it well. That is the way out.
Until 65% of the population gets immunity, it will continue.
When it happens, it will be a peak and a lot more people will come to the hospitals.
So, we have not yet reached the peak?
Once the lockdown is over, the peak will happen. I expect it will be in May or June.
How long do you think it will take for 65% of the population to get resistance to the virus?
It will take two years.
It is important that economic activities resume as soon as possible; our industrial activities, manufacturing, etc have to start. Because without industrial activities, a large number of our population, especially the poor, will not be able to survive.
Some say people may die of hunger and not of the disease.
Nobody will die of hunger because the government is doing so much to avert that. It is all political propaganda.
Through the Jan Dhan Yojana money is going directly to people's bank accounts. So, there is no question of anyone dying of hunger. There is no doubt that the poor will be taken care of.
But the question is, for how long?
Do you feel it was necessary to extend the lockdown till May 3?
The decisions are taken by the central government after consulting experts taking into consideration the economy, the disease, etc. I consider the prime minister's decision a wise one.
At present, hydroxychloroquine is given to COVID-19 patients.
There is no specific drug which will cure the virus, as of today.
What is the treatment that you are giving at AIIMS-Rishikesh?
The treatment depends on the case, and it varies from case to case.
You must understand that there is no Ram baan or bullet to fight the virus. There is no drug that can cure the virus.
If we had a drug, why do so many people die of the disease inthe US, France or Italy?
There is a rationale in the prophylactic use in healthcare workers and contact patients. But it is not a cure for the virus.
If you have a viral disease, there is no treatment.
The question is, how can you increase the threshold?
In increasing the threshold, our Ayush Mantralaya is also doing a good job by advising on what to eat and what not to.
ICMR has given permission to use hydroxychloroquine only in severe cases.
No. ICMR has not given permission to use the drug. What ICMR has said is healthcare workers and contact patients may be given this drug provided their ECG control is all right.
Kerala has initiated plasma treatment by extracting plasma from cured COVID-19 patients. How effective will this be?
It is an experiment that is in a very interesting mode. Let us see the results. It looks quite sensible to me. But we need to do randomised control tests before we can say how effective this will be.
When do you see life becoming normal for people all over the world?
Once you resume economic activities, life will be normal.
The younger people will tolerate the virus very well. So, life will become normal very soon.
We have to challenge the virus and accept the virus.
There will be a certain percentage of mortality, but then that will be acceptable. The seniors will have to be protected as they cannot be cured.
But the disease will be eradicated only after a vaccine comes, and the vaccine is two years away.
Will social distancing become a part of our lives?
I am of the opinion that social distancing is a wrong term and it has to go away. Socially we have to be together.
What is needed is physical distancing.
Will handshakes also become a thing of the past?
For two years we have to be careful!
And in due course of time, it will be all right.