'Two days notice for the Janata Curfew.'
'Two-and-a-half days notice for lighting candles, but a mere four-hour notice for the lockdown without taking state governments into confidence.'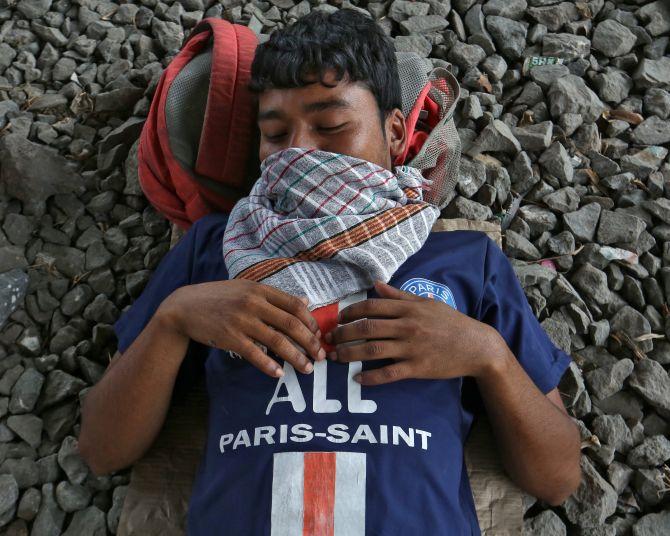 Sitaram Yechury, general secretary of the Communist Party of India-Marxist, is worried and angry.
He is worried because he feels that even though India had the time to prepare for the fight against the coronavirus, the Centre didn't plan and prepare for the long battle ahead.
He is angry because the government hasn't take the right steps to protect the people of India against this pandemic.
Speaking to Syed Firdaus Ashraf, Yechury, below, believes that symbolic gestures (such as applause and lighting diyas) won't help the situation and says, "If we had taken precautionary measures earlier and locked down those areas where COVID-19 cases were reported, the national lockdown could have been avoided."
In the fight against coronavirus, we saw the nation switch off its lights following a call from the prime minister. Earlier, too, we had the nation applauding for doctors and healthcare workers. What is your take on these mass actions?
These are all symbolic gestures and such symbolic eventss cannot be a substitute for the real decisions to be taken by the government as it involves the lives and deaths of millions of Indian people.
First of all, we have to make arrangements so that people do not die of hunger or starvation.
This lockdown by Prime Minister Narendra (Damodardas) Modi was in a completely unplanned manner. Prime Minister Modi gave two days notice for the Janata Curfew. Now two-and-a-half days notice for lighting candles, but a four-hour notice for the lockdown without taking state governments into confidence.
But...
(Interrupts) Lakhs and lakhs of migrant workers left the cities, so the entire objective of social distancing was defeated.
Now to tell the states that they have to take care of these workers and provide them with food should have been done prior to the lockdown.
The tragic part is that people died and many walked thousands of kilometres due to the lockdown because there was no transport.
Once they reached their respective villages, what should be the plan for their isolation?
All these problems could have easily been overcome if we had actually done some homework earlier.
The first case of COVID-19 surfaced in India on January 30, 2020, and the first case in the world was reported on December 1, 2019. Now we had nearly two months to prepare after it was reported, and two months after the World Health Organisation called it a pandemic in January.
We had the time, but we did not equip our health workers with protective equipment.
Poor health workers, we salute them for their heroic job and they have to be given adequate equipment to fight coronavirus immediately. Also, ventilators need to be acquired immediately.
Another place where the government failed was to allow large-scale gatherings. On March 13, the government announced that there could be no large-scale gathering of more than 200 people and then we had the irresponsible act of the Tablighi Jamaat in Delhi.
We then also had Shivraj Singh Chouhan's swearing-in ceremony as chief minister of Madhya Pradesh during this kind of crisis.
At Ayodhya, too, we had gatherings and Parliament sessions were being held too. So, I feel many more people need to be tested for COVID-19.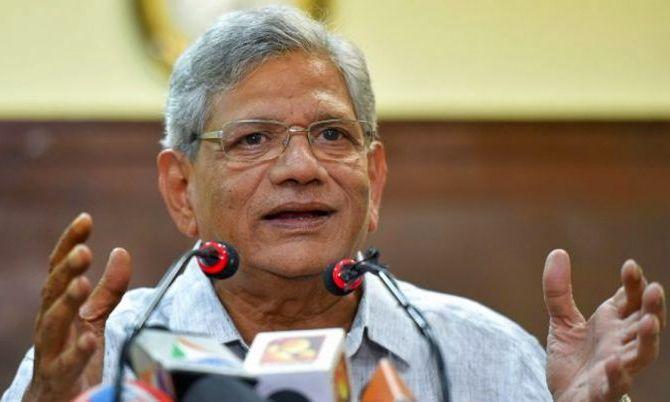 Our testing is very low compared to the world. It is 250 times lower than South Korea.
During this lockdown period, with widespread testing, the areas where the spread is rampant, they must be located and those areas must be locked down for a longer time.
The lockdown has disturbed the supply of commodities all over the country and there are shortages all over the country.
There is no clarity on movement of trucks carrying essential goods at state borders. These are concrete problems.
Now the government is saying employers must pay employees. However, they in turn are asking how will they pay as all businesses have collapsed.
And then for the middle class, the government announced a moratorium on EMIs, but you pay more eventually because the interest is still being charged; there should have been an interest-free moratorium.
Lighting candles is not going to solve problems and cannot be a substitute.
You mentioned in a statement that the Modi government has spent more on public relations, bullet trains, statues in the last six years and so it is no surprise that the health infrastructure is crumbling under his government.
Precisely, we spend the lowest percentage of GDP on health.
The central government is spending around 1 per cent and state governments spend little over 2 per cent of GDP on health. And the minimum they should spend is around 14 to 16 per cent of GDP on health.
It is time that there has to be a proper universal healthcare system in our country.
Now look at the situation at major hospitals, they have stopped treating regular patients for other diseases.
In Delhi, people with dialysis and cancer patients are not being treated because major government hospitals are only dealing with coronavirus. And now 95 per cent of the people of Delhi do not have money to go to private hospitals.
Countries like Spain have nationalised private health facilities. Here, now at least you give an order that private hospitals will have to keep aside so many beds for so many patients. Some norms have to be issued to private health operators in these times.
But what do you do when doctors and nurses at private hospitals are being detected with coronavirus; that's the reason they are not admitting patients, isn't it?
That is what I am saying, lack of protective equipment, and we had a forewarning of two months.
When this broke out in China, they didn't know what was it. It took WHO and the whole world to come up with the formulation calling it COVID-19.
Till then you were going new coronavirus, novel coronavirus or whether it was some variety of Nipah virus.
The world was trying to understand it, but we had the advantage as WHO announced how this transmits and what needs to be done. We were privy to this information and we should have been better prepared but that did not happen.
The whole month of February we were busy with 'Namaste Trump' and various other activities and events. If we had taken precautionary measures earlier and locked down those areas where COVID-19 cases were reported, the national lockdown could have been avoided.
We would have been able to identify areas where it happened and locked down those areas. Like China did with Wuhan or South Korea did or Singapore did as none of them went for a national lockdown.
But India has fewer cases than the United States and most other nations.
That is because -- what is our level of COVID-19 testing? Our testing is lowest in the world today.
When one raises such questions and criticises PM Modi for not being prepared to take on COVID-19, you are called names. The one criticism that is being levelled against the Opposition parties is for questioning the government in such difficult times.
That is very unfortunate. From February I have been saying, so has the Congress and other major parties, that there should be an all-party meet.
The fight against COVID-19 is the fight of all of India and all of the Indian people.
The government should mobilise everybody in this fight with them, discuss ideas, give ideas and give directions. This has not happened till date.
As of Sunday, some Opposition leaders were approached by the prime minister while some others leaders have been approached by the home minister and then some by the parliamentary affairs minister. And what are they doing?
Digital conferences with the floor leaders of Opposition parties of Parliament. Not the political parties.
Naturally, we have our point of view as I told you about the problem of migrant workers and we have also seen lack of food for them.
We have set up camps and distributed rations for people in need. All of us could have jointly worked with government agencies under the government's directions.
But when we point out these problems, how can we be branded? These issues all are pro-Indian people and to protect the whole of India and these are the problems that cannot be brushed aside.
If the situation is so dire, then there should be a great angst amongst the people and they should revolt over the lack of food.
But on the ground, Indians are showing tremendous restraint and it looks like they believe in Prime Minister Modi's leadership and also the fact that they are happy he has been able to put money in their Pradhan Mantri Jan Dhan Yojana accounts.
All the good. If people are satisfied, then it is very good. But the question is are they really? That is the issue and that is where the difference of opinion comes in.
Why, in a state like Kerala they could take care of lakhs of migrants in 600 camps so well. They cooked non-Malayali food for them by giving them materials and facilities when they asked for. These things should have been arranged prior to the lockdown for which there was no planning from the central government.
Since you mentioned Kerala, there has been severe criticism saying because they don't have good hospitals the people want to go to Karnataka so much so Karnataka has blocked its borders so the people from Kerala don't cross over in big numbers.
The people going to Karnataka are those who stay at the border of Kerala-Karnataka. There are more people who come to Kerala from Karnataka for medical treatment.
Those people who are going to Karnataka stay at the border as it is faster to reach Mangalore. And they are the rich patients who want to travel to Mangalore for private hospitals.
On your Twitter timeline you have mentioned the fact that the PM-CARES Fund raises many questions about transparency and accountability and compared it to the Bharat Ke Veer fund which was set up after the Pulwama attack.
There is lot of apprehension on that score as you already have the Prime Minister's National Relief Fund and this was a fund established statutorily in 1948 even before our Constitution was adopted. This is a fund that is transparently audited by the Comptroller and Auditor General and auto-generated receipts are given to people.
In the PM-CARES Fund nothing of this sort exists and when you already have one PM National Relief Fund, why open another one? That defies logic. What is the meaning of it?
And why should it be 'PM CARES, and not 'India Cares'?
There is the infodemic, fake news, irrational cures which the WHO says is as important to manage as the pandemic. How would you rate India is doing on this front?
We have seen a lot of prejudice at play, both at the global and domestic level -- against the Chinese, health workers, foreign-returnees and latest, and worryingly, Muslims.
Yes, this is very worrisome and I think counterproductive.
Our Constitution, amongst the duties of every citizen, mandates the promotion of scientific temper. This must begin with the government.
Unfortunately there is the patronisation of godmen, promotion of obscurantism, and promotion of unscientific methods of protection or cure.
If invoking the supernatural can protect us, why are the pilgrimage centres shut down? They are correctly to prevent community transmission.
The Tablighi organisers were very irresponsible. But to target and stigmatise the entire Muslim community is counterproductive in our fight against the pandemic.
Likewise, health workers are stigmatised in their residential areas as carriers of the virus.
Government and people must promote empathy, not criminalising people, particularly patients. Stringent curbing of fake news is essential.
World history teaches us that social stigma produced while fighting a pandemic is not only counterproductive, but has a long afterlife, promoting social strife.
India cannot afford this.